Fortnite Season X (10 in Roman numerals) has arrived and with it comes the expected map changes. This time around as far as initial map changes go, Season X doesn't boast the most robust of terrain terraforming that we've seen so far. However, Epic seems to be playing a more patient game this time around. Instead of frontloading the major changes into the patch release, they're aiming for a more dynamic season, which includes constant map changes. This article will cover all the major map/gameplay changes we could find with the Season X drop.
Fortnite Season X Major Map Changes
Meteor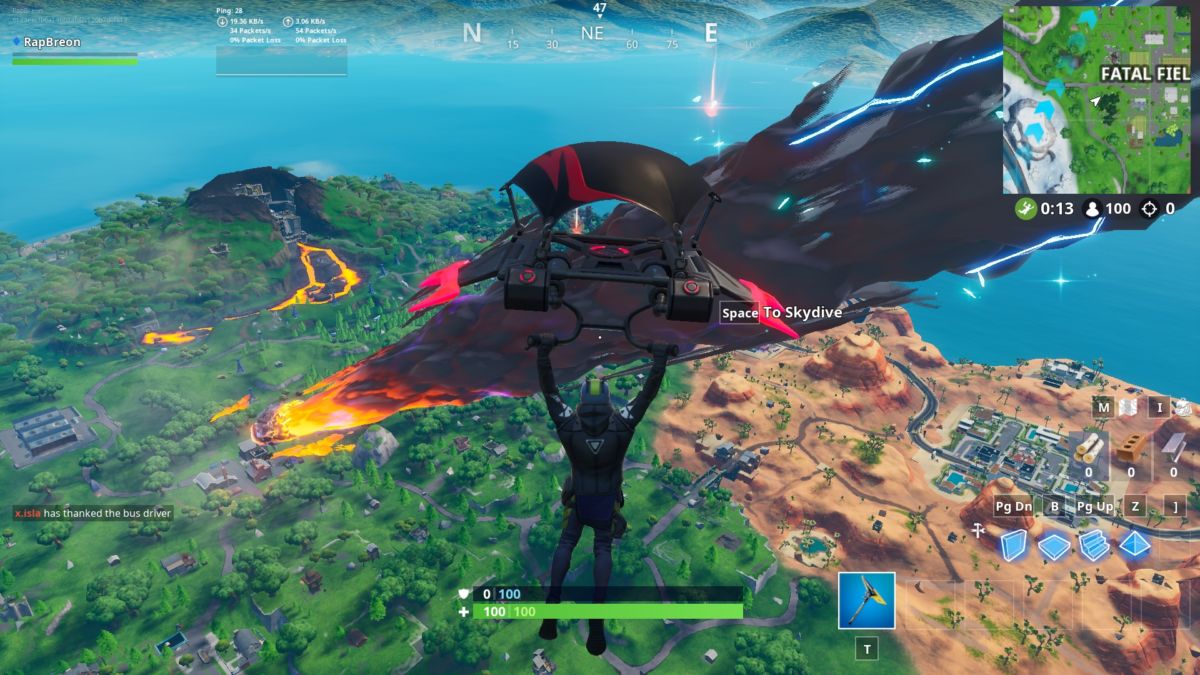 As far as the aforementioned map changes go, the giant flaming meteor might be the best example of this. As of the first week, the meteor is slowly descending down towards Dusty Depot. Yes that's right, the old Dusty Depot is back with Dusty Divot, the meteor crater, gone. Perhaps we've gone back in time to before the meteor hitting Dusty Depot, perhaps the meteor will travel backwards, or move to another location. Regardless, big things will happen with that meteor in the coming weeks.
The meteor itself can be landed on and entered as it has various tunnels criss-crossing its cavity. It also has very low gravity, which makes combat in this area a little different from usual. Jumping during a gunfight here leaves you very vulnerable as you gently float back to the ground. Finally, you'll find chests and weapons littered around the area, making it a viable first landing choice.
Cattus Skeleton Changes
The massive Cattus skeleton left behind towards the end of Season 9 has begun to influence the area around it in strange ways. The surrounding terrain is beginning to become stained a reddish pink colour. Specifically, some of the grass and trees have turned have become stained. This could indicate that the beast's blood is corrupting the surrounding land. So keep an eye on this area for further changes as Season X progresses.
Loot Lake Zero Point Explosion
The Zero Point (the large sci-fi metal structure resting on the lake bed of Loot Lake) has finally sprung into action, exploding into giant 'space-time' bubble. If you enter its sphere of influence, you'll see a lot of floating objects and gravity is ultra low, allowing you to jump significant distances. You can use the low gravity along with floating objects to climb your way into the structure at the centre of the sphere. If you do, you'll be teleported up into the sky to glide back down from, like you would any other Rift.
Dusty Depot
After many long seasons on hiatus, Dusty Depot has made its glorious return, reclaiming its spot from Dusty Divot as the most central location on the map. Dusty Depot consists of three warehouses in a row and contains better loot than it used to in its original inception, making it more worthwhile to land at now.
Dusty Factories
The unnamed factories that were also destroyed in the meteor impact have returned along with Dusty Depot. These factories were another popular landing spot in earlier seasons as they were very central and contained fairly good loot for an unnamed location. You can find them southeast of Dusty Depot, occupying G6 on the main map's grid.
Fortnite Season X Miscellaneous changes
There weren't too many major map changes this season on patch drop, however there were a few small map changes that are worth noting.
The Wooden Chair
After seasons of being replaced by all sorts of other creations (wooden Santa Sleigh, Metal rocketship, etc.), the original creation reclaims its rightful spot. D8 on the main map's grid.
Miniature Flush Factory
Flush Factory also makes a 'small' return after it was removed in the Season 7 update, which revamped the southwestern biome. Certainly not a factory, but it is a small 'throne' filled building, paying its respects to all the expert plumbing Flush Factory provided Fortnite. Located west of Polar Peak at B8 on the main map's grid.
Miniature Risky Reels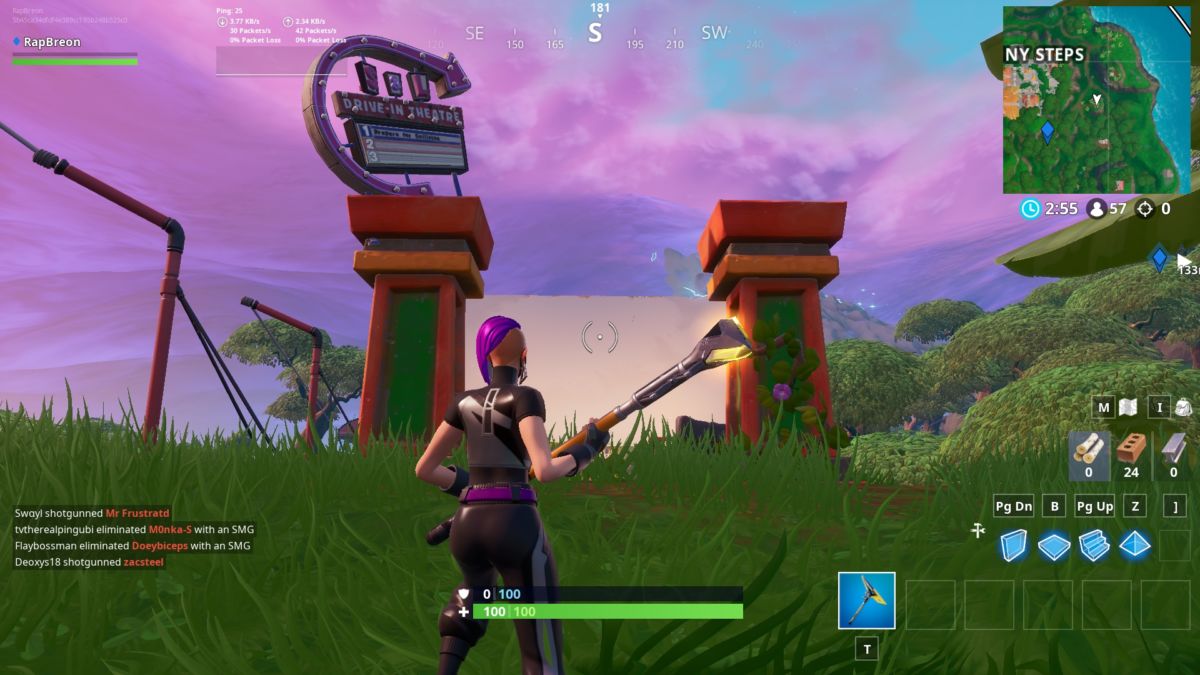 Risky Reels also makes a 'small' return after its removal. A very small 'drive-in' theatre can be found northeast of Pressure Plant, at I3 on the main map's grid.
Gnome Shack
A little shack west of Pleasant Park is under the protection of a veritable gnome army. You'll find it west of Pleasant Park atop a large hill. B3 on the main map's grid.
Lazy Links Shack
A shack overlooking Lazy Lagoon now sports the Lazy Links sign. This could indicate a possible return of the Lazy Links golf course. You'll find it just on the cliff southeast of Lazy Lagoon, occupying G3 on the main map's grid.
Optimus Prime Missing An Arm
The truck 'Transformer' that resembles Optimus Prime is now missing its left arm, perhaps in a fight with The B.R.U.T.E. You can view it at I6 on the main map's grid, west of Mega Mall.
Giant Teddy
On the edge of the desert biome, west of Paradise Palms is a small shack. If you break this shack open it'll reveal a giant teddy bear. You can find it at H8 on the main map's grid.
Paradise Palms Sign Change
Paradise Palms' sign has changed, it now depicts a swampy looking tree. This could be a possible hint to the return of Moisty Mire, which once occupied this spot. I9 on the main map's grid.
Overgrown Shack
Just west of the dinosaur tourist attraction is a shack being overgrown by a 'demonic' looking tree. H9 on the main map's grid.
The Chair House Is Now The TV House
The 'chair house' that was used for a Fortbyte challenge in the previous season has undergone refurbishment, replacing all the chairs with TVs. You can find the house at H9 on the main map's grid.
Crashed Battle Bus Removed
Southwest of the block has been the resting place for a crashed Battle Bus for seasons now. It appears to have finally be towed away. You can see the ditch it left at E3 on the main map's grid.
The Rock Family Have Disappeared
In this field used to exist a rock family (humanoid statues made of stone), they have since seem to have emigrated away. You can view the empty space that was once a happy family at J4 on the main map's grid.
That about covers all the changes we could find for the time being. As mentioned earlier though, Season X is shaping up to be a bit more dynamic of a season compared to previous installments, as most of the initial map changes aren't exactly overwhelming. Epic seems to be moving away from large sweeping map changes (Season 9's initial map changes were quite small in comparison to previous as well) so it wouldn't be remiss to expect more changes as the season moves along.
MORE FORTNITE SEASON X:
– Fortnite Season X/10 Map Changes From Week-To-Week
– Fortnite v10.0 Leaked Skins & Cosmetics: Bronto, Bubble Bomber, Facet & More
– Fortnite Season X/10 Battle Pass Skins & Styles: Catalyst, Ultima Knight, Eternal Voyager & More
Some of the coverage you find on Cultured Vultures contains affiliate links, which provide us with small commissions based on purchases made from visiting our site. We cover gaming news, movie reviews, wrestling and much more.