With Fortnite season 6 now underway, its Battle Pass skins have now been properly revealed and it's fair to say that they are a damn sight better than almost all of the ones for season 5.
Here's a rundown of the Battle Pass skins and a smarmy verdict on each. Remember: to unlock these skins you need to have purchased the Battle Pass, which you can buy either through leftover V-Bucks from season 5 or with a purchase through the storefront of whichever platform you're on. The Battle Pass again costs 950 V-Bucks, which translates to £8/$10.
Once you purchase the Battle Pass/launch season 6, you will be greeted with the following screens.
Once that's out of the way, it's time to dive into the skins.
Fortnite Season 6 Battle Pass Skins
DJ Yonder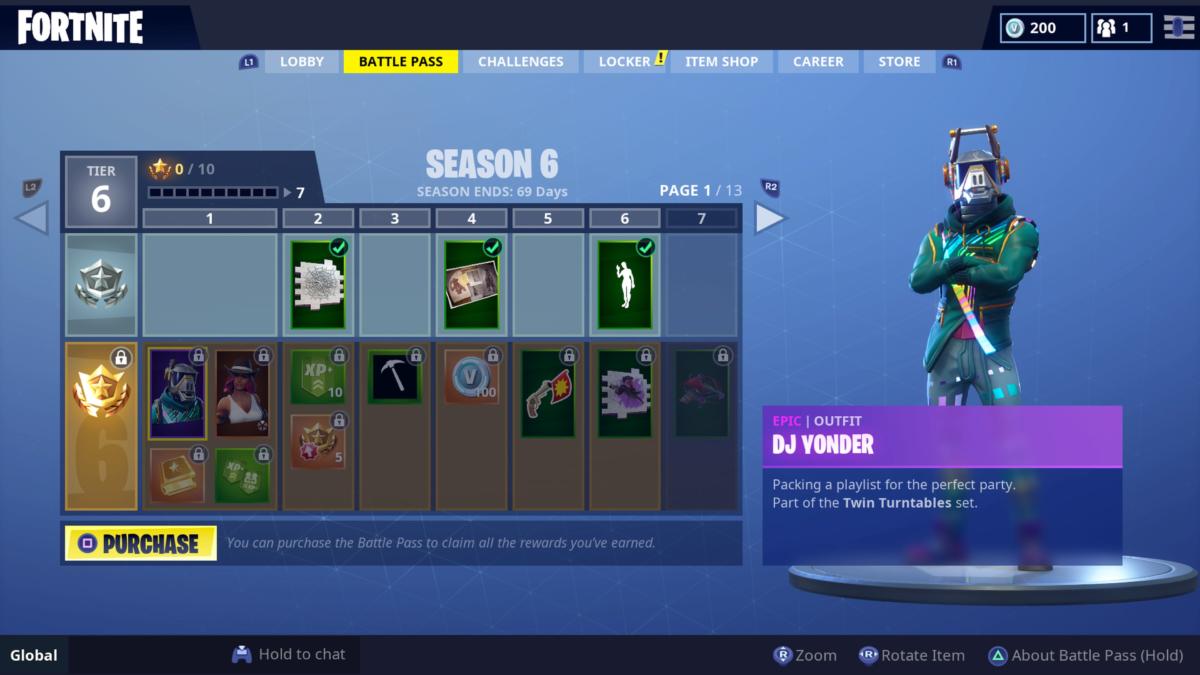 Tier: 1
Rarity: Epic
The first skin teased for this season is also one of the best. It has plenty of detail and just generally looks great, though it will be interesting to see just how visible it looks on the map because it's super shiny and, you know, has an absolutely massive head. Still, don't sleep on the llama.
Grade: A
Calamity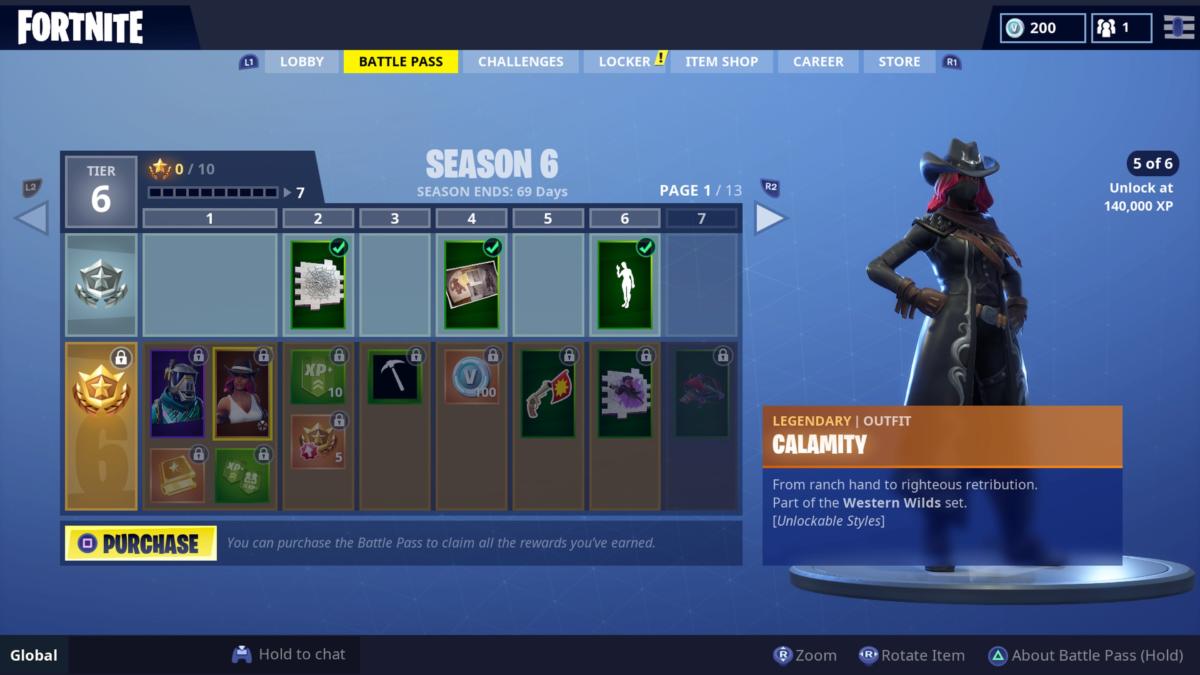 Tier: 2
Rarity: Legendary
This season's replacement for the Drift skin isn't really nearly as eye-catching. While Calamity is still a good skin for season 6, it doesn't really get interesting until she gets her coat. This is basically the skin that you're going to be shooting a lot this season, so get used to its unlockable styles:
Style 1 – Immediate
Style 2 – 20,000 XP
Style 3 – 50,000 XP
Style 4 – 90,000 XP
Style 5 – 140,000 XP
Style 6 – 200,000 XP
Grade: B
Giddy Up
Tier: 23
Rarity: Epic
Erm, are you okay, Epic? I have no idea how this thing is going to work: it's so beefy that I can just imagine it clipping everything and being a massive bullseye for other players. The memes, though, I guess?
Grade: C-
Fable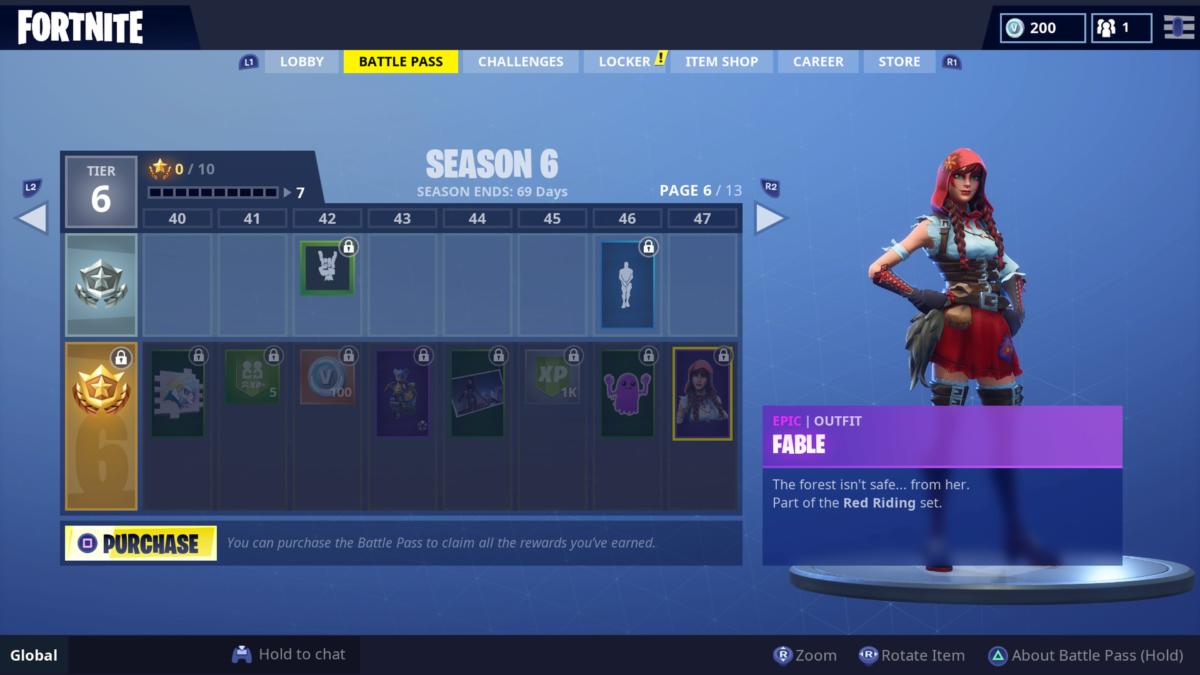 Tier: 47
Rarity: Epic
Not the flashiest of skins for the Fortnite season 6 Battle Pass, but it's better than Redline, that's for sure. The theme of this season seems to be dark fairytales with Fable acting as the rival to Dire, so expect to see plenty of fanmade videos when people start really digging into their Battle Passes the further the season progresses.
Grade: B
Dusk
Tier: 71
Rarity: Epic
It's a long wait between Fable and Dusk, but judging from the design for Dusk, it's worth the grind. By all accounts a vampire, expect this to become the go-to for sweats in season 6 and also that it will get a male variant in the Item Shop just in time for Halloween. Mark my words.
Grade: A-
Nightshade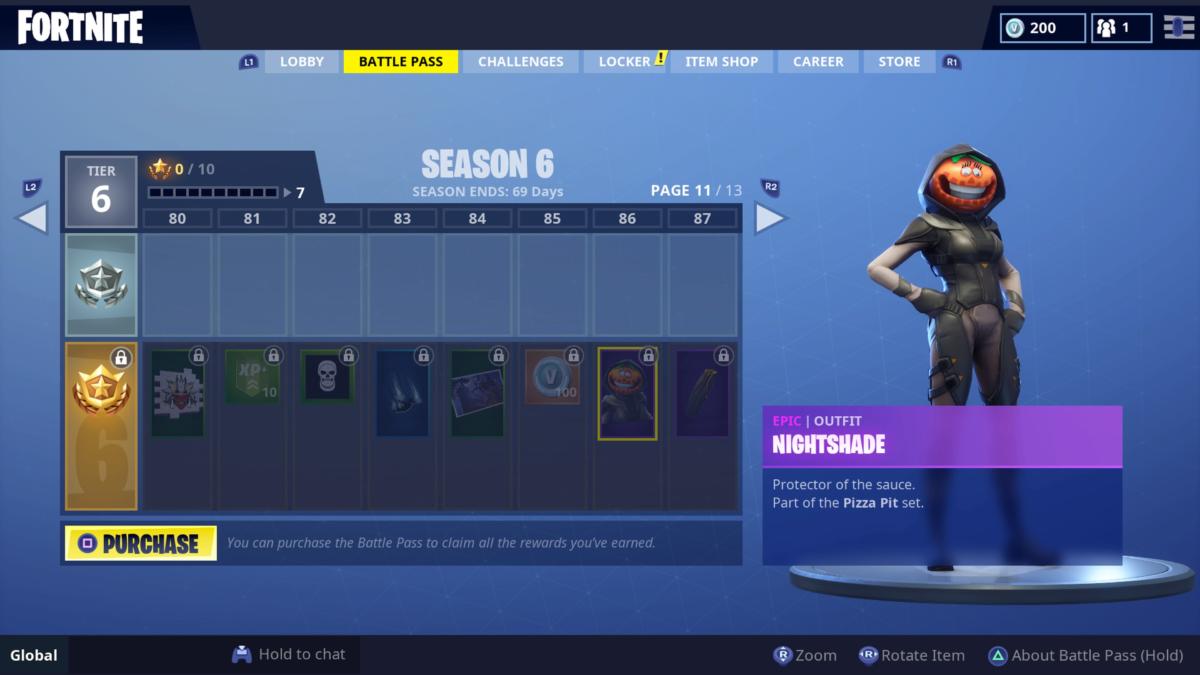 Tier: 86
Rarity: Epic
It's beautfiful. Imagine if the Tomato Man decided to become a vigilante who fights crime at night and you basically have the right idea. Nightshade fits perfectly with the Halloween theme for this season, so expect to see more like it the closer we get to Fortnitemares this year.
Grade: A
Dire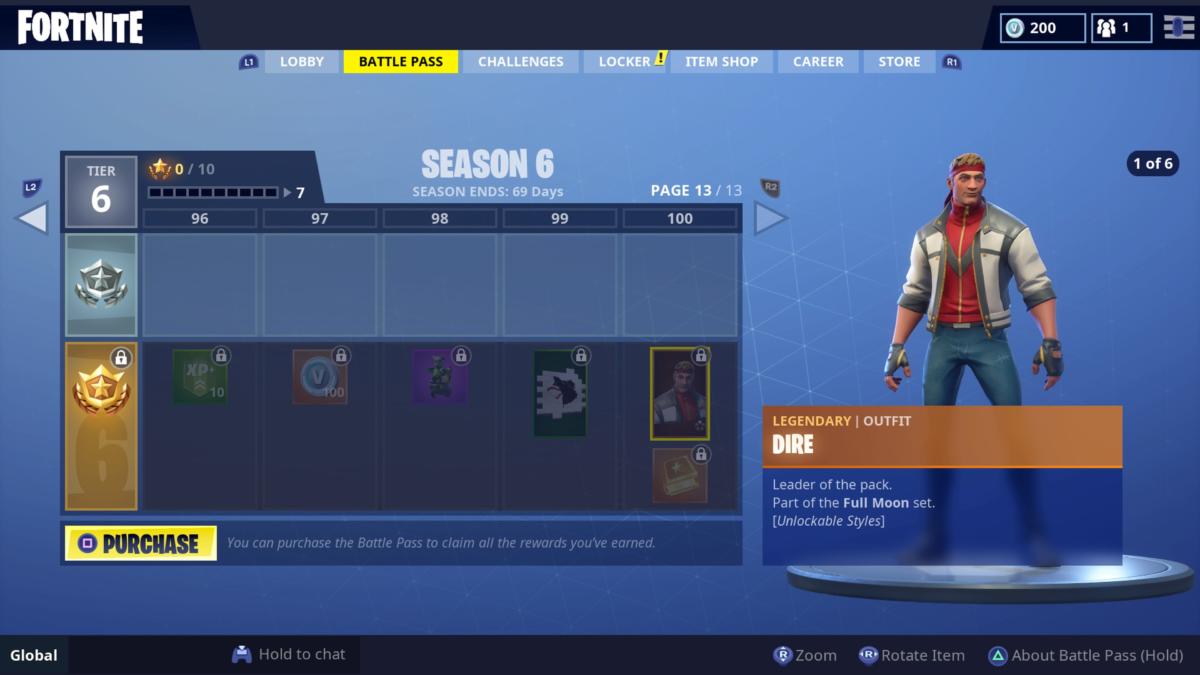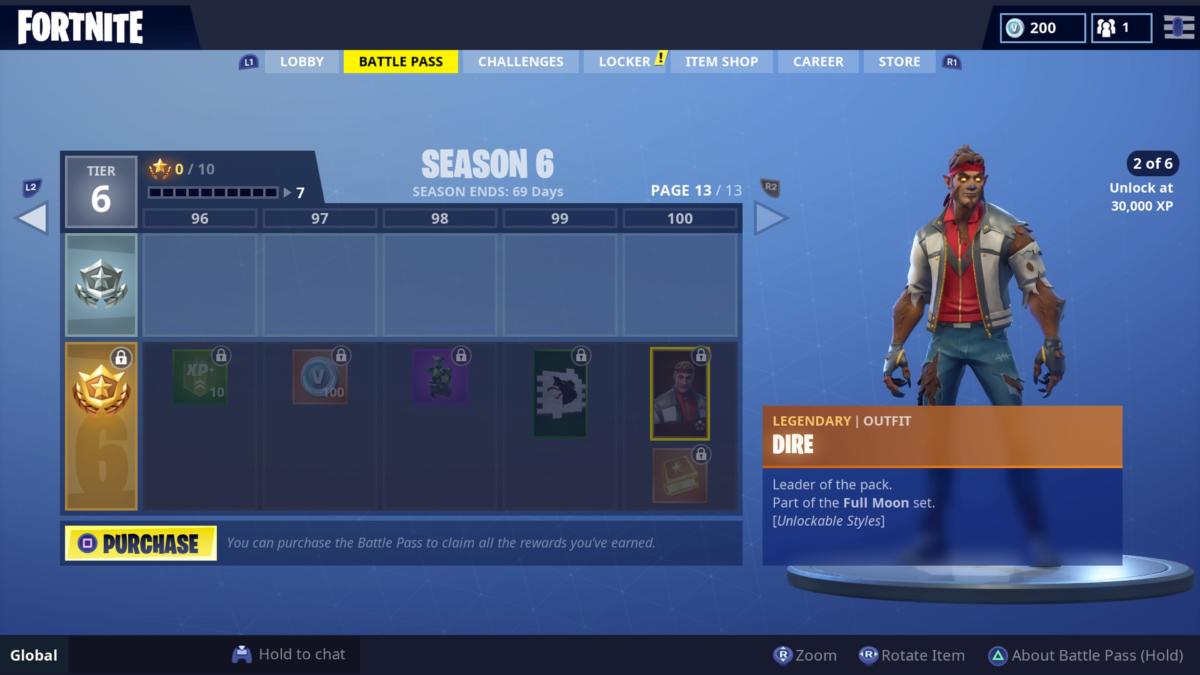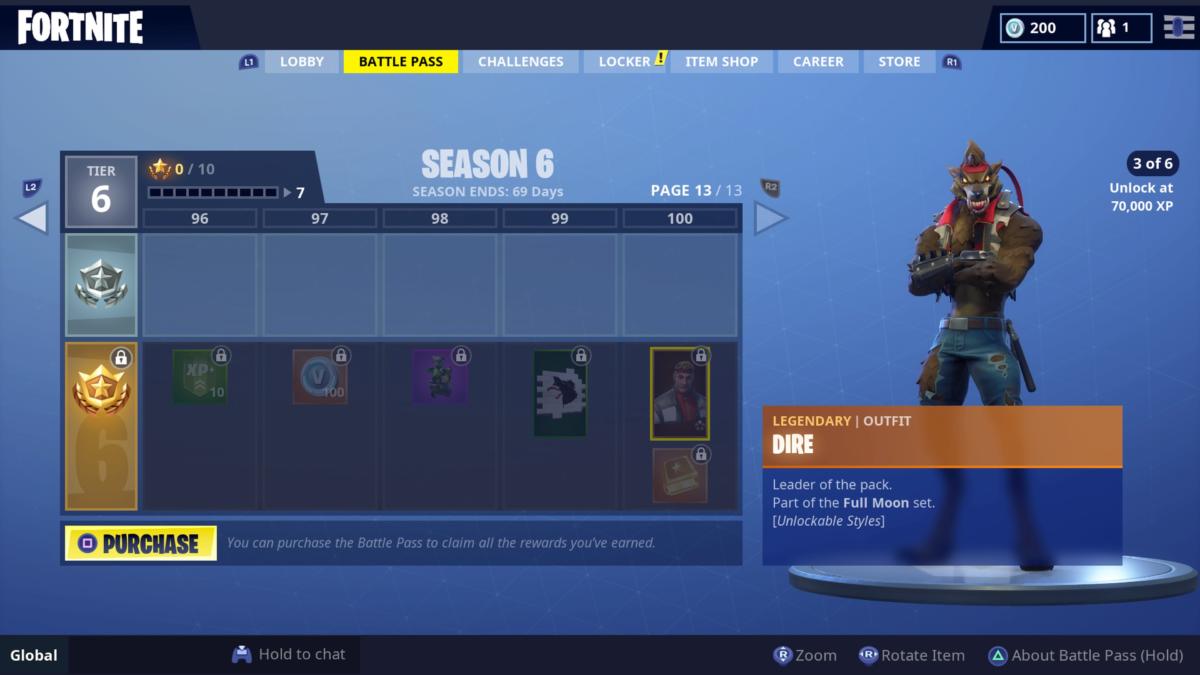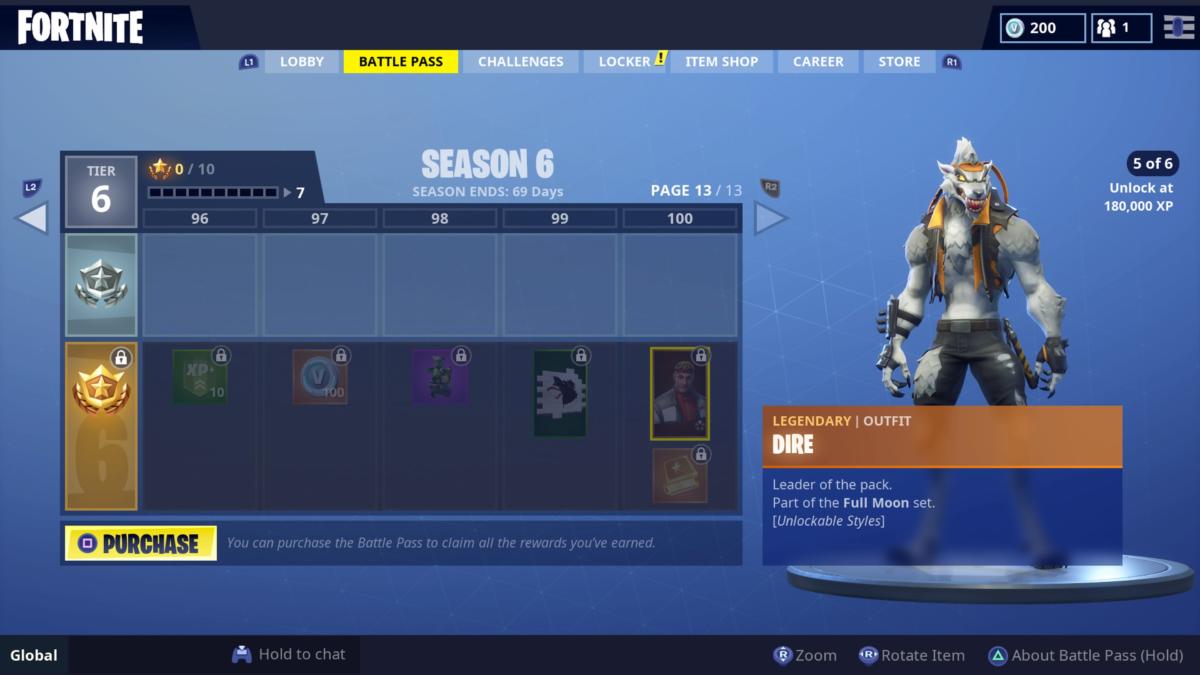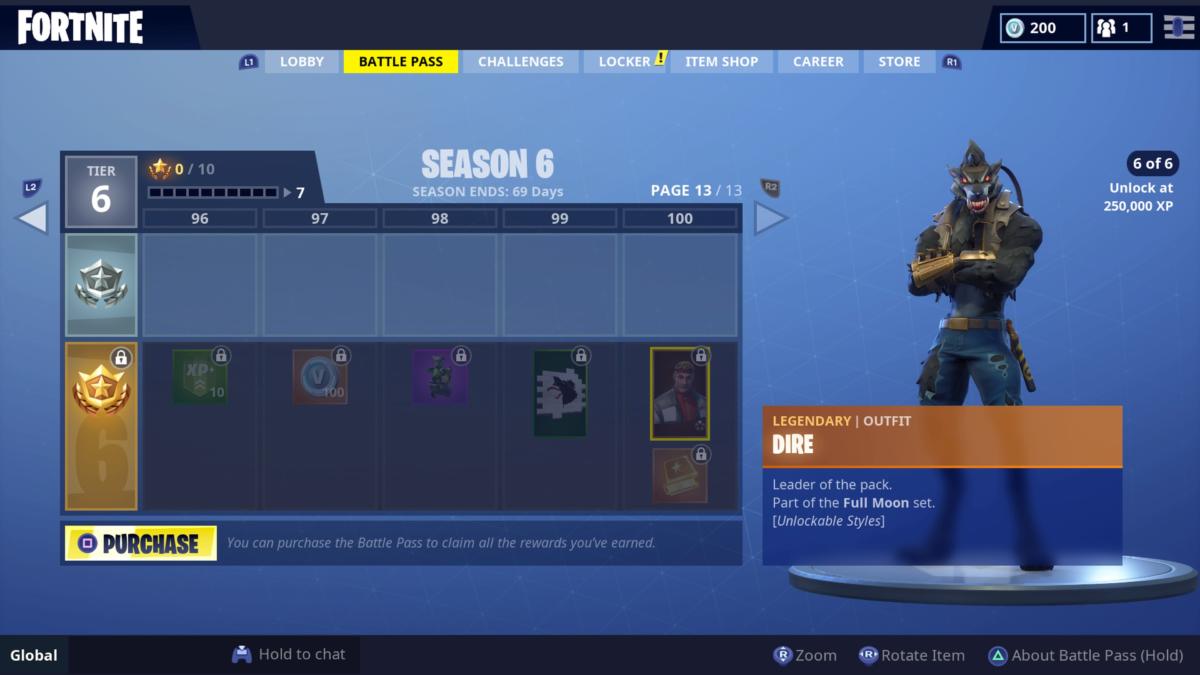 Tier: 100
Rarity: Legendary
The replacement for Ragnarok (and Omega the season prior) for season 6, Dire starts off really well as a skin but just gets a little lazy towards the end. The last three unlockable styles, at first glance, seem like colour variants with little else different, which feels like a waste. Still, it's going to strike fear into the heart of your enemies, especially when you grind to unlock the following styles:
Style 1 – Immediate
Style 2 – 30,000 XP
Style 3 – 70,000 XP
Style 4 – 120,000 XP
Style 5 – 180,000 XP
Style 6 – 250,000 XP
Grade: B-
Just like season 5, you will be able to earn XP outside of the season to unlock the full unlockable styles for the Legendary skins. In addition, both of the skins will allow you to change colours.
Elsewhere in season 6, we have a guide on the map changes we've noticed so far, what pets have been added to Fortnite, and the return of the OG music, but with a catch. If you're brand new to Fortnite, we have some tips to help you out.
Some of the coverage you find on Cultured Vultures contains affiliate links, which provide us with small commissions based on purchases made from visiting our site. We cover gaming news, movie reviews, wrestling and much more.