As any avid PC player will tell you, one of the best parts of playing on the system is the customisation options available in games, including the interface. Football Manager 2023, like previous editions, has a very slick base skin that most people won't bat an eyelid at. However, sometimes you just need a slight change of scenery, especially when you're 100 hours deep into your third different save.
In this article, we will be doling out instructions to help you apply Football Manager 2023 skins with ease. Follow these steps in order and exactly as advised, or else you risk making a mistake that will prevent the skin from working in the game.
Download Skins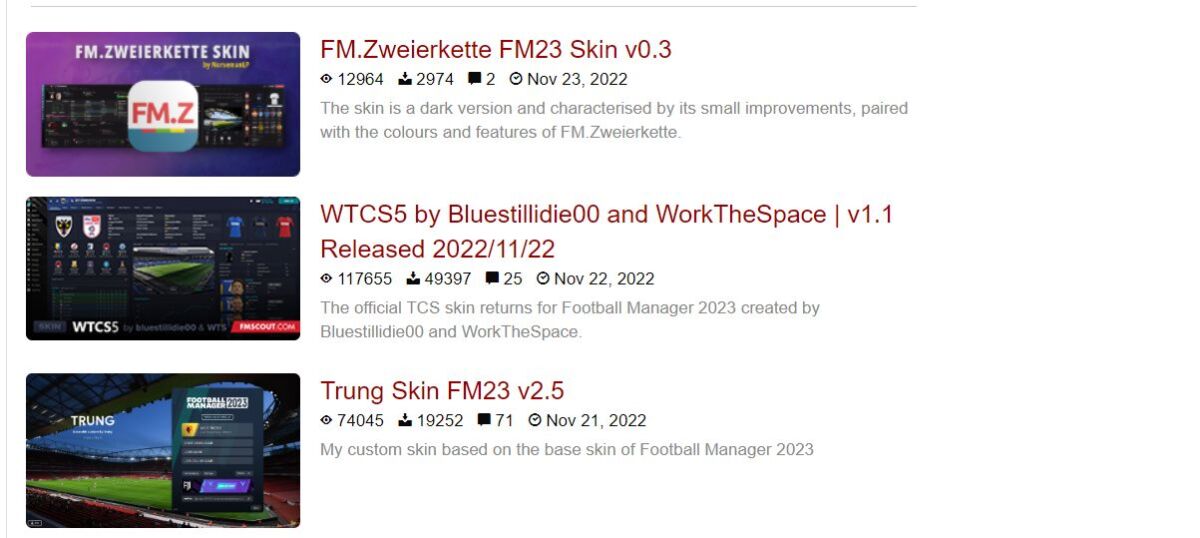 Well, there's no better place to start really. Download the skin of your choosing from the website of your choosing. Preferably, we'd advise you to go through one of the major websites like FMScout and download the popular skins rather than scouring the web and downloading risky files.
Extract The File
The skins are downloaded in .rar files which have to be unzipped using either WinRAR for Windows users or Unarchiver for Mac users. Right-click the folder once you've unzipped and click the option to extract to a specified folder.
If you're confident in your abilities to navigate folders then you can extract directly into the Football Manager skins folder, but if you're less computer savvy then extracting to your desktop is the easiest option.
Place Into Skins Folder

This step can be disregarded if you extracted directly into the FM folder, however, if you went with Plan B, this is the most important step. Find the extracted files on your desktop and right-click, then select cut.
Depending on your computer, you should be able to search for "skins" within your Football Manager 2023 folder and the correct folder will pop up. On PC, you can find the relevant folders within Documents > Sports Interactive, which is also where you can apply custom kits, badges, and faces. Click into the "skins" folder (or just hit enter) and right-click to paste the newly downloaded skin into its new home.
Enable In Options
Now that you've got the new skin in place, it's time to tell Football Manager to use it. Open up the game and head to Preferences from the FM logo in the top right, then Advanced and finally into Interface. From there, select the skin you want from the dropdown menu, make sure to tick the box that opts to reload skin when confirming changes and delete your cache before confirming your selections.
All three steps outlined above have to be followed to ensure the game reloads with your new skin, otherwise, it may just default to the standard skin.
If all goes according to plan, you should be playing with a shiny new user interface in your game after following these steps. We would also warn that custom skins do tend to lead to a higher rate of what is known as "crash dump" errors. This can be unavoidable due to the added strain these custom skins put on the game.
Football Manager 2023 is available now.
READ NEXT: Best Football Manager 2023 Tactics and Formations
Some of the coverage you find on Cultured Vultures contains affiliate links, which provide us with small commissions based on purchases made from visiting our site. We cover gaming news, movie reviews, wrestling and much more.