After the terrible reception to Dynasty Warriors 9, the next entry in the Dynasty Warriors series was always going to have an uphill battle. Despite always getting rather lukewarm reviews from mainstream outlets, the Dynasty Warriors series does have dedicated fans who were looking forward to seeing how the franchise would recover from arguably one of its worst installments.
If you were looking for improvement, you sure won't find it in Dynasty Warriors 9 Empires. In fact, it may be even worse.
For those out of the loop, Dynasty Warriors is a tentpole franchise of developer Omega Force and publisher Koei Tecmo that's been active for over 20 years. They are most known for their signature 'Warriors' game style, a 1-vs-1,000 hack-and-slash carnival where you play as one person armies to mow down enemies across various battlefields.
In Dynasty Warriors, the player and opposing armies take on the roles of notable characters based on the Chinese literary classic "Romance of the Three Kingdoms," which in turn is a highly dramaticized version of the actual historical Three Kingdoms War that took place in China from ~180-220 A.D.
The Empires subset of games, meanwhile, are a downsizing of the traditional DW releases that focuses less on the story and history of the originals and much more on tactics and strategy. The player can start from a variety of different scenarios and periods in the 100+ year dynastic civil war to start or take control of one of the forces and try to unite the land the way they wish.
That said, the Empires games have almost universally been hailed as some of the best games in the franchise, partially thanks to their stripping away of everything but the essentials. Personally, they are the games that got me into the whole franchise and started my unreasonable love for such a mediocre action series.
Unfortunately, DW9 Empires strips so much away there's hardly anything left to salvage.
The biggest positive here is the Edit Mode creation suite, which takes away several different, severely underdeveloped modes in itself from the last Empires game, such as Create A Banner and Create A Horse, to focus entirely on an overhauled character creation mode with nearly endless slots, allowing you to create not only your own kingdom of warriors, but perhaps an entire history of war based on your own creations. This was something the title picked up from one of its sister games, Nioh 2.
The navigation screens once you're in the main Conquest Mode are also cleaned up and easier to navigate than previous Empire titles as well. The return of the well-received "domestic system" is also a big plus, as you get to plot out what you want to do over a course of six months at a time.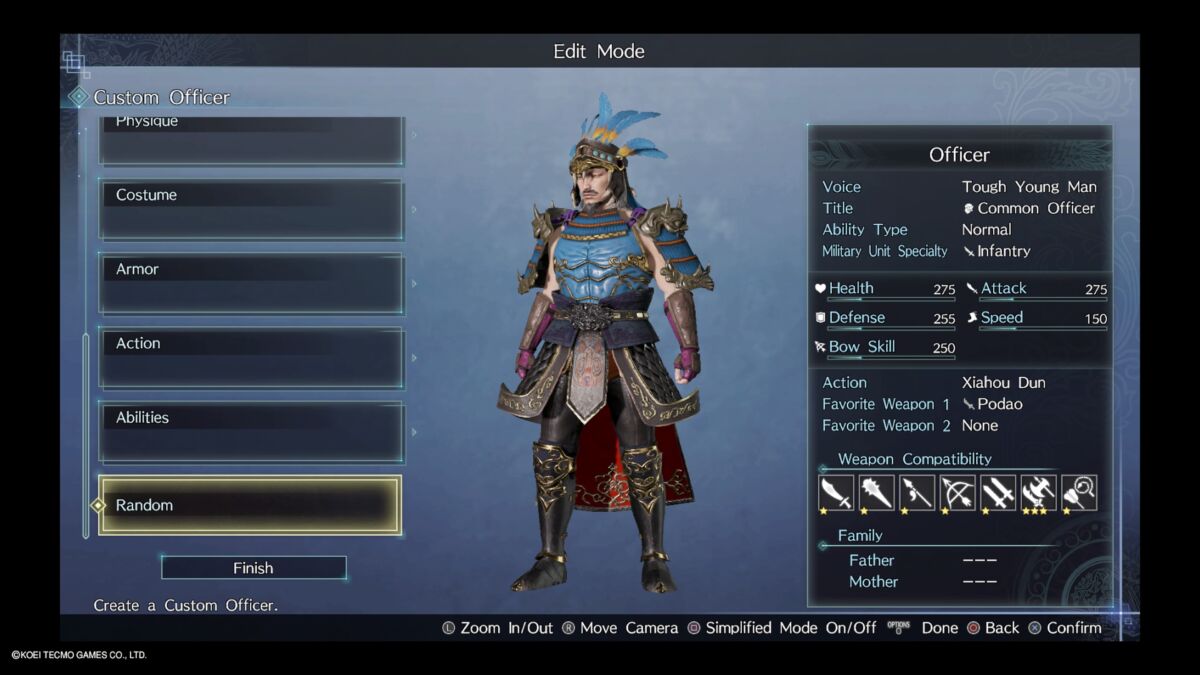 The relationship system is also pretty good, as your bond with others can result in marriage and even your own child that you can watch or play as in this or other plays of the mode, tying in wonderfully with the enhanced character creation.
It's here, however, where the positives end and an overwhelming amount of negatives are drawn from the sheath.
For starters, Dynasty Warriors 9 was criticized heavily for its attempt at an open world game when most of the world felt incredibly empty. DW9 Empires was met with enthusiasm when it was confirmed it wouldn't feature said panned open world. Too bad it still uses all the assets from it, which remain empty and lifeless.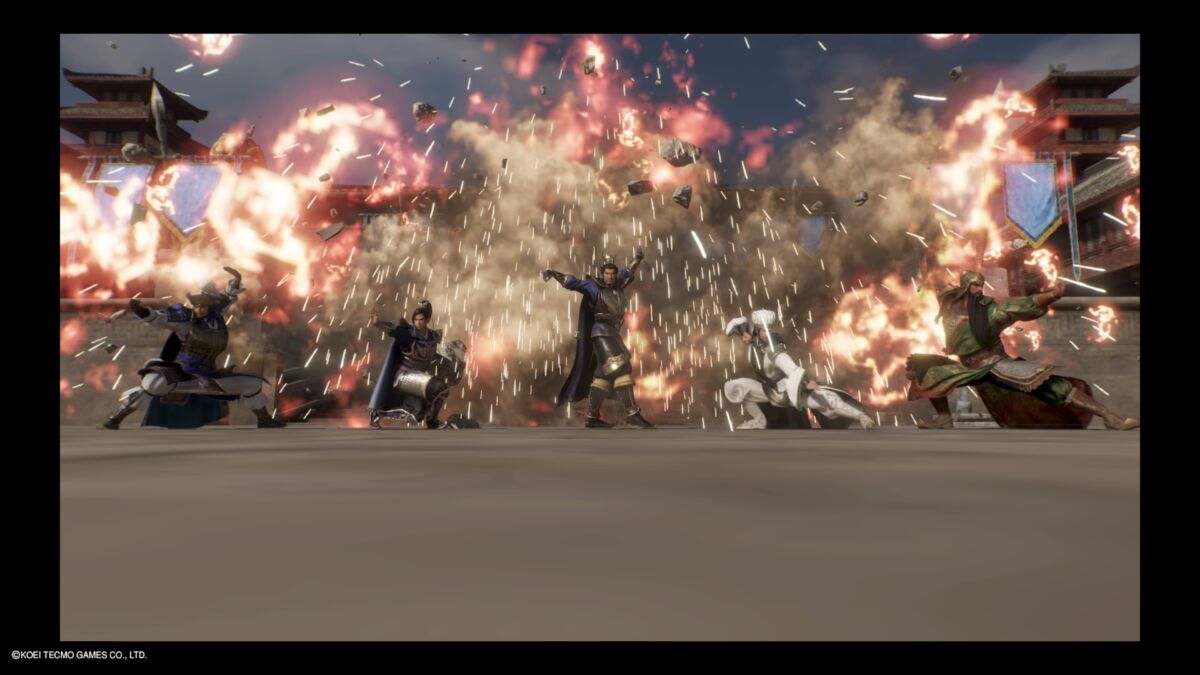 The muted colors and the dead-in-the-eyes character models offer no semblance of life. Compare this to last year's Samurai Warriors 5, made by the same studio and distributed by the same publisher, which was vibrant and full of color.
Oh, and surprise: The open world is still here if you go looking for it or accidentally hit the Start button at a certain time. If you go to take a Stroll, which is the best way of recruiting unaffiliated warriors, and exit the menu for it, you are greeted with your character and other generals in leisure attire in the center of whatever city you're in.
Surrounding you is the entire city, filled with the same NPC models being repeated, now useless space, and even more lifeless buildings that look copy-pasted and completely devoid of any sort of color or character. Some technical and graphical issues also don't help, like mountain textures taking entire scenes to load and rain not being rendered properly on occasion. This is on a PS4 Pro, but I also shouldn't need a next gen console for sky water and dirt with lines.
In addition, you have the option to call your horse and venture literally anywhere on the map from this area, revealing that said open world is still here and completely useless, which is honestly just file size bloat.
To cap it all off, the same exact icons and prompts from the base DW9 are still here, but they serve no purpose in Empires, meaning there are places all over the map where you'll be pressing buttons to collect items and read podiums that do nothing because nobody bothered to edit out any of it.
The characters match the generally empty atmosphere thanks to the return of the weapons system from DW9, making sure that no one has a unique moveset and tying moves to weapons. Characters being able to wield any weapon makes sense for most other franchises, but in Dynasty Warriors, where characters are intimately tied to their weapons due to previous games, source material, and historical significance, it makes little sense and only leaves all 90+ characters feeling cut-and-paste and completely indistinguishable.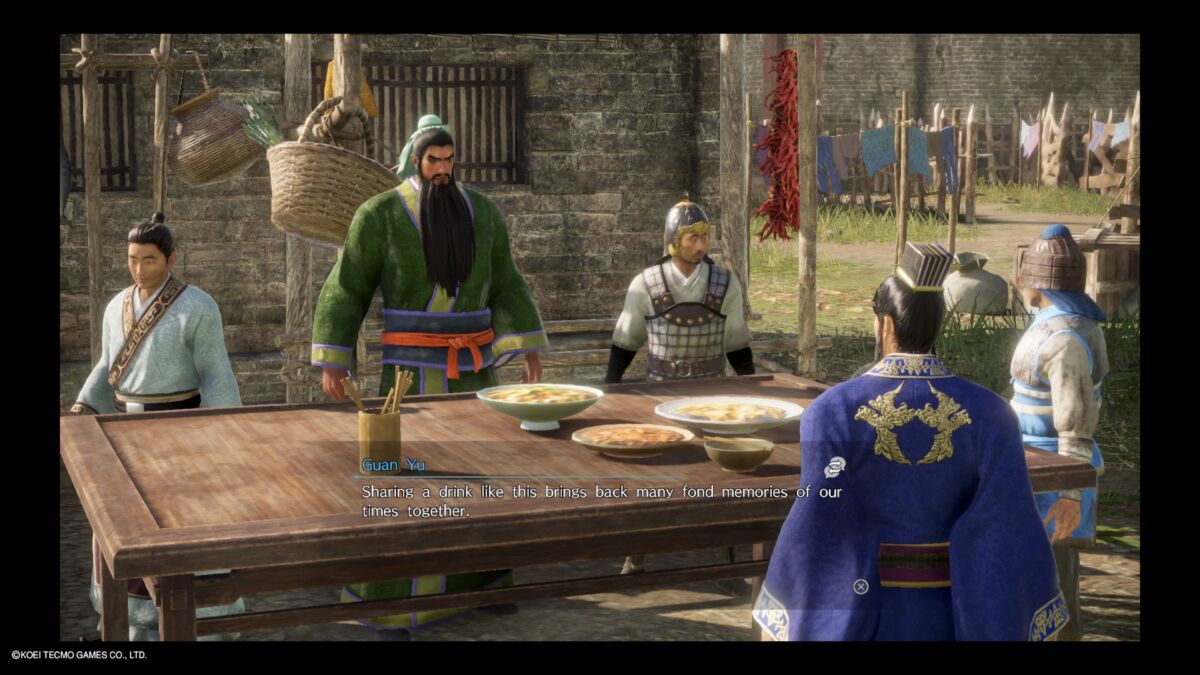 This could've been saved if the characters had distinct characterizations that actually gave them individuality. For example, members of the same family will start a campaign with much higher affinity than non-relatives. This actually gives a great deal of headway for the improved bonds system, but that's where it stops.
Even though you can marry certain characters and become sworn brothers/sisters with others, there is no individualism in any of these oaths, as these too stink of fill-in-the-blank forms. You might think this is a bit too much to ask, but considering they do it for special captured officer cutscenes and have done things like it since Dynasty Warriors 3 on the PS2, removing them feels like a step backwards.
Cluttered battlefields are nothing new to Warriors games, but the button to link your charge combo attacks being the same as the counter strike means that in the middle of combos, your character will run over to an entire other part of the skirmish entirely just to hit someone else and completely disrupt the flow the combat, making it more frustrating than cathartic at times. Add in the number of timed sub-missions in the interesting new Storming the Castle and Secret Plan systems and these precious seconds actually mean something.
If you have a passing interest in Empires, there are demos available on all platforms except PC and all the data can carry over, although the only one you'll really need is whatever created characters you make.
Even then, the demo doesn't give you much of a chance to learn gameplay, as the battles it thrusts you in to learn the ropes pit you against the iconic Lu Bu, repeat offender of stepfather murder and the strongest character in every game of the franchise, homing in on you as though you're a man who just adopted him. In fact, every notable general makes a beeline towards you and kills you in a couple of hits, giving you no real chance to learn what the hell is going on. The demo sets a bad precedent going forward, but somehow, might be a good warning that the full game is even more disappointing.
The game is also significantly devoid of content at launch. While Dynasty Warriors 8 Empires had fantastic DLC, and I'm sure DW9 Empires will attempt to repeat that success, a full-priced game at launch should not have to depend on content I'm sure will come with more than one season pass. It attempts to downsize or take a slice out of its larger parent game, then present itself as something different that demands your $60.
Empires could maybe be forgiven for all that if you could find any amount of effort put into the game. But if it is there, you can't see it.
If you've played DW9, you've basically played this game, but with the flaws even more apparent. It shouldn't be that way. If you're going to make a new game, especially one still using the backbone of a title you own all the assets for that got lambasted, you should maybe think about changing it in some way. I see almost nowhere that an effort was made to better or even make a slight left turn from the base DW9.
One of the slight improvements is the battles themselves returning to the shoebox battlefields that are the norm – although downsizing for the Empires imprint seems like that would be a given.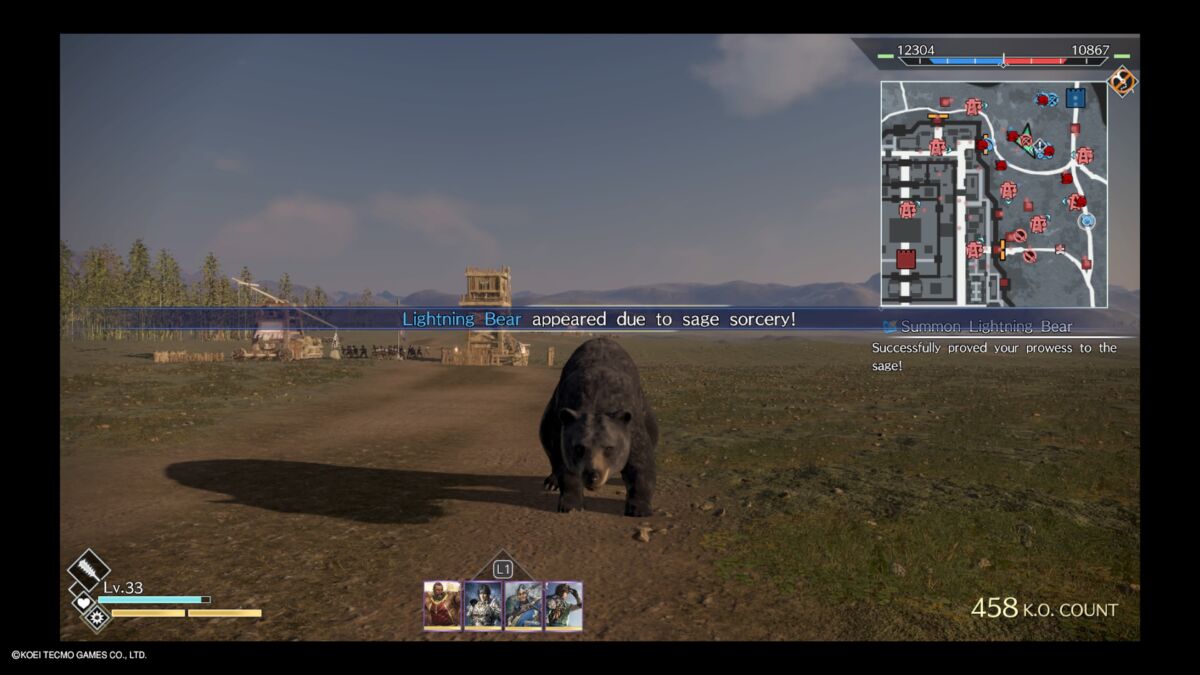 The other thing (also one of my personal pet peeves about the original) was the voice acting, which used horribly subpar non-union VOs for the English dub. This is fixed in DW9: Empires by having no English dub at all, keeping everyone speaking Japanese. It's better, but somehow also worse.
The Edit Mode stuff is also an improvement, but the attempt at depth also feels like the series possibly trying to follow trends and being two steps behind. DW9 seemed to want to follow the open world trend even when it was unwarranted and the model of multiple season passes with a severe lack of depth.
Empires' creation suite, while solid for the series, is leagues behind many, many other character creators. It's puzzling why you would attempt to follow trends when the subject matter of your art is something as niche as ancient Chinese literature.
The Dynasty Warriors series is possibly a love-it-or-hate-it series or style of games and if anyone's followed my history with them, I hold them in high enough regard that I'm sure it leaves some questioning my taste. But to say this entry is a disappointment, even to someone like me who will defend these games to the bitter end, is an understatement.
And it isn't like the minds behind it are losing their touch. Just in the past two years, the Omega Force/Koei Tecmo combo has received rave reviews for Hyrule Warriors: Age of Calamity, Persona 5 Strikers, the aforementioned Samurai Warriors 5, and there's even the recently announced Fire Emblem Warriors: Three Hopes that looks promising.
Perhaps it's my adoration for these games that has me grading it so damn hard. Perhaps I'm too invested or shouldn't have any kind of expectations. But there's something to be said about taking a game, not fixing it for five years, giving out a smaller portion of it, putting in no referenceable effort, and hoping fans eat it up. With all due respect to Cao Cao, Zhuge Liang and the gang, I'm not eating a morsel and it hurts because it's one of my favorite foods.
A PS4 key was provided by PR for the purposes of this review.
Some of the coverage you find on Cultured Vultures contains affiliate links, which provide us with small commissions based on purchases made from visiting our site. We cover gaming news, movie reviews, wrestling and much more.

Verdict
Dynasty Warriors 9 Empires has some promise, but it's learned nothing from the past and possesses no soul. This installment doesn't deserve a warrior's death - or life, for that matter.