It's been about a year since Deathloop, a game by an Xbox-owned company was released on PS5 as a timed console exclusive. Gaming in the 2020s is weird, huh? Now that the timed exclusivity period has ended, Bethesda and Arkane Lyon have finally brought Deathloop over to the Xbox Series X & S, but has it been worth the wait? The answer is yes, as Deathloop feels right at home on Xbox.
Deathloop on the Xbox Series X & S is pretty much the same game as it was on the PS5 and PC, aside from the Goldenloop update. You play as Colt, a man trapped in a time loop on the island of Blackreef. The only way to break the loop and escape is by taking out the eight Visionaries who are keeping the loop stable, but unfortunately for you, they don't take kindly to being shot in the face. If you're going to succeed, you'll need to get crafty.
How the loop works is part of the genius of Deathloop. Players can explore four different areas (Updaam, Karl's Bay, Fristad Rock and The Complex) across four different times: morning, midday, afternoon and evening. Every level has different occurrences, enemy patterns and discoveries to find, and while the maps themselves aren't huge, their dense population and the loop's mechanics give each area plenty to discover.
Because you're trapped inside a time loop, you have the ability to exploit Blackreef's repetitive nature to your advantage. Aside from one or two exceptions, most codes for locked doors and safes are consistent across all loops, meaning you can use the information you learn to make each loop more efficient.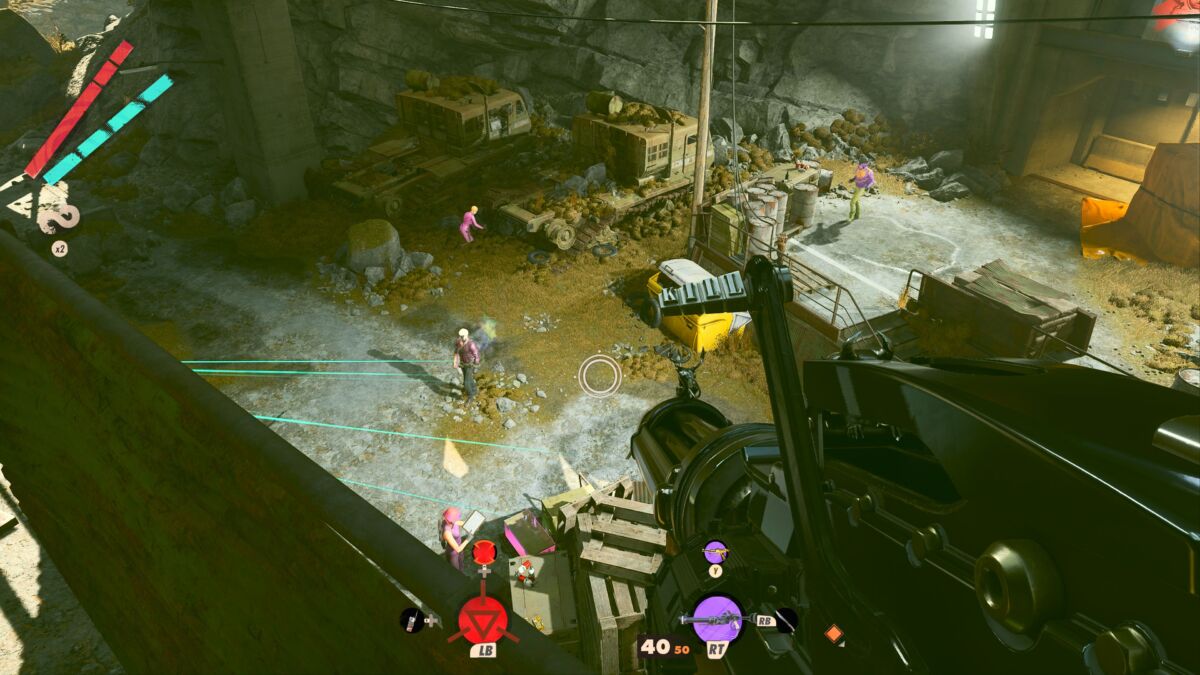 The whole game is an intricate puzzle, and in the beginning, you can only really begin to solve it by randomly tugging at threads and objectives, but over the course of several loops, it becomes clear how the different paths intersect. Trying to kill all the Visionaries with just four opportunities is an impossible feat, because you can't be everywhere at once, but with a bit of knowledge acquired from constant loops, you can engineer Blackreef to dance to your tune. Visionaries can be made to travel to specific locations, traps can be planted and plans slowly begin to reveal themselves. It's like a time loop version of Hitman, but you don't have an agent in your ear telling you off if stealth stops being an option.
It's also this loop mechanic that makes it a perfect addition to Xbox Game Pass. With the smaller sized levels, Deathloop is a brilliant game that you can just chip away at over time. Depending on the level, your objectives and whether or not you've been invaded, you can blitz through a level pretty quickly, making Deathloop a wonderful game to spend 30 minutes to an hour on at a time.
The other advantage of the Game Pass launch is with the game's Invasion mechanic. Instead of playing as Colt, you can instead try to preserve the loop by playing as the Visionary Julianna, invading other players' games and murdering them viciously. If you're a player who loves invasions, this Game Pass launch should ensure a healthy selection of matches for a long time, especially as cross-play has been enabled too. Fortunately, you can still turn those features off too, replacing invasions with AI instead. Invasions do add a nice extra wrinkle to the game, but sometimes it's nice to be able to turn the online mode off, just so you can avoid someone coming in with high-end weapons and abilities making mincemeat out of you.
You wouldn't think it would happen during the review period, but it did. It scared me.
As for the gameplay itself, if you're the type of player who prefers to shoot first, then scratch your questions onto a bullet and shoot them too, then Deathloop is probably going to be a much more appealing prospect to you than previous Arkane titles like Dishonored or Prey. Sure, there's the possibility for stealth and other methods of subterfuge in order to make your mission a successful one, but the all-guns blazing approach can also be very effective.
While you start the game losing abilities and gear after each loop, you'll eventually unlock the ability to infuse gear, and it's here where the power fantasy of Deathloop brings itself to the surface. Players can earn Slabs, which allow you to use powers that can turn the tide in any encounter. Blink will be immediately familiar to Dishonored fans, while Slabs like Karnesis and Havoc allow you to become a one man wrecking crew.
Once you've got your build sorted after multiple loops, Deathloop is a joy to play. Carving through levels, using your powers and weapons effectively makes for one of the most satisfying FPS experiences on current-gen consoles. The fact that it's now available on Xbox Series X & S and via Game Pass is just the icing on the cake, but even if you're a lapsed Deathloop player, there's still reasons to log back on.
The Xbox launch of Deathloop coincides with a free content update for all players, Goldenloop, which adds cross-play matchmaking and a host of new content in-game, like new trinkets, a new weapon and new powers. While the power, Fugue, is a bit underwhelming unless you're committed to stealth and subterfuge, the HALPS Prototype weapon is ludicrously powerful. A laser beam with devastating damage, the HALPS is able to shred through most regular enemies almost instantly. Combine this with the Havoc power, then head to Aleksis' party in Updaam (Evening). The results can be astonishing.
Those content updates, plus others like more Julianna upgrades for invasions, along with an extended ending, might not be enough to attract lapsed players on the game's already established platforms. However, the launch on Xbox Series X & S, especially as part of Xbox Game Pass, makes it all the more tempting to jump back in for a second loop, especially if you're looking for fresh meat with invasions. If you haven't yet experienced Deathloop, this Xbox launch is the perfect time to start.
A Digital Deluxe Edition copy of Deathloop was provided by PR for the purposes of this article. 
READ MORE:  Deathloop's Nexus Slab Is Unbelievably Rad
Some of the coverage you find on Cultured Vultures contains affiliate links, which provide us with small commissions based on purchases made from visiting our site. We cover gaming news, movie reviews, wrestling and much more.