Steam offers such a wide variety of games to play that using an emulator might seem pretty unnecessary at first. However, even the portable gaming power of the Steam Deck can benefit from a useful emulator for your favorite retro console.
Nostalgia hits hard, and gamers often yearn to revisit games from their past. Luckily, the Steam Deck is super emulator-friendly, and we've put together a list of the best Steam Deck emulators available.
It's incredibly easy to learn how to get the emulators onto your Steam Deck as well as how to use them. If you are hoping to play your old favorites from SEGA, Sony, and Nintendo, you can use this list to know just which emulators to go with.
The Best Steam Deck Emulators
1. EmuDeck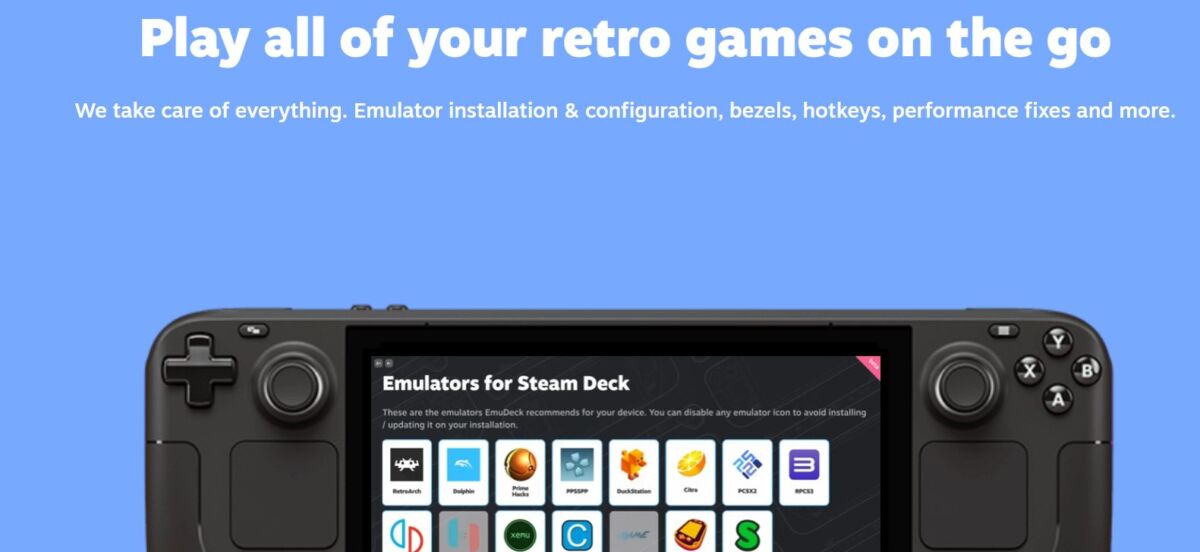 This list starts off with the emulator to end all emulators, EmuDeck. It covers an extensive list of retro games. The list of home-based consoles includes:
SegaCD Add-on
Sega32X Add-on
Atari
TurboGrafx-16
Neo Geo
NES
SNES
Master System
Nintendo 64
Wii
The EmuDeck also can emulate games for these handheld devices:
WonderSwan
Neo Geo Pocket
Game Boy
Game Boy Advance
Game Gear
Nintendo DS
Nintendo 3DS
Wii U
On top of all of these options, there are also a couple multi-arcade emulators that EmuDeck includes, like Mame and FinalBurn Neo. This emulator is basically a parent emulator that downloads a bunch of separate emulators for you to use depending on which system you want to emulate. Not only is EmuDeck's selection massive, but it's also one of the easiest emulators to get the hang of.
2. Dolphin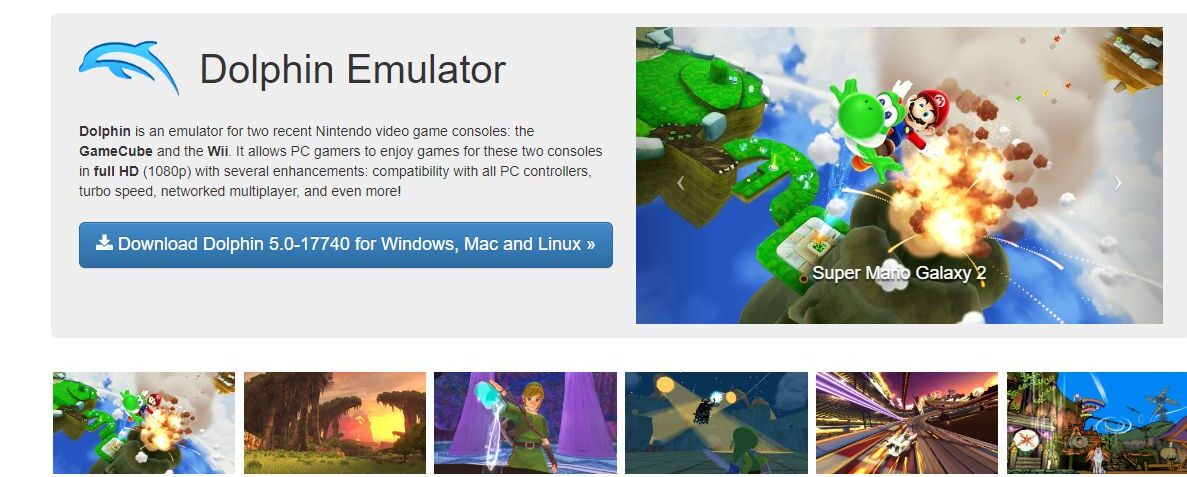 This emulator for Nintendo GameCube is known as Dolphin. It's a great emulator that's compatible with a ton of games, and that list's always growing. To rip the mini-DVDs that contain the games for the Nintendo GameCube, you'll need to find an appropriate disc drive.
Once you've figured out how to back up the games, you're good to go. Dolphin also works with Wii games, although it's not necessarily recommended due to the games' dependency on the WiiMote peripherals. This list of compatible games can be found here and includes fan favorites like Golden Eye.
3. SNES9X

SNES9X emulates games made for Super Nintendo and can be used with all of the SNES faves. It's very easy to assign controls to the Steam Deck's setup.
It's important to remember that you'll need an SNES cartridge adaptor to back up games and load them into the emulator. SNES9X produces accurate and speedy recreations, making playing classic titles, like Street Fighter II Turbo, an absolute dream.
4. Yuzu
Yuzu is by far the best Nintendo Switch emulator around. It's an open-source GPLv2 licensed program, and it's been around since 2018, shortly after the release of the Nintendo Switch.
The emulator's website outlines when regular updates will happen and has an entire FAQ section for any users encountering errors. You can find a full list of compatible games here, including a side note of how well they work with the emulator.
5. DuckStation
The OG PlayStation offers some of the most stable gaming emulations available. On top of that, ripping game backups is fairly easy and can be done with most laptops and desktops that have a disc drive.
DuckStation strives for high-accuracy emulation which won't sacrifice performance. It's super easy to both set up and use.
It's important to keep in mind that not every original PlayStation title supported analog controls so not every game may work flawlessly. You can jump right back into Final Fantasy VI and many other PS games.
6. PCSX2
It's only natural to follow up a great PS emulator with an equally awesome emulator for PS2 games. Unfortunately, PS2 games are a bit more problematic than those for the PS, with very few games running flawlessly.
Game backup is still very simple, although you might not be able to play your entire PS2 library. PCSX2 is open-source and constantly improved upon. Regardless of flaws, many playable PS2 games are compatible with PCSX2, including Metal Gear Solid 2: Substance.
7. PPSSPP

While this may sound like the noise you make when calling a cat, it's actually the best option around for a PSP emulator. It's very easy to use and offers great compatibility and wonderful performance.
The emulator is frequently updated, and you can even remove ads through a paid version, though the free version works just as well. Many other developers actually mimic PPSSPP. You can find a list of compatible games here, including Final Fantasy III.
8. xemu

If you're looking for an emulator for the original Xbox, then xemu is the emulator for you. Backing up games for the OG Xbox is just as easy as it is for any other standard disc-based game.
Its emulation isn't always perfect, but many Xbox titles run great when using xemu. Even the games that aren't flawless still run from start to finish with very minimal problems. Whether you want to jump back into OG Halo or Ninja Gaiden, the list of compatible games is pretty big.
9. Blastem

Blastem is the emulator to use if you want to play SEGA Genesis games. You'll need special hardware to back up the games on SEGA's cartridges.
Once you've done that, you'll be good to go. Blastem offers super-accurate emulation without needing heavy-duty components and the setup is easy. Best of all, no games seem to have any issues running through the emulator.
10. mGBA
Last but not least when it comes to  the best Steam Deck emulators is mGBA, an emulator for the Game Boy Advance. You can still find the dumping hardware to back up your old games to almost any computer.
mGBA is an amazing emulator that doesn't require powerful hardware. The OG 3:2 aspect ratio does fairly well on the 16:10 panel the Steam Deck has. Any games that have known bugs typically fail to boot altogether, and any others are good to go.
READ NEXT: How To Increase Steam Deck Battery Life
Some of the coverage you find on Cultured Vultures contains affiliate links, which provide us with small commissions based on purchases made from visiting our site. We cover gaming news, movie reviews, wrestling and much more.