Let's say you have graphics on 4K resolution with ray tracing, a solid-state drive and a controller with haptic feedback. That's a PS5. Now let's say there's a very young person with many desires and needs. That's a child. Bring the two together, and you get a child with your PS5. That can be a delicate situation, as you probably don't want them playing God of War. Instead, you'll want them to play only the best PS5 games for kids.
Of course, instead of looking for the kid-friendly PS5 games, you could just be an adult looking for vibrancy and color, simple and entertaining gameplay, or cute stories. Either way, we've got you covered.
Remember that PS4 titles will also work with your PS5, so you might want to take a look at some other games, too.
BEST PS5 GAMES FOR KIDS: Balan Wonderworld | Temtem | Spacebase Startopia | Puyo Puyo Tetris 2 | Override 2: Super Mech League | The Pathless | The Pedestrian | Spirit Of The North | Overcooked! All You Can Eat | Bugsnax | Planet Coaster | Worms Rumble | Sackboy: A Big Adventure | Astro's Playroom | Crash Bandicoot 4
15. Balan Wonderworld | Ages: 7+
Developer: Arzest, Balan Company
Publisher: Square Enix
Platformers were a thing, are a thing, and probably will always be a thing. Balan Wonderworld works with that idea, and is a genuine, classic-like platformer.
The game features many chapters, some with unique playstyles, and a wonderfully built surreal world. While the in-game visuals aren't exactly next-gen, the cutscenes are beautiful and play a story that feels like an animated movie.
The Balan Theater is a magical place which draws people in who have emotional trouble, and the two protagonist siblings – Emma and Leo – are such people. Balan Wonderworld has players involved in a bizarre, dreamlike world, where some things might resemble reality, but, at the same time, everything is full of symbolism.
The story unfolds with lots of meaning, and moral values will be taught while entertaining anyone who plays Balan Wonderworld, whether they're young or adult.
Collectables, creative boss fights, minigames, puzzles, numerous costumes and cute helpers are highlights, and fit in well with the game's story and setting.
14. Temtem | Ages: 10+
Developer: Crema
Publisher: Humble Games
If you love Pokémon, want every child in the world to love it too, and you have a PS5, Temtem will probably do the trick. It'll also do the trick if you just love Pokémon and you have a PS5.
In Temtem, the Spanish studio Crema is definitely inspired by the Pokémon series, as players tame creatures known as Temtem, who fight other Temtem, and each species has unique powers.
Players can trade Temtems with other players in the online MMORPG world, as they fight against NPCs or in competitive PvP. Cooperation with friends might be necessary in order to fend off the menacing Clan Belsoto, who seeks to take control of the Airborne Arquipelago.
Although it's still being developed at the time of writing, an early access version of Temtem is already out and playable.
13. Spacebase Startopia | Ages: 10+
Developer: Realmforge Studios
Publisher: Kalypso Media
Some people might remember the original Startopia from back in 2001. That game had players administering space stations, satisfying guests and fending off alien invasions, to name a few of its many tasks.
Now, Spacebase Startopia comes as a sequel, but acts a lot like a remaster. That means that, if you played Startopia, you can probably help your kids play Spacebase Startopia, or you can easily get into it yourself.
The game features space stations, each with three decks to manage. Each deck has independent but closely related functions: the bottom one has services such as industry and health; the middle deck is the fun zone, where aliens come to your station to enjoy it and give you energy and prestige; and the top has the bio deck, a growing area of essential resources. There's also online co-op multiplayer, with shared station management.
So far, the game feels a lot like a city builder met an amusement park management game. That is, until the combat: Spacebase Startopia has RTS battles against invaders, in which players need to use droids and mechs to defend the station. That way, it feels like a city builder, an amusement park management game and a RTS title.
Although there are mechanics that can demand a bit too much, the dark humour from the AI helper, the alien visuals and the robots are all things that can keep players entertained.
12. Puyo Puyo Tetris 2 | Ages: 3+
Developer: Sonic Team
Publisher: Sega
While Tetris has you trying to form lines of blocks of different shapes, Puyo Puyo requires the player to get the same Puyo colors (among vastly colored falling Puyo) horizontally or vertically. Tetris and Puyo Puyo are very similar in their simple – but clever – mechanics, so mixing them up isn't an unthinkable idea.
That's probably the logic behind the Puyo Puyo Tetris series. Puyo Puyo Tetris 2 has players playing with either Puyo Puyo or Tetris, or even with a mixed up mode, in which both puzzle games' rules apply.
It's playable alone, but the essence of Puyo Puyo Tetris 2's fun is in multiplayer. Matches are full of competitiveness, as each player tries to intelligently outsmart their opponent with fast thinking and fast planning. This game is definitely stimulating not only for a child, but also for an adult, since mastering its mechanics might not be an easy task, but winning a match does bring that nice glory-like sensation.
11. Override 2: Super Mech League | Ages: 10+
Developer: Modus Studios Brazil
Publisher: Modus Games
Giant mechas are one of science fiction's most known tropes, even more so when they fight each other and destroy the whole environment around them. I pity the people who lost their homes due to urban mecha fighting, though.
In Override 2: Super Mech League, instead of losing their homes, humans get entertained with mecha fighting. And the ones charged with piloting the mechas are the players.
Different giant robots are available to choose from and unlock, along with some unique moves, and also customizable accessories to keep them looking polished. The environments have variety as well, with buildings, electrified water and throwable explosives dotting the arena.
As the action unfolds, players feel engaged in the game's online fights in order to reach a higher rank, or to finish the career mode. This is certainly one of the best PS5 games for kids who are competitive and enjoy some party-like big robot fun.
10. The Pathless | Ages: 10+
Developer: Giant Squid
Publisher: Annapurna Interactive
From the developers of Abzû, The Pathless is an open world game that takes place on an island cursed by big, evil spirits. The player is in charge of the Hunter, an archer who must lift the curse by lighting up obelisks, which weaken the spirits, and then proceeding to defeat them. All of that, and you also get a cool eagle companion.
The Pathless features lots of moving around, but that isn't as boring and slow as it sounds. By shooting at talismans scattered throughout the world, the Hunter gathers speed to run, slide and glide her way to the next objective with a lot of velocity. It's not so easy, though, because the player needs to time their shots right to make full use of the talismans. The eagle also provides a limited flying ability, which can be upgraded and gives you even more freedom of movement.
The mechanics are fast-paced and highly stimulating. Fights with evil spirits involve some fast thinking, as the player will have to hide, chase, corner and battle them. Besides having fast reaction time, the players also need to use their spatial memory, since the devs made sure that the game doesn't have a minimap. Clever puzzles also await the Hunter in the world of The Pathless, making this one of the best PS5 games for kids who want to think on their feet.
9. The Pedestrian | Ages: 7+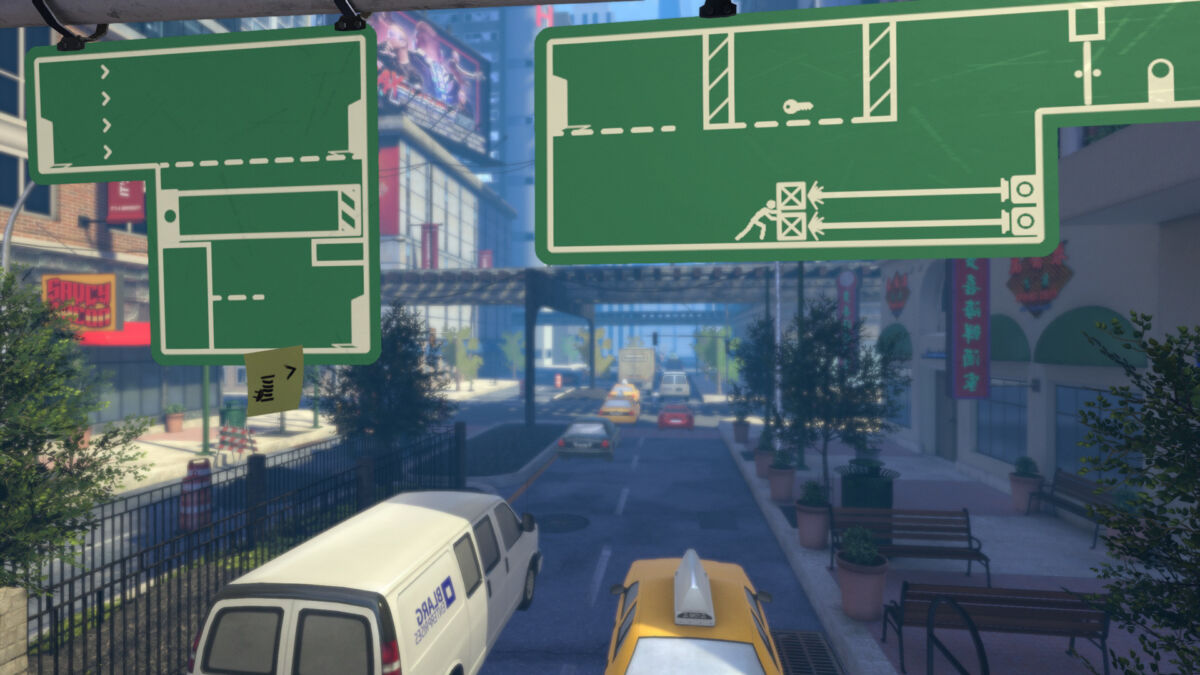 Developer: Skookum Arts LLC
Publisher: Skookum Arts LLC
If the usual platformers aren't entertaining you or your kid, Skookum Arts probably has the solution.
The Pedestrian is a puzzle platformer with many classic elements from the genre, but it also innovates. The game features a creative story in which the player, with a drawing of a stickman, beats levels inside street signs and billboards scattered throughout the bustling streets, sewers and houses, with lively, relaxing or clever backgrounds.
The soundtrack builds the atmosphere perfectly, the controller responds well to the world and the puzzles are unique, ranging from moving crates around to moving whole connectable level sections.
Be prepared to solve some puzzles for your child, though, as those can get really complicated. So much so that you might not even know how to solve them yourself. Still, it's a good brain workout.
8. Spirit Of The North | Ages: 7+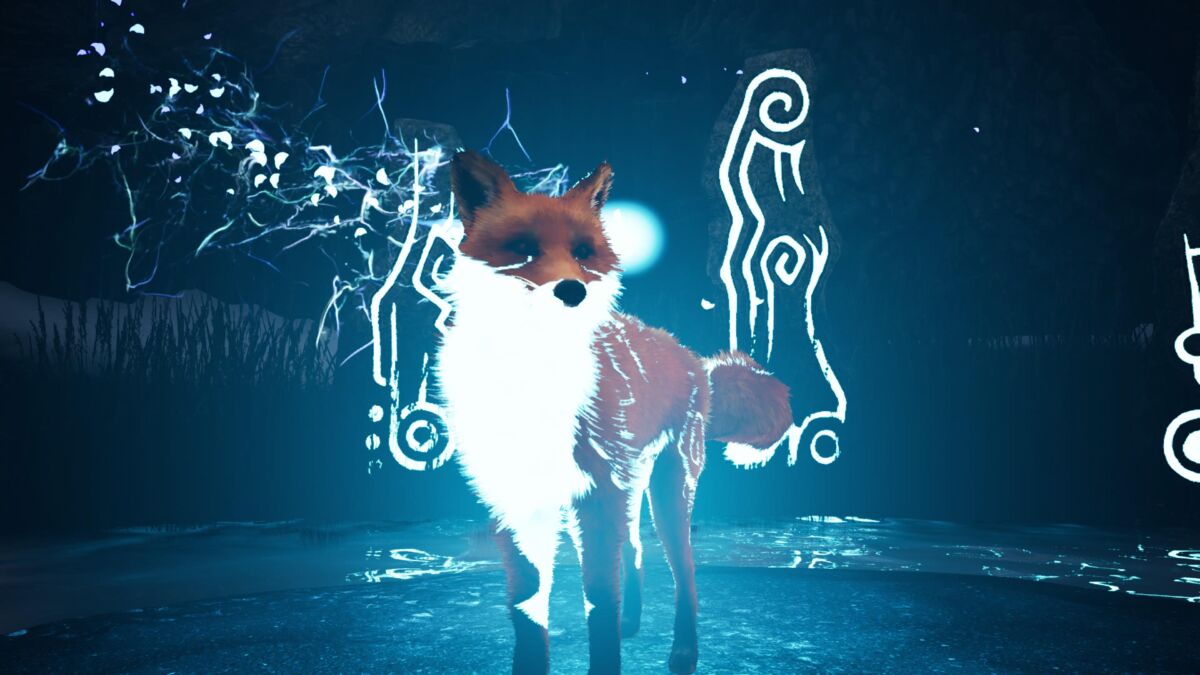 Developer: Infuse Studio
Publisher: Merge Games
It's been some time since Nordic culture began getting a lot of praise in Western cultures. Some 200 years, actually. Although I find it to be an overused theme, sometimes it's very well used. One of those times is in Spirit Of The North.
Spirit Of The North features a lot of Nordic folklore, specifically Icelandic. Players are engaged in a beautiful, dialogue-less trip in some of Iceland's breathtaking scenery, as a red fox guided by a spirit fox. In the game, the world has been corrupted, as can be seen in parts of the environments and the unmistakable red skies.
Spirit Of The North touches a lot on Nordic culture, with rune stones scattered throughout the place, along with carvings that tell the game's story.
Although some might find the puzzles too hard since there is almost no direction and absolutely no dialogue, the game is short and beautiful enough to keep you hooked to the end. Every chilling landscape will mesmerize the player, just as much as the magic effects that contribute to the mystery of this corrupted world.
7. Overcooked! All You Can Eat | Ages: 7+
Developer: Team17
Publisher: Team 17, Ghost Town Games
Overcooked! and Overcooked! 2 were spiced up and mixed up in a blender. The result? Overcooked! All You Can Eat. In more adult wording, that means Overcooked! All You Can Eat is a remaster of the two previous games in the franchise.
This collection will get players single-handedly or cooperatively cooking up dishes in fun (and frustrating) scenarios. That's no easy task, as it'll require fast pacing, timing and multitasking from everyone. That's a lot like real life cooking, you know.
Online multiplayer with cross-play is present, too. That's quite neat in terms of games for kids, since sociability is something essential for most people, especially children.
6. Bugsnax | Ages: 7+
Developer: Young Horses
Publisher: Young Horses
Ever wanted to be a journalist on a mysterious island full of exotic species? I'm not talking about some King Kong movie, but something much less frightening and much more delicious.
In Bugsnax, the player, a journalist, is invited by the explorer Lizbert Megafig to Snaktooth Island, a place full of creatures that are half-bug and half-snack. Guess what their name is.
After arriving to Snaktooth, a mystery will have to be solved by the player, as they explore the island and capture the Bugsnax. Expect to work your brain out, as the game makes use of intuitive and fun puzzles for catching half-burger, half-fries, half-strawberry, and all kinds of half-snack creatures – there are 100 different species.
Fun and tasty visuals are guaranteed, even more so because eating Bugsnax makes Grumpuses – the human equivalent of the Bugsnax world – physically change. For example, feeding someone two Charmallows – fireflies made up of s'mores – might make them get a hand made of chocolate and another made of graham crackers.
"Eye candy" has a whole other meaning, now.
5. Planet Coaster | Ages: 3+
Developer: Frontier Developments
Publisher: Frontier Developments
Most kids have a dream of going to an amusement park, and today's adults can confirm that desire isn't new. The first RollerCoaster Tycoon was probably the initial culprit, as it gave these people a wonderful experience: they learned about parks, coasters, finance and even some physics, while having fun.
Planet Coaster is a game that, much like RollerCoaster Tycoon, is a success in the theme park business management genre. And if I were a kid with a PS5 right now, I'd definitely want that title.
The game lets players build amusement parks – from scratch or from a prebuilt park – in their own way, with a need for finance management, fulfilling customer desires, planning, and coaster designing. That may sound like a lot for a child, but the game makes it simple, and also feels very rewarding with its challenges, as the success of a well built and placed ride is enough to compel players to use their management and spatial skills.
It feels a lot like Planet Coaster is a major step up on its peers, and it's safe to say it's still one of the major games among the amusement park builders. Unfortunately, though, it's still not a real amusement park.
4. Worms Rumble | Ages: 10+
Developer: Team17
Publisher: Team17
The Worms franchise has a lot of fame in turn-based artillery combat, and every last one of their titles has been about that. Except for Team17's new game: Worms Rumble.
In Worms Rumble, players engage in real-time action in 2.5D scenarios as one of the iconic funny worms. The usual game weapons are present, from the somewhat realistic ones to the more "exotic" ones.
Online multiplayer with crossplay goes perfectly well with the customizable personal worms, as players fight each other in full 32 worm battles with battle royale dynamics, and everyone has their own crazy costume. Different modes are available as well, such as team deathmatch and last worm standing.
With all the extraordinary weapons and cartoony violence, the game might not be suited for every child, though.
3. Sackboy: A Big Adventure | Ages: 7+
Developer: Sumo Digital
Publisher: Sony Interactive Entertainment
The LittleBigPlanet franchise definitely contains some of the best platformer games, and Sackboy: A Big Adventure is no different: it's not only an iconic platformer, but also one of the best PS5 games for kids.
Similar to the other LittleBigPlanet titles, players get a very customizable boy made of cloth. The game requires thinking and acting – quickly or patiently – in smart level designs, and variety is a keyword in the gameplay. Sometimes, Sackboy has classic platforming structures, while at other times it gets you solving a clever puzzle of a kind you haven't seen before.
Sackboy is a lot like Astro's Playroom, but with its own touch of cuteness, style and creativity. There are a lot of challenges, especially if the player seeks every collectable they can get. Even though the game can sometimes be frustrating, the many different visuals can keep anyone hooked enough to get past even the most annoying obstacle thrown at them. And also, it's worth noting that the music will make you wanna hit your hallelujah.
It has an online function and cross-play, too, with very fun moments in which players (try to) cooperate for progression towards the objective. That means players of all ages can try it out together.
2. Astro's Playroom | Ages: 7+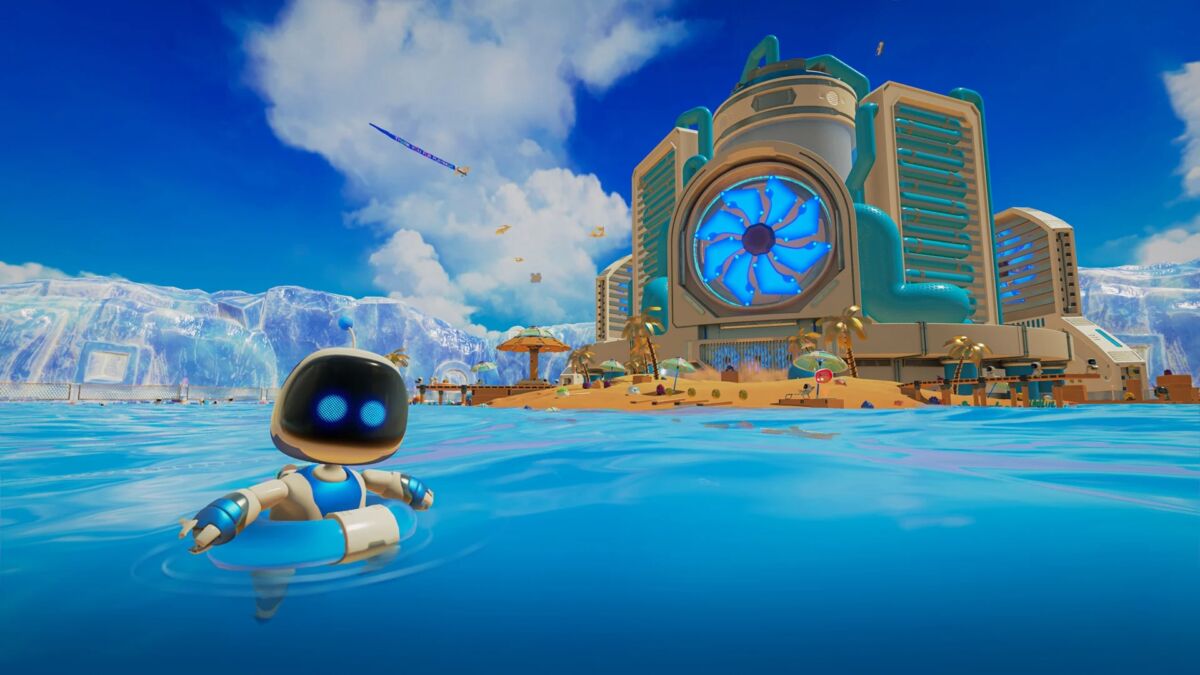 Developer: Asobi Team (Japan Studio)
Publisher: Sony Interactive Entertainment
Astro's Playroom is a single-player platformer with very varied gameplay, like with Sackboy: A Big Adventure. In one moment, you'll be openly exploring a colorful and lively alien forest in third person, and in another, you'll be climbing up a high-tech building's wall while breaking boxes full of coins.
With lots of secrets, easter eggs and references to famous games, Astro's Playroom is very rewarding to play and explore, for kids and adults alike.
The game will keep players entertained with its vibrant worlds, full of robots, creatures and enemies engaged in different activities. They also respond differently to Astro Bot's actions, whether he punches them, jumps on them, or just looks at them. Even if you simply walk around aimlessly, Astro's Playroom immerses you in its universe.
Astro's Playroom is also freely pre-loaded for every PS5 user, so there's no excuse not to try it.
1. Crash Bandicoot 4: It's About Time | Ages: 7+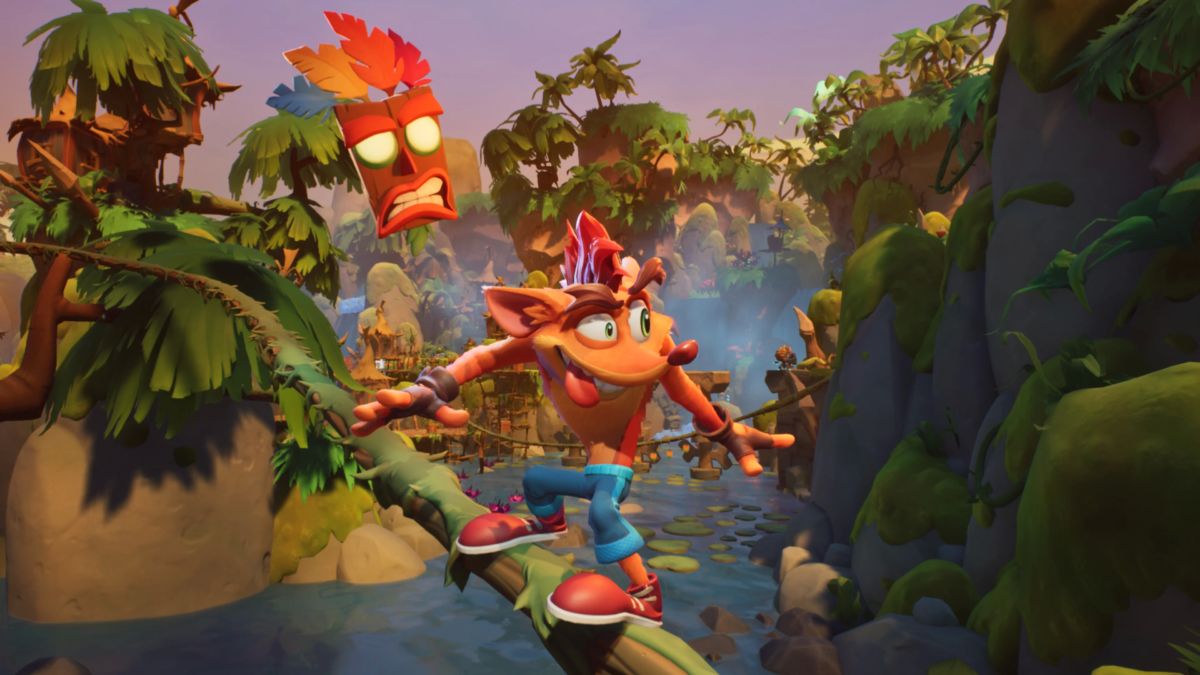 Developer: Toys for Bob
Publisher: Activision
There's many good tunes to be played on an old fiddle, and although Crash Bandicoot used to be an old fiddle with really good tunes, the recent trilogy remaster has restored that fiddle's glory.
While the remastered N. Sane Trilogy can be seen as a restored fiddle, Crash Bandicoot 4: It's About Time is a new one made from scratch, and it plays really neat tunes.
In Crash Bandicoot 4, we see a completely new story and completely new mechanics; players will go through complicated platforming levels mostly with Crash and Coco, but they'll also play with other characters, such as Neo Cortex and Dingodile, who have unique playstyles.
Anyone who played the old games probably remembers how difficult they were. Crash 4 pleases both new and nostalgic players, with a "Modern" difficulty option and a "Retro" choice. While both modes feature the same levels, the original game's mechanic of losing lives, and having to restart the level when losing all of them, is absent in the Modern option. That contributes to this game's status of one of the best PS5 games for kids, since maybe kids just aren't as hardcore as before.
The new Crash also features bonus Flashback levels from the first game, local co-op or competitive multiplayer, and skins for Crash and Coco that can be unlocked with collectable gems.
READ NEXT: 15 Best PS5 Multiplayer Games You Should Play
Some of the coverage you find on Cultured Vultures contains affiliate links, which provide us with small commissions based on purchases made from visiting our site. We cover gaming news, movie reviews, wrestling and much more.