The MCU has grown to become arguably the biggest and most recognisable media franchise in the universe, a world-beating behemoth sporting more than 30 movies, scores of TV shows and dozens of tie-in video games, licensed novels and even theme parks.
Taking a leaf out of the Star Wars marketing playbook, Marvel have done their level best to extract as much merchandising potential from the biggest brand in cinema as is humanly possible. And why shouldn't they? Practically everyone loves Marvel (or knows someone who does), meaning there are scores of gifts for Spider-Man fanatics, Iron Man lovers and Black Panther devotees everywhere. With this list of the best Marvel gifts, you'll never endure a reaction as disappointing as Thor: The Dark World again.
Marvel Gift Guide
1. Mjölnir Bottle Opener Keyring
During a particularly low ebb at the beginning of Avengers: Endgame, poor old Thor can be seen using his mighty axe Stormbreaker to pop open bottles of craft IPA as he struggles with his post-Infinity War depression.
If only he'd had the Mjölnir bottle opener keychain, he could've had his hammer back and found a convenient way to open a nice crispy brew simultaneously. Two problems solved in one fell swoop.
2. Captain America Shield Backpack
The Captain America shield has become a cultural icon in its own right, a classic design that now adorns lunchboxes, mouse mats, t-shirts and novelty mugs.
Few of us were expecting Cap's shining star to appear on a backpack, but boy does it work. How could you not become the coolest kid at school after getting something like this?
3. Iron Man Licensed Replica Helmet
There's barely a person alive who hasn't fantasised about donning the iconic Iron Man armour and blasting through the sky with AC/DC cranked up to eleven.
While that little reverie remains well within the realm of fantasy for most, you can at least get a taste of being the world's greatest genius billionaire playboy philanthropist thanks to the official Iron Man licensed electronic helmet.
4. LEGO Infinity Gauntlet Set
Lego have produced some absolutely fantastic movie tie-in sets over the years, but the Infinity Gauntlet set has to be up there with the very best.
Measuring over 12.5 inches tall and 5 inches wide, once completed it's guaranteed to look incredible on your work desk, office shelf or wherever you feel the need to show off your exceptional handiwork (pun intended).
Thanos spent years planning how to get his massive purple paws on the Infinity Stones – hopefully assembling this won't take quite so long.
5. Marvel Comics Classic Logo T-Shirt
There are hundreds of licensed and branded Marvel t-shirts out there to help fans show their allegiance to the biggest comic book movie franchise on the planet, but there's something so pleasingly simple about the classic logo shirt that really makes it work.
Ranging from small to XXXL and made from 100 percent cotton, you'll feel as good as you look.
6. Marvel's Spider-Man: Miles Morales Ultimate Edition
Yes, games are very much still gifts, and what better gift than arguably the finest Marvel title out there right now: Marvel's Spider-Man: Miles Morales.
The original Marvel's Spider-Man is also a superb web-slinging tie-in, making it tough to choose between the 2018 edition and 2020's brilliant sequel/spin-off. In the immortal words of Tony Stark: Is it too much to ask for both?
7. Marvel Avengers Action Figures – Pack of 8
Want your child to have the best Marvel present ever? Then maybe just one action figure isn't going to cut it.
Yes, moderation is all well and good, but if your kids have been good this year, there's no better reward than a pack of eight action figures featuring Iron Man, Hulk, Black Panther, Captain America, Spider-Man, Ant-Man, War Machine and Falcon. i.e., pretty much all the best characters (minus Thor and Dr. Strange, obviously).
8. Bitty Boomers Marvel Themed Mini Bluetooth Speaker
Portable speakers are insanely useful for letting you blast out the tunes no matter where you are, and they don't come much more portable than Bitty Boomers' 2-inches tall on-the-go-soundbox.
With Bluetooth connectivity, a thirty-foot wireless range and over four hours of battery life on a single charge, not to mention a range of Avengers-themed styles to choose from, you can't really go wrong. One of the best Marvel gifts for a youngster who loves music as much as the MCU.
9. Black Panther FX Battle Claws
How much do we wish we had a pair of these Black Panther FX Battle Claws when we were kids, you ask? A lot.
Modelled on T'Challa's very own vibranium battle claws, kids aged five and up can don their own pair of (non) deadly paws and feel like arguably the coolest hero the MCU ever had. They unsheath, they light up, all while making cool sound effects. Wakanda forever indeed.
10. Marvel's Guardians of the Galaxy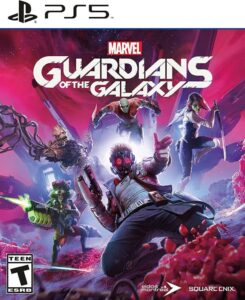 We said above that Marvel's Spider-Man: Miles Morales was arguably the finest Marvel game out there right now, but Eidos-Montréal's spin on the kooky intergalactic wardens gives it a decent run for its money.
Ignore the bad press surrounding publishers Square Enixs' dissatisfaction with the game's mediocre sales. Marvel's GOTG is as quirky, fun and frenetic as the movies themselves and looks absolutely gorgeous on the PS5 and Xbox Series X & S.
11. Marvel Greatest Comics: 100 Comics That Built A Universe
Let's not forget that at the heart of Marvel's heritage is, was, and always will be its contribution to the world of action comics.
Melanie Scott and Stephen Wiaceck's lovingly curated compendium of some of the finest and most important comic book stories in Marvel's history perfectly encapsulates this legacy, hand-picking a century of tales that, as promised, ended up forging a universe.
12. Official Marvel Playing Cards Set
Everyone needs a really decent deck of cards, especially one that reflects an aspect of your hobbies, loves or personality.
Waddingtons offer their own take on the Marvel playing cards concept, but the fantastic designs adorning MJM's effort make them the standout choice.
13. Marvel Pinball Machine
If your home includes a games room, den or man cave and you don't have a pinball machine set against the wall, there's something seriously missing from your domestic setup.
The Marvel Pinball Machine is one of the coolest pieces of gadgetry you could ever hope to own, an awesome throwback to a bygone era of upright arcade gaming adorned with artwork featuring some of Earth's Mightiest Heroes. A very welcome crossover.
14. Tony Stark Vintage Replica Sunglasses
Let's be clear, here, Tony Stark's actual shades probably didn't cost around twenty dollars, but these are replicas, ideal for living out your billionaire superhero fantasies on a budget and one of the best Marvel gifts for the Iron Man enthusiast in your life.
The point is to give the effect of being the man himself, something these shades certainly manage even if you might have to shave your beard to match RDJ's iconic style. If we could just get a replica suit and Audi R8 we'd be set.
15. Exquisite Gaming Groot Controller Holder
Groot must rank up there as one of the most helpful and pure-hearted superheroes in the entire Marvel roster. His original incarnation gave his life to protect the Guardians in the first movie, whereas a teenaged Groot sacrifice a limb (albeit temporarily) to provide the handle for the newly-forged Stormbreaker.
Given such altruistic exploits, you don't have to feel so bad making Groot carry your controller in his spare time. He's always happy to help.
16. Bro Thor Funko POP! Figurine
Funko POP! figurines have become a huge deal, exploiting most major fandoms' love of accumulating collectable figurines of their favourite characters, icons and heroes.
There are, unsurprisingly, hundreds of Marvel-licensed Funko POP! Figures around, meaning the choice really is yours for which one you go for. We've chosen Bro Thor because a) Thor's great and b) with the distended belly, the beard and the pizza in-hand you can also tell people it's Jeff Bridges from The Big Lebowski.
17. Hasbro Black Panther Legacy Mask
The legacy Chadwick Boseman left on the mainstream cultural landscape was, and is, remarkable. Thanks in large part to Boseman, millions of kids (and some adults) of all ages and ethnicities were given a new icon to look up to and idolise.
One of the most heartening successes of Black Panther was seeing such diverse and devoted fans donning T'Challa's iconic mask as a homage to their new favourite hero, from small tots to grown international footballers. Now you can do the same.
18. Zak Designs Infinity Gauntlet Mug
Can't be bothered to assemble your own Infinity Gauntlet out of Lego? That's understandable. Instead, why not go for the Zak Designs Infinity Gauntlet mug, a big, shiny receptacle that's perfect for relaxing after you've just destroyed half the universe.
Great as a stocking filler gift for Christmas or if you just want to have it for yourself, you'd be a mug not to get one.
19. Vintage Comic Book Avengers Poster Prints
Great as many of the Marvel movie adaptations are, let's not forget the importance, and the magic, of Stan Lee's original comic book creations.
The comics are as much about the eye-popping artwork as they are the iconic characters and storylines, making Marvel panels the perfect material for being adapted as bold poster prints.
20. Official Marvel Licensed Captain America Shield Prop Replica
There was always going to be one ludicrously self-indulgent purchase on this list, and it comes in the shape of the Official Marvel Captain American replica shield. It isn't cheap, but if you're willing to spend the money it's easily one of the best Marvel gifts you can give or receive.
No, it isn't made of vibranium, no, it doesn't disobey the laws of physics and no, it doesn't stop bullets (please don't test this thesis), but man does it looks cool. It's either this or a full-sized replica Stormbreaker.
READ NEXT: 15 Best Minecraft Gifts