If you're willing to dig around, Prime Video can have a good catalog in just about any genre you can imagine. It wasn't hard to find the horror movies to round out this list of the best titles currently available to stream on the service. While your pickings might be slim if you want to go earlier than the 70s, you've still got more than enough to fill your weekend or Halloween celebration.
From John Carpenter classics, to surprisingly good remakes, underrated sequels, and some of the best horror films of the past decade, Prime Video certainly has enough to compete with other general streaming sites for Halloween, or for any evening where you want to spend 90 or so minutes with atmosphere, chilling performances, or maybe just some good old-fashioned chainsaw violence.
Simply put, whether you want to be horrified, scared, or utterly enthralled with flying limbs and gallons of blood, something awaits you among this collection of the best horror movies on Prime Video.
The Best Horror Movies on Prime Video
1. Angel Heart (1987)
Director: Alan Parker
Apparently, there are few things in this world scarier than Robert De Niro eating an egg.
If you've never seen Angel Heart, directed with a noticeable conviction to raising despair and madness with the stakes of these noir characters, no one is spoiling anything for you by mentioning the egg scene. It comes up during a meeting between a brooding, disillusioned detective (one of Mickey Rourke's best) and a stranger who simply wants someone found.
It;s never quite that simple. As he accepts the task, private investigator Harry Angel is plunged into a nightmare of murder, ritual sex, and the onslaught of suffering that awaits certain spirits. Angel Heart is creepy, brutal, and bleak. It has a supremely unsettling performance by De Niro, as well as standout performances and chemistry between Rourke and Lisa Bonet.
Angel Heart is one of the most viscerally exciting movies on this list. You may think you know what's coming, but nothing can really prepare you for how this film unfolds.
2. Attack the Block (2011)
Director: Joe Cornish
John Boyega, who has gone on to star in stuff like Star Wars: The Force Awakens and Pacific Rim: Uprising, first caught our attention in this flawlessly entertaining horror-sci-fi-comedy hybrid — it isn't hard to see why. None of those films have quite captured his appeal as well as Attack the Block does here.
Some rather ugly and highly aggressive extraterrestrials decide to crash land in a South London council estate and start wrecking up the joint. It falls to a group of kids (Boyega among them) to stop them, with odd degrees of assistance from a drug dealer (an immensely likable, as always, Nick Frost) and well-meaning-but-slightly-racist young nurse (strong work from Jodi Whitaker).
The movie gets a considerable amount of comedy and genuine horror from this premise, bolstered by a brilliant cast from top to bottom. If you haven't seen this yet, you're missing out on one of the best movies of the 2010s.
3. Dead and Buried (1981)
Director: Gary Sherman
Watching the underrated and enduringly frightening Dead and Buried is one of the best examples of what it is to descend into a consuming nightmare. Nothing in the world of this film, in which a group of locals in a seaside town are murdering tourists for unknown reasons, ever feels quite right. The film indeed starts with one of the most violent killings to be found on this entire list.
Yet for those who don't just want something with gore, Dead and Buried offers a distinctive atmosphere and an ever-growing sense of dread that something is really wrong with this town.
As you soon learn, things aren't great for the weary sheriff (James Farentino) investigating all of this. They aren't going to get much better, and a suspiciously chipper coroner (a great final bow from Jack Albertson) is just the beginning.
Dead and Buried establishes its own logic and never really stops messing with you.
4. The Descent (2005)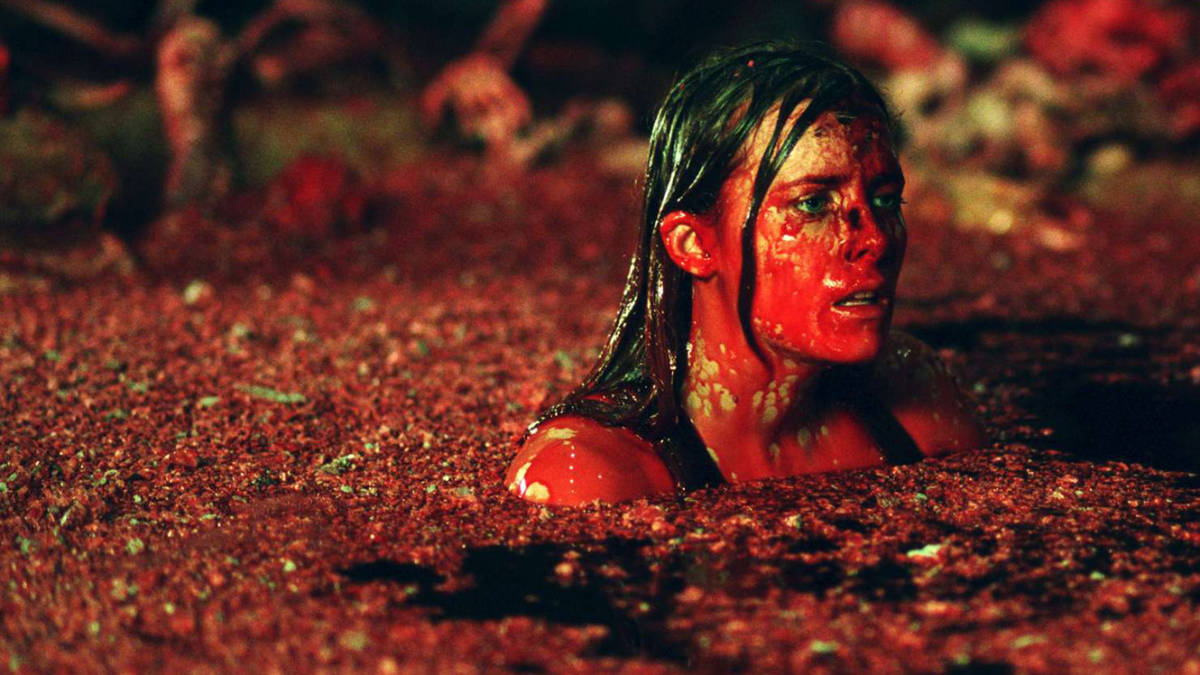 Director: Neil Marshall
So far, this article has touched on the metaphorical descent into gruesomeness, insanity, and dangerous tones of chaos. The Descent has all of those qualities. It also features a literal descent, which is one of the many distinctive traits that made this film one of the most jarring surprises for audiences of the decade.
The story of The Descent is deceptively simple: A young woman recovering from trauma (an award-worthy performance by Shauna Macdonald) decides to join up with some friends for a cave-exploring expedition. Some of us probably wouldn't immediately think of that activity for getting over stress of any kind, but nonetheless.
It just seems reasonable to assume hellish subterranean predators are waiting for us down there. Can you guarantee they aren't?
This is a great monster movie in every sense of the word, one that's combined brilliantly with the claustrophobia one would expect from this kind of thing, and these qualities still leave space for this cast to go through an impressive emotional journey.
5. The Fog (1980)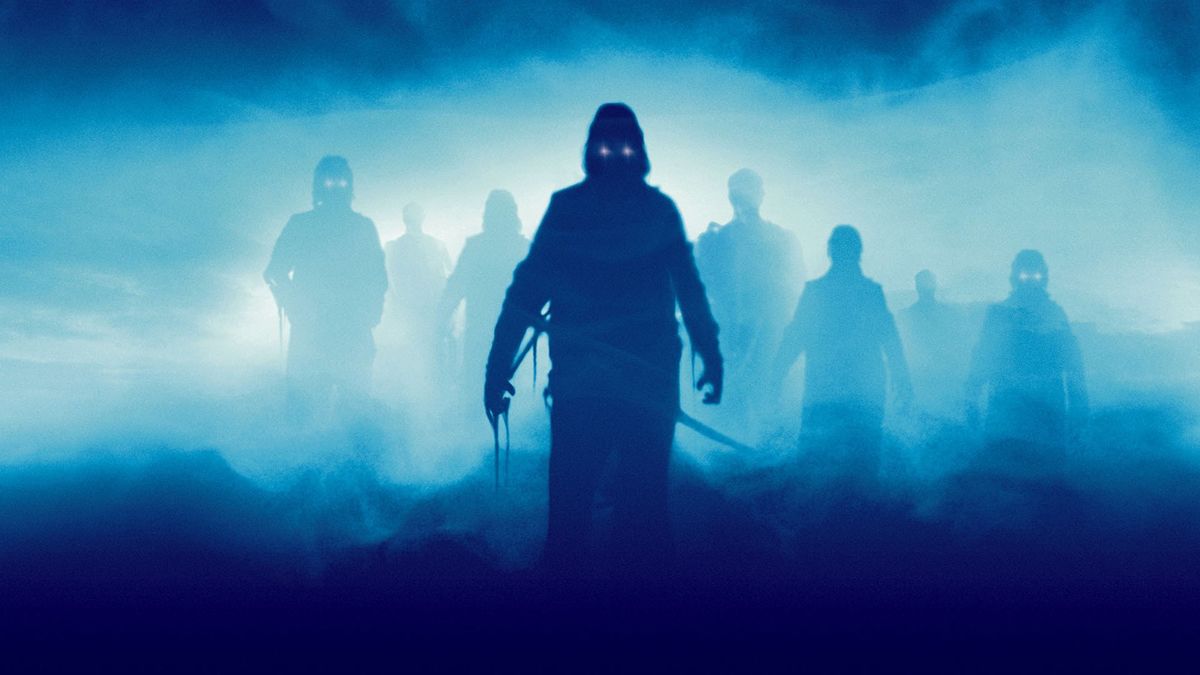 Director: John Carpenter
The bloodshed committed by your ancestors can contribute to the prosperity in your current and very personal life. What happens if the dead come back to collect?
Not surprisingly, John Carpenter in his 1980 classic The Fog answers this question with his unique approach to dread, building tension, and using what we can't actually see to set the tone for the dread and tension. The Fog also benefits from being another Carpenter film (produced by the legendary Debra Hill) with an appealing ensemble.
Every performance in this film, particularly Hal Holbrook as the minister of the sleepy seaside town with a steep karmic bill to pay, contributes to why The Fog continues to be an essential during Halloween and beyond. Watch for particularly fun stuff from Carpenter regulars like Adrienne Barbeau, Tom Atkins, and Jamie Lee Curtis.
However, and of course, the real star of this film is the fog itself, more specifically the vengeful ghouls traveling within it.
6. Hellraiser (1987)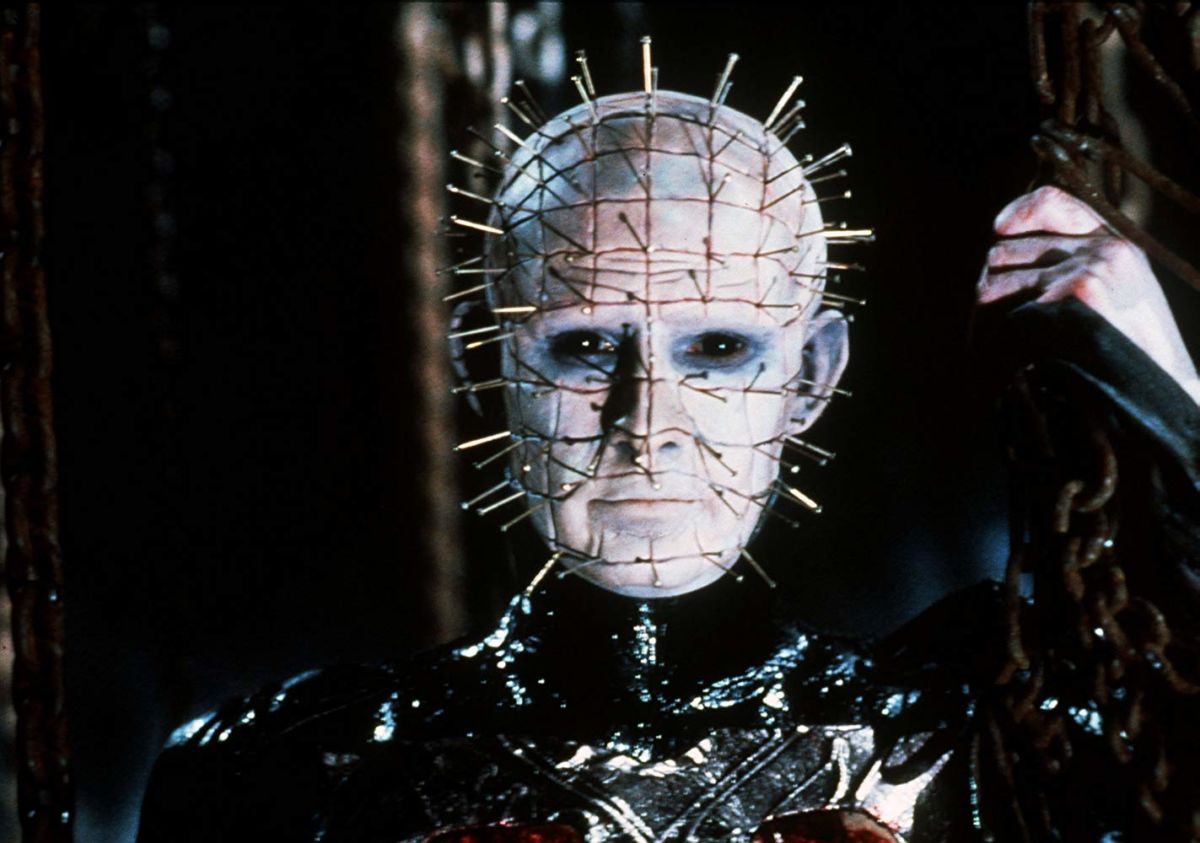 Director: Clive Barker
Hellraiser indeed lives up to the promise intoned by its lead creature Pinhead, who became a horror legend virtually overnight between this film and the character's portrayal by Doug Bradley. These beings known as Cenobites have such sights to show you. All it takes to experience them, as we learn from the unfortunate supernatural tragedies that befall a young girl (Ashley Laurence) and her, to put it mildly, dysfunctional family, is the solving of a simple puzzle box.
Even if you've never seen Hellraiser, which marked the directorial debut of author Clive Barker, you can safely assume that nothing good ever comes from opening a puzzle box called something like the Lament Configuration. At the same time, it wouldn't be much fun if this stellar cast, including Clare Higgins and Andrew Robinson, didn't bring their eccentricities to a literal gateway to hell, and then decided not to move forward.
Hellraiser also features some truly memorable makeup effects.
7. Hell House LLC (2015)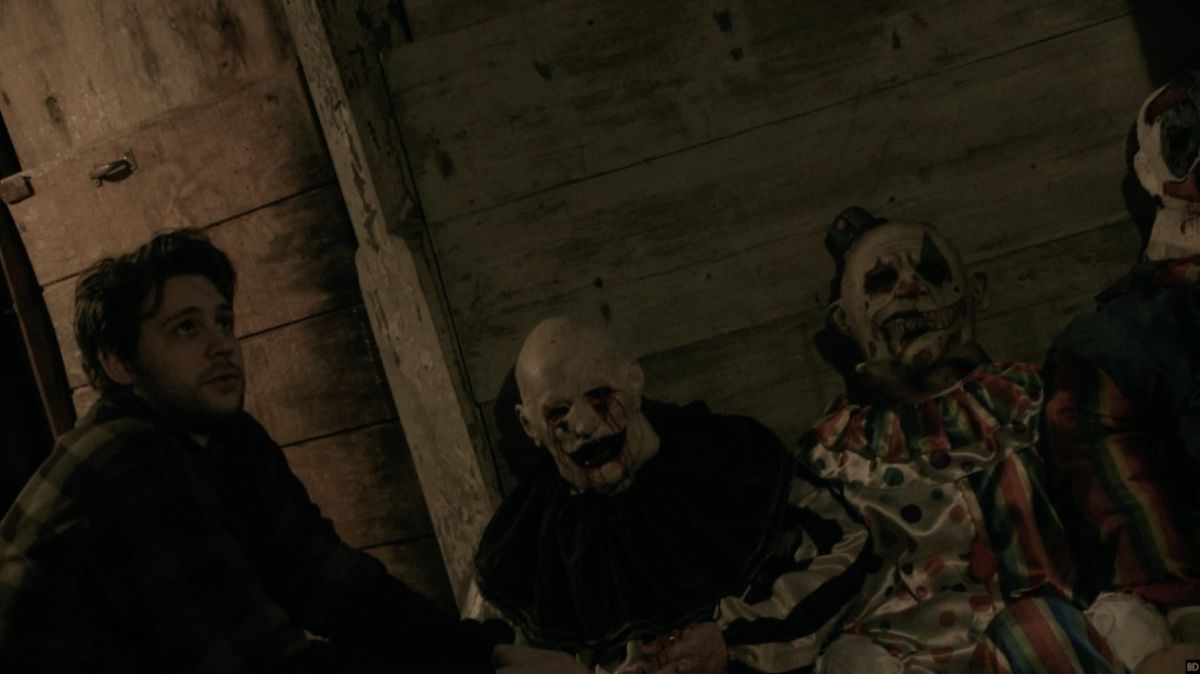 Director: Stephen Cognetti
A documentary film crew investigates a horrific mass murder event which occurred at a haunted house five years earlier. The more they uncover, the more they realize this story goes far beyond the almost unfathomable tragedy of the deaths themselves.
Hell House LLC, which also functions as something of a love letter to the haunted houses set up every Halloween season across the world, is a wonderful testament to doing a lot with a minimum of resources. The found footage format is used to its perfect function here, developing a genuine mystery around the supernatural, while building on the world of these characters.
The film also builds stronger characters than detractors of found footage might suspect is possible. This is everything good about this particular genre. Something that is a lot of fun, but also a movie with the kind of atmosphere and tension to create something that works very effectively as one of the best horror movies on Prime Video.
8. Midnight Meat Train (2008)
Director: Ryuhei Kitamura
Although Clive Barker didn't direct the exceptional, arresting 2008 film Midnight Meat Train (that would be the stylish and inventive Ryuhei Kitamura), he did write the short story upon which it was based. Once again, although in a very different fashion, we are dealing with a person (a very good Bradley Cooper in this case) who finds themselves at the threshold of forces they cannot begin to understand.
Midnight Meat Train is another horror film on Prime Video that doesn't let up for a second. Even before our protagonist finds himself on a train, getting deeper and deeper into a personal investigation into a possible serial killer (Vinnie Jones, putting his formidable presence to good use here), we have a feeling that something extraordinary in its horribleness is waiting for us.
This is not a mystery anyone would ever want to solve, yet here we are, strapped in for an absolutely nightmare ride to hell.
9. Pumpkinhead (1988)
Director: Stan Winston
Creature/special FX legend Stan Winston directed just two films over a lengthy, Oscar-winning career. While Pumpkinhead occasionally loses its momentum, it's nevertheless a striking indication of the late creator's penchant for engrossing monster stories.
With an obvious emphasis on "gross", or at least being unlike anything you're going to see anywhere else, Pumpkinhead is the story of a father whose quest for vengeance after the death of his child gives rise to a murderous creature going to town on a bunch of fairly dumb teenagers that certainly delivers on those creature effects. They are never visually boring.
However, a brilliantly designed monster isn't the only thing you need to make a classic, of which Pumpkinhead certainly is (at least of the cult variety). The story of regret, loss, and the bloodlust to see those responsible pay for their crimes is largely well-played here. It also doesn't hurt when your movie has Lance Henriksen as the enraged, conflicted father.
10. Sundown: The Vampire in Retreat (1989)
Director: Anthony Hickox
Assuming you don't mind something on this list that isn't scary in the least, Sundown: The Vampire in Retreat is the eccentric, charming horror comedy you never knew you needed. If you've seen stuff like Waxwork, then you know what to expect from this director, and from the sense of humor which pervades the tone of these sometimes silly, but never less than entertaining horror movies.
Leaning heavily into the comedy, Sundown concerns a small town of vampires, content to live peacefully on synthetic blood in the middle of Utah's expansive nowhere. Led by David Carradine, who actually seems to be having a good time here, the group's efforts are nearly undone by a combination of factors. This includes old scores, a famous vampire hunter's descendent (it's fun to watch Bruce Campbell play someone this dorky), and the inherent politics of trying to run a humble vampire commune in Utah.
Sundown may not work for those who like their vampire movies somber. Everyone else will be surprised by this minor late-80s gem.
11. Suspiria (2018)
Director: Luca Guadagnino
The 2018 remake of Dario Argento's Suspiria asks a very bold question: Can you remake one of the most unique supernatural horror movies of all time?
While not without some detractors, apparently, the answer for many is that you can remake something like Suspiria. It really just depends on how you want to define words like "remake" in the first place. What works for Suspiria 2018 is that it keeps the essential components to this story of a young woman whose experiences at a dance company in Berlin turn profoundly sinister. It sets up a skeleton of a film that feels familiar in many ways. Some that cannot quite be articulated.
Yet Luca Guadagnino's Suspiria, strengthened by a violence you can feel in your bones, as well as performances by Dakota Johnson and Tilda Swinton, pivots away from its source material in several overwhelming ways. The result is a truly unique achievement in remaking an established classic.
If you don't buy that, Suspiria is still on its own terms a wild, savage, and unforgettable horror film.
12. The Texas Chainsaw Massacre 2 (1986)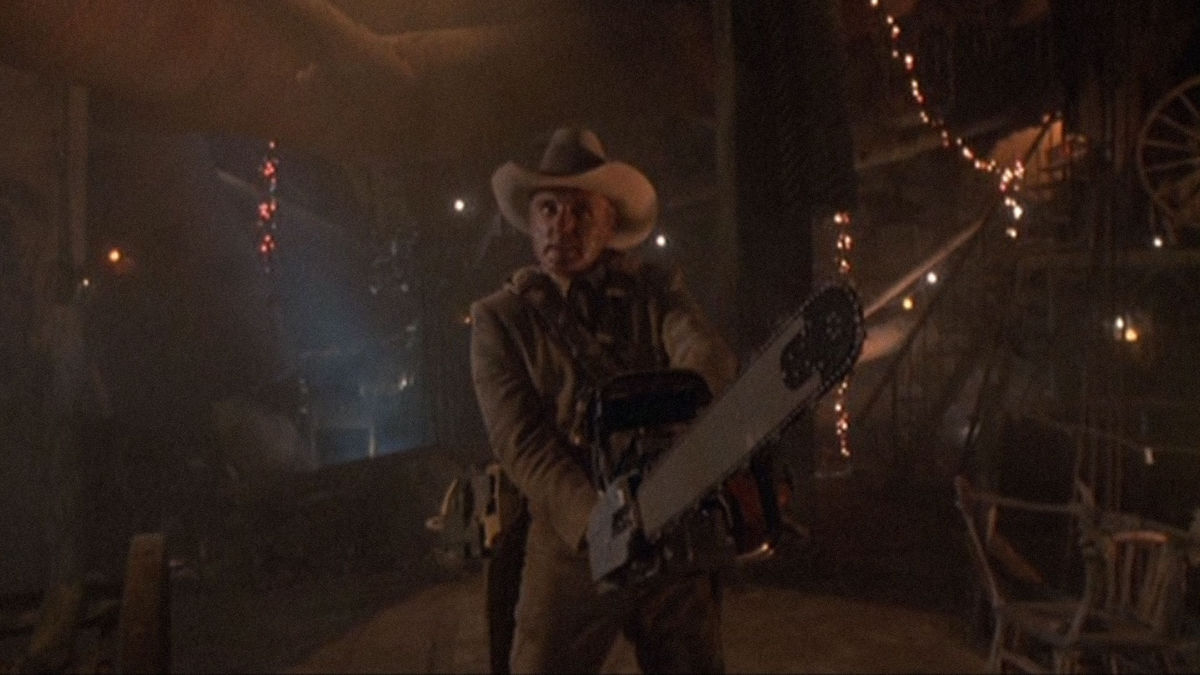 Director: Tobe Hooper
The aggressively, joyfully bonkers opening of The Texas Chainsaw Massacre 2 lets you know right away that you're in for something quite different from the first entry. Tobe Hooper wasn't dumb enough to go back to that specific well in exactly the same fashion. To that end, The Texas Chainsaw Massacre 2 still highlights plenty of the unsettling violence you expect from this sequel, but with a certain degree of tension replaced by gallows humor.
This is another entry that doesn't quite work for everyone, particularly among TCM fans. The violence implied by the first film is very vividly on display, and over-the-top performances by Bill Moseley, Dennis Hopper, Caroline Williams, and Jim Sideow go deeper into the cannibal family's waking lives than some prefer.
The Texas Chainsaw Massacre 2 follows Leatherface and his merry band of cannibal relatives as they continue their activities from the first time around. Pursued by the father of a previous victim (Hopper, chewing miles of scenery per minute), this movie is immediately and more enthusiastically absurd than what has come before it.
As long as you aren't expecting a direct retread of the first one, you're probably going to have a lot of fun with this decadent, humorous, and decidedly clever sequel.
13. Tumbbad (2018)
Director: Rahi Anil Barve
Nothing on this list has the same deep-down creepiness and visual creativity of Tumbbad. Set in the 19th century, the film starts simply with a father and son searching for a treasure in India. It is once they realize that there's no going back from this decision that the movie really starts to get fun and become one of the best horror movies on Prime Video.
This film is an impressive achievement in building and maintaining tension, drawing from performances within the cast to achieve this (particularly Sohum Shah), and keeping the film grounded in its own unique reality. This film can be described as a historical fairytale, but with considerable horror film atmosphere and anxiety.
Tumbbad might be an odd experience for anyone who hasn't seen a lot of cinema from India. However, it really isn't necessary to have that background in order to enjoy this film's compulsory plot and hallucinatory visuals.
This movie has its own elevated reality. Accepting that early on will make it easier to settle in and travel to the many weird places it wants to take you.
14. When a Stranger Calls (1979)
Director: Fred Walton
"The calls are coming from inside the house!" is one of the most famous horror movie twists of all time. The 1979 horror classic When A Stranger Calls didn't invent this story, but its opening 20 minutes are widely regarded as some of the best results of the genre ever committed to film.
This much is easy to agree with, but what about the rest of the film?
Thankfully, featuring a cast of exceptional actors like Carol Kane and Charles Durning, When A Stranger Calls does manage to sustain the momentum of what really is one of the most intensely memorable openings in the history of film itself. The atmosphere established by that opening leads to the story of a babysitter who is forced to confront the worst night of her life is maintained by a well-told murder mystery with slasher film undertones.
Of course, the ending is a bit anticlimactic, but the journey of getting there is too good to ultimately matter.
15. The Wicker Man (1973)
Director: Robin Hardy
The worst sin perpetrated by the infamous 2006 Nicolas Cage remake of Robin Hardy's terrifying group think nightmare The Wicker Man was making the guy investigating a mysterious disappearance on an even more mysterious island crazier than the people on the island. This choice effectively destroyed the masterwork of tension established in the original, which is one of the most important driving points to the soul-stopping conclusion that ends both films.
Of course, it certainly makes sense in the frustrating journey of this investigator, played in the original by the marvelous Edward Woodward, that he would eventually start to become unglued.
Most of The Wicker Man consists of us watching Sergeant Howie talk to the citizens of an isolated community, which leads us to breathtaking performances by the likes of Christopher Lee, Ingrid Pitt, and Britt Ekland. Nothing goes right for the Sergeant, and it becomes apparent that something sinister is merely toying with him.
His sanity breaks at roughly the same time the case finally does, and what follows from there is an ending we promise you won't forget, even if you've already heard about it.
READ NEXT: 10 Best Movie Streaming Services: Which Ones Are Right for You?
Some of the coverage you find on Cultured Vultures contains affiliate links, which provide us with small commissions based on purchases made from visiting our site. We cover gaming news, movie reviews, wrestling and much more.