As one of the trendiest games in the world right, you shouldn't be surprised that Apex Legends is following a trend popularised in battle royale games by one of its closest competitors: the Battle Pass. Fortnite's version has spawned plenty of imitators, most of which haven't gone down too well as they haven't been thought out properly or are an added charge on top of a premium experience. Respawn's hot new property, however, is free, so the Apex Legends Battle Pass makes much more sense.
As of this writing, there isn't a huge amount of info to go off save for the fact that it is coming sometime in March as part of the game's first season, which is also a little wrapped up in mystery. Respawn have already shared their roadmap for the year ahead, in which they lay out some of the content that we can expect to come our way soon; a completely separate Valentine's Day event also dropped to celebrate the day, and we've had the addition of the Havoc and some nerfs, but not a great deal has changed since launch.
Apex Legends Roadmap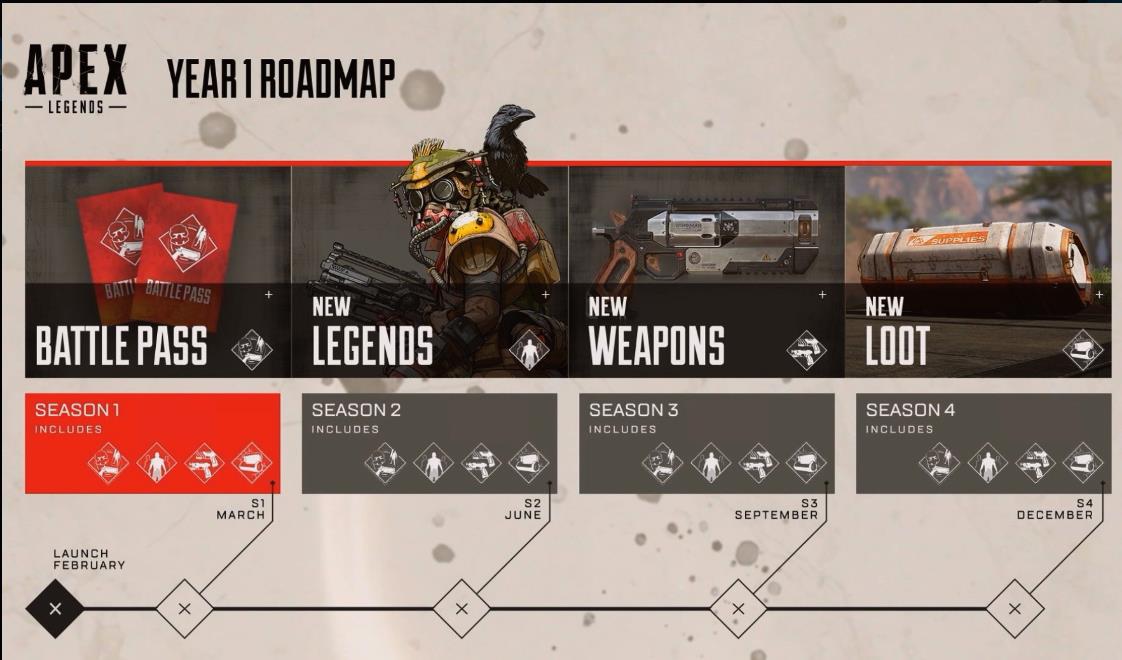 As you can see, there's a lot of new content still to come, but what exactly makes up the Battle Pass hasn't yet been detailed. We know we'll be getting a new Legend and similar things, but the free/paid aspect of it still all needs to worked out.
Apex Legends Seasons
If you head on over to the official Apex Legends site, you'll find the following info on the homepage
UPCOMING SEASONS

Compete every season to unlock new Legends, fresh weapons, themed loot, and more.
It will be slightly concerning if those who don't have as much time to play or those who come in late to Apex Legends will not be able to get their hands on certain weapons and Legends, so let's just watch this space for clarification.
These seasons are expected to go on for roughly three months, similarly to Fortnite.
Apex Legends Battle Pass: Release Date & Price
As for the Battle Pass, it will almost certainly follow the same formula of its peers with it already being confirmed as having a 100 tier system with cosmetics unlocked for each level with the likelihood being that Legendaries and Epics will only become available towards the latter half of the tiers.
The Battle Pass for Apex Legends will include a mixture of seasonal cosmetics and Apex Packs, which are loot boxes that you use to unlock cosmetics. Interestingly, the FAQ states that those players who don't buy the Battle Pass will still be able to earn a slice of the content from the Battle Pass just from playing in a given season. Each season will go on for roughly three months (much like Fortnite) and the Battle Pass will not contain any Legends or anything that might give you an in-game advantage.
The only real concern is how it will spread out the content and unlockables when there are so many Legends with so many different things to unlock, including Kill Quips, Intros, Trackers, and skins.
If we exclude weapon skins and base it on being a 100 tier system, you will get roughly twelve cosmetics per character, but there's no telling how this will be spread out — will they be more fairly useless Intros that you may rarely actually hear before a match or much more worthwhile things skins? Apex Legends could even go down the Fortnite route and include emotes, though Mirage is a walking emote so perhaps not.
In terms of price, the Fortnite Battle Pass costs $9.99/£7.99 to buy — it costs 950 V-Bucks each season but the minimum you can buy is 1000. Apex Coins cost the exact same for 1000, so you would expect EA and Respawn to follow suit.
We will be updating this with more information on the Apex Legends Battle Pass when we get it.
UPDATE 06/03/19: A new report has alleged that the Battle Pass, alongside a new Legend, will be releasing on March 12th.
UPDATE 12/03/19: Respawn commented on the rumours and told fans that nothing would be dropping until it was ready, as well as to take these news stories with a grain of salt.
"So between the datamining and the unintentional update about Season 1 on Origin today, there's been a lot of speculation and confusion so we wanted to give some clarity:

We'll be providing details on Season 1, Battle Pass, and the next Legend very soon. It's not coming out today.

There's lots of stuff that has been datamined from Apex since launch and is swirling around the Internet. We know this stuff is fun to dig up and speculate about, but you should not treat any of that info as a source of truth. There's stuff in there that is very old, or things we've tried in the past and cut–remember our design process is to prototype and play lots of ideas–and some of it may be things we're still building for Apex Legends. Finding this stuff by no means confirms that it'll ever come out. At best you should treat any posts about this as a rumor and the real info will come from us when we're ready to show off what's coming next.

Thank you to everyone for staying patient through this and hang tight. We're excited to get Season 1 kicked off and having you grinding on that Battle Pass with a new Legend to master soon."
From our Apex Legends review:
"Even the most jaded of battle royale fans will find their interest rejuvenated by Apex Legends thanks to Respawn's attention to detail, superior gunplay, and fantastic innovations, though the loot boxes and progression system certainly need addressing."
MORE APEX LEGENDS:
– Apex Legends Tips: Pinging, Characters, Respawning & More
– Apex Legends Characters, Ultimates, Abilities & More
– Apex Legends Map: Best Landing Spots & Tips
Some of the coverage you find on Cultured Vultures contains affiliate links, which provide us with small commissions based on purchases made from visiting our site. We cover gaming news, movie reviews, wrestling and much more.