As confirmed by Wrestling News Observer, NJPW flag-bearer and former IWGP World Champion, Kazuchika Okada, will soon be making his way overseas to compete in partnering companies AEW & Impact Wrestling. 'The Rainmaker' has been one of the most requested wrestlers from NJPW to take part in this newfound allegiance, having many ties with contracted wrestlers in both promotions.
Aside from current IWGP champ, Kota Ibushi, Okada is the biggest possible export for AEW and Impact to take full advantage of, and he'll likely find himself skyrocketed straight into the main event scene upon his debut. Already we've seen the likes of KENTA and FinJuice make their respective first appearances for the two US promotions, where they've received a huge reception from fans across the world and created a buzz like no other in the wrestling industry. Okada will undoubtedly do the same and then some when he does cross through the Forbidden Door.
With Okada's imminent AEW debut on the horizon, let's run down 5 potential opponents to step into the ring with one of the biggest wrestling megastars in the world today.
1. Kenny Omega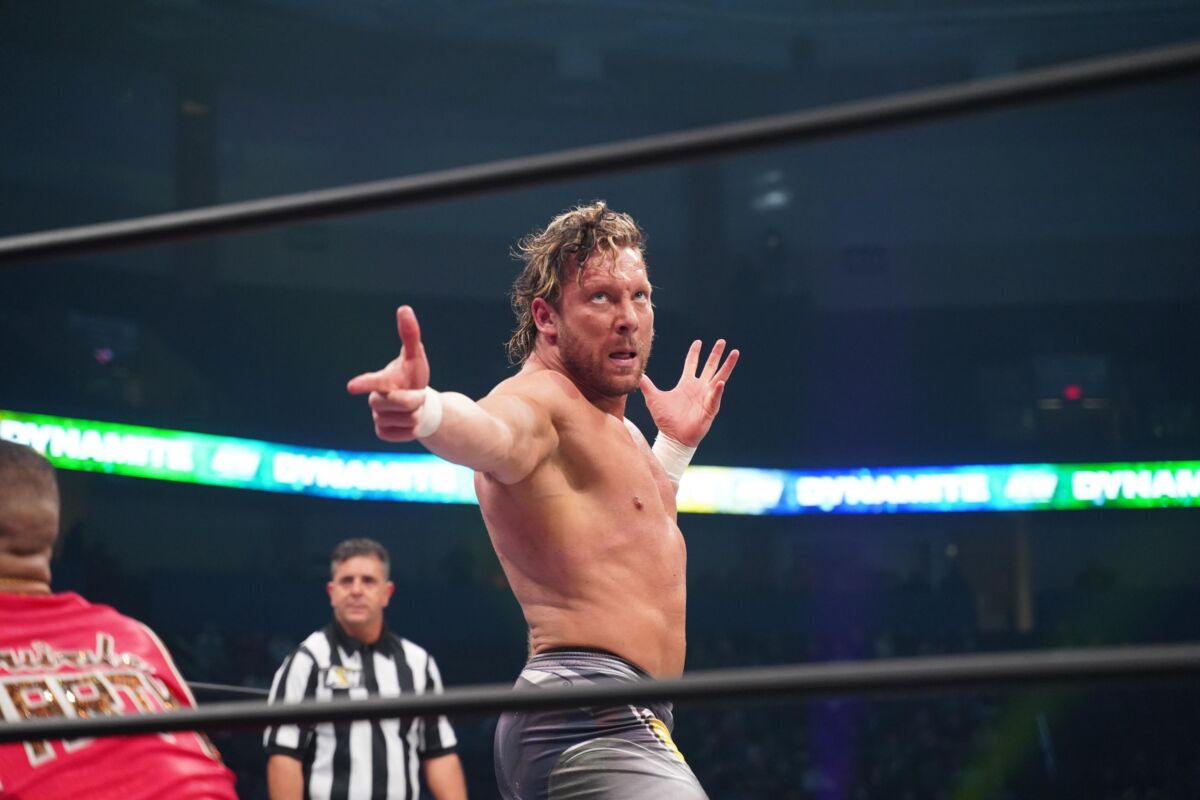 Easily the first wrestler to come into anyone's mind should be the current AEW Champion, Kenny Omega. 'The Cleaner' is back and on a mission to become the belt collector of All Elite Wrestling, issuing challenges to the likes of IMPACT's World Champion Rich Swann, and even his former running buddy, the IWGP Champion, Kota Ibushi.
Omega is undoubtedly hitting his stride as the biggest thing outside of WWE, so what better time for AEW and NJPW to capitalise on his hype and reignite the feud that has come to define independent wrestling? Kazuchika Okada vs. Kenny Omega will go down in legend. Not only did it bring millions of new eyes to NJPW, but it lit a fire underneath the independent scene to prove that they were in fact better than WWE in terms of match quality and ultimately led to the proliferation of The Elite and the birth of AEW.
Okada/Omega still stands as some of the best wrestling you'll ever see from this era, perhaps outside of NJPW it might not live up to those same standards, but there's no denying that there's big money in booking the fifth encounter between these bitter rivals.
Depending on how long Okada chooses to stick around in AEW, 'The Rainmaker' may even be the perfect opponent to dethrone Omega as AEW Champion. Not only would that be a huge step in the partnership between the two companies, but it would also mean that this tenured feud is long from over.
2. Cody Rhodes
Even though Cody Rhodes hasn't quite made it to the pinnacle of his own company yet, it's hard to argue that he holds a certain star power unlike any other wrestler on the roster. Cody knows how to book himself amongst the hordes of talent sharing the card with him, keeping him and his 'Nightmare Family' kept aside for special attraction matches, such as the upcoming tag match featuring Shaquille O'Neal. Even though that particular example might not be destined for a 5* rating, Cody definitely holds his own in terms of star power and box office attraction.
With such an iconic wrestling star in Kazuchika Okada soon to be making his AEW debut, what better opponent to line up for 'The Rainmaker' than Cody himself. The two had briefly crossed paths during Rhodes' NJPW stint, but never quite had the chance to vie off in singles competition. Now that Cody has become one of the most well-rounded performers on the planet today, a psychology-fest with Okada could be a sure-fire match of the year candidate.
Cody's track record of putting over stars when necessary would make him ideal for Okada's first big match. Despite pre-conceptions, Rhodes isn't the sort of leader who books himself over everyone else, he knows what makes money in today's industry and a loss to Kazuchika Okada would not damage his credibility in any way. It's a win-win for everyone involved.
3. Chris Jericho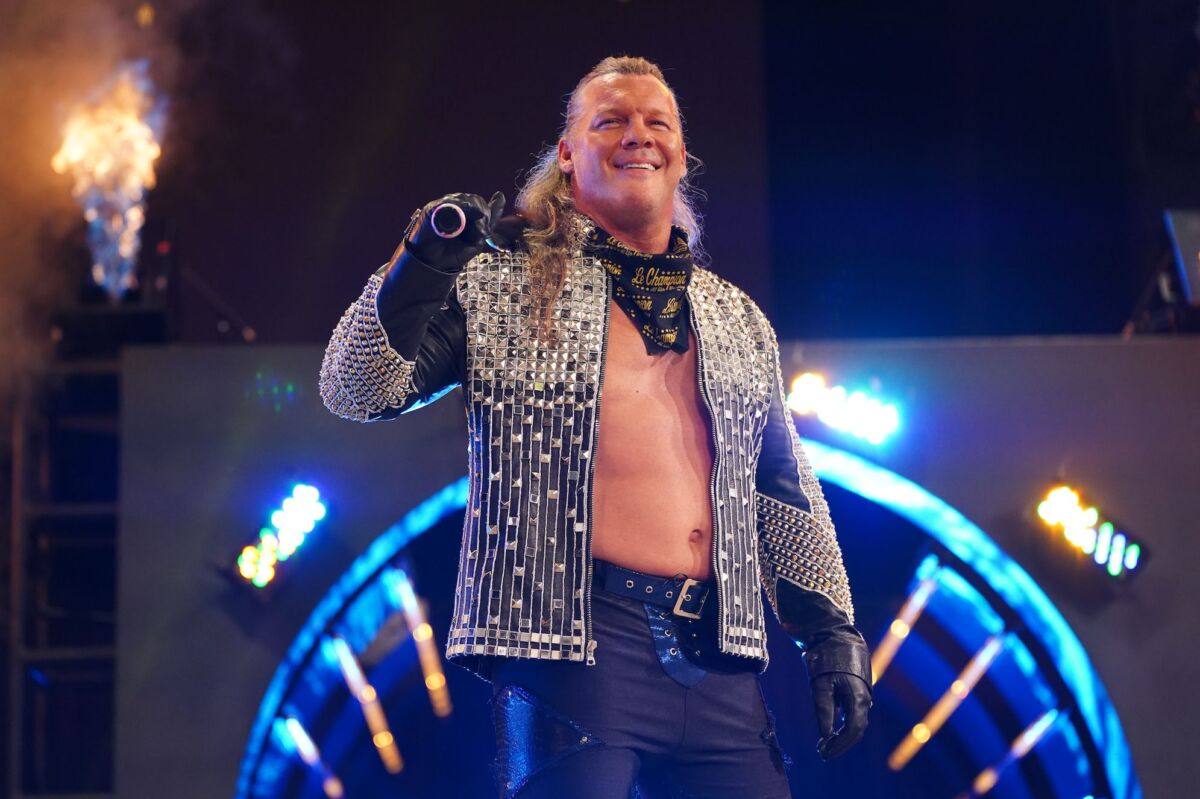 Painmaker vs Rainmaker II anyone?
An easy programme for any newcomer to enter into is a feud with the 'Le Champion'. Jericho knows the next big thing when he sees it, and he's more than happy to make them look like a modern day superstar when working with them. Look at the wonders he's done for the likes of Darby Allin, Adam Page and MJF when squaring off against them. Even though Okada might not need the same treatment, there's no doubt that Jericho would be a great way to kick off his AEW career.
The two crossed paths two years back during Jericho's return run in NJPW. Still, Jericho uses the moniker of 'Painmaker', a twist on Kazuchika's own nickname, making for a nice little nod to his pre-AEW days. The match wasn't brilliant, but it was a lot of fun seeing the two work together. Now that Jericho is wrestling on his home turf and Okada with a lot to prove to an unknown audience, the two could make magic this time round.
Much like Cody Rhodes, Jericho doesn't necessarily need to be involved with the major title to look like the main event star. A return encounter against Okada would be huge for all involved, and would boom in the box office whenever it takes place.
4. Eddie Kingston
The unexpected hit of 2020 was none other than 'The Mad King' Eddie Kingston. Kingston's rise to the top of the roster was well deserved after countless years of working the indies and even though he didn't walk away with the AEW Championship, he continues to remain one of AEW's top mid-carders. With Kingston's championship dreams put on hold for now, this frees him up for a shot at one of the world's biggest wrestling stars, Kazuchika Okada.
Okada will naturally steamroll over the majority of the AEW roster, and that's not a slight on the talent by any means, but that doesn't mean he shouldn't be involved in some hard-hitting marathons on his way to the top. Eddie Kingston will provide a fight like no other and it would be an interesting clash of styles with Okada's polished ring presence.
Aside from the occasional bout with Tomohiro Ishii, Okada hasn't had many opportunities to wrestle someone of Kingston's size and stature, in many respects, this would qualify as one of my personal dream matches for Kazuchika when he comes to AEW. This would be huge for Kingston too, even in defeat, it could easily propel him into a championship match with Darby Allin or even another pop at the AEW champ, whoever that may be down the line.
5. Lance Archer
Another mid-carder who could easily mix it up with 'The Rainmaker' is 'The Murderhawk Monster' Lance Archer. Archer has meandered in the main event scene, occasionally making it into altercations with the AEW Champion and then disappearing for a few weeks. It's hard to tell whether AEW want to make Archer a marquee attraction or not. Putting him in a match with his former NJPW colleague would be a huge step in the right direction for making Archer seem like the star they want him to become.
The two hosses have collided in previous G1 Climax tournaments to mixed success but I believe that this is the best version we've seen of Lance Archer and would likely deliver one of his best career performances in a match against a debuting Okada. It would go a long way in establishing Archer as one of the most solid big men in the industry today, and with Jake Roberts at his side, the promos leading to the bout would be insane.
Make it happen A E DUB!
READ NEXT: What's Next For KENTA In AEW?
Some of the coverage you find on Cultured Vultures contains affiliate links, which provide us with small commissions based on purchases made from visiting our site. We cover gaming news, movie reviews, wrestling and much more.