As the guy on staff who tends to play the most fighting games, I feel like I'm the authority when it comes to rattling off the best fighting games of 2020. All in all, it was a decent year for fighting games as a whole. While we'll talk about the new releases in a moment, 2020 also saw continual updates for games like Soulcalibur VI, Tekken 7 (which might just be the best fighting games going today), Dragon Ball FighterZ, Samurai Shodown and Super Smash Bros. Ultimate.
There were a number of new fighters that offered plenty of enjoyment for people who like to play simulations of different characters knocking the crap out of each other. With that in mind, here are the best fighting games of 2020 on PC, PS4, PS5, Xbox One, Xbox Series X, and Switch.
7. WWE 2K Battlegrounds
Developer: Saber Interactive
Publisher: 2K Games
Platform(s): PC, PS4, Xbox One, Switch, Stadia
Watching WWE these days feels like a muddled, mismanaged crapshow that's not worth the time investment, with brief glimmers of hope that things will get better before you're brought swiftly and abruptly back down to Earth. For the longest time, WWE games were also broadly negative experiences, but Battlegrounds has offered that one glimmer of hope.
A more arcade-based experience that's most reminiscent of faster-paced games like WWF No Mercy or the over-the-top nature of WWE All-Stars, Battlegrounds is a disposable but ultimately enjoyable wrestling romp that'll entertain casual and hardcore fans alike.
Just be prepared, we've had the glimmer of hope, so the regularly scheduled nonsense should resume next year with WWE 2K22.
6. One Punch Man: A Hero Nobody Knows
Developer: Spike Chunsoft, Chunsoft
Publisher: Bandai Namco
Platform(s): PC, PS4, Xbox One
Saitama wouldn't be someone's typical choice for a fighting game character, considering the fact that the bald hero can end any fight in literally one punch, hence the name, but somehow Bandai managed to turn the One Punch Man franchise into a decent fighting game, even if it's not the most balanced brawler ever made.
In order to mitigate the power of Saitama in A Hero Nobody Knows, players will control teams of 3 characters, and if you pick Saitama, he'll turn up to the fight late, making for a 2v3 scenario. If you perform big combos or defend your opponent's attacks effectively, Saitama will turn up quicker, and once he does, all you need to do is land that last punch.
With a decent single player mode to boot, One Punch Man is worth checking out (especially as you could probably pick it up on the cheap, just saying).
5. My Hero One's Justice 2
Developer: Byking
Publisher: Bandai Namco
Platform(s): PC, PS4, Xbox One, Switch
Another anime brawler from Bandai Namco, My Hero One's Justice 2 takes the scrapper formula and applies it to the hyper popular My Hero Academia series.
With its huge cast of vibrant and powerful characters, a 3D arena brawler was always going to be the best type of game to showcase the world of My Hero. Side note: writing it as just My Hero made me think of the British sitcom of the same name, and now I want Thermoman as a DLC character. Anyway, let's move on from that wild tangent.
One's Justice 2 follows on from the formula introduced by the first game, with more characters and arenas, plus a story mode that deals with some of the more recent anime/manga arcs. It's not the most technically sound fighting game ever made, but not every fighting game needs to be Third Strike in order to be enjoyable, and My Hero's One Justice is definitely enjoyable.
4. Street Fighter V: Champion Edition
Developer: Capcom, Dimps
Publisher: Capcom
Platform(s): PC, PS4
While we normally wouldn't award spots on lists like this for re-releases, Street Fighter V: Champion Edition is such a compelling package that it's hard not to recommend as one of the best fighting games out this year. For starters, Street Fighter V is a great fighting game from the get-go, but Champion Edition packs in the content to make for a more compelling offering.
Champion Edition includes all the content from the base game, along with four seasons worth of DLC characters, costumes and arenas to create one of the most feature complete and relevant fighting games on the market today, which is a far cry from the state of the game at launch.
If you haven't gotten involved yet, now is the time, especially with the fifth and final season looming on the horizon.
3. UFC 4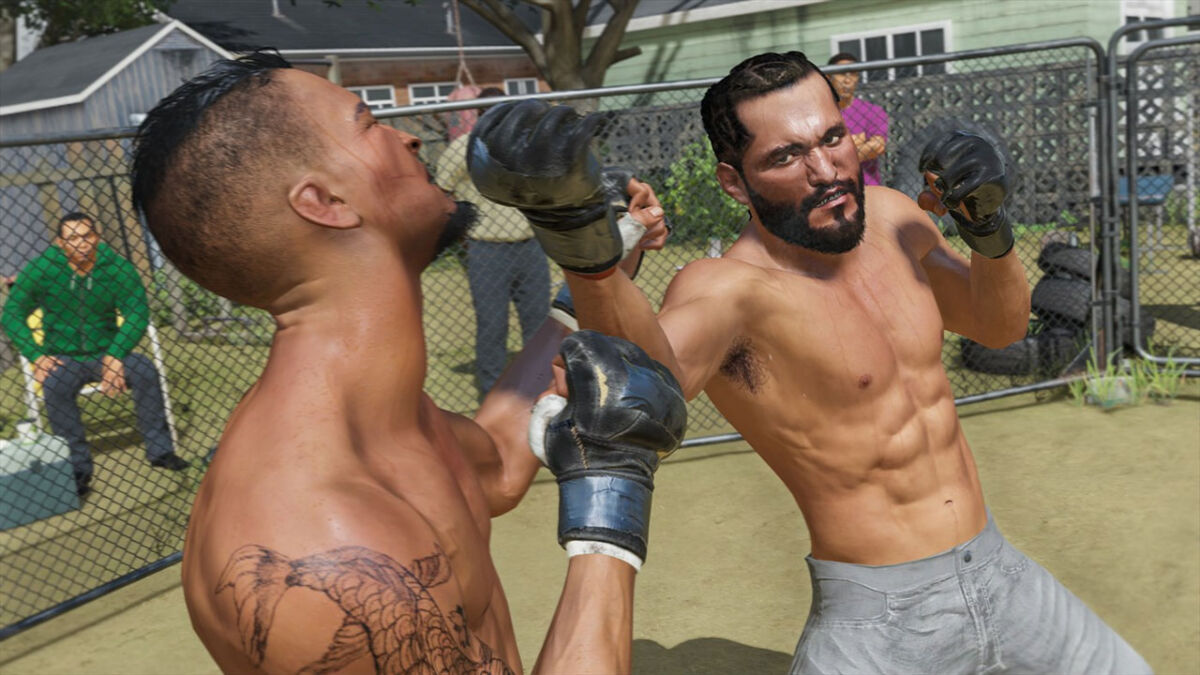 Developer: EA Vancouver
Publisher: EA Sports
Platform(s): PS4, Xbox One
I'm still on my ongoing quest to say that mixed martial arts games are fighting games more than they are sports games. While UFC 4 might not have traditional health bars or Jorge Masvidal throwing out fireballs like Ryu (or Ken, he'd probably be Ken), it does have some of the most engaging and rewarding combat you can find in the genre.
UFC games in the past have often required more intense knowledge of the game and controls to succeed, particularly when the match gets taken down to the mat, but UFC 4 streamlines and simplifies the process to create a compelling experience from bell to bell.
Other fighting games might focus on flashy combos and elaborate super attacks, but UFC offers that unique thrill that comes with roundhouse kicking some dude's head off.
2. Granblue Fantasy Versus
Developer: Arc System Works, Cygames
Publisher: Cygames, XSEED Games, Marvelous Inc.
Platform(s): PC, PS4
I've said it before on this website, and oh lord, I'll say it again repeatedly until my soul leaves my body: Arc System Works know how to make a great fighting game. Their work on franchises like Dragon Ball FighterZ is a testament to that, but 2020 saw them flex their muscles on another licensed fighting game, Granblue Fantasy Versus.
Based on one of the most popular mobile games ever made, Granblue Fantasy Versus offers more accessible gameplay with the use of its Skybound Arts, which allow players to use special moves with the press of a single button, with a cooldown between uses. Of course, if you're a more competent player, you can just use the traditional inputs to shorten the cooldown, making for an accessible yet rewarding game.
There's even an RPG/beat 'em up hybrid mode thrown in for good measure, which is possibly the most unnecessary video game flex of 2020 and I love it.
1. Mortal Kombat 11: Ultimate
Developer: NetherRealm Studios
Publisher: Warner Bros.
Platform(s): PC, PS4, PS5, Xbox One, Xbox Series X | S, Switch, Stadia
While it's a bit of a bold choice to have another re-release sit at the top spot for the best fighting games of 2020, Mortal Kombat 11: Ultimate is arguably the best fighting game package available today, especially if you're still looking for a reason to jump aboard. On top of being an utterly incredible fighting game, Mortal Kombat 11 has modes spilling out of its side.
The Towers of Time mode offers endlessly replayable content and the chance to earn thousands of cosmetic items for everyone on the roster, while the Story Mode and DLC Aftermath campaign set the bar for stories in fighting games, something NetherRealm have become incredibly good at.
Couple all that with the novelty of watching Rambo beat the snot out of the Terminator, and you've got the best fighting game of the year right there.
READ NEXT: 30 Best Fighting Games Of All Time