2020 started off on very strong ground indeed when the excellent Giri/Haji (literally 'Duty/Shame') hit Netflix. A cultural clash in action, Giri/Haji saw a Japanese policeman upping sticks and travelling to Britain in search of his estranged brother. Despite both countries being rainy island nations with rigid class systems and elaborate rituals around tea, he is a fish firmly out of water – and yet it's so immaculately crafted you will immediately feel for him, want him to succeed, want him to do the right thing.
If you had to classify Giri/Haji it would, on balance, be a police drama, yet even that broad category here feels reductive. It's one of those shows that can turn its hand to anything, from blood-and-thunder action to genuine pathos, in a way reminiscent of the kind of dramas that get hailed as the greatest of all time – and it also had the incredibly talented Will Sharpe appearing as a coke-addled rent boy.
Early January also saw both The Good Place and BoJack Horseman coming to an end – two shows very different in tone, especially when The Good Place started to surrender to romantic schmaltz. But also very alike in that both were addressing moral questions in a way you seldom see in media (let alone in comedy) and letting them play out in agonising detail.
With two excellent mixtures of comedy and depth ending alongside a fine newcomer like Giri/Haji, you might have thought this seemed like an incredibly promising year for good TV. But then something happened. As you may or may not know, current events have resulted in vast swathes of the human species staying indoors and keeping away from other people if at all possible. And then there was a global pandemic.
So most TV and film productions were put on hold. Many which should have been out this year were pushed back to 2021. It was predicted in many quarters that this would see a rise in animated productions, something which never really manifested itself – possibly because social distancing would play havoc with table reads as much as any other rehearsal.
Despite the misfire that was last year's El Camino, a frankly unnecessary Breaking Bad spinoff, Better Call Saul has only gotten better. This year's fifth season, first and foremost, saw people actually calling Saul, rather than fumbling around with the shyster's legal name and moral doubts. It was something of a shock, if not an unwelcome one, when Better Call Saul began as the story of a man becoming Saul, rather than just Saul in action, abusing the court system.
This fifth season also saw the marvellous creation of Tony Dalton's Lalo Salamanca joining the cast full-time. Lalo is a very robust antagonist in a show that sorely needed one – I've praised the character before as the only cartel man "not hobbled by a series of glaring, crippling neuroses". And Dalton himself lends Lalo a kind of jolly charm, where at times you can almost forget he's playing a ruthless killer. Lord knows to get into the franchise now, with ten seasons of back catalogue, would be quite an ask for anyone – yet I maintain it would be worth it.
While it seems four or five years ago now, it's impossible to talk about the television of 2020 without mentioning Netflix's March hit Tiger King. And, amazingly, the tigers weren't the star of the show. Viewers were delighted to meet the polygamous, meth-abusing Joe Exotic, and welcomed his bitter feud with "that bitch" Carol Baskin into their hearts.
It inevitably emerged that Exotic wasn't exactly a pillar of the community, but nobody watching had been under that impression. He was a – what's the expression? – a "problematic fave", someone for whom the misdeeds are all part of the fun. And if he achieved nothing else, he did at least illustrate loud and clear that the laws about keeping big cats weren't up to snuff.
March also saw the third season of Ozark rolling around, which has gamely made a name for itself in the face of the well-saturated medium that is the hour-long provincial crime drama. You do find yourself wondering if they're reluctant to give Jason Bateman and Julia Garner too many scenes together, lest they come off too much like Breaking Bad's Walt and Jesse.
This third run, however, saw Tom Pelphrey absolutely stealing the show as Laura Linney's long-lost brother, an already-troubled man who simply hadn't built up all the walls of self-delusion and moral relativism needed to function in Ozark's unhappy world. The soliloquy, one actor speaking directly to the audience, isn't trotted out as much these days as it was in the golden age of the theatre, but Pelphrey actually pulled it off.
Rounding out March's offerings was David Simon's adaptation of Philip Roth's alternate history The Plot Against America, in which America stays out of the Second World War after electing the isolationist Charles 'Lucky' Lindbergh. From here, eighty years on, we can of course see all the problems with that idea. At times it bordered on being a work of horror, the kind of thing you watch through your fingers, screaming at the people onscreen to turn the lights on and get out of the house, to not do that foolish thing.
The Plot Against America was accused of being a little too contemporary, that while set in the past it was all too clearly commenting on the present – and with good reason, within a media landscape for whom moaning about the current American President had become a reflex, like a sneeze. Certainly the historical parallels were unsubtle, but it never degenerated into on-the-nose "oh, wouldn't it be a shame if [thing that has now happened] were to happen". Instead, The Plot Against America stayed in the realm of ideas, of speculating about what might have happened – and of the inevitably uncertain future.
April's Normal People, a romance of teens from County Sligo, became an overnight hit, shattering streaming records both in its native Ireland and in the UK. While it featured quite a bit of sex, it wasn't television's usual leering, unnatural, porn-sans-penetration approach to it – rather, a deliberately awkward, fumbling, and consent-heavy take on intimacy. It's no surprise that the production actually had an 'intimacy coordinator' on staff, which you can mock if you like, but that needs choreographing as much as any fight scene.
Despite not being crowd-pleasing in television's usual titillating way, audiences really responded to this approach, hailing its realism – but this, really, was just part and parcel of the broader love affair between Daisy Edgar-Jones and Paul Mescal. Few shows depend upon their leads quite as much as Normal People did, and it was their chemistry that made it what it was – they squabbled, they fell out, they pined for each other, because that's what normal people do.
It's not strictly a 2020 show – not even close, in fact – but Avatar: The Last Airbender had a very good year. It hit Netflix in May, both picking up a huge new audience and prompting the old fans, with time on their hands, to think 'maybe it's time for a rewatch'. And rewatch they did, in their thousands, with the added bonus of there now being far more people who would understand the references.
Avatar wasn't the only old show to have a new lease of life in the pandemic. Community, too, made the much-anticipated jump to Netflix, and HBO streamed a whole stack of their considerable back catalogue for free. But Avatar stands out, quite possibly because it's technically a kid's show – just a really well-done one that deals with subjects you'd more readily expect to find in those glossy HBO crime dramas. This was its advantage back in its heyday, that it was punching well above its weight, and the same applies now.
Similarly, this year also saw a number of old favourites revived – not, unfortunately, in terms of new material, but rather the cast getting back together. Typically via Zoom. There were reunions for, to name but a few, Parks & Rec, The Fresh Prince Of Bel-Air, Frasier, The X-Files, Schitt's Creek, and even Community itself. Which, really, is just the coda for anyone who's been filling their time by going back to these old favourites.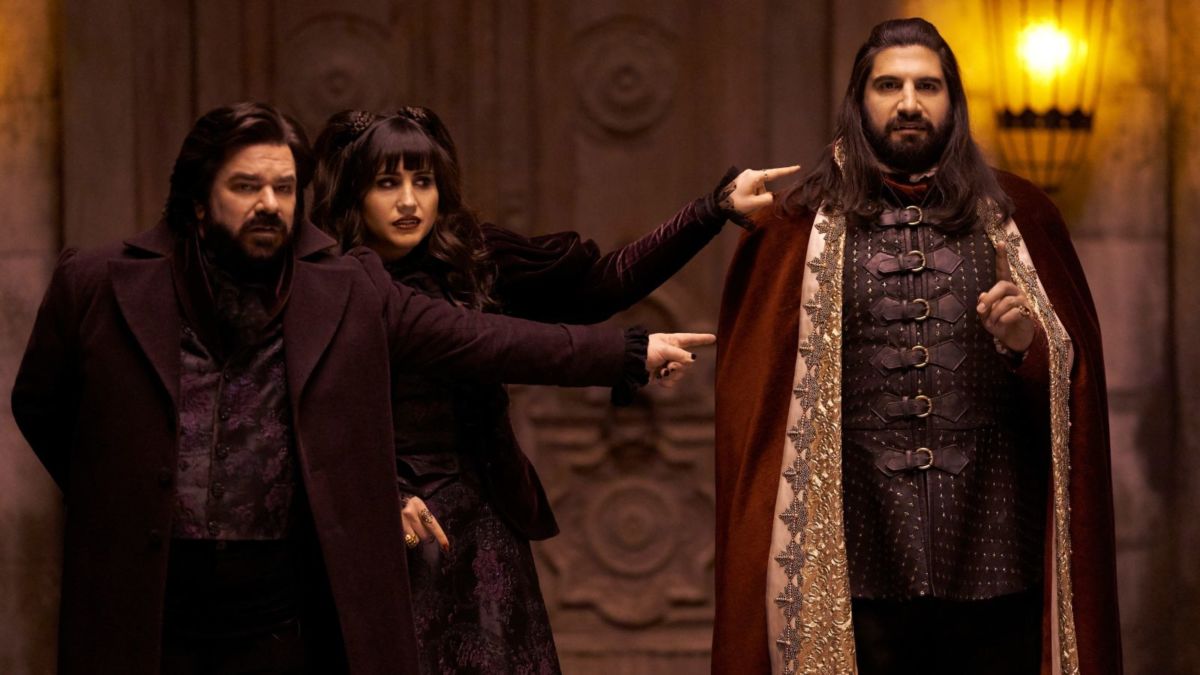 While 2020's run of What We Do In The Shadows was its second outing, it was this year when the spinoff of the mockumentary about Kiwi Vampires – a convoluted backstory if ever I've heard one – seemed to really hit its stride. The first season was just as good, but it's only now it's attained some serious traction among general audiences.
Of particular note was main cast member Matt Berry's secondary role as normal human man Jackie Daytona, who got into a feud with Mark Hamill. The idea of a vampire, of all people, living this double life is something like the old joke of the kid who runs away from the circus to become an accountant. But while Berry's sheer bombast might render a lesser production hopelessly lopsided, with him acting opposite Kayvan Novak, Natasia Demetriou, and Mark Proksch it somehow, impossibly, finds a perfect balance.
July's I May Destroy You distinguished itself from most shows about those millennials with their dyed hair because it was actually written by one – Michaela Coel, whose debut, Chewing Gum, was better than any show about awkward young adults had any right to be. I May Destroy You was a vehicle to take a number of sideways looks at the thorny issue of consent. What is it? What does it mean? I jest, but I May Destroy You spent a lot of time in those sorts of grey areas.
If there's a rawness and anger to I May Destroy You, it was drawn straight from life. The central plot involves Coel's character being sexually assaulted on a night out – which actually happened to her while writing the second season of Chewing Gum. Unfortunately, her memories of the night are hazy, and this haziness permeates the show as a whole. Her friends have their own grim encounters, perhaps not genuinely wanted – but where does one draw the line? I May Destroy You explores all this without prescribing answers, since ultimately, there are no cut-and-dried conclusions in those situations.
Although the short life of streaming service Quibi didn't produce any shows worth writing home about, its decline and fall was enough of a drama in and of itself. It appeared to have been created with the mission statement 'them damn kids are always on their damn phones'. Admittedly it was a victim of bad timing, a mobile-only streaming service running straight into the teeth of a lot of people suddenly staying at home.
However, none of the stories that emerged from Quibi's head office said anything that was good about founder Jeffrey Katzenberg. Whether it was suggesting Gal Gadot do a Jane Fonda-style softcore workout programme, or suggesting that his staff listen to "Get Back Up Again" – from the Trolls soundtrack, not the classic Chumbawumba tune – in the course of explaining that they were now unemployed, he came off like a man who could not do right.
It should be noted here Katzenberg is no blushing first-timer. He was chairman of Walt Disney Studios for ten years and then went straight on to co-founding DreamWorks Animation – and then pissed a billion dollars up the wall on QuiBi. I hereby declare him this year's Game Of Thrones, someone whose track record had been so strong that failure seemed unthinkable, but when it came it was devastating.
Although almost all productions were shut down for the duration, spending most of 2020 in limbo, television itself naturally wanted to comment on coronavirus appearing on the scene. It's Always Sunny In Philadelphia's Rob McElhenney said that their next season would comment on the pandemic, but sure enough, the first boots on the ground were those of South Park. Their notoriously short production schedules have allowed them to corner the market on current events for a good long while now, their only real competition being now-Zoom-based panel shows.
South Park, like The Simpsons before it, has always made much merriment out of the depths of stupidity humans can reach when they get together in a mob, and the Pandemic Special was no exception, starting off with our fumble-fingered approach to mask-wearing. Over the special's forty-five minutes, it devolves from 'cover your nose' to 'cover your chin'. But South Park's real strength is in grotesque creatures of pure id, and these, too, are on full display here in the form of President Garrison, their nose-thumbing parody version of Mickey Mouse, and the OG himself, Eric Cartman, for whom social distancing is a dream come true.
Those three are the obvious examples, but no less an example is the special's lead, Randy 'Stan's dad' Marsh, who's rapidly been becoming the show's main character over the past few years. Unrecognisable as the ancillary, mild-mannered geologist he was when the show began, he's steadily become an absurd, wiggling, scatological beast, living seemingly only to fulfil his own basest desires whether the rest of the Marsh clan like it or not. No surprise, then, that Stan is the one to wig out worst under lockdown.
As 2020 drew to a close, the big hit was The Queen's Gambit, with Anya Taylor-Joy as the best chess player in the world. The interesting thing is, the show wasn't really about chess – it was beat for beat the same formula used by thousands of success stories over the years. Humble beginnings, burst onto the scene, fame, substance abuse, bit of a wobble, climb back to the top. Chess could have been handily switched out for any sport, or even a career in the arts. The dead giveaway comes when she goes to Soviet Russia for the match of the century and the locals take her side, just like the Rocky flick where Sylvester Stallone single-handedly ended the Cold War.
Despite the fact that you'd learn more about how to actually play chess watching a four-minute scene from The Wire, The Queen's Gambit sparked off a massive uptick of interest in the game. Through November, hundreds of thousands of people registered as members of chess.com every day, and the site responded in kind, launching an app where you can play against virtual versions of Taylor-Joy's character, from her beginnings as a child to the height of her powers going up against the grandmasters of the world. Maybe it'll turn out you are a striking redhead who can beat the Russians at their own game!
Some of the coverage you find on Cultured Vultures contains affiliate links, which provide us with small commissions based on purchases made from visiting our site. We cover gaming news, movie reviews, wrestling and much more.