Investing in youth is the key to the long-term survival of any industry. The old guard won't be around forever and making room for young blood to take the torch from them will guarantee future rewards. It doesn't help, then, when you've got older employees who are still absolutely killing it.
WWE have been accused from every direction that they rely too much on the past. The main event of Crown Jewel being between four men with a combined age of over 200 is proof of this. But there are some people under the sports entertainment giant's umbrella who can stand out, despite their advancing age. We've compiled the ten very best performers in WWE who have already passed the 35-year milestone. To make things even more difficult, we've restricted this list to full-time performers who debuted in the company after 2010. This way, it isn't dominated by veterans who know what they're doing, but by fresher faces who didn't sign until they'd got some significant mileage under their belts elsewhere.
Honourable Mentions: Bobby Roode – 41 and Hideo Itami – 37
It pains me to not include these two in the final ten, but I'm basing the ranking on accomplishments made in the last one-year period (which will explain why there are big names on this list who are comparatively quite low). Bobby Roode actually held the US Title this year, but that championship's been such a non-factor that it's hindered who's held it rather than helped them.
Bobby and Hideo haven't done much of note this year. Roode is a far cry from the brilliance of his NXT run, and Itami's just been "the other guy" on 205 Live. They could both be major players for WWE, but it definitely hasn't been their year.
10. Kassius Ohno – 38
The man once known as Chris Hero is in the midst of his second run in NXT. He's had an interesting year that has actually served as a metatextual comment on his own failure to grasp stardom in WWE. He's settled into his role as "the gatekeeper" of the yellow brand. It's his job now to welcome in the new recruits with a solid challenge from an independent legend.
It's been heavily implied that Ohno's next feud will be with Matt Riddle, the indelibly popular MMA fighter turned wrestler who made his official debut this week. While Ohno is definitely losing that programme, it's still going to be a high-octane, stiff battle between two deadly strikers. It should go some way in upping Ohno's stock as a ruthless heel, too. The fact he's nearing 40 and can still go is even more impressive when you consider his struggles with weight gain due to a thyroid issue.
9. Danny Burch – 36
Danny Burch has been described on multiple occasions as 'a pitbull' by Nigel McGuinness, which is about as apt a comparison as you can get. Danny's been splitting his duties between the UK and NXT for most of the year, though he recently signed to the latter full-time. As a singles guy, he wasn't making much noise, but his pairing with Oney Lorcan is what lands him a place on this list.
Bringing together the two rough-nosed bald men was an inspired move. Their feud with the Undisputed Era earlier in the year earned them high acclaim and led to a jaw-dropping encounter at NXT TakeOver: Chicago. The two men won over an initially hostile crowd and even earned a standing ovation for their efforts. It feels as if at 36 years of age, Danny Burch is only just entering the prime of his career. That is very exciting indeed.
8. Bobby Fish – 39
I'm unapologetically a huge Bobby Fish fan. Anyone who follows my Twitter knows this. But it's not without warrant. Bobby is one of the best tag team wrestlers alive and is exceedingly good at being a shit talking bad guy. His partnership with Kyle O'Relly has transformed the team once known as reDRagon into a part of the Undisputed Era, one of NXT's top acts.
Bobby comes in at number eight due to the fact that he's spent half the year on the shelf. He tore both his ACL and MCL back in March, recently making his official return to NXT programming to rejoin his TUE brothers. But Bobby has done more than enough to get in. Last November, he headlined NXT TakeOver: WarGames with his crew and earned a victory. He'd then go on to capture the NXT Tag Team Titles with O'Reilly and successful defend them against the Authors of Pain in Philadelphia. Bobby's got plenty of gas left in the tank. If he can stay healthy, he could be a real force to be reckoned with in the tag division.
7. Finn Bálor – 37
I know, how the hell is Finn Bálor in his late 30s? The man has abs that could deflect bullets and a smile so innocent that it could defuse a nuclear crisis. Putting Finn so low will likely be a controversial choice, but let's be realistic; he hasn't exactly done a whole lot the last year. He did have a spectacular showing at WrestleMania 34 in a triple threat match for the IC Title against The Miz and Seth Rollins, but he didn't win. He did demolish Baron Corbin at SummerSlam in just a few minutes with his Demon get-up, but it meant very little.
Finn gets props for still garnering huge crowd support and managing to be viewed as the future of the business when he's sadly not far off retirement. We may never see him reach the lofty heights of Universal Championship status again. Even so, he can give everyone a memorable show when it's needed and has one of the coolest aesthetics in the entire company today.
6. Shinsuke Nakamura – 38
It's crazy to think that Shinsuke Nakamura won the Royal Rumble this year, before taking multiple losses to SmackDown's top champion and fading into relative obscurity. The man is the current United States Champion and has done precisely zero of note with it. That's not on him, it's not his fault if the writers can't make his reign mean anything. But man is it a sad state of affairs when someone so heavily pushed drops so far.
Still, he did win the Rumble and he did challenge for the WWE Title at WrestleMania. That's the dream of most wrestlers and counts for something. Shinsuke may not have lived up to his promise that he had when he came in, but it's not like he's been a total dud…right?
5. Asuka – 37
It's crazy to think that Asuka won the Royal Rumble this year, before taking multiple losses to SmackDown's top champion and fading into relative obscurity. Wait a minute, where have I heard that before?
Okay, so Asuka's main roster run hasn't yet resulted in championship gold and her staggering two-year undefeated streak was shattered. Actually, yeah, that's pretty bad. But SmackDown have still clearly portrayed that she is a beast in the ring and she hasn't been pinned by anyone since her ill-fated feud with Carmella. I know that it's frustrating to see Asuka lose, but how many full-time members of the main roster can say they've only been pinned or submitted three times since 2016? This isn't the end for "The Empress" by a long shot, she's still an elite performer who (hopefully) has a bright future.
4. Cesaro – 37
Man, oh man do I love Cesaro. It may dishearten his most ardent supporters that he isn't a multiple-time world champion right now, but he's part of the most heavily pushed tag team in WWE not named the New Day or the Usos.
The Bar are the current SmackDown Tag Team Champions, meaning Cesaro has held tag team gold six times in his career thus far. He may have lost to Braun Strowman and a 10-year-old boy at WrestleMania (remember that?), but he's still been having outstanding matches and dominating the tag division on both brands. He is so freakishly athletic that it's hard to believe he's 37. This can also be said of his partner, Sheamus, who's goddamn 40. A tag team with the combined age of 77 shouldn't be able to do what those two can do, and yet they continue to defy expectations.
3. Shayna Baszler – 38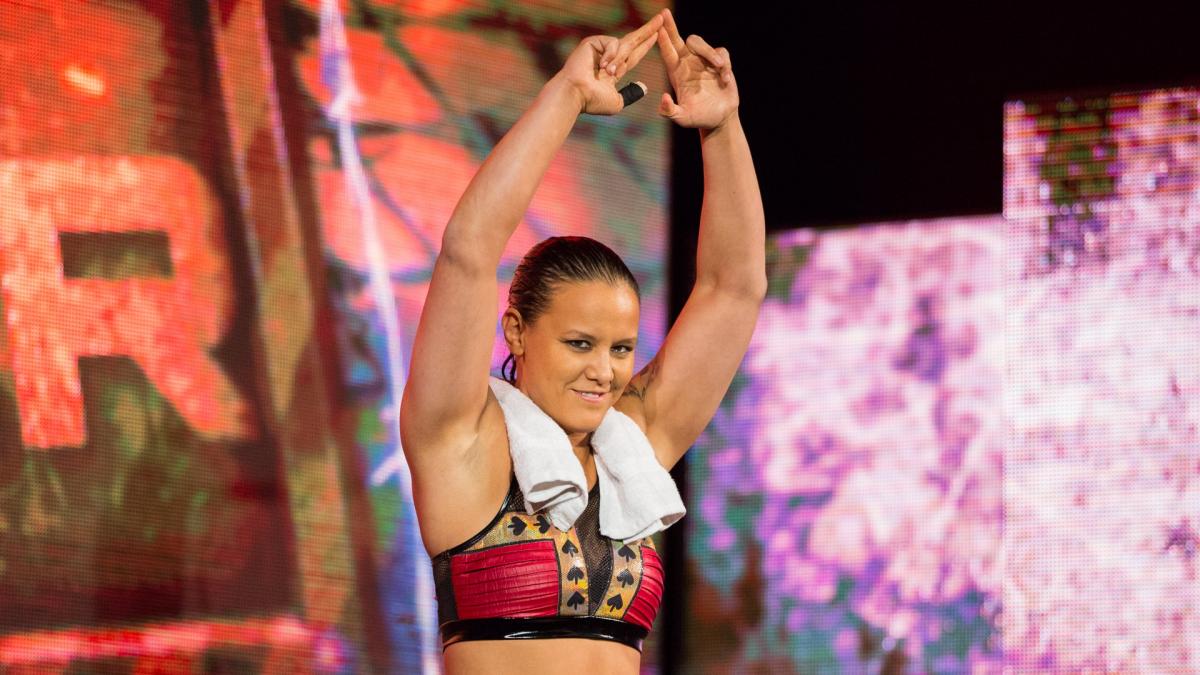 Shayna is the person who inspired this article in the first place. Her age is one thing, but it's the speed with which she's adapted to the wrestling business that is truly startling. Shayna didn't begin training until she was 34, opting to transition from MMA to professional wrestling. She's took to it like a shark to the ocean. Shayna Baszler is the perfect bully heel to mangle and maim all the babyfaces in NXT. She's the first ever two-time NXT Women's Champion and now has her own gang of MMA friends in Jessamyn Duke and Marina Shafir to lay waste to all that lies in front of her.
It saddens me a little to think that she's so new to all this. Baszler will no doubt keep on wrestling into her 40s if she can avoid injury. I just wish she'd started when she was younger. Imagine how dominant a 25 or even 30-year-old Shayna Baszler could be for years to come. Having said that, she has opened the flood gates for WWE to be more open to signing women with MMA backgrounds. She will go down as a pioneer for bridging that gap and we will see plenty of future stars who will owe their opportunities to her hard work.
2. Samoa Joe – 39
Joe's been on fire this year. His feud with AJ Styles is an easy contender for the best of the 2018 (though after Evolution, Charlotte vs. Becky might take the cake), and he's hands down the best mic worker walking the planet.
This is sadly an example of age working against the performer rather than with them, though. Joe has been hit with three injuries since his main roster call-up, each ruining a major push he was in the midst of. At this rate, we may never see Joe as a world champion if injuries keep halting his momentum. However, this doesn't change the fact that he is among the best of his generation, and he's tough as nails.
1. AJ Styles – 41
It couldn't be anyone else. The only one on this list in their 40s is also the MVP of not just SmackDown, but all of WWE. AJ Styles has held the WWE Championship for every day of 2018 so far. In just over a week, he'll have held it for an entire year. If he holds it until mid-January, he'll beat CM Punk's vaunted 434-day reign.
This is the last stand for AJ. I've been following this man's career since I was 10 years old. He was the first wrestler outside of the WWE that I really latched onto. His mind-blowing ring work has evolved with the performer, and he's now one-part high-flyer, one-part psychological master. His technical acumen is matched only by his intensity. He plans to retire in a few years and he is going out on the highest of notes as one of the longest-reigning WWE Champions of all-time. He gives hope to dads north of 40 the world over.
Some of the coverage you find on Cultured Vultures contains affiliate links, which provide us with small commissions based on purchases made from visiting our site. We cover gaming news, movie reviews, wrestling and much more.