Warhammer Age of Sigmar: Storm Ground is the first major virtual adaptation of the Age of Sigmar universe (a kind of sequel to Warhammer Fantasy in the recent Total War games) in the Warhammer franchise. The strategy genre is an incredibly common pick for games set in the licence and it's becoming increasingly difficult for each new game to stand out. So what does Storm Ground bring to the table?
Storm Ground is a small-scale turn-based hex-based tactics game with roguelike and collectible card game (CCG) elements, where players form warbands of units and heroes, go to battle, and earn loot to better their forces for future engagements. The game has both a single player campaign and multiplayer (PvP and PvE) mode on offer, and each, especially multiplayer, will require many hours to experience and master.
The single player campaign is where the roguelike systems are most prevalent as players are expected to lose multiple times, all the while building up their forces to finally overcome each stage. There are three faction-specific campaigns with three stages giving players plenty of opportunity to get to know their chosen faction's playstyle and discover all the exciting loot on offer. Though the AI is mediocre at best, the campaigns are challenging due to the evolving strength of the enemy and the wide range of missions, scenarios, and objectives.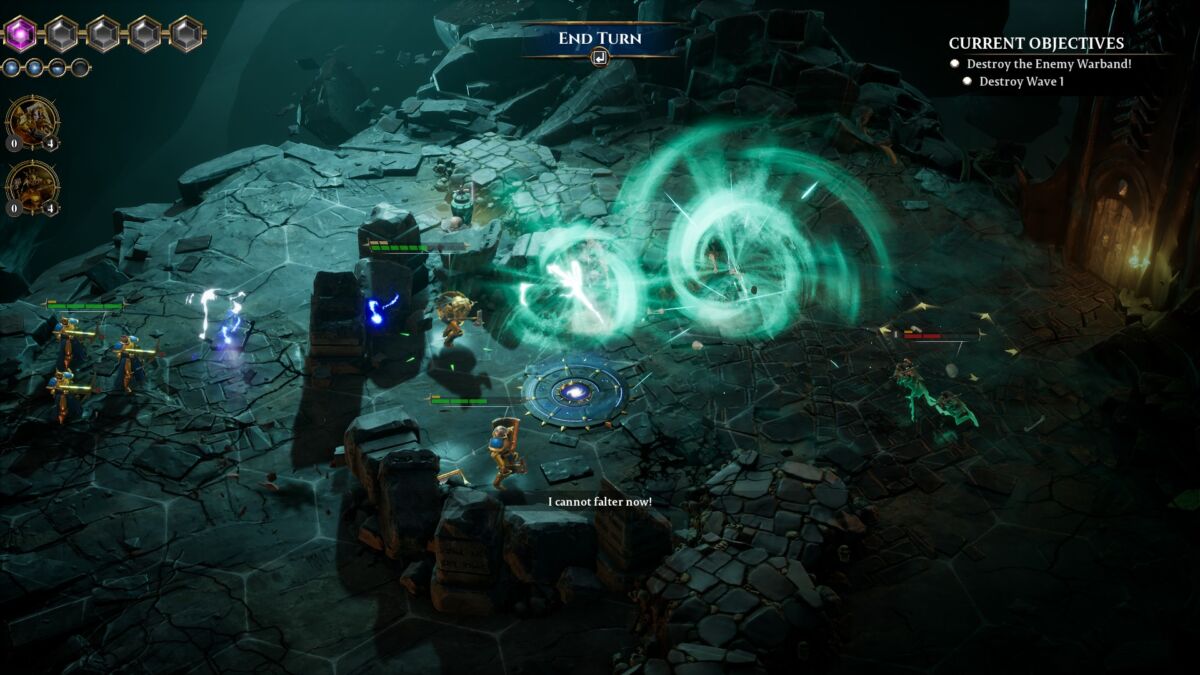 The narrative in each campaign is quite basic and not very compelling as Storm Ground's focus is clearly on the intense combat. Missions offer lore scrolls as rewards that give a better understanding of the setting and main characters, but these don't do much to make the story more meaningful. The campaigns do offer branching paths, but they mostly switch up the enemies players face rather than definitively vary narrative progression.
In multiplayer, players will compose warbands from their pool of rewards (not affected by the campaign) and do battle in one-on-one engagements in either deathmatch or Soul Prison (destroy the objective) modes. There is a serviceable number of maps with varied terrain layouts, though, the environments can look too much alike and create a sense of repetition. Cross play is really nice to see, meaning that there won't be much playerbase splitting and getting into a match should be easy.
Storm Ground's multiplayer is also set up to be highly competitive due to the fast pace and small scale. The lack of leaderboards or any kind of ranking system does weaken the competitiveness a bit, as there is no easy way to compare gameplay stats, builds, and overall tactical performance. Such systems should be relatively easy to add and give multiplayer greater longevity.
The campaign and multiplayer modes would be nothing without Storm Ground's major highlights: the tactical gameplay and the customization and progression system. Tactically speaking, the game is chock full of elements for players to consider in any given encounter. You'll have to optimize unit moves, efficiently use abilities, plan out unit summons, manage power and Aethyr resources, and utilize the terrain to advantage to defeat their opponent.
This is compounded by the three well-defined and distinct factions: Stormcast Eternals, Nighthaunt, and Maggotkin. They're all based on a playstyle artchetype, such as the Nighthaunt focusing on swarm tactics, but there is enough tactical depth to each faction to provide a unique challenge and shift away from the intended playstyle. Of the three factions, the Nighthaunt and Maggotkin are the more compelling factions as they have more interesting systems at play (the Stormcast also have another issue, which I discuss later).
The quality and depth of the tactical gameplay only gets better with the customization and progression system, where after every battle players will earn rewards in the form of cards that can range from new units and powerful wargear to skill upgrades and additional items. Units will also level up from battle, improving their stats in the process, and as a very welcome addition, the developers included an extensive army painter so players can personalize their own warbands.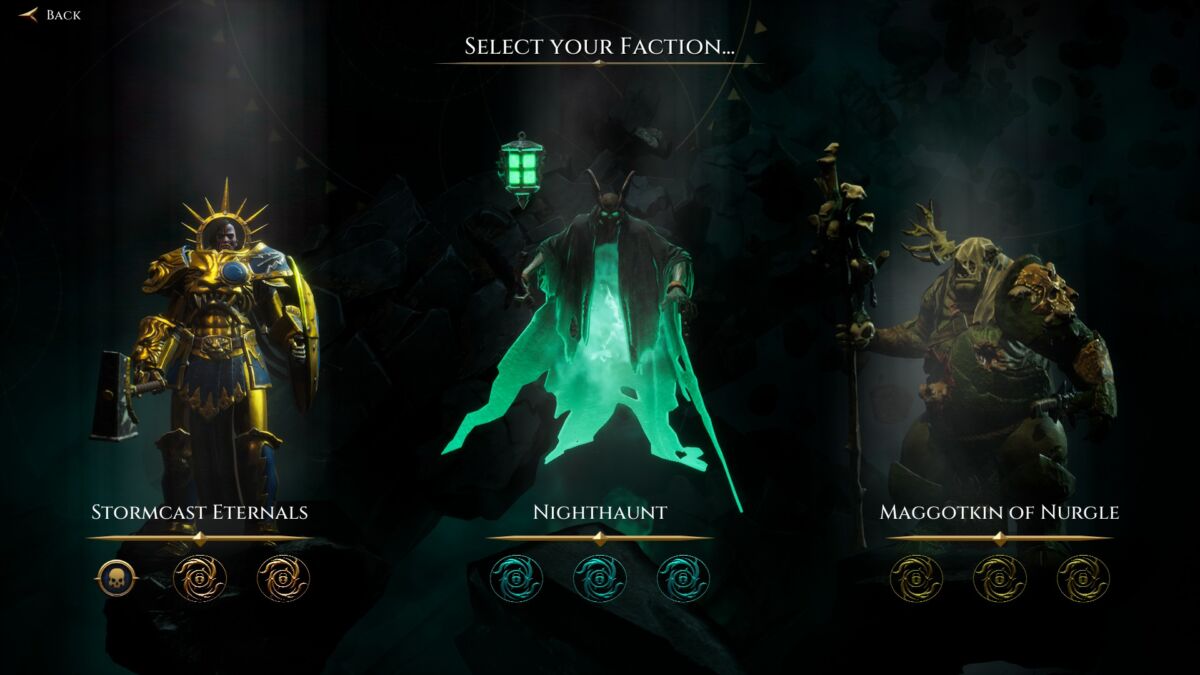 This is where the CCG systems come into play as the rewards are mostly randomized and can be slotted into whichever eligible units players have available. Luckily, there are no loot boxes, in-game currency, or microtransactions to break the progression system, so it's completely on the player to experience the game and work for their rewards. The randomness of the rewards mostly works in favor of this system, but there is certainly the possibility of balance issues (especially in multiplayer) where some players may forgo the game's challenges with a lucky reward and have little incentive to keep playing. This is simply the nature of RNG.
Where Storm Ground's gameplay is quite successful, the presentation is another story altogether. The visual design is colorful and captures the essence of Warhammer's atmosphere, with some of the battlefield backgrounds being a highlight. The lack of camera controls, however, hamper the aesthetic quality of the 3D graphics. Storm Ground might as well have been a 2D game as the camera is locked into a single viewing angle during battles.
The audio is all over the place in terms of quality. The voice acting is excellent top-tier material, with the Maggotkin units and characters especially standing out. It really feels and sounds like you're listening to decrepit and diseased monstrosities.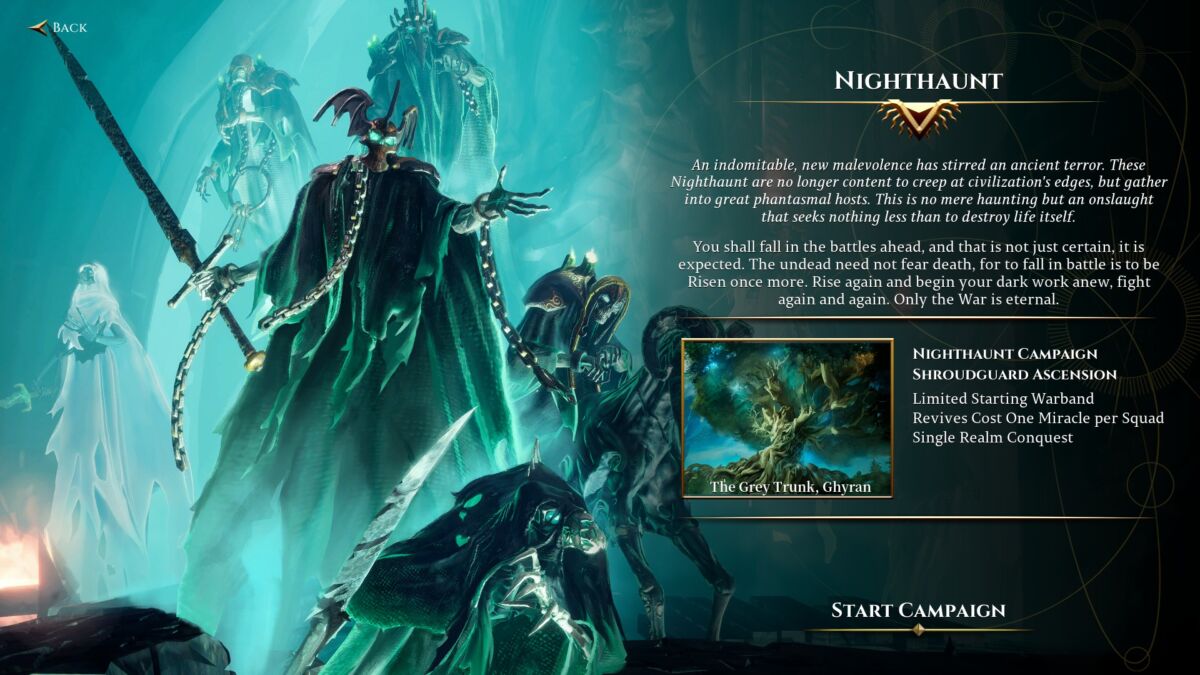 The combat sound effects and map ambience are serviceable, though some of the ambience not matching up to the map's environment is odd. However, the worst element of the audio design is an almost complete lack of music in tactical battles, making combat feel empty and lifeless, as if there's no energy and dynamism to the player's decisions.
Faction choice is also a bit of a mixed bag that stifles the game's potential for innovation. The main culprits are the Stormcast Eternals, who are basically Warhammer 40K Space Marines, but with a high medieval fantasy aesthetic. This obsession with Space Marine archetypes in Warhammer games is incredibly tiresome and cliche and it doesn't help that there's another game coming soon that also focuses on Space Marines.
This point could be considered more of a metacritique of the Age of Sigmar setting, but even so it's still relevant to the discussion on the developers' design decisions. These choices may raise questions about faction design, but luckily the Maggotkin, the denizens of the underrepresented Chaos God of corruption Nurgle, are a breath of fresh air.
Above all else, though, Storm Ground's worst offence is its mediocre and annoying UI that was clearly designed primarily for consoles and doesn't utilize PC sensibilities, making the game feel like an incomplete PC port. The UI makes the game look far more complicated and intimidating than it actually is, giving it an unnecessary potentially high learning curve. This mostly comes from the fiddly, inefficient, and hard-to-access menus and bizarre controls, which makes reading unit stats and abilities and equipping items a frustrating hassle.
There is a complete lack of tooltips, which this game sorely needs, as there are many terms, stats, and features that are unexplained. Moreover, there are many quality of life elements bafflingly absent in battles, such as at-a-glance indicators of unit statuses (remaining movement points and the like) or an easy ability to select and inspect enemy units. As an overall feature, the UI is more annoying than anything else and is certainly not the worst, but it's needlessly frustrating to work with.
Being a relatively small game, the options menu isn't too advanced and covers most of the vital graphical, audio, and gameplay options. Storm Ground ran pleasantly well with no crashes or frame drops and I encountered only minor bugs, such as typos, some ability activation input lag, and voice acting not matching up to the dialogue. Safe to say that systems that meet the recommended specs should run the game without much issue. The one oddity I encountered was that my GPU would get strained after alt-tabbing from the game, which didn't affect the game in any way, but was certainly strange.
Ultimately, Storm Ground, while not an overly ambitious project, is a commendable first foray into the Age of Sigmar solid tactics game that successfully combines systems from multiple genres. Aside from an inefficient UI and missing PC quality of life features, Warhammer Age of Sigmar: Storm Ground is a safe recommendation for strategy fans to check out.
A Steam key was provided by PR for the purposes of this review.
READ NEXT: Warhammer Age of Sigmar: Storm Ground Tips: Gear, Loot, Aethyr & More
Some of the coverage you find on Cultured Vultures contains affiliate links, which provide us with small commissions based on purchases made from visiting our site. We cover gaming news, movie reviews, wrestling and much more.

Verdict
Though the mediocre UI makes the game needlessly intimidating, Warhammer Age of Sigmar: Storm Ground is an engaging tactics game that successfully mixes systems from multiple genres.