The Warhammer 40000 franchise is tailor-made for the strategy genre with the past several years seeing a veritable explosion of titles in the genre of varying quality populate the market. Curiously, along with grand strategy-style games, Warhammer 40K hasn't taken on the highly influential formula of Firaxis' XCOM for its tactics games, except for the rare exceptions of the original Chaos Gate and the more recent Mechanicus. Complex Games' Chaos Gate – Daemonhunters is on track to successfully join its exceptional brethren.
Daemonhunters is a hybrid strategy and tactics game, where players take command of a small strike force of Grey Knights, a daemon-busting special forces chapter of the popular and easily recognizable Space Marines, tasked with aiding an Inquisitor in dealing with a mysterious new interstellar plague. Players can expect to manage their roster of marines, talk to eccentric characters, research the plague, modify your flagship, and, most importantly, engage in challenging turn-based tactical battles. While there may only be one campaign mode, it's quite lengthy with plenty of systems and narrative to sink your teeth into and enjoy.
Perhaps Daemonhunters' biggest selling point is its presentation. The game's story and the gameplay itself all feel cinematic due to plentiful cutscenes, the action camera that zooms in on the most badass moments, and solid writing across the board.
The game's art direction is practically bursting with vibrant color in absolutely every aspect, the characters, the maps, and the world, turned up to eleven in their color palette, which is saying a lot given the franchise's penchant for the absurd and grandiose. Such an approach helps accentuate the fantastical side of this science-fantasy universe – an oddly refreshing take given the grimy grimdark tone Warhammer 40K's usually associated with it.
There are some problems with this explosion-of-color style in that, at times, the screen can feel overwhelming and noisy, where each aspect of the visuals is trying to shout over or dominate one another for capturing the player's attention, akin to some of the more disjointed action set pieces of a Michael Bay film. Also, facial animations in particular come across as stiff and distracting, which is especially odd given how well the marines move in the tactical combat.
The sound design, on the other hand, is a bit more mixed compared to the visuals. The voice acting is absolutely exquisite and the weapon and enemy sound effects are impactful, though they do suffer from some audio mixing and balancing issues that can distract from the action. The music doesn't quite measure up to the visuals' intensity and instead comes across as muted and not all that memorable.
From a gameplay standpoint, Daemonhunters doesn't attempt to reinvent the wheel or significantly modify proven tropes and features. However, what it does include works well and creates an overall compelling experience and elevate Daemonhunters beyond simply being another run-of-the-mill tactics game.
The XCOM-style tactics game formula is absolutely perfect for the Space Marines mechanically and from a pacing perspective. With several recent Warhammer 40K games fetishizing the Space Marines to the point they lose their luster and tactical intrigue like in Black Lab Games' Battlesector, Daemonhunters succeeds at making this faction fresh and interesting once again.
This comes down to their customization, terrain interactions, and flexible action system. From a customization perspective, there's a stunning amount of cosmetic options available that'll make even the most diehard miniatures collectors blush. You can easily make your squad of Grey Knights look like the most badass armored warriors out there. Some unique items have been locked off to a streamer-exclusive marketing campaign that the developers promised to patch in at a later date, which does leave a bit of a sour taste in the mouth.
The customization options also extend to weapons, armor, and equipment that include basic items, along with unique and empowered artifacts that can help diversify your squad roster and open up new tactical possibilities. Unfortunately, Daemonhunters doesn't do the best job at explaining some item and ability concepts and keywords, so there may be some frustration involved due to trial-and-error while figuring out how everything works.
Tactically, Daemonhunters does a great job of making the Space Marines feel like powerful warriors that have an expanded suite of options at their disposal over their average-sized human counterparts. Partially this comes down to how interactive and destructible the terrain is, with plentiful explosives, throwable debris, and even columns and pillars that can be toppled for devastating effect. The developers did miss an opportunity to make the environment even more varied and impactful to the gameplay, as the terrain interactivity is only slightly higher than games released six years ago like XCOM 2.
Along with their ability to interact with the terrain, Daemonhunters has a flexible action system that makes commanding the Grey Knights feel dynamic and aggressive. This not only comes down to their equipment, but also psychic powers, and the 3-action point system where characters can move-shoot-act in any order without necessarily ending their turn right away. This system truly makes the Space Marines feel strong and individually impressive, but not so overpowered that combat loses all meaning and tension.
The overall heightened level of challenge also works in Daemonhunters' favor. Even on normal difficulty, players can expect a campaign with many moments where they'll feel all is lost either due to an overwhelming unexpected ambush or some long-term decision that hasn't paid off in their effort to fight back the plague.
Part of this level of difficulty comes from AI behavior. It may not be quite as brutally competent as in XCOM, but more often than not, enemies will perform sound tactics of punishing overly-exposed Marines or repositioning to where you may have weakened defenses.
In addition, there's an excellent variety of enemies, big and small, for you to face that will keep every mission fresh, including mini-bosses and full-on boss missions, though the introduction of new enemy types could be sped up just a bit. The player's forces and their enemies will also be affected by a Warp Surge mechanic, which builds over time during a mission that will unleash powerful random effects, such as mutations for the followers of Nurgle or detrimental afflictions on your Grey Knights. This system creates a dynamic and rapid flow to each mission that'll force players to consider their tactical options carefully and be able to quickly adapt to shifting circumstances.
The game's varied map design also helps with keeping the tactical missions interesting. Visiting the same planet can have the player's embattled marines teleport straight onto a trench-ridden battlefield, an industrial complex, a corrupted cathedral, or everything in between.
The gameplay may have minor hiccups, such as camera sluggishness when changing perspective or some pacing issues due to repetitive cutscenes, but the biggest negative is Daemonhunters' UI. The developers clearly chose to go with a stylized approach that many times will end up obstructing your view and make it difficult to read the battlefield.
Perhaps the most egregious element of the UI is how fiddly the menus are when customizing the Marines, where you'll easily get lost in endless menu swapping to get to the right section. Also, some UI elements present way too much information, such as in the ability selection screen it feels as if some crazed Tech-Priest didn't read the manual on how to best organize information. Speaking of the UI, Daemonhunters could definitely benefit from additional customization options, as well as a fair more accessibility options, especially given how much color there is in the game.
From a performance perspective, I didn't encounter any significant frame drops or stutters, though there've been reports that low and mid-range systems may struggle with running the game. Technically, Daemonhunters is quite stable with no major bugs or crashes, aside from the occasional minor typo.
Ultimately, Chaos Gate – Daemonhunters is a perfectly solid hybrid strategy and tactics game that puts the Space Marines in their element and makes them feel special again. It may not present anything revolutionary or innovate on established mechanics, yet all the features work well together to create a satisfying, challenging, and compelling experience. Daemonhunters is a solid recommendation to all strategy game enthusiasts.
A copy of Warhammer 40K: Chaos Gate – Daemonhunters was provided by PR for the purposes of this review. 
READ MORE: Warhammer 40,000: Inquisitor – Martyr (PC) REVIEW – Hammers It Home
Some of the coverage you find on Cultured Vultures contains affiliate links, which provide us with small commissions based on purchases made from visiting our site. We cover gaming news, movie reviews, wrestling and much more.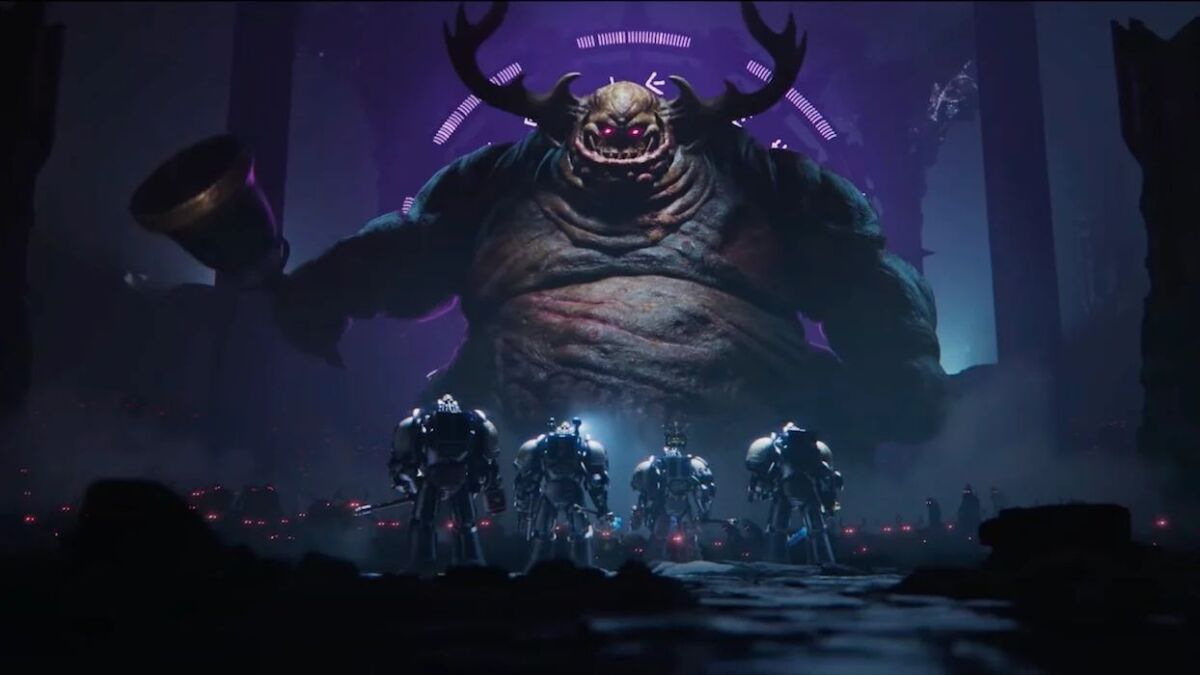 Verdict
Warhammer 40K: Chaos Gate - Daemonhunters brings back an old franchise and succeeds at making you and your Grey Knight Space Marine squaddies feel like absolute badasses.