There have literally been hundreds of Star Wars novels published over the decades, and while many of them frequently appear on bestseller charts and are widely consumed by both hardcore and casual fans, there are also plenty of underrated Star Wars books which deserve more recognition from the wider community. This list covers some less known written treasures of the galaxy far, far away, which fans should immediately track down and add to their bookshelves.
1. The Clone Wars: Secret Missions (Series) – Ryder Windham
This rarely discussed series of four junior novels by long-time Lucasfilm author Ryder Windham focuses on Chiss Jedi Padawan Nuru Kungurama, who leads a Clone Trooper unit known as Breakout Squad in a series of covert military operations throughout the Clone Wars. Throughout the course of the four books, we see Nuru and his team going from being an inexperienced unit into a squadron of highly effective warriors who played a key role in helping the Republic to defeat the Separatists.
Nuru also proved to be an interesting and likeable protagonist, and his strong sense of determination and his respect for his teammates really helped him to embody the core Jedi values of placing others before oneself. Although he is only a kid, Nuru proves to be a natural leader who helps his Squad come out of countless dire situations in one piece, and he also possesses a strong desire to learn more about his native Chiss people, seeing as he had never so much as laid eyes on another member of his species before the events of the series. He does eventually manage to meet some fellow Chiss while on a secret assignment in the second book, which leads to some humorous situations as he mispronounces words in their language and questions why they did not offer refreshments to his team.
With this being a series aimed at younger readers, there were plenty of other amusing moments sprinkled in throughout. Despite its focus on the devastation of the Clone Wars, Windham always remembered that he was writing for younger readers, and he never allowed the series to get too dark or downbeat, making the Secret Missions books ideal gifts for pre-teen Star Wars fans who are desperate for more adventures in the galaxy far, far away.
2. Galaxy of Fear (Series) – John Whitman
Goosebumps was immensely popular during the 1990s, so Lucasfilm decided to cash in on this popularity by releasing a series of Star Wars books modelled after Goosebumps, which became known as Star Wars: Galaxy of Fear. Written by John Whitman, the series lasted for a total of twelve books, which were published between 1997 and 1999. Each Galaxy of Fear novel was basically a Goosebumps story set in the Star Wars universe, and they were both suspenseful and hugely entertaining.
The series focuses on two young Force-sensitive children named Tash and Zak Arranda, who lost their parents when Alderaan was destroyed. After being adopted by a shapeshifting scientist named Hoole, the group then made a series of terrifying discoveries as they travelled across the galaxy. Despite being aimed at kids, the Galaxy of Fear novels contained everything from hoards of ravenous zombies, bone-eating worms, people being buried alive, murderous artificial intelligences, genetically-engineered super monsters, spider-like droids powered by human brains, machines which caused people to see holographic projections of their worst nightmares, a psychotic clone of Darth Vader, and a tribe of human cannibals who cook broth made from body parts. Kids who love scary stories will absolutely adore these books, and they will no doubt be delighted by the more gross-out elements.
Sadly, the Galaxy of Fear series has been almost completely forgotten in the decades since it hit shelves, as even many hardcore Star Was fans have never even heard of these novels. All of the books are now long out of print, and they have also never been released digitally, making them hard to find. But if anyone from Disney is reading this, it may be time to once again make these books available to fans, because it would be a huge shame for such a unique series to become lost forever.
3. Maul: Lockdown – Joe Schreiber
2009's Death Troopers was the first adult horror novel set in the Star Wars universe, and it proved to be such a hit that Lucasfilm rehired author Joe Schreiber to pen two more hardcore Star Wars horror books. He released the enjoyable Red Harvest in 2010, which was then followed by the ultraviolet Maul: Lockdown in 2014. The novel found Darth Maul infiltrating a notorious maximum security asteroid prison known as Cog Hive Seven in order to obtain information from a weapons designer called Iram Radique, and it was also one of the last books set within the Legends continuity, which was retconned by Disney several months after Lockdown hit shelves.
Since the Sith were not ready to reveal themselves at this point, Maul was forbidden from using his lightsaber or the Force during his stay at Cog Hive Seven, which resulted in some incredibly brutal fight sequences as he resorted to using his fists and his razor-sharp horns to defeat the numerous depraved inmates who he was forced to fight in gladiatorial battles. This might be one of the most violent Star Wars novels ever published, and it really is mortifying to know that it takes place in the same continuity as The Baby Ewoks' Picnic Surprise.
While it definitely is not for the faint of heart, Maul: Lockdown was an enjoyably savage novel which reminds us that Star Wars is not all about the cuteness of Grogu or the Porgs. If you would like to explore the more brutal side of the universe, this is probably a book you'll enjoy. Just keep in mind that after reading it, you'll probably never view Star Wars as a family-friendly franchise again.
4. The Strange Case of Origami Yoda (And Sequels) – Tom Angleberger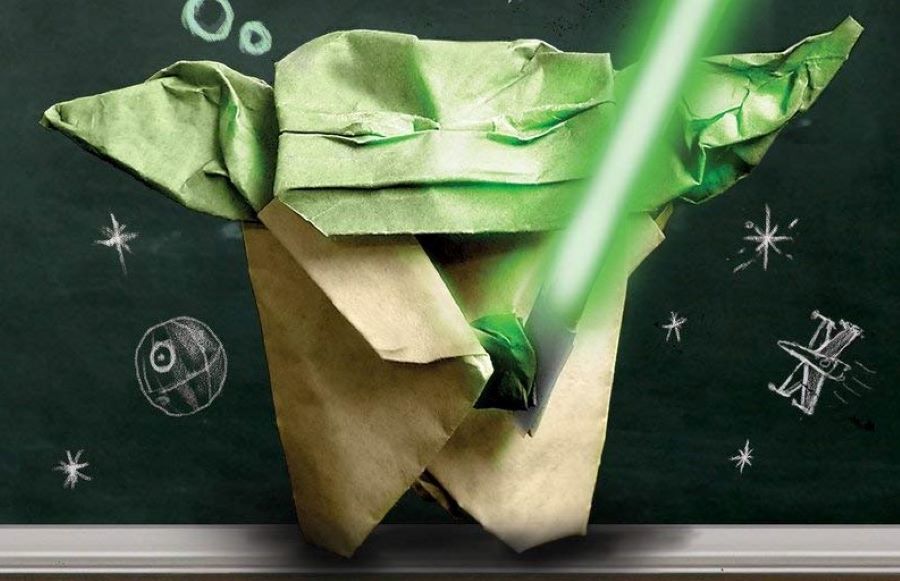 The 2010 novel The Strange Case of Origami Yoda and its five sequels do not technically take place in the Star Wars universe, although they were still created with the full collaboration of Lucasfilm, so they can still technically be classed as official Star Wars books which take place in the real world.
Written by Tom Angleberger, The Strange Case of Origami Yoda tells the story of a lonely and socially awkward teenage boy named Dwight, who creates a paper model of Yoda. This leads Dwight to suddenly become the centre of attention at his school, as people keep asking his paper creation (which he names Origami Yoda) for help with their problems. Dwight's classmate, Tommy, who serves as the narrator and main protagonist of the series, decides to keep a case file to determine if Origami Yoda is real or not. And while he is sceptical at first, Tommy soon begins to suspect that he may be dealing with more than just a crumpled piece of paper resembling a popular Star Wars character.
It's clear from the presentation of the books that The Strange Case of Origami Yoda and its sequels were clearly inspired by Jeff Kinney's Diary of a Wimpy Kid series, and there were some truly wonderful illustrations of the titular finger puppet sprinkled throughout the pages. Similarly, aside from the paper model of Yoda, the books were bursting with enough Star Wars references to delight fans of all ages, with the school the main characters attended even being named after Ralph McQuarrie, the concept artist who helped to design many elements of the original trilogy. So if you're a fan of Star Wars or teenage fiction in general, these books are highly recommended.
5. Tatooine Ghost – Troy Denning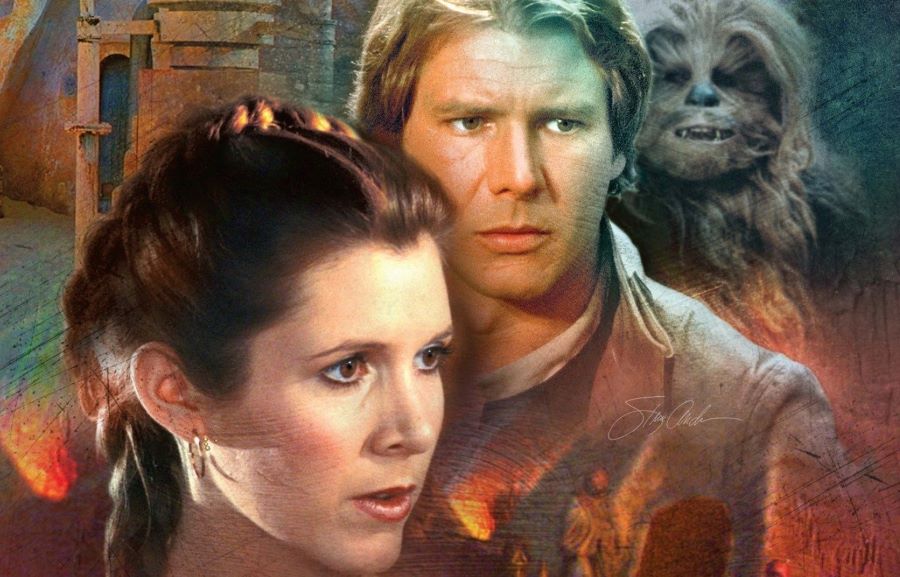 Published in 2003, Tatooine Ghost by Troy Denning told the story of newlyweds Leia and Han, along with Chewbacca and C-3PO, travelling back to the titular desert world after the events of Return of the Jedi to bid in an auction for a painting called Killik Twilight, which contains a hidden code detailing the identities of the Rebels who served as spies within the Empire during the Galactic Civil War. The weakened Empire also wants to find the painting so that they can use it to purge the spies from within their ranks, and this leads to a conflict on the barren planet between the Rebels and the Imperials.
In addition to some enjoyable action sequences, Tatooine Ghost also contained a healthy amount of character development between Han and Leia, as they frequently discussed whether or not they wanted to have children, seeing as they had just been married. Similarly, our heroes were also accompanied by a trio of Squibs, a playful species of sentient canines, who provided plenty of humour throughout the story.
Star Wars fans will never turn down an opportunity to return to Tatooine, and with its strong development of Han and Leia's relationship and its insights into the mysteries of everyone's favourite desert planet, this is one novel which has plenty to offer to long-time Star Wars fans.
READ NEXT: The Simple Joy Of Tie-In Books 
Some of the coverage you find on Cultured Vultures contains affiliate links, which provide us with small commissions based on purchases made from visiting our site. We cover gaming news, movie reviews, wrestling and much more.