Creative Assembly is quickly ramping up the post-launch content stream for Total War: Warhammer 3. The first major content addition is the Champions of Chaos DLC and its accompanying free rework of the Warriors of Chaos faction – the mortal followers of the Chaos gods. There's so much packed into this rework that we had to split this up into two guides to cover the most essential elements of this content update effectively.
Here's everything you need to know about the new Warriors of Chaos Settlements and Recruitment system in Total War: Warhammer 3.
Settlements
In their previous iteration, the Warriors of Chaos were a horde faction where they built up a kind of mobile base with their armies to represent the roving nature of this faction. However, this approach received much criticism as the faction wasn't that fun to play and didn't feel like an ever-growing threat to the rest of the world. In this rework, the whole horde feature of the Warriors of Chaos has been completely replaced and now they can utilize settlements to establish bases of operation from where they can range out and bring ruin to Warhammer's world.
Warriors of Chaos now center around Dark Fortress sites, a marked region that's usually a provincial capital. In these Dark Fortresses, the faction has access to the full breadth of construction options that go up to five levels covering military, advanced military, economic, and defense categories. Additionally, some regions will offer resource-specific buildings that'll provide faction-wide benefits once built.
Any non-Dark Fortress sites the Warriors of Chaos can utilize as Chaos Altars that act as outposts that spread corruption and provide only limited benefits to the faction as a whole. Unlike most other factions that can fully build out minor settlements, the Warriors of Chaos can never develop these outposts past level one and only have access to a few buildings that incur local effects. It's safe to say, the Warriors of Chaos want to prioritize their Dark Fortresses for their primary economic needs and only take over other settlements for auxiliary needs.
Warband Recruitment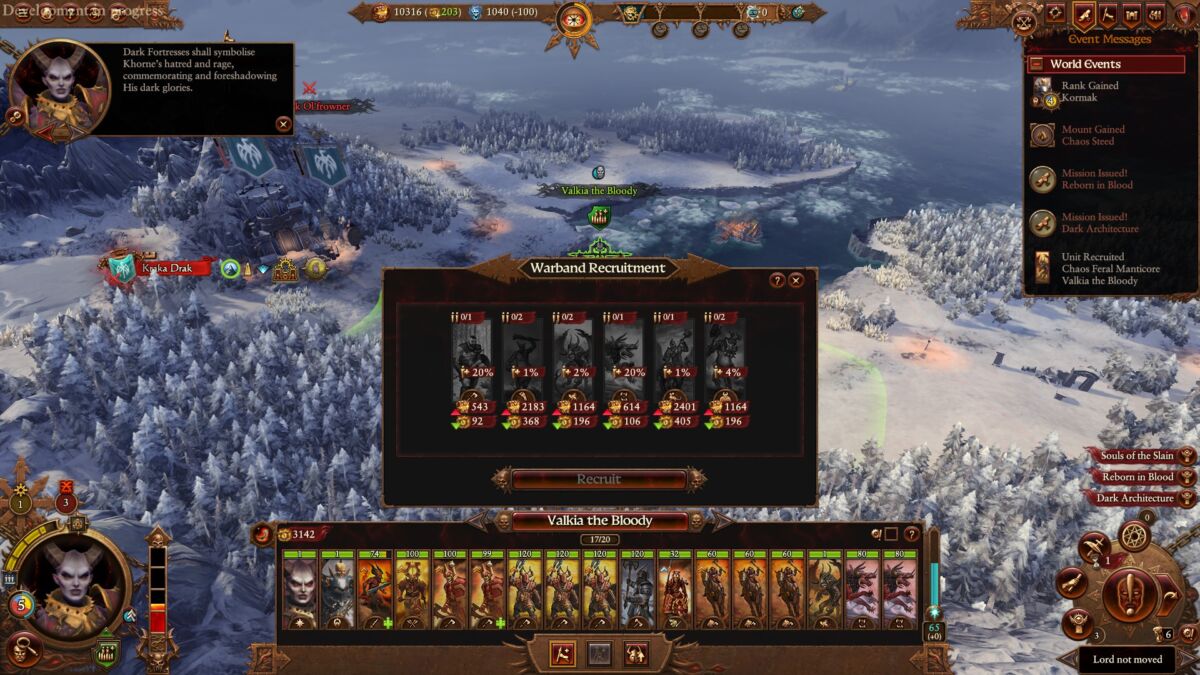 The unit recruitment system has also received perhaps the most significant overhaul in that there are three ways the Warriors of Chaos can bolster their ranks. The first and most basic way is through the Warband Recruitment option.
Any Warriors of Chaos army can now recruit units regardless of their position on the map, but the units they can muster are affected by provincial and regional geography and climate. For example, you'll find certain units in the frozen wastes of the north that may not be available further south or in more temperate climates.
Unit availability is also affected by any buildings in the province that can add new units to the overall unit pool. For example, if you're recruiting from a province with a Dark Fortress that provides heavily armored Chaos Warriors, you'll find them in the Warband Recruitment panel.
When opening up the Warband Recruitment pop-up menu, players will notice a list of units they can potentially recruit from with unit caps to limit spamming of powerful units, as well as percentage number over the unit card. This percentage represents the chance of the particular unit to get a refill on the next turn. Essentially, the Warriors of Chaos can now immediately recruit armies quickly and in rapid bursts, but then will need to wait for some time for their unit pools to refill with desired troops.
Warband Upgrades
The second method of recruitment, while it doesn't technically add more soldiers into your army, acts as a system that helps grow your army over time to become a true representative of the power of the Chaos Gods. In this system, unit experience and technology become even more critical to the development of your forces. In essence, this system has been adapted from the Amazons army development feature from Total War Saga: Troy.
When a unit reaches a specific rank of experience gained from fighting and surviving battles, at the cost of some coin it can be upgraded to a higher tier of unit or they can even be requipped into a different unit within the same tier. When a unit is upgraded, not reequipped, its experience level will reset and will need to perform successfully in battle once again to prove themselves to be upgraded even further. You can check to see all the possible upgrade paths in the Warband Upgrade panel when a unit is selected.
Within this upgrade system you can also mark units to devote themselves to a particular god, giving them abilities and stats. For example, if your army starts off with some basic Chaos Marauders or Warriors, which by default are part of Chaos Undivided, you can mark them to follow the god of your choosing. However, once a unit's marked it cannot be unmarked so choose carefully when and which units to devote to a particular path.
An additional nuance to the unit marking system is that you can only devote a unit to a god that your Lord is loyal to, though all Warriors of Chaos lords have access to the Undivided upgrade path. For example, Archaon the Everchosen is loyal to all Chaos gods and so can devote units to any of the gods of your choice, while Sigvald the Magnificent and the other lords from the Champions of Chaos DLC can only mark units of their patron gods.
Gifted Units
The final way the Warriors of Chaos can now reinforce their hordes is by recruiting Daemonic units gifted to them through pleasing each of the four Chaos gods. You can see which units are available in the Gifted Units panel next to the Warband Recruitment button. Unlike the dedicated Daemonic Chaos factions that have almost no limit to how Daemons they can summon, the Warriors of Chaos have quite limited unit caps, so it's unlikely to be able to run whole armies solely made of Daemons.
There are several ways to obtain Giften Units. The first is through the Gifts of Chaos system by selecting such gifts that grant you Daemonic units over time. The second way is to complete quests that may grant you units from the gods by fulfilling their conditions. Finally, there may be events or dilemmas that may grant you additional Daemonic forces depending on your choices in these dilemmas.
The Warriors of Chaos have now become a veritable juggernaut of a force with an expansive, flexible, and thematic recruitment system. How will you compose your loyal armies and bring glory to the gods of Chaos?
READ NEXT: 10 Games Like Total War You Should Check Out
Some of the coverage you find on Cultured Vultures contains affiliate links, which provide us with small commissions based on purchases made from visiting our site. We cover gaming news, movie reviews, wrestling and much more.