Leonardo Da Vinci is one historical figure we often take for granted. His innovations paved the way for modern electronics, locomotion, and even aviation. We're often bombarded with anecdotes and tales of his greatness. However, we rarely see his story played out on the screen. Thankfully, Jim Capobianco's animated film The Inventor explores the career of Leonard Da Vinci at its zenith, and it is a wonderful viewing for all audiences.
The Inventor starts with Leonardo Da Vinci (Stephen Fry) being brought before the Cardinal of Aragon (Hum Capobianco). Leonardo has been accused of heresy for his interest in human anatomy, but after war nearly breaks out with France, the Cardinal dispatches Leonardo abroad to forge peace with the newly crowned Francis I (Gauthier Battoue). There, Leonardo finds a welcoming environment and proceeds with his work. However, he soon learns that the king is seeking personal power through Leonardo's presence and becomes disillusioned. Although embittered, Leonardo finds hope through Marguerite (Daisy Ridley) who encourages him to pursue his work, despite all adversity.
The Inventor takes a unique approach as a stop-motion feature. All characters are represented by figurines that are moved in bit-by-bit segments to give them an animated feel. Rather than relying on computer-generated technology, which could easily have been done, the creators used a little more manpower to tell Leonardo's story through stop-motion. This is an interesting choice and it serves the purpose of the film very well.
Interspersed throughout the film are 2D animated segments that help portray Leonardo's innermost thoughts and how he put together formulas for his inventions. These moments are quite compelling and immensely fascinating to watch. Leonardo's concepts for – say – weapons of war or even a mechanical lion are suddenly easy to understand and amazing to see come to life.
The voice acting is also spot on with actor and comedian Stephen Fry leading the way as Leonardo. Anyone familiar with Fry's work will notice how he feels right at home with his portrayal of Leonardo, and he brings a degree of humor and warmth to an otherwise complex historical figure.
Daisy Ridley does a superb job as Marguerite, the princess who supports Leonardo's efforts despite all the opposition he faces. In particular, the film's primary antagonists – the Cardinal of Aragon and King Francis I – are uniquely portrayed as they're stubborn individuals obsessed with the power they've obtained over the years. They're more misguided than evil. The Inventor takes a lighthearted approach to these characters by making them silly and buffoonish, and this adds to the film's warmth.
In many ways, The Inventor can serve as a decent educational tool for anyone unfamiliar with Leonardo's inventions or the crux of his career in Europe. We get a glimpse of his mind at work and how his innovations paved the way for things we have today such as helicopters and electronics. The film isn't rife with historical exposition or sociopolitical facts. All we know is that it's set in 16th-century Italy and France, and Leonardo had to carefully navigate his way through the sociopolitical world of his time in order to survive and thrive.
If anything, the film could've benefited from just a little more background as to what brought Leonardo to this point in his life, as well as how the world came to be. The 1500s were bitter and unforgiving, and innovators such as Leonardo – as well as his contemporary Michelangelo – had to fight a significantly hard battle to get to their prominence. Through wit and courage, they managed to give humanity several gifts, and The Inventor only briefly touches upon the opposition Da Vinci faced.
For what it's worth, however, The Inventor is a cute film and a good introduction to the man behind the legend. He was a complex individual in a complex time, and this film goes to show how one's efforts can pay off when facing adversity. World powers sought his innovations to expand their strength, but his vision of a peaceful world through creativity ultimately prevails in the end. A story like this is indeed timeless and quite inspirational for creative individuals to fall back on.
Review screener provided.
READ NEXT: 10 Best Netflix Original Animated Movies of All Time
Some of the coverage you find on Cultured Vultures contains affiliate links, which provide us with small commissions based on purchases made from visiting our site. We cover gaming news, movie reviews, wrestling and much more.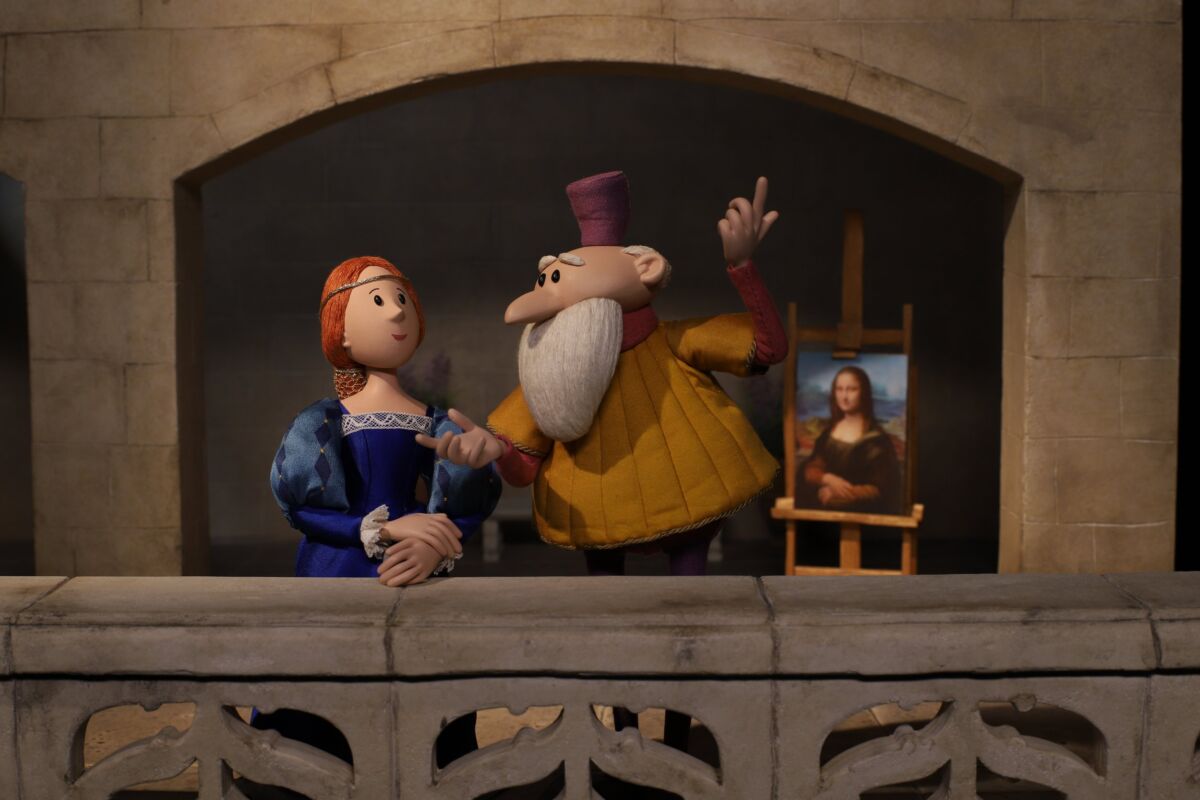 Verdict
The Inventor tells the story of Leonardo Da Vinci's golden years and tells it quite well. Its use of stop-motion and wonderful voice actors creates an enjoyable film for people of all ages. Stephen Fry in particular gives quite a charming voice performance.