While the world might seem bleak, something that can't be denied is that there are plenty of exciting games lined up over the next 12 months and beyond. Whether you're a fan of kooky shooters with an interesting hook like Deathloop, massive RPGs like The Elder Scrolls 6, Tales of Arise or Final Fantasy XVI, or you just like the look of whatever the hell Ghostwire: Tokyo is going to be, there's a lot to look forward to.
However, there's plenty of games looming on the horizon that have been overlooked which have the potential to become some of the most beloved games of the current generation. Alright, that might be a bit of a stretch, but they're certainly looking like fantastic games all the same. With that in mind, here's 11 games coming out that could be surprise hits on PC, PS4, PS5, Xbox One, Xbox Series X | S, and Switch.
1. Taxi Chaos | February 23rd, 2021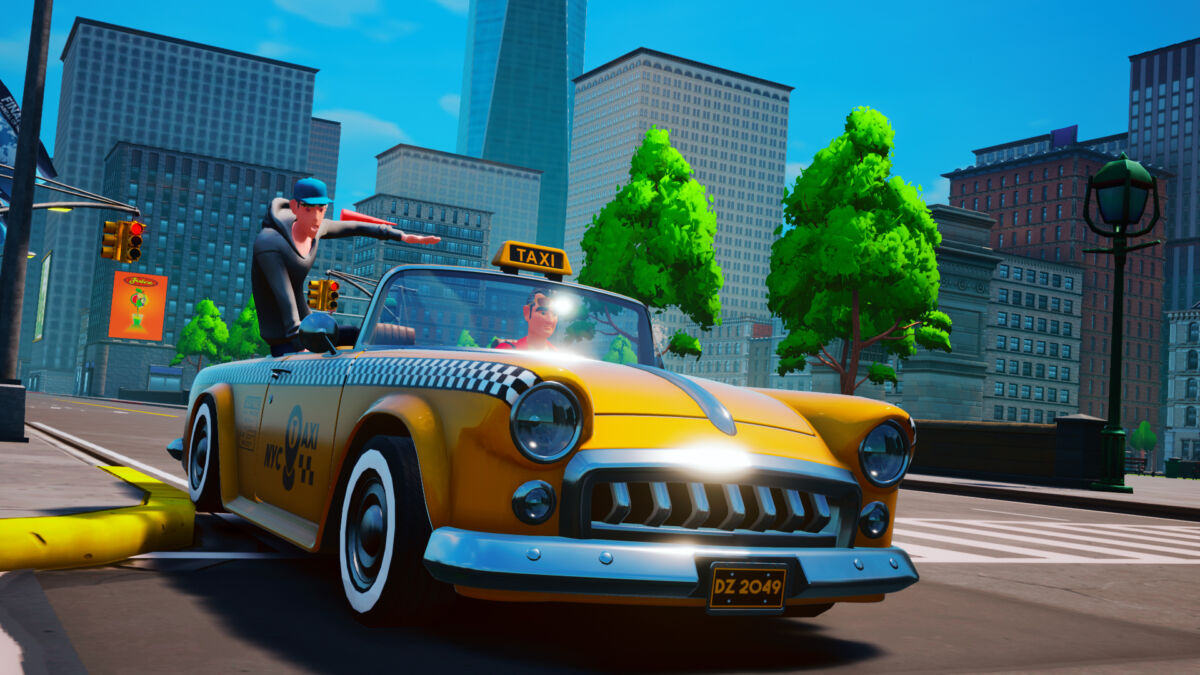 Developer: Lion Castle Entertainment
Publisher: GS2 Games
Platform(s): PC, PS4, Xbox One, Switch 
Many players will look back with fond memories of SEGA's Crazy Taxi, which was exactly what it sounds like: you drive a taxi, and it's a bit bonkers. Unfortunately, there hasn't been a proper new Crazy Taxi game in forever, so naturally indie developers took that as confirmation that they can make their own version. Enter Taxi Chaos, which emulates Crazy Taxi in pretty much every way, but don't worry, as unlike The Simpsons: Road Rage, SEGA have given this one their blessing.
Just like Crazy Taxi, you'll drive like a maniac around a huge city, picking up fares and dropping them off at their destinations as quickly as possible. It's the same simplistic yet addictive gameplay that's entertained fans for years, which should make it a surprise hit in 2021, a period where we need familiarity and happy memories more than ever. All it needs is a soundtrack filled with The Offspring and you're all set.
2. Ghosts 'n Goblins: Resurrection | February 25th, 2021
Developer: Capcom
Publisher: Capcom
Platform(s): Switch
Spooky scary skeletons can rip Arthur's armour off in one hit, leaving him to run around the world in his little heart boxers, trying to kill monsters. Okay, Ghosts 'n Goblins and Ghouls 'n Ghosts were weird games, but they've established themselves as some of the most iconic games in history, thanks in no small part to how bonkers hard they were. Completing the game once was a Herculean task in itself, yet the game had the gall to ask you to do it again for the true ending.
Ghosts 'n Goblins: Resurrection aims to capture that same level of futility that the original games possessed as you bash your head against the endless hordes of the demon world. The screenshots for Resurrection showcase an updated art style, but with plenty of familiarity in the backgrounds and characters. Hopefully the game will be reasonably priced, allowing it to do really well.
3. It Takes Two | March 26th, 2021
Developer: Hazelight
Publisher: EA
Platform(s): PC, PS4, PS5, Xbox One, Xbox Series X | S
As Rob Base and DJ EZ Rock famously said, "it takes two to make a thing go right". Clearly, Hazelight founder and A Way Out creator Josef Fares subscribes to the same theory, as he's been developing co-op games almost exclusively for the past decade. It Takes Two extends that even further, though perhaps in a more accessible and friendly way than A Way Out's prison break story.
At its core, It Takes Two is a story about love, as you control the dolls of Cody and May, two parents in the midst of a break-up. Created by Rose, their daughter, these dolls come to life in a strange world that's trying to bring the two parents back together. It's billed as a romantic comedy/action-platformer co-op game, which is a bit of a mouthful, but if any team can nail a project that's this out there, it's Hazelight.
As an added bonus, there's even a friend's pass system, meaning two friends only have to buy the game once.
4. The Gunk | Q3 2021
Developer: Image & Form Games
Publisher: Thunderful Group
Platform(s): PC, Xbox One, Xbox Series X | S
More than just the reason why your shower is blocked, The Gunk is a brand new Xbox console exclusive from the same people that brought you the SteamWorld series. It's an ambitious step up from their usual 2D fare, but considering how popular and acclaimed the SteamWorld series has been, The Gunk certainly has the pedigree to be a huge hit in 2021.
As a pair of scavengers who scour the galaxy, you arrive on a brand new planet that appeared to be dead at first glance. However, the world has instead been ravaged by a nasty parasite referred to as The Gunk, and the only way to save the planet is to understand and eradicate The Gunk. This will cause tension amongst the scavengers, as one wants to help while the other wonders if this is their fight.
5. ExoMecha | Q3/4 2021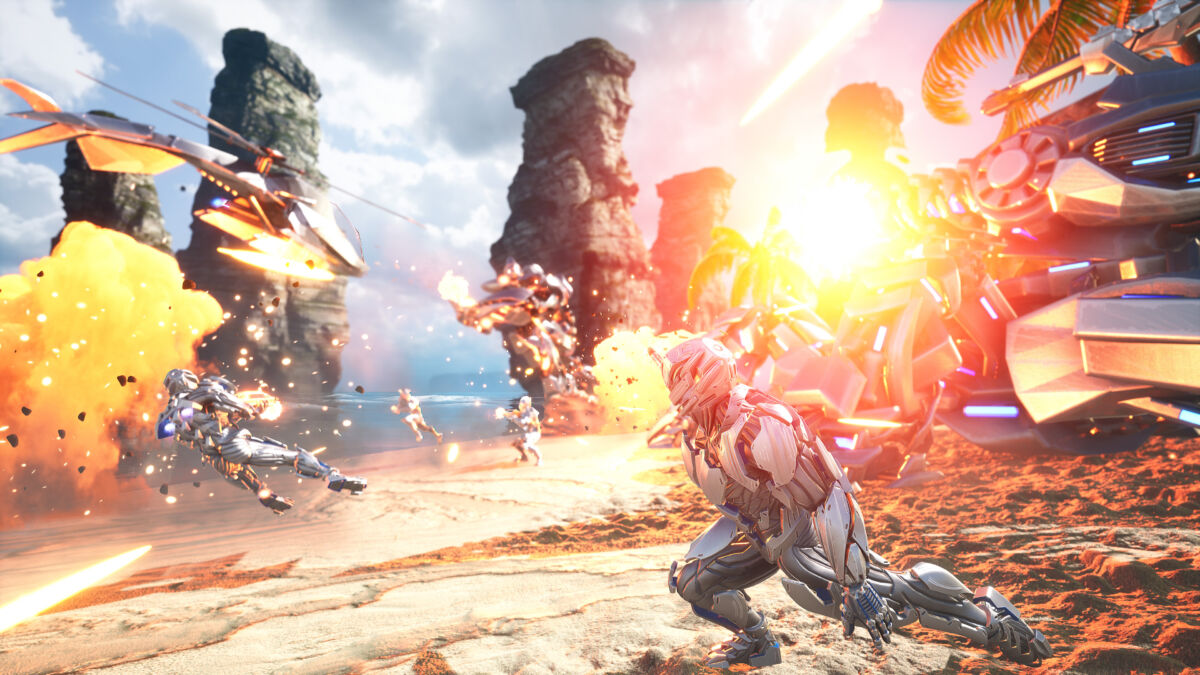 Developer: Twisted Red
Publisher: Twisted Red
Platform(s): PC, Xbox One, Xbox Series X | S
Free-to-play multiplayer games tend to be a good starting point if you're looking for success in gaming, but ExoMecha might just be the biggest surprise hit in that realm. Taking place on the planet of Omecha, ExoMecha features plenty of boots on the ground combat, along with giant mechs tearing chunks out of a massive dragon, which is always a plus point when grading games.
As a free-to-play multiplayer game, ExoMecha will evolve and adapt over time as more factions and playable species arrive on the planet of Omecha. The developers promise that these additions will also bring changes to the look and feel of certain maps, meaning that new content will have significance beyond just introducing a few new abilities.
6. Sable | TBC 2021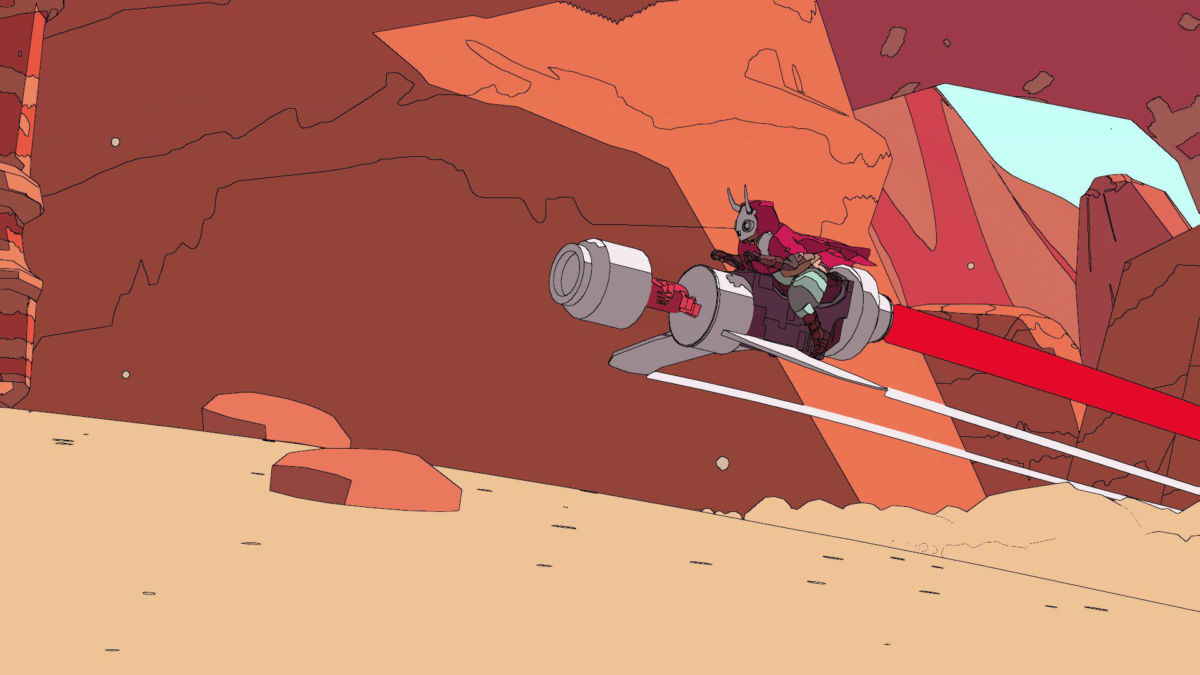 Developer: Shedworks
Publisher: Raw Fury
Platform(s): PC, Xbox One, Xbox Series X | S
Chill exploration games might be the genre of 2021, with Season being one of the more exciting offerings in that regard. That said, I feel like Sable has the potential to become more of a surprise hit, and that's not just because Sable is coming to the Xbox Series X | S unlike Season, which is coming to the PS5.
Sable sees you take on the role of the titular character as you embark on a pilgrimage through a strange desert filled with the ruins of civilisations long since past, and plenty of spaceship carcasses to boot. As an exploration game, you're free to discover the world's secrets at your own pace, meaning you can take your customisable hoverbike wherever you want, whenever. Couple all that with an absolutely wonderful art-style, and you've got the makings of a surprise hit right here.
7. Evil Dead: The Game | TBC 2021
Developer: Saber Interactive
Publisher: Boss Team Games
Platform(s): PC, PS4, PS4, Xbox One, Xbox Series X | S, Switch
Evil Dead: The Game seems like a bit of a misnomer, considering the fact that there's been more than one Evil Dead game in history, unless Saber Interactive are saying that their take on the franchise is the definitive game. If that's the case, they might have a point, as A Fistful of Boomstick and Resurrection didn't exactly set the world alight with their depictions of Ash.
Evil Dead: The Game is a four-player co-op horde shooter that seems fairly similar to Saber's other co-op horde shooter, World War Z. Swap zombies for some deadites and a few bland characters for Ash and his chainsaw arm, and you've got yourself an Evil Dead game. Saber proved with World War Z that they know how to make fun co-op games, though a franchise such as Evil Dead that takes itself less seriously might improve the experience even further.
8. Jett: The Far Shore | TBC 2021
Developer: Superbrothers, Pine Scented Software
Publisher: Superbrothers, Pine Scented Software
Platform(s): PC, PS4, PS5
Far from being a Joan Jett fan game, Jett: The Far Shore looks like it's taking spacefaring exploration to some strange worlds. In Jett, you control Mei (no, not the one from Overwatch unfortunately), as you explore an ocean planet with an intricate open world and plenty of characters to meet.
Jett offers a number of features that make exploration more interesting than it perhaps normally would be, including 3D audio and a score by Scntfc, along with first-person sections that allow you to interact with your fellow scouts. There's plenty of laidback moments to enjoy in Jett, but there's also some more intense action if you're looking for thrills too.
9. Praey for the Gods | TBC 2021
Developer: No Matter Studios
Publisher: No Matter Studios
Platform(s): PC, PS4, PS5, Xbox One, Xbox Series X | S
What Praey for the Gods might lack in the word Prey, thanks to a trademark dispute with ZeniMax, it certainly makes up for it in snowy landscapes filled with huge monsters to murder. If you're looking for a survival game that's been crossed with Shadow of the Colossus, Praey for the Gods might just be the game for you.
You wake up on a frozen island, tasked with tracking down various behemoths known as "Gods". These towers monsters can only be slain by tracking down their specific weak spots and clambering up to stab them, but you'll also have to craft your weapons and resources and deal with the harsh inclement weather as well. It's a lot to deal with, but it could make for a real winner.
10. The Ascent | TBC 2021
Developer: Neon Giant
Publisher: Curve Digital
Platform(s): PC, Xbox One, Xbox Series X | S
I'm not sure what it is about cyberpunk that screams "you must climb giant towers". Granted, I'm only basing this off The Ascent and Ghostrunner, a surprise hit from 2020, but still. There's a common thread here, and that thread is climbing high and murdering dudes. If those things sound like your jam, The Ascent might just be for you.
An RPG that's playable either solo or in 4-player co-op, you control a slave for The Ascent Group, a giant corporation who controls their own metropolis. Unfortunately, The Ascent Group has suddenly collapsed, leaving the entire Arcology in jeopardy as various elements vie for supremacy. With some help, you'll get to the bottom of the mystery and batter a bunch of goons along the way.
11. Soundfall | TBC
Developer: Drastic Games
Publisher: Drastic Games
Platform(s): PC, PS4, Xbox One, Switch (PS5 & XBX|S versions likely)
Dungeon crawlers where you time your attacks with the rhythm of the music might have seemed like a more novel idea back in 2018, but games like Crypt of the NecroDancer have proved that there's a market for those games. Soundfall is cut from the same cloth in that respect, only with all of its key aspects like gameplay, graphics and soundtrack turned up to 11.
Developed by former Epic Games alumni, Soundfall is a top-down action adventure game that puts music at the center of everything. Players must try to time their attacks in beat with the pulse-pounding music in order to deal extra damage. Each level is a brand new song, and players must escape the level before the song runs out before it's game over. Soundfall was playable at EGX 2018, and I'm still here waiting over two years later, excited as ever for the full release.
READ NEXT: 46 Best Indie Games of All Time
Some of the coverage you find on Cultured Vultures contains affiliate links, which provide us with small commissions based on purchases made from visiting our site. We cover gaming news, movie reviews, wrestling and much more.