The inception of comic publishers Marvel Comics and DC Comics reaches back as early as the late 1930s. Since then, an innumerable amount of comic books have been released between the two companies. With thousands of titles under their belts and countless character reboots, the comic industry can be daunting for newbie readers. If superheroes and sometimes heroic antiheroes interest you, this piece provides a list of accessible Marvel and DC superhero comics for novice readers.
The Best Marvel and DC Superhero Comics For New Readers
1. All-Star Superman (2005-2008) – Grant Morrison, Frank Quitely, Jamie Grant, Phil Balsman, & Travis Lanham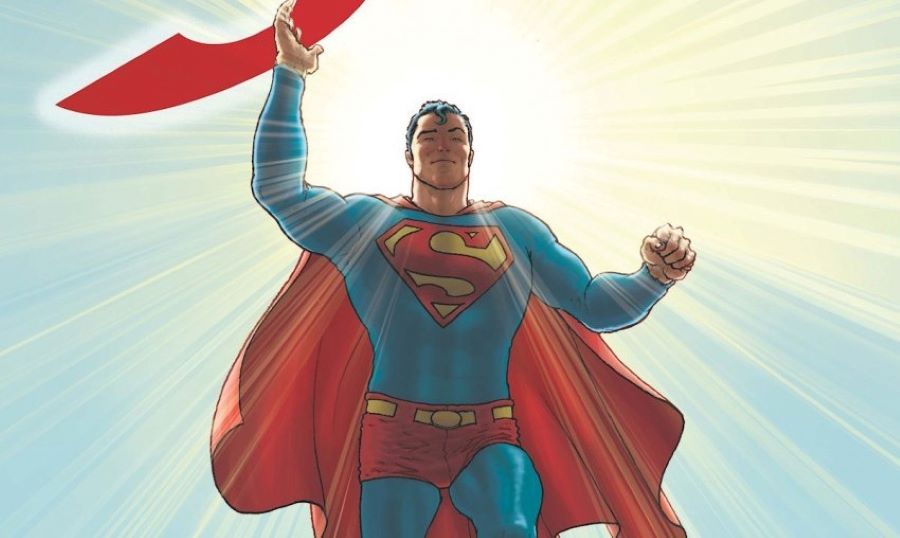 Comic aficionado or not, anyone who has interacted with any form of entertainment or media possesses some knowledge about the famous Man of Steel. Superman has been a staple of American pop culture since his debut in the late 1930s. With over 90 years of Superman lore to catch up on, finding an ideal jumping-on point in comics may feel like an insurmountable task. Thankfully, All-Star Superman, a 12-issue maxiseries from superstar creative team Grant Morrison and artist Frank Quitely is one of the most beloved and universal Superman superhero comics for novice readers.
All-Star Superman revolves around how the titular alien hero from the planet Krypton is suddenly forced to confront his approaching death. Superman's classic nemesis Lex Luthor sabotages a space exploration team on the first-ever mission to the Sun. When Superman comes to the aid of the P.R.O.J.E.C.T. team, Luthor's intervention inundates Superman's cells with a deadly amount of solar radiation.
All-Star Superman considers Superman at his most vulnerable as he struggles with his own identity and mortality. Quitely's evocative art elevates the impact of Superman's oscillating emotions, touching readers' hearts as we watch Superman and Lois Lane re-evaluate their feelings toward one another. The division between Superman and Clark Kent transcends the idea of continuity and explores the man behind the cape in an accessible way for any comic reader.
2. The Batman & Scooby-Doo Mysteries (2021-) – Ivan Cohen, Sholly Fisch, Dario Brizuela, & Randy Elliot
DC Comics currently has over a dozen or so Batman/Batman-adjacent ongoing comic series in publication, including a companion comic series to the Batman (1989) film, an Alfred Pennyworth prequel title, and a Fortnite video game crossover series. Like Superman, Batman ranks as a notable figure in pop culture history canon. Where does a curious reader who doesn't have time to catch up on 80+ years of Batman comics find a series they can easily follow? Try reading The Batman & Scooby-Doo Mysteries.
Batman, Robin, and the Bat-family team up with the teen mystery solving group from Hanna-Barbera in the delightful anthology comic series. Mystery Inc. and Scooby-Doo may seem unrelated to any Dark Knight tale, but the franchise combination yields unexpectedly witty results.
Identifiable Batman foes or antiheroes appear in this comic series. Readers who are familiar with Bat-history will recognise Easter eggs, but the series retains comprehensibility for casual fans. Solve a mystery or two with Batman and Scooby-Doo in a relaxing comic book read bursting with brightly coloured pages.
3. Black Cat (2019-) – Jed MacKay & Various Artists
Writer Jed MacKay, also the author of other great entry point superhero comic series like Death of Doctor Strange (2021-) and Taskmaster (2020-), reinvents the lesser-known Spider-Man antihero in the elegantly illustrated Black Cat comic series. Familiarised Spidey comics readers were given a treat when Felicia Hardy returned as the Black Cat after years of being ignored or subjugated to misogynistic narratives. The series ties into a few in-universe Marvel events but can be fully read from issue #1 without hesitation over backstory lore.
The Black Cat is a thief imbued with a bit of magical luck that makes her enemies question whether she has nine lives. Evading capture from the New York Thieves Guild and their leader Odessa Drake, Felicia recruits a small crew to help her pull off heists in the shadows of the night. Her adventures throughout the series lead her to Dr. Strange's Sanctum Sanctorum, the Fantastic Four's Baxter Building, facing off against the evil deity Knull, and butting heads with Nick Fury.
Jed MacKay and the creative teams' Black Cat series refreshingly grants Felicia Hardy autonomy, offering her a strong, humourous voice as she engages in high-octane adventures.
4. Catwoman (2018-) – Ram V, Fernando Blanco, Tom Napolitano, & Various Artists
Catwoman comic series like Ed Brubaker and Darwyn Cooke's Catwoman (2005-2008) run do an exceptional service to Selina Kyle's character. However, the current ongoing Catwoman series forges an accessible narrative for new readers. The series began back in 2018 with Joelle Jones. Beginning in 2020, writer Ram V, and artists Fernando Blanco, Juan E. Ferreyra, and John Paul Leon took over the Catwoman mantle. This changed the direction of the story, introducing a fresh villain for Catwoman to face as she fights for justice on the streets of Alleytown.
Selina Kyle has purged herself of Batman in Catwoman. Instead, to confront crime in Alleytown, she aligns herself with a group of street kids also searching for meaning in their identities as people. In the realm of superhero comics for novice readers, the Catwoman run may find itself lower on the list in terms of approachability. Nevertheless, Catwoman's story will sink its claws into readers as the narrative provides awesome visuals and the creepy antagonist, Father Valley. Readers can begin Catwoman's story with Catwoman (2018-) Vol. 4, collecting issues #14-15 and #22-28.
5. Daredevil (2019-) – Chip Zdarsky, Marco Checchetto, Clayton Cowles, & Various Artists
Audiences who watched Marvel's Daredevil (2015-2019) television series will love reading about the blind superhero in the 2019 Daredevil comic series. Several incarnations of the character in comic history also hold up as essential canon. Still, the realistically illustrated Daredevil comic written by Chip Zdarsky attracts comic fans of all Marvel-level knowledge.
Beginning after previous comic events, referenced through expository dialogue, Matt Murdock returns to Hell's Kitchen after a tragic accident almost took his life. Suddenly, a crime scene points to Daredevil as the perpetrator. Daredevil works to clear his name of a crime he didn't commit, fights against a prying detective, entangles himself with the dangerous Falcone Family, and eventually reunites with the elusive Elektra. The fractured identity of Matt vs. Daredevil and the formative religious aspects intertwined with the Daredevil character manifest provocatively throughout the series.
6. Eternals (2021-) — Kieron Gillen, Esad Ribić, Matthew Wilson, & VC's Clayton Cowles
Hype around the Eternals (2021) film from Marvel Studios is soaring. Before the movie release, anyone with limited knowledge about Marvel comics probably was not aware of the epic saga created by comic legend Jack Kirby. While the complete Jack Kirby Eternals (1976-1978) collection also serves as an introduction to the immortal beings, writer Kieron Gillen's and artist Esad Ribić's latest version of humanity's protectors allows for a fresh look at the cosmic superheroes in their 2021 Eternals comic series.
The Eternals comic opens with the Eternal Ikaris's awakening. A chart explains how a few esoteric space gods created 100 Eternals to protect Earth and 100 mutated humanoids called Deviants who cause chaos, locked in an endless battle against the Eternals. When Ikaris and the other Eternals discover one of their own has been murdered, they begin to suspect one of their own as the culprit. Superhero comics for novice readers, like Eternals, open up a mystical, compelling story with aesthetic art for all who seek a guidebook into these recently popularised characters.
7. M.O.D.O.K: Head Games (2021) – Patton Oswalt, Jordan Blum, Ryan Dunlavey, & Scott Hepburn
Don't feel out of the loop if you've never heard of M.O.D.O.K. An antihero/villain/sometimes hero opposite Captain America starting in the 1967 issue, Tales of Suspense #93, M.O.D.O.K. made infrequent appearances throughout Marvel comics. Yet in the last decade, the giant-headed, floating abomination has surged in popularity. M.O.D.O.K. had a one-shot issue in 2009, recruits and battles Gwenpool in the first volume of the Unbelievable Gwenpool (2016) comic series, and stars in the heist miniseries comic, M.O.D.O.K. 's 11 (2008).
In early 2021, comedian Patton Oswalt along with Jordan Blum wrote and released the first-ever M.O.D.O.K. television series on Hulu, Marvel's M.O.D.O.K. As a tie-in with the show, the two co-wrote the 4-issue comic prequel miniseries, M.O.D.O.K.: Head Games. The eponymous A.I.M. villain finds himself plagued with memories of a family that doesn't exist. Magnificently illustrated by Ryan Dunlavey, the series can be read by anyone who wants to learn about one of the strangest characters in the Marvel Universe. Readers can then watch the Hulu show right after for additional hilarious shenanigans.
8. Moon Knight (2021-) – Jed MacKay, Alessandro Cappuccio, Rachelle Rosenberg, & Cory Petit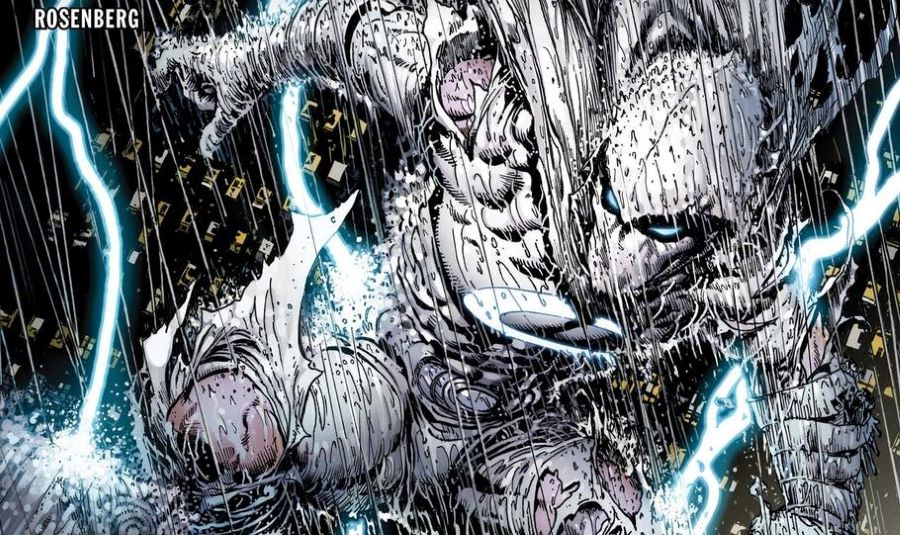 The release of Marvel Studios' new Moon Knight television series adaptation starring Oscar Isaac quickly approaches. In Marvel Comics canon, Moon Knight has received several reincarnations in different comic series runs. Most recently, Jed MacKay and Alessandro Cappuccio revisited the masked mercenary in their moody, modern comic series from 2021.
Former CIA operative and Marine, Marc Spector, sets the story in motion by relating his backstory to his Avengers-assigned therapist. By night, Marc bounds from rooftop to rooftop, violently fighting crime as Moon Knight. Readers will easily find themselves enraptured by the story of a former priest turned morally conflicted hero. Understandable to anyone who picks up the first issue in this series, readers poignantly learn about Moon Knight and his battle against Dissociative identity disorder (DID), as well as his fight against the vengeful Egyptian moon god who gave Marc Spector powers, Khonshu.
9. Spider-Man: Spider's Shadow (2021) – Chip Zdarsky, Pasqual Ferry, Matt Hollingsworth, & Joe Caramagna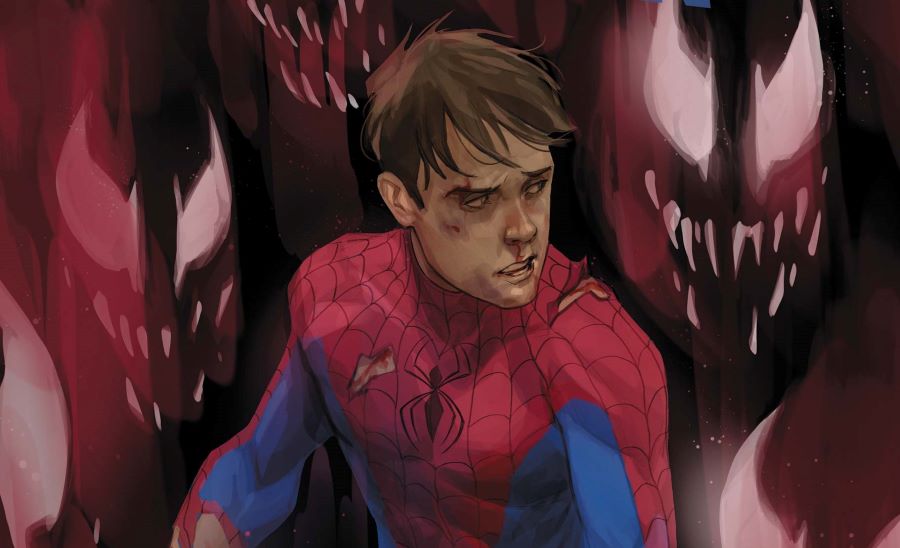 The MCU recently adapted Marvel Comics' What If? comic series into an animated anthology show that aired weekly on Disney+. Piggybacking off both the What If…? and Venom sequel film's cinematic success comes a recommendation for an outstanding 5-issue comic miniseries. One of the greatly accommodating superhero comics for novice readers, Spider: Man: Spider's Shadow imagines a universe where Peter Parker became Venom instead of Spider-Man.
Spider's Shadow jumps right into the action as the web-headed hero becomes a true web-headed menace. Inhabiting the black Venom suit, Peter Parker embraces the symbiote's hold on him. As he swings through the streets as Venom, he begins to succumb to the suit's dark mental hold on him. Tensions escalate when the Hobgoblin attacks Peter – but Peter's morals toward combating criminals have taken a malevolent turn for the worse. Spider's Shadow crafts a sublime narrative about virtue and includes horrifying imagery and comedic J. Jonah Jameson quips along the way.
10. Superman's Pal Jimmy Olsen: Who Killed Jimmy Olsen? (2019-2020) – Matt Fraction, Steve Lieber, Nathan Fairbairn, & Clayton Cowles
Is Jimmy Olsen a superhero? Well, he's definitely friends with a superhero. Daily Planet photographer, and bestie of the Man of Steel himself, Jimmy Olsen photographs his way through the DC Universe in a brilliantly hilarious series written for superhero fans and underdog admirers alike.
The 12-issue miniseries combines Silver Age visual and narrative aesthetics with irreverent humour and modernisation. In Superman's Pal Jimmy Olsen: Who Killed Jimmy Olsen, an unknown enemy wants to murder everyone's favourite ginger reporter. If Jimmy wants to track down his hitman, he has to fake his own death – and take care of a vomiting supernatural cat along the way.
Fantastic portrayals of Superman, Lois Lane, and plenty of DC Comics cameos charge this series with energy. Background gags, puns, artistic ingenuity, and cats make reading this series a grand event.
11. The Swamp Thing (2021-) – Ram V, Mike Perkins, & Mike Spicer & Aditya Bidikar
The Swamp Thing is one of those DC characters who people recognise through cultural osmosis, yet may not be able to accurately describe anything about the elemental creature of the Green. Writer Alan Moore's Saga of the Swamp Thing in the 80s changed the Swamp Thing into a true monster and created a canon with massive storylines that still echo through the character to this day. Creatively, the six-volume Saga of the Swamp Thing comic series wonderfully broke barriers. However, readers who may not have time to read the grandiose epic right now should opt for the 2021 continuation story about the Swamp Thing.
Oozing with remarkably atmospheric artwork and Aditya Bidikar's inventive lettering, The Swamp Thing 10-issue series marks a turning point in Swamp Thing history. Written by Mumbai author Ram V, The Swamp Thing stars a new, Indian Guardian of the Green. Protagonist Levi Kamei takes up the gauntlet of the inhuman Swamp Thing on a vacation to India with shady recollections of his turning.
Although callbacks to Swamp Thing canon occur, The Swamp Thing focuses on Levi's journey as the titular plant hero. For more context in the Ram V authored Swamp Thing saga, read the two preliminary Future State: Swamp Thing (2021) issues.
12. Thor and Loki: Double Trouble (2021) – Mariko Tamaki & Gurihiru
Burdened with glorious purpose, Loki has been a breakout star of the MCU films since Thor (2011) was released. The God of Mischief has been causing chaos throughout Marvel Comics since Stan Lee and Jack Kirby inserted a version of Loki into a comic in 1949. Loki, Thor's adopted brother, headlines his own well-received comic series like Loki: Agent of Asgard and Journey Into Mystery. Both function as primer superhero comics for novice readers about the Asgardian prince. Yet, undoubtedly, the adorably illustrated miniseries, Thor and Loki: Double Trouble, works as a definitive, all-ages comic series about Loki.
Standing at only four issues, Thor and Loki: Double Trouble is a breeze to read. Brothers Thor and Loki argue over Loki's never-ending mischief. But Thor can't resist a challenge, even if he mistrusts Loki's intentions. A dare by Loki to steal a relic from Odin's vault and a hostile feud land the brothers in an alternate universe. Double Trouble echoes the tone and voice of Loki comics while supplying an enjoyable comic for solo readers or parents and children alike. Gurihiru, the Japanese artistic team, works double-time to draw inviting images kids and adults will praise.
13. The Unbeatable Squirrel Girl (2015-2019) — Ryan North, Erica Henderson, Rico Renzi, and VC's Clayton Cowles
Do you ever see squirrels roaming around in mass quantities and wonder what they would be like if they had superpowers? Hold on to your acorns, because the nuttiest superhero in the Marvel Comics universe showcases her squirrel powers in The Unbeatable Squirrel Girl comic series. Brought to you by the versatile writer of the Slaughterhouse-Five graphic novel adaptation and the revamped Power Pack series, Ryan North and his collaborators hit every creative beat with The Unbeatable Squirrel Girl.
Protagonist Doreen Green heads off to college while keeping her secret identity as Squirrel Girl hidden. Imbued with the proportional speed and strength of a squirrel, Doreen wants to reinvent herself at a university to broaden her identity and intellect. Aided by her squirrel companion Tippy-Toe, Doreen feels confident as she enters a fresh phase of her life. But her plans are upended when the cosmic entity and world-eater, Galactus, hurtles toward Earth searching for his next meal.
14. Unbelievable Gwenpool (2016-2018) – Christopher Hastings, Gurihiru, & Ariana Maher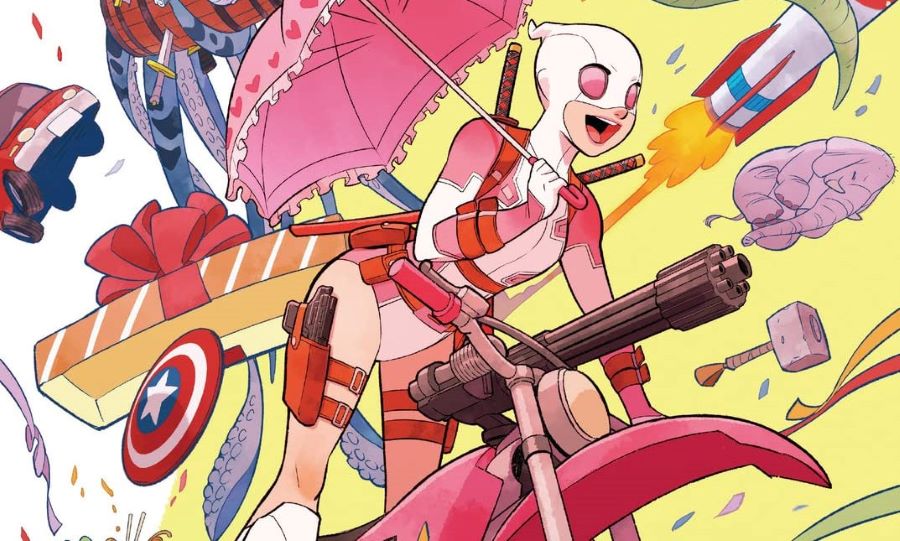 Meshing the Marvel Comics universe with meta-commentary, The Unbelievable Gwenpool comic series reigns as the superior gag-turned-popular-series. Originally, the character appeared as a Deadpool's Secret Secret Wars #2 variant comic cover. Gwenpool's design merged the appearance of the antihero Deadpool and Spider-Man character Gwen Stacy as a one-off joke. Shockingly, the image reached unprecedented heights of popularity, eventually resulting in giving Gwenpool her own comic series. As such, the Gwenpool series operates as a paragon of superhero comics for novice readers.
Gwen Poole – not to be confused with Gwen Stacy – wakes up inside a literal comic book story. As a comic book fanatic herself, Gwen immediately leans into the eccentric world around her. Because Gwen knows about her existence in this story and how comic book stories play out, she assumes she can take on the role of a superhero, kill other characters, and face no consequences. Transforming into mercenary Gwenpool, her morals are challenged when M.O.D.O.K., Jane Foster, and Batroc the Leaper enter her life. Behind the pink and white drenched colour palette and cute artwork lies turmoil for the fourth-wall-breaking superhero.
15. Wonder Woman: Tempest Tossed (2020) – Laurie Halse Anderson & Leila del Luca
Wonder Woman championed the intersection between female superheroes and Greek mythology with her arrival into DC Comics in 1941. Greek goddesses raise Diana Prince on the Amazon island of Themyscira where she grows up to wield an arsenal of powerful weapons inspired by Amazon technology. No matter the retcons or changes endured by Wonder Woman, the founding Justice League member stands her ground as a fierce warrior. Exceptional series like Wonder Woman: Year One, Wonder Woman: The Twelve Labors, and Wonder Woman: Dead Earth all honour the Olympian goddess in comic format. And nestled inside the Wonder Woman comics labyrinth, the YA graphic novel Wonder Woman: Tempest Tossed caters to novice comic readers.
YA author Laurie Halse Anderson and illustrator Leila del Luca center the comic around Wonder Woman in her teenage years. On her 16th birthday, Diana awakens on Themyscira, ready for her official induction into Amazon society. Unfortunately, instead of celebrating, Diana feels compelled to leave and help suffering immigrants after a group of refugees wash up on the island's shore.
This is Wonder Woman at her most identifiable, particularly for the YA audience. Laurie Halse Anderson dedicates herself to writing touching YA novels about sensitive topics. Anderson's style translates well into the comic medium, expressing Diana's character immaculately. It is a joy to see how well paired Anderson's narrative and Leila del Luca's stimulating artistic renderings convey themes of immigration, social justice, and feminism.
READ NEXT: 10 Underrated SFF Comics By Diverse Creators
Some of the coverage you find on Cultured Vultures contains affiliate links, which provide us with small commissions based on purchases made from visiting our site. We cover gaming news, movie reviews, wrestling and much more.