In the comic sphere, science-fiction and fantasy narratives translate into grand, gorgeously-illustrated compositions. Illustrators, writers, and letterers from all walks of life are allowed to spill their imaginations about worlds beyond the stars and dangerous magic systems out onto the crisp pages of a comic book. Although the comics industry still promotes predominantly white, male creators, Black, Hispanic, Indigenous, Asian, and other diverse creators are finally, slowly being recognised with each passing year. Specifically, amazing SFF comics by diverse creators have seen an uptick in recent years.
The SFF genre offers a space for creators to visualise societies beyond our own. In SFF comics, topics like race or sexuality can be discussed against the backdrop of unique magic systems or remarkably crafted versions of the future. Highlighted in this article are ten poignant SFF comics, created by at least one or more diverse creators. While most lists might include popular SFF comic series like Saga, Y: The Last Man, or Invincible, this SFF recommendation piece also calls attention to ten modern, oftentimes lesser-mentioned comics deserving of praise.
1. By the Horns — Markisan Naso, Jason Muhr & Andrei Tabacaru
By the Horns from Scout Comics functions as the pinnacle of an epic sci-fi/fantasy combination comic book series.
In By the Horns, monster-hunter Elodie longs to murder every last unicorn as revenge for a unicorn killing her husband. Unfortunately, Elodie spends all her time searching for the elusive one-horned creatures and forsakes her duties to her communal village. Exiled for her lack of participation, Elodie sets out with her animal companion Sajen to slay the unicorn population once and for all. Her quest takes a detour when she stumbles upon a life-threatening discovery. Four wind sorcerers are siphoning magic from all the mystical creatures on her continent – including two unicorns Elodie may have to rescue to save everyone else.
Lush illustrations of magic and technology give By the Horns a sense of a light steampunk vibe. The comic feels grand-scale, yet gives immaculate attention to Elodie's trauma from her lost husband and the emotional stakes at play. By the Horns is a potent psychological tale about vengeance and grief wrapped in a shimmering blanket of epic SFF artistry.
2. Count — Ibrahim Moustafa, Brad Simpson, & Hassan Otsame-Elhaou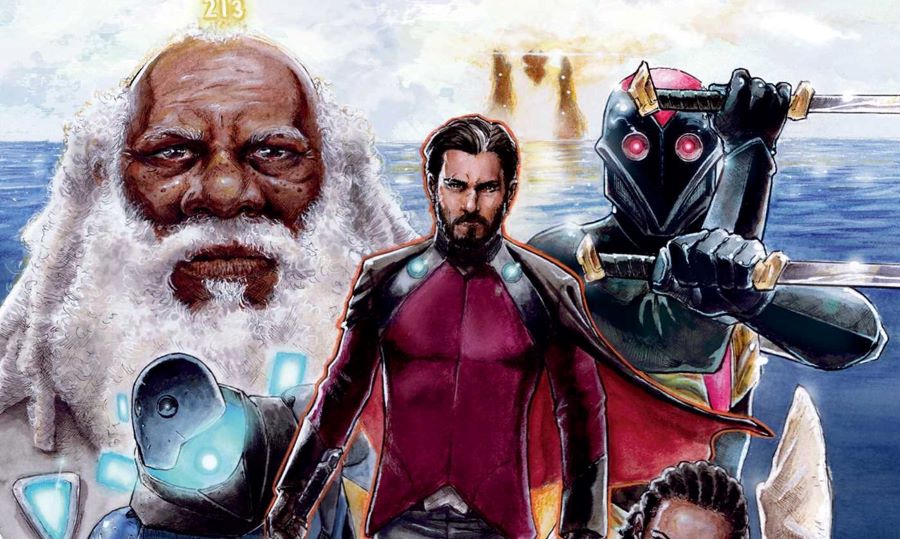 The famous Alexandre Dumas revenge story, The Count of Monte Cristo, is reimagined as a diverse sci-fi epic in the graphic novel Count, from Humanoids.
Despised by numerous enemies and a powerful social magistrate, talented space captain Redxan Samud is framed for treason against the corrupt Union government. Redxan is taken away from his new wife immediately following their wedding ceremony. After spending thirteen years in a hovering prison colony with an inmate number branding him, Redxan escapes. Once outside, he disguises himself as a high-status Count, obtains a fortune and an old robot unit, and endeavours to enact revenge against all his enemies, no matter the consequences.
Count illuminates the theme of vengeance evident in The Count of Monte Cristo and updates it with an innovative science-fiction twist. Images of ships sailing in the sky above a glistening ocean and technological costume designs allow readers to set sail on an alluring adventure with Redxan and his adorable (but deadly!) robot sidekick.
3. Far Sector – N.K. Jemisin, Jamal Campbell & Deron Bennett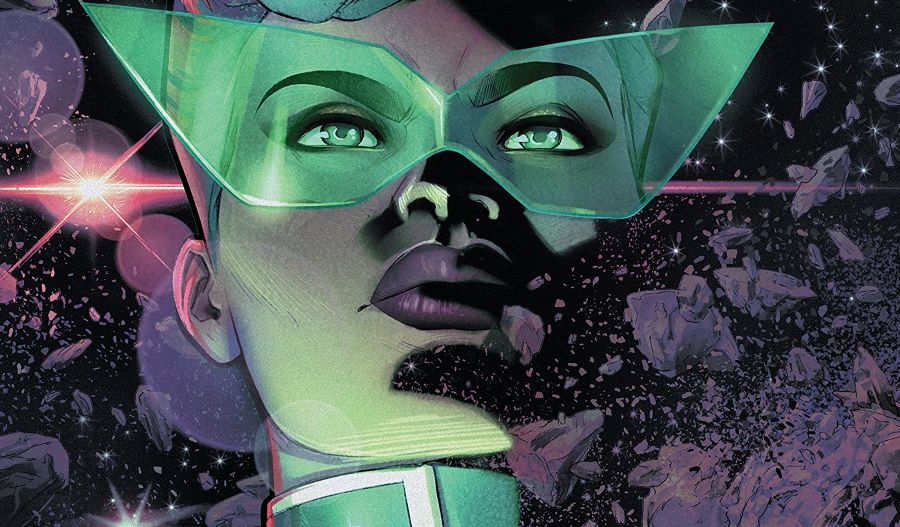 Green Lantern lore knowledge is not required to dive headfirst into reading the 12-issue science-fiction maxiseries from DC Comics, Far Sector.
A female Green Lantern wields a unique ring in the murder mystery, sci-fi epic. Far Sector skyrockets readers across the galaxy to a far-off sector of Guardian Space with superhero Sojourner "Jo" Mullein. Selected to protect and monitor the City Enduring, Jo must adjust to the citizens' non-violent means of existence. City Enduring has no violent crime for over 500 years by removing the emotions of the 20 billion people living in the metropolis – until a violent murder happens. Green Lantern Jo works against a faceless murderer and struggles to understand the emotionless society while trying to solve the crime.
Writer N.K. Jemisin, known for her SFF novels about underlying oppression and cultural conflict, inserts her thematic poignancy into her comic writing debut. At the crux of a superhero comic with a physically powerful protagonist is a Black woman clashing with the values of a place permeated by colonialism. In a city where no one expresses their emotions, how does Jo process her own feelings of joy, anguish, and sorrow? Illustrations of a futuristic planet with technological advancements doused in neon-green colours dazzle. The immersive world of Far Sector is a wonder to behold. Imagined by a group of incredible Black creators, Far Sector is one of the best SFF comics by diverse creators on the market.
4. Made in Korea – Jeremy Holt, George Schall & Adam Wollet
Made in Korea from Image Comics melds science-fiction with adventure in a surprising story about an artificial child.
In the future, humans have become less able to reproduce. Therefore, children have become a commodity. Those who can't have children on their own turn to purchasing robot humanoid children for extraordinary prices. When an employee for a human simulation company in South Korea creates an A.I. child, Jesse, with unorthodox means and sells her to a childless couple, he suddenly wants his creation back. Regrettably, Jesse evolves quickly – and dangerously – beyond any other A.I. in existence.
Science-fiction narratives double as warnings or commentary on humanity's future. Made in Korea uses the sci-fi genre advantageously, moving beyond mere tropes about robots conquering the world and dually focusing on family dynamics. Tender moments expressed through the lightly coloured, fine-lined visuals constructing a sense of the idyllic amplify the shocking drift toward violence in Made in Korea.
5. The Many Deaths of Laila Starr – Ram V, Filipe Andrade & AndWorld Design
From BOOM! Studios comes The Many Deaths of Laila Starr; an SFF comic seeped in gorgeously drawn Indian history and mythology.
Life and death comprise jobs for those who work in the bureaucratic afterlife. The Goddess of Death faces unemployment when she is informed of a child born in Mumbai, India who will someday discover the secret to immortality. Aghast, the avatar of Death sets out to remove the child from existence before he can put her out of a job, but an incident irrevocably changes her machinations.
Writer Ram V writes all his work with elevated prose that weaves its way around your thoughts like a spinning wheel turning straw into gold filaments. The Many Deaths of Laila Starr provokes discussion about reincarnation, immortality, and the importance of independent confidence during our short time on this earth. A divine being descends to the Earth, yet learns the idiosyncrasies involved in being human. Paired with the breath-taking talents of artist Filipe Andrade and the letterer from AndWorld Design, The Many Deaths of Laila Starr captures a glimpse of humanity through a Hindu lens of magical realism.
6. Monstress – Marjorie Liu, Sana Takeda & Rus Wooton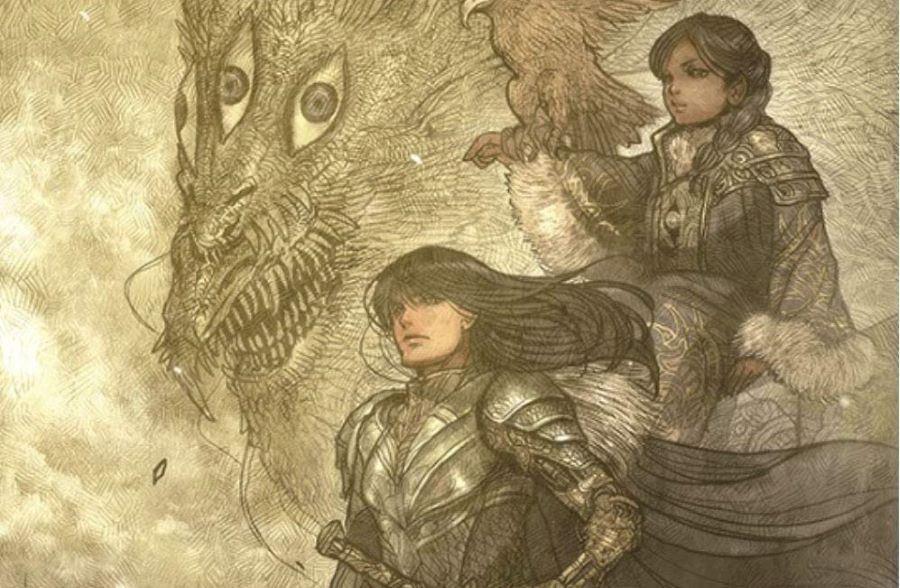 Monstress is an epic dark fantasy from Image Comics where one woman and her monster battle against oppression, prejudice, and a cataclysmic war.
After escaping her racist captors, protagonist Maika finds herself psychically connected to a Monstrum who lives inside the stump of her missing arm. Maika fights against the warring factions in her matriarchal society with the help of her monster, a young fox child, and a multi-tailed cat. Bodies pile up as Maika searches for answers about her past along the journey for justice. Meanwhile, the controlling matriarchs war with one another over the life force found in half-animal children, and stories about a monstrous young woman who could destroy them all.
Resplendent with intricate world-building and meticulously crosshatched art, Monstress will fill any reader's appetite for an expansive SFF story. Steampunk sensibilities and the comics' subversive politics cast the magic-ridden illustrations with grim undertones. Be warned, Monstress does not shy away from depictions of gore, fatal flaws, and prejudiced torture of half-beast children. This series by diverse SFF creators studies race and individuality through an East Asian-influenced perspective. Monstress is a fantasy feat where every storytelling and compositional illustrative element effuses profundity as Maika struggles with control and power.
7. Planet of the Nerds — Paul Constant, Alan Robinson, Felipe Sobreiro & Randy Elliott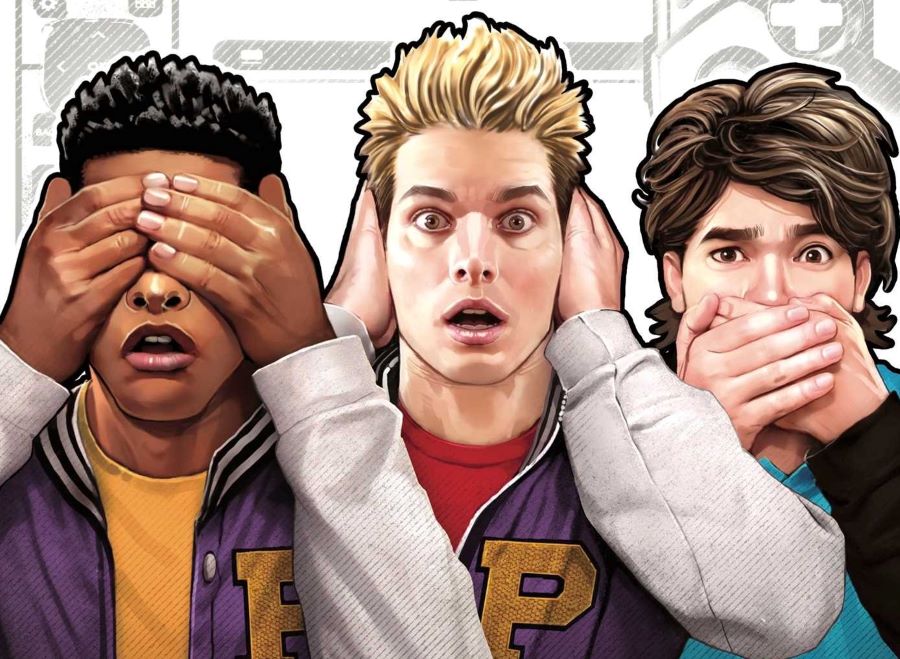 A trio of high school jocks in the 1980s wake up in the nerd-powered world of 2019 in Planet of the Nerds from Image Comics.
In the year 1988, high school jocks Chris, Drew, and their leader, Chad, relentlessly bully school nerd Alvin. When they follow Alvin to his home science lab one night, an accident causes Alvin's cryogenics device to explode. Suddenly, Chad, Chris, and Drew find themselves in the middle of a Comic Convention – in the year 2019. Superheroes and computers are popular now! It's Chad's worst nightmare as he and his friends enter a planet overrun with nerds.
Planet of the Nerds is an underrated comic from AHOY Comics. At only five issues, the hilarious sci-fi story wraps up quickly with a cliff-hanger ending we are hoping to find resolved someday. Artists Alan Robinson and Felipe Sobreiro achieve a vintage 80s aesthetic with their art while seamlessly transitioning into a crisp, modern quality of style when the protagonists are thrust into the 21st century. If you're looking for a short science-fiction read critiquing the nostalgia over the not-so-progressive 1980s, time travel by reading Planet of the Nerds.
8. These Savage Shores – Ram V, Sumit Kumar, Vittorio Astone & Aditya Bidikar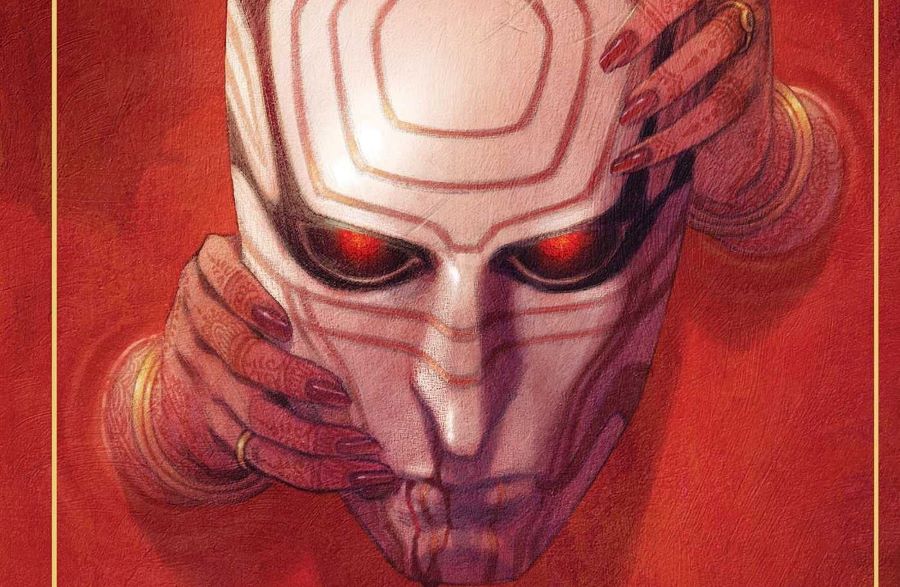 These Savage Shores from Vault Comics takes place in 18th century India where British imperialists, vampires, and a monster from Indian myth engage in deadly combat.
In 1766, the English East India Company makes a play for passage and profit along the Silk Route trade network. A British colonist senses a dark evil who feasts on blood aboard his ship as the colonizers dock on the Indian shores. When an ancient daemon slays the suspected vampire and fears for the safety of the young Indian prince, the colonizers realise their demand for the Silk Route may be dangerous.
These Savage Shores' recurring tagline, "Along these savage shores, where the days are scorched and the nights full of teeth" speak volumes about the perception of the white man to view individuals from other countries as "savage." The thematic view of the "other" bleeds through the beautiful pages of These Savage Shores. Gorgeous watercolour sunsets contrasted with hurried shadows juxtapose one another symbolically. These Savage Shores is a masterclass on artistic composition utilising a 9-panel grid structure, sweeping fantasy rooted in historical truth, as well as evoking both emotion and horror. SFF comics by diverse creators, like this series, should be taught as how to perfect acerbic storytelling through a visual medium.
9. Time Before Time – Rory McConville, Declan Shalvey, Joe Palmer, Chris O' Halloran, & Hassan Otsmane-Elhaou
Time-travelling science-fiction is at its peak in Time Before Time from Image Comics.
Time Before Time begins in the year 2140, where many want to escape to another time. The Syndicate, an illicit criminal organisation, smuggles desperate individuals to past eras – for a steep price. Tatsuo works for the Syndicate but has become disillusioned with their illegal and immoral methodology. When he tries to flee back in time himself using one of the time machines, an FBI agent mistakenly throws his plan into chaos. Lost in time, the duo makes an alliance after they are captured by enemies.
Mixed with crime and sci-fi elements, Time Before Time can be classified as almost a time-travel noir story. The first volume of the comic series spends most of its time in the past with the rogue travellers. Therefore, solving mysteries and learning who to trust transforms into the pertinent central conflict. The stylised art and limited colour palette create a swift narrative pace, constantly adapting to fit the tone whenever characters jump to another time period. Time Before Time tells sincere stories about human nature, prompting sentimentality amidst a fun sci-fi setting.
10. We Live – Inaki Miranda, Roy Miranda, Eva de la Cruz, & Dave Sharpe
A group of children emerges as humanity's last hope for survival in the SFF dystopian comic, We Live from AfterShock Comics.
The earth has suffered enough calamities that by the year 2084, the planet is nearly inhabitable. We Live reveals a world where monsters roam freely and the apocalypse is impending. One day, everyone receives a message from an unknown source informing the humans of their impending extinction. A countdown time limit is attached to the message. Doom is imminent. But the remnants of society can send five thousand select children to the "Beacon" where they will be saved and transported into space by the message senders before the world ends.
We Live shows how hope can still blossom while chaos reigns. A young boy and his teenage sister find hope in dark places, fighting monsters along their treacherous journey to the Beacon. The world is not a wasteland either in We Live. Instead of dreary colours bogging down our spirits, readers are granted the joy of an apocalyptic world rendered in vibrant colours. The art reminds readers how the Earth can flourish when the human population is dying out because humans would wreak less havoc on the planets' ecosystem. We Live offers an SFF comic story tinged with beauty and violence where insidious creatures frighten and character relationships take a devastating toll on any readers' emotions.
READ NEXT: 5 Best Diverse Supernatural Horror Books
Some of the coverage you find on Cultured Vultures contains affiliate links, which provide us with small commissions based on purchases made from visiting our site. We cover gaming news, movie reviews, wrestling and much more.