There were a countless number of shorts to play at the 2018 Sundance Film Festival. The following were among some of my favorite selections to play during the fest.
End of the Line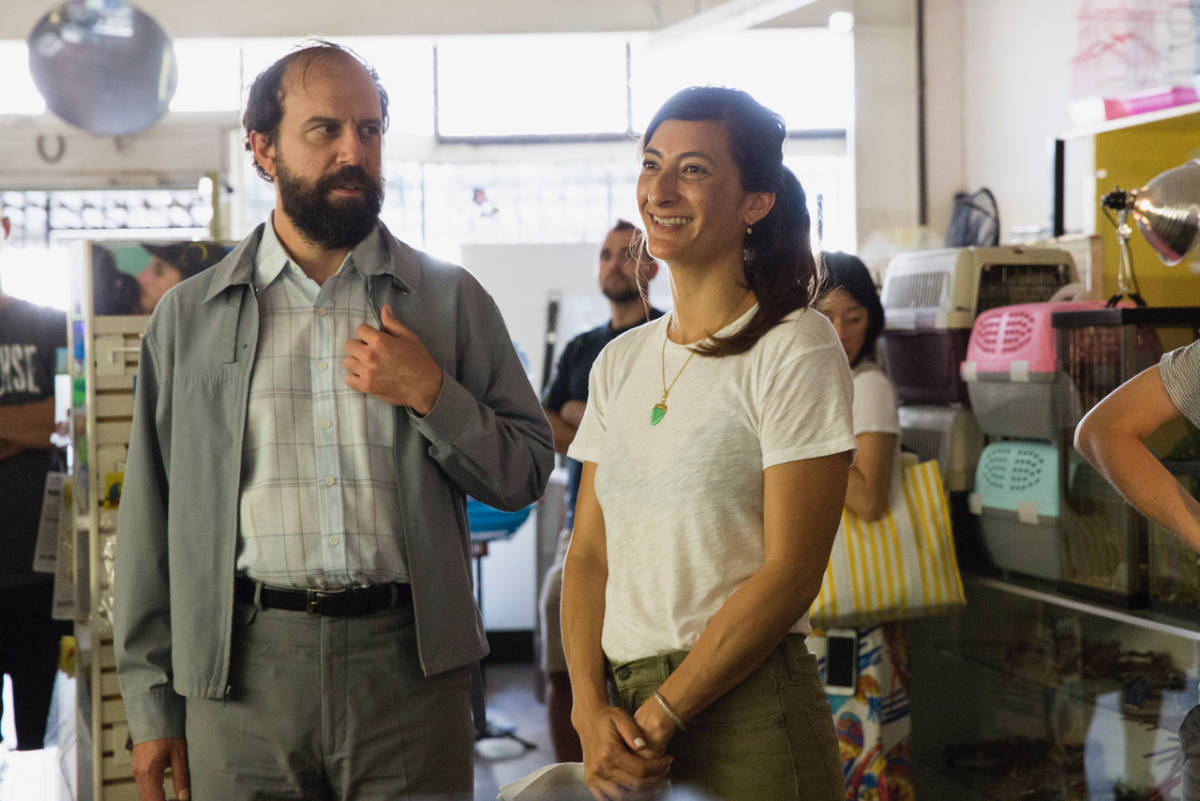 The Jessica Sanders-directed short so timely in how it deals with both men in power and abuse. The way that the film handled the special effects of having Little Man (Simon Helberg) being so small is astonishing to say the least. It's not the Downsizing universe but this film was clearly the better of the two films. Both Brett Gelman and Helberg have great chemistry even as the two characters clearly can't get along. End of the Line is a part of Refinery29's Shatterbox Anthology Season 2.
Men Don't Whisper
Directed by Jordan Firstman and co-written by Firstman and Charles Rogers, the film stars Firstman and Rogers alongside Fort Tilden co-stars Claire McNulty and Bridey Elliott. Firstman and Rogers play Peyton and Reese. The two are attending a sales conference and being gay, they have never felt so emasculated so they do the one thing that they probably shouldn't do: sleep with women in order to feel masculine. This is where Dominique (McNulty) and Beth (Elliott) enter the picture. Firstman has yet to direct a feature-length film according to IMDB but Men Don't Whisper is very solid and he's got some promise.
Painting with Joan
Directed by Jack Henry Robbins and starring Kerri Kenney, Painting with Joan was one of the interesting yet shortest of the short films I saw during Sundance. Joan is the comedic equivalent of Bob Ross. Moreover, Robbins did the entire project on a VHS tape which is an idea that is mostly unheard of for 2018 but it works so well.
Eve
Eve is the brainchild of Leonard Nimoy's widow, Susan Bay Nimoy. This is the third project to come from a member of the Nimoy family after Adam Nimoy directed For The Love Of Spock and Julie Nimoy and David Knight directed Remembering Leonard: His Life, Legacy and Battle with COPD. Nimoy stars as the titular Eve and the small cast also includes Joan Scheckel, Paulo Costanzo, and Alexander DiPersia. The film is Nimoy's way of working through her emotions following the sci-fi legend's passing. Her character deals with the whole nine yards.
Home Shopper
This short marks the directorial debut of Oscar-nominated actor Dev Patel and the dark comedy is absolutely absurd but so much fun to watch. The film deals with a woman, Penny, who is obsessed with a home shopping network and can't help herself from ordering products off the television. One night, her husband, James (Thomas Sadoski), comes home and they get into a fight because Penny can't stop buying items. The home shopping hosts, Willie Bosket (Armie Hammer) and Amelia Braun (Sheryl Vickers), serve as a narrative device.
James, who likely abuses Penny in their relationship if dialogue is any indicator, goes so far as telling Penny: "I think it's totally normal for a woman who hasn't had to work a day in her life since she got married to sit around all afternoon buying a bunch of shit she doesn't need off the TV in an attempt to feel the void left in her soul by wasted potential, social anxiety, and a barren womb."
With this short, Patel shows a lot of promise as a director and his career behind the camera is off to a great start. Still, one can't help but want to see this idea expanded into a fully-fledged feature film. It does work as a short film but there is so much more that can be said.
For Nonna Anna
This short, directed by trans filmmaker Luis De Filippis, also took home a Special Jury Prize when the shorts awards were presented on January 23rd. Originally premiering at the 2017 Toronto International Film Festival, it's one of very few films at Sundance to be directed by a trans filmmaker, let alone starring a transgender woman, Maya Henry, in a leading role.
It goes without saying that more stories similar to For Nonna Anna need to be told. Trans voices have got to be allowed to tell stories. At this year's Sundance Film Festival, there were at least two films that had gender identity at the heart of the film. The fact that this one takes place post-transition was a good choice.
Some of the coverage you find on Cultured Vultures contains affiliate links, which provide us with small commissions based on purchases made from visiting our site. We cover gaming news, movie reviews, wrestling and much more.