The Artistocrats give you a wide selection of units to experience what it means to be a commander of the Mobile Infantry in Starship Troopers: Terran Command. Every unit has a distinct role and can drastically change the tactics you employ to push back the Arachnid threat.
Here's everything you need to know about the Mobile Infantry units in Starship Troopers: Terran Command.
Terran Command Unit Guide
Rifle Troopers
Rifle Troopers are your basic frontline infantry that can be brought in at any landing zone at a Radio Station. They're equipped with basic automatic rifles and are great at suppressing lightly armored targets and medium range. They also have 12 entities in their squad, so they're great at holding ground and taking the brunt of an attack.
They can throw a small area-of-effect grenade as an active ability to damage and stun armored targets. When they reach level three they can be further upgraded with a shotgun salvo ability to stun enemies at close range or a powerful large area-of-effect demolition charge.
Combat Engineers
Combat Engineers are a three-person support squad equipped with a flamethrower that can damage and lightly stun targets at short range. Engineers are most valuable for their active ability to throw a movement-blocking flame grenade and turret construction. They can place heavy machine gun (HMG hereafter) turrets and later rocket and grenade turrets once you've installed the Rocket and Ammo Depots respectively at a free building site.
To call in both Combat Engineers and Radio Operators you'll need a Support Center placed on a building site. At level three Engineers can either place powerful demo charges or shoot a powerful concentration of flame in a line to damage armored opponents.
Radio Operator
The two-person Radio Operator team is another critical support unit that lets you operate further away from your vital radio stations due to their active ability to place down a dropship landing zone almost anywhere. This landing zone can be used to reinforce squads in the field or relocate to another landing zone. At full veterancy Radio Operators can either call in a gunship to hover a designated area for a short period or activate a loudspeaker system that encourages nearby troops, improving their performance, but also attracting nearby Bugs.
Snipers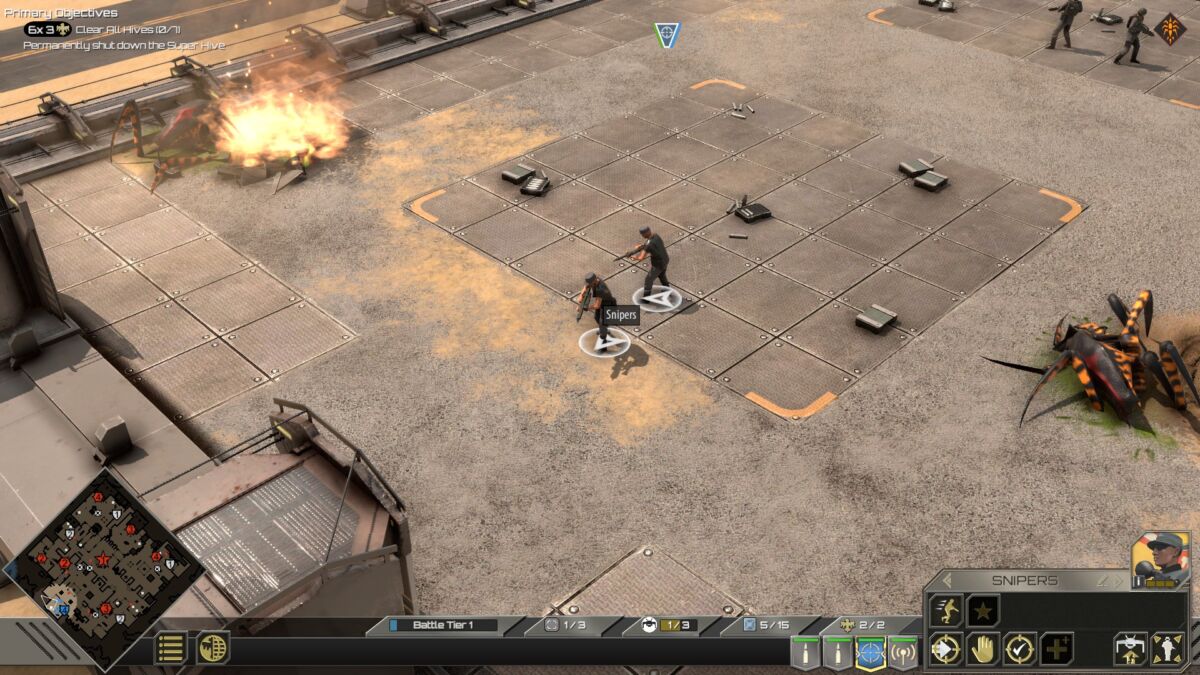 To unlock Snipers and Tactical Officers you'll need to get a Command Center up and running. The two-person Sniper team includes troopers equipped with scopes to hit lightly armored targets at extreme ranges and provide line of sight on the battlefield.
Their basic ability allows them to move and shoot quickly for 10 seconds, but their range drops significantly for the duration of the ability. Level three upgrades include a crippling shot that can stun even large targets or an intelligence flare that can distract Arachnids and give line of sight to friendly forces.
Tactical Officer
The Tactical Officer is equipped with a rifle and grenade launcher and is primarily meant to support friendly troops. They can throw a flare to increase friendly damage in the target area, while fully vetted they can target a single unit to increase their accuracy or rate of fire, as well increase the target unit's experience gain.
Rocket Troopers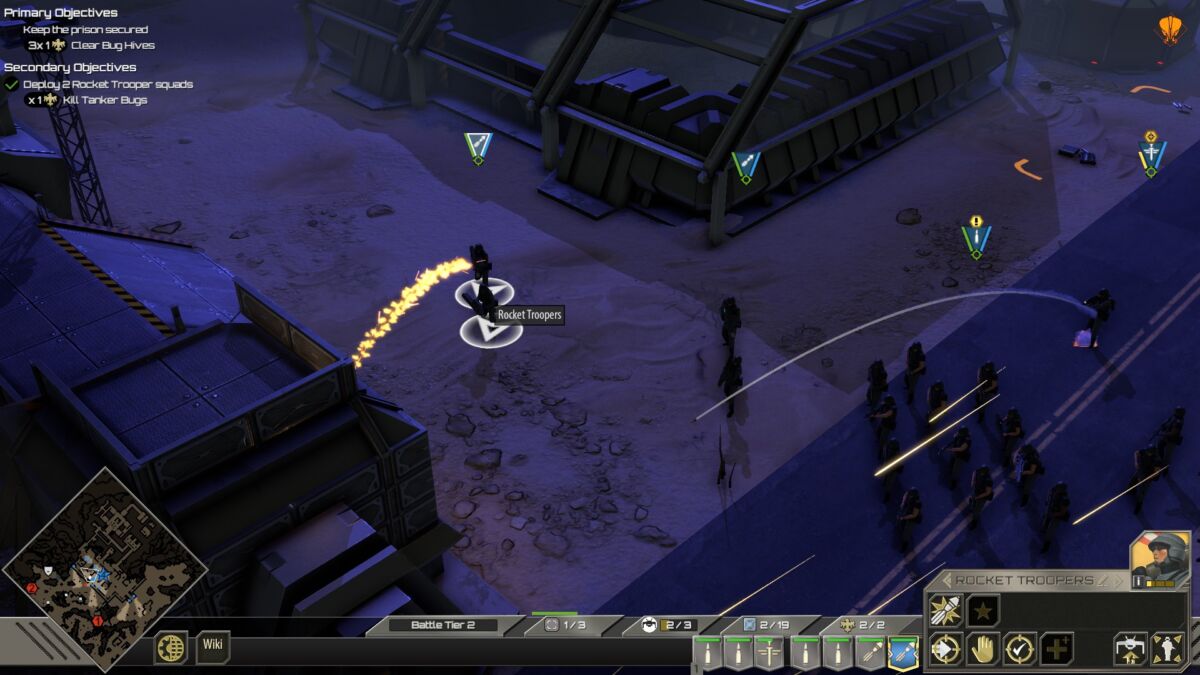 Rocket Troopers are a crucial heavy weapons two-person team meant for busting heavily armored targets and providing explosive fire support against masses of Bugs. You can bring them in with Rocket Depot, which only unlocks once the Battle Tier reaches level 2.
These troopers can fire a high-explosive rocket for massive damage against light targets in a medium area-of-effect. Their final upgrades include a cluster warhead with a massive area of effect or a firestorm warhead that can drop flames in a medium-sized area to block movement.
MK 2 Troopers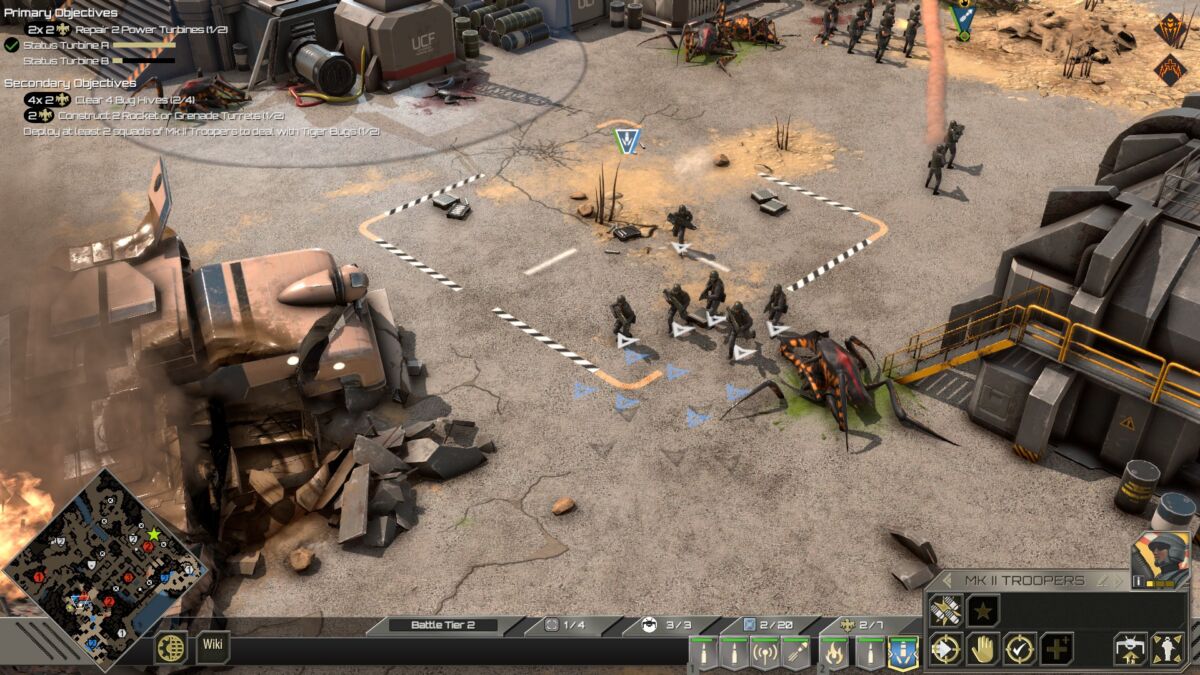 Unlike the basic rifle squads, the MK2 Troopers are geared for increased damage and firepower rather than holding the frontline, as they only have six soldiers equipped with high-power rifles and underslung grenade launchers. You can recruit them with the Ammo Dump unlocked at Battle Tier 2.
Their active ability allows them to bombard a medium-sized area at medium and long ranges with their grenades. For upgrades, they can be equipped with flak grenades to counter aerial targets or cluster shotgun shells to tear through hordes of units at close range.
E-Pulse Troopers
The short-range and faster-moving cousins of the rifle troopers, E-Pulse Troopers are armed with energy weapons that can easily tear through light and medium armor Arachnids. They have ten people in a squad and can only be recruited once the Power Plant is set up at Battle Tier 3.
For their basic active ability they can overcharge their E-Pulse weapons for 10 seconds, increasing damage and rate of fire, but then they overheat and go on cooldown, leaving them open to getting rushed. Their final upgrades include either a short-range blast that stuns nearby friendlies and enemies or a buff to their line of sight at the cost of a reduced rate of fire.
Fleet Liaison
In many respects, the Fleet Liaison is similar to the Radio Operator in that they can also designate nearby landing zones for reinforcement transport, though they're even more useless in combat, equipped only with a short-range pistol. However, the Liason can also call in airstrikes to clear out masses of Bugs.
They can only be recruited with an operational Fleet Relay that unlocks at Battle Tier 3. Aside from their airstrike call-in, Fleet Liaisons can be upgraded to request a squad of marines or an orbital bombardment in a large area.
Marauder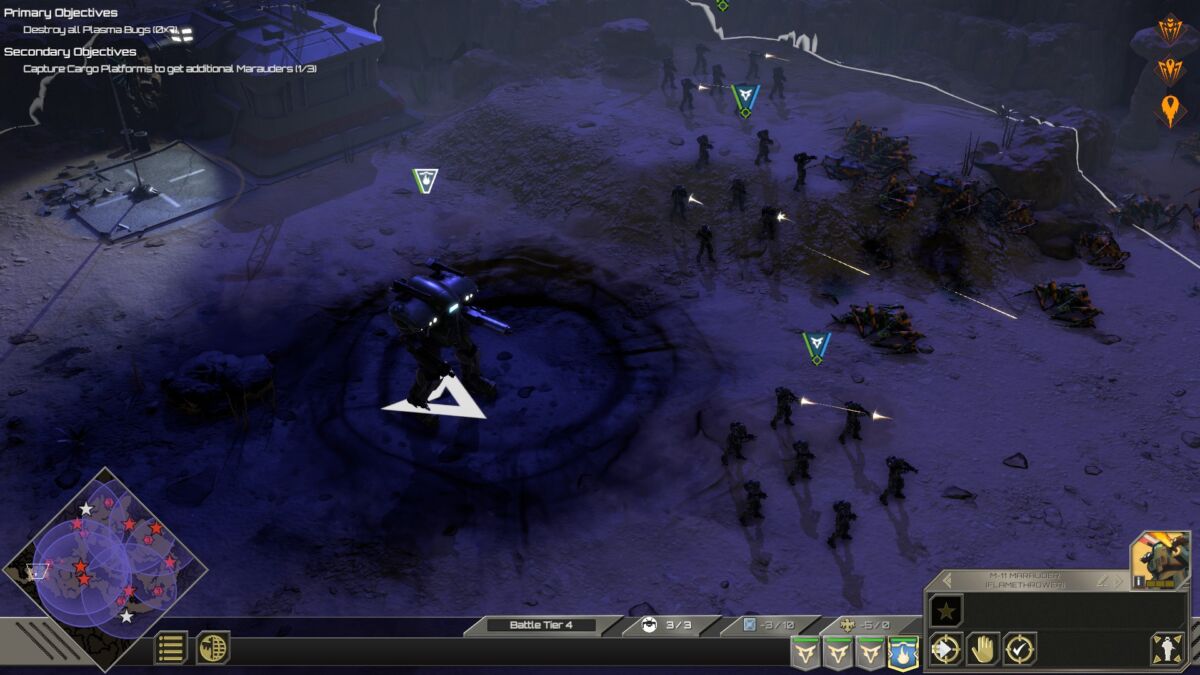 The pinnacle of Terran military engineering, Marauders are veritable tanks that can single handedly hold down and clear out swarms of Bugs. They come in three different variants: flamethrower, Gatling gun, or howitzer. However, all of them come equipped with machine guns for suppression.
They have no basic active ability but can be upgraded with a grenade launcher for medium to long-range bombardment or a short-range explosive pulse if they get swarmed. You need the Machine Bay at Battle Tier 4 to bring in these mechanical juggernauts.
Powered Suit Troopers
The best-of-the-best the Mobile Infantry has to offer, Powered Suit Troopers come in squads of eight and move swiftly across the battlefield equipped with the latest deadly ballistic weapons. They can easily outrun Bugs, so are great at rapid repositioning, hit-and-run attacks, and getting out of sticky situations. Being such badasses, they need the Sector Headquarters building to recruit, which unlocks at Battle Tier 5, late in a mission unless you start with them.
For their active ability, they can throw basic grenades like their lightly armored rifle comrades but have a robust suite of upgrades at veterancy level three. For pure damage and suppression, you can upgrade their rifles even further. Going up against heavy targets you can also give these troopers a rocket launcher and finally you can give a squad an engineering kit to keep machines running and turrets shooting.
The Mobile Infantry offers an exciting array of troops, team, and machines to do battle with the Arachnid threat. How will you fight the Bugs and secure humanity's future?
Starship Troopers: Terran Command is available on PC.
READ NEXT: 50 Best Strategy Games of All Time
Some of the coverage you find on Cultured Vultures contains affiliate links, which provide us with small commissions based on purchases made from visiting our site. We cover gaming news, movie reviews, wrestling and much more.