As a new strategy adventure game, Songs of Conquest opens up a whole banquet of opportunities for role-playing and strategic gameplay. It may not be as overwhelming as some other fantasy strategy games out there, though new players can still benefit from guidance on what to focus on to better devise a victorious strategy. Here's some advice to get you started on your adventures.
Explore, Explore, Explore
As a strategy adventure game, exploration is baked into Songs of Conquest's game design DNA. However, it isn't as simple as choosing a path and barrelling down it until there's nowhere to go.
Exploration requires a purpose, such as in the early game it's about finding resources to get the development of your main settlement rolling. Another purpose of exploration is to reveal more of the map, which not only lets you areas with particularly valuable treasure and loot but also it lifts the fog of war and gives you an idea of the paths opponents may take to attack you, so you can best prepare.
Get Stat Boosts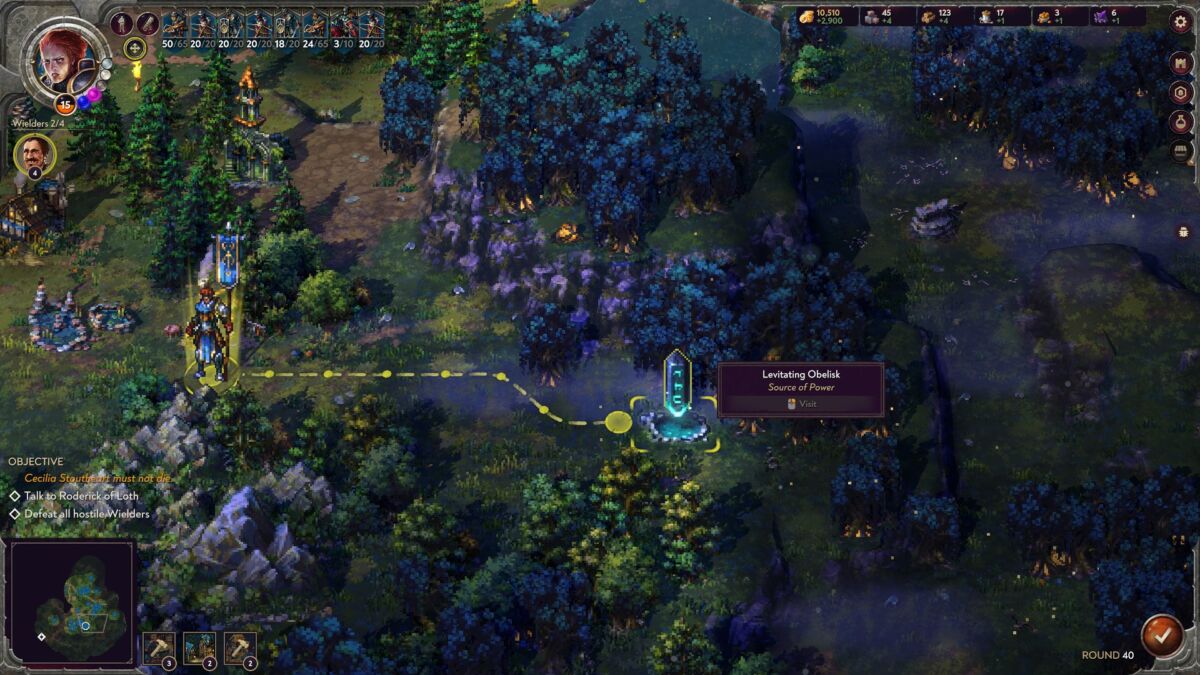 The maps of Songs of Conquest are littered with points of interest of all kinds that can provide temporary and even permanent benefits. Character development and leveling are crucial in such a strategy game.
Gaining stats from levels and equipment is great, but equally important is to visit points of interest that permanently boost your stats, as that almost counts as the wielder upgrading a few levels in terms of performance. This is particularly useful to any low-level or underdeveloped characters you may have in your employ. Also, if you're expecting a climactic fight against an opponent, it's crucial to visit temporary boosting sights to give your wielder every advantage they can get, as combat can be quite volatile and decisive.
Claim Settlements
As part of the player's exploration efforts, the most valuable locations you are looking for are settlements. Settlements are critical as outposts that give you a direct line of sight on the map to track enemy movements and also improve your economy due to the base gold income, as well as potential structures for raw resource production. Larger settlements are the most valuable, as they can be upgraded more and provide additional building slots for greater economic potential and military production.
Ramp Up Unit Production
Combat in Songs of Conquest is deadly and volatile. You can easily expect to lose units not only fighting other wielders, but also even neutral armies guarding the various treasures, at least not until your army grows to such an extent that no opponent can hope to cause enough damage.
You'll need troops to keep up exploration to keep fighting armies across the map, especially since they grow in strength over time. Getting unit production up, especially of your faction's workhorse units will ensure you have a steady supply of troops and you stay ahead of the difficulty curve.
Get a Second Wielder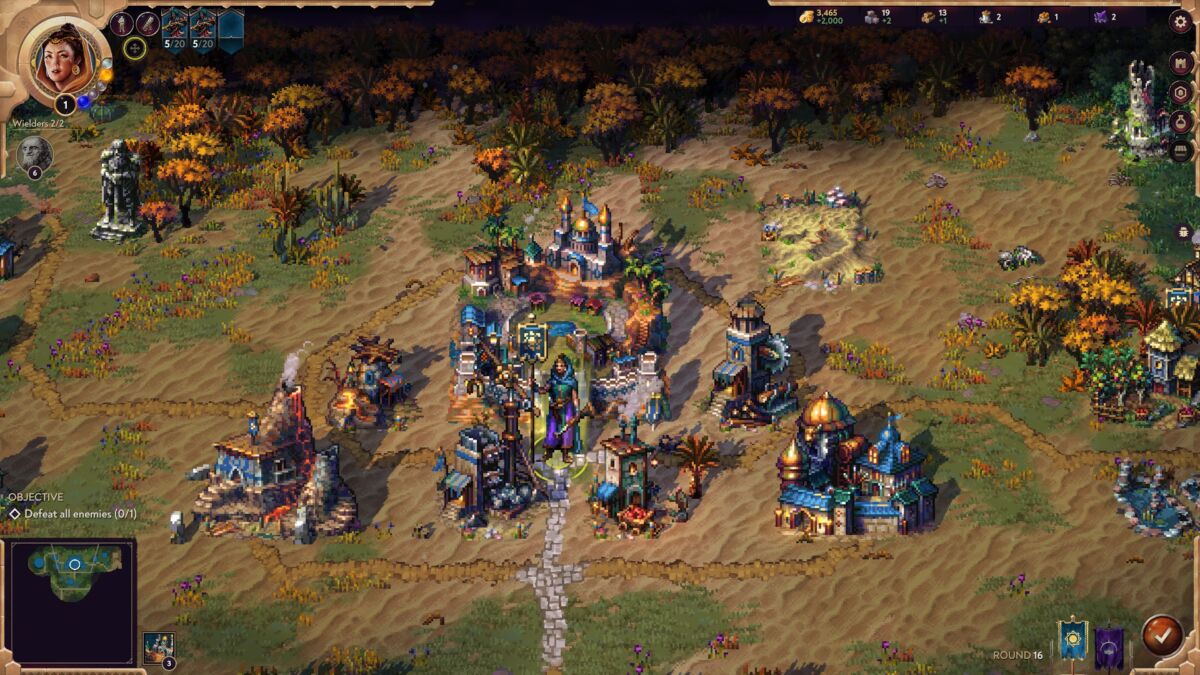 As a session progresses, the player's starting wielder will get further away from the starting settlement, meaning army resupply will become all the more challenging. One of the best ways to offset this issue is to recruit another character as soon as possible. Not only will this immediately give you some more troops to use, but this second hero can act as a defender of owned resource buildings and more importantly act as a caravan to ferry units from the main settlement to your main wielder.
Fight Battles Manually
Force conservation is a critical component of strategy adventure games, as the more you keep your units alive the more time wielders can productively spend time exploring and leveling up. It may be tempting to auto-resolve some fights, especially when an enemy army looks significantly weaker.
In Songs of Conquest, the Quick Battle system is quite punishing, especially when armies are relatively equal in strength or even if there's a visible strength disparity. We advise manually fighting battles, unless there's clear overwhelming superiority, not only for force conservation but also to practice and learn the intricacies of the combat system.
Offense over Defense
Unit survivability in Songs of Conquest, in general, is mediocre at best, even for some of the higher tier units. Essentially, it's easier for units to cause damage to each other than it is to prevent it from stats alone unless there are specific resistances, spells, or other abilities at play. As such, you can never go wrong increasing the offense stat on characters and the units under their command to ensure they defeat enemies as quickly as possible during battle.
Ranged and Mobile Units Are Powerful
Going hand-in-hand with the previous tip, ranged units and units with high initiative or speed have some of the greatest tactical impact of any of the unit types. Ranged units can hit from afar without retaliation, requiring slower close quarters units several turns before they even get into range to threaten the long-range strikers.
Fast units work similarly to ranged units in that they can quickly cross the map and attack targets before they're struck themselves by enemy ranged units. Quick melee-oriented units also have the advantage of potentially reaching ranged units before they even get a chance to get an attack off.
Actively Utilize Magic
All wielders have access to magic as the generation of mana or Essence is also related to the types of troops you bring to the field. Based on the troops in your army, they'll generate different types of Essence, which will define the spells you can cast. As long as you keep your unit stacks alive, you can keep generating Essence and casting spells, so when possible use magic liberally and actively to get every advantage possible.
Use the High Ground
Elevation in Songs of Conquest can play a significant role in the dynamics of a battle, as it acts as a force multiplier. Melee units get a modest bonus to their offense and defense stats when facing a target at a lower elevation. Where higher ground really comes into play is for ranged units, as it increases the range of these, meaning they have greater choice of targets and more areas of the map to affect with powerful long-range attacks.
READ NEXT: 10 Best Cold War Strategy Games of All Time
Some of the coverage you find on Cultured Vultures contains affiliate links, which provide us with small commissions based on purchases made from visiting our site. We cover gaming news, movie reviews, wrestling and much more.