Insomniac Games kicked off the Ratchet & Clank series in 2002, creating a beloved pairing of unlikely protagonists that worked together across more than a dozen titles. In 2016, the development team returned to its roots with a reimagining of the original game that earned ample praise from fans.
After a four-year hiatus, the Lombax and his warbot companion are once again returning to consoles. This time, with the power of the PS5 backing them. The Ratchet & Clank series has ridden several highs as Insomniac Games continued to deliver quality experiences with the misadventures of the titular characters. The latest entry is sure to have some tricks up its sleeve as it promises to showcase an all-new, world-jumping, thrilling adventure for Ratchet and Clank.
What is Ratchet & Clank: Rift Apart's Release Date?
When Insomniac Games revealed Rift Apart, it didn't do so with a release date attached. Insomniac Games hasn't hinted at a release window, so it's difficult to gauge if the new Ratchet & Clank adventure could drop as a launch title.
Sony will want a familiar face to coincide with the PS5's launch, and there are few more familiar than Ratchet and his robot buddy. Ratchet & Clank: Rift Apart as a launch title would be a significant driving force for the console, especially since it's a series that spans generations and will appeal to younger, up-and-coming players.
Where can I play Ratchet & Clank: Rift Apart?
The latest Ratchet & Clank game will be releasing exclusively to the PS5. According to Creative Director Marcus Smith, the game simply wouldn't have been possible on the older hardware of the PS4. The PS5's ultra-fast SSD was a pivotal component in making Rift Apart the game Insomniac wanted it to be. The development team wanted players to have a fluid, seamless experience as they jump between worlds, and on the PS4, loading screens absolutely would have broken up the action.
Smith also noted the DualSense controller and the console's 3D audio as development factors. The PS5 allowed the development team to create more dynamic weapons that utilize the DualSense's adaptive triggers. One example is the Enforcer double-barreled shotgun. Players will be able to feel the difference in tension as they press down half-way to fire one barrel or all the way to fire both.
As for the visuals, Ratchet & Clank: Rift Apart will take full advantage of the PS5's ray tracing and will feature ray-traced reflections.
What genre does Ratchet & Clank: Rift Apart belong to?
As with the other core Ratchet & Clank games, Rift Apart will be a third-person action platformer. Ratchet loves his arsenal of weapons, and he's going to be equipping himself with heavy firearms to escape his latest peril. The games have always had a heavy focus on combat and early looks at Rift Apart showcase melee and plenty of ranged attacks. With Clank chattering on his back, Ratchet will be able to dodge and leap away from enemy fire, swap between an assortment of world-appropriate weapons, and use gadgets to give him a leg up in battle.
The duo will also come across various platforming obstacles that include using the new Rift Tether to warp to different areas of the level. Based on the reveal trailer, there may even be "on rail" segments that send Ratchet careening down a literal railway or flying through worlds and dodging obstacles on a winged creature.
Rift Apart is also introducing a new character, but there are no details on whether she will have different mechanics from Ratchet.
Ratchet & Clank: Rift Apart synopsis
There aren't too many story details regarding Rift Apart, but the announcement trailer follows Ratchet and Clank as they're sent through dimensional rifts to different planets. According to Marcus Smith, an archnemesis of the pair is back and wreaking havoc on the fabric of space and time. Smith is likely alluding to Dr. Nefarious, who started harassing the titular characters in Up Your Arsenal.
Regardless of who is behind the madness, the dimensional tears send Ratchet and Clank to different worlds, many of which fans may recognize from earlier entries. Insomniac Games will be introducing new planets to coincide with familiar locations as the anthropomorphic heroes set out to restore order to the space-time continuum.
Along the way, Clank becomes separated from Ratchet and is transported to a different world where he's introduced to a female Lombax. She's equipped with her own tool of destruction and what appears to be a robotic arm, but nothing else is known about the mysterious character. Players will control the newly revealed Lombax as she finds herself intertwined in the misadventures of our beloved protagonists.
Ratchet & Clank: Rift Apart quick facts
Insomniac Games really snuck a new Ratchet & Clank into the PS5 reveal and left us with so few details about the new adventure. While we wait for new information on Rift Apart, take a look at these quick facts to keep your hype-level on "maximum."
– The PS5's SSD will allow for fluid world traversal with no loading screens
– The female Lombax is an all-new playable character
– Rift Apart will traverse many worlds, old and new
– It will utilize 3D spacial audio
– A familiar enemy is returning from earlier games
Ratchet & Clank: Rift Apart screenshots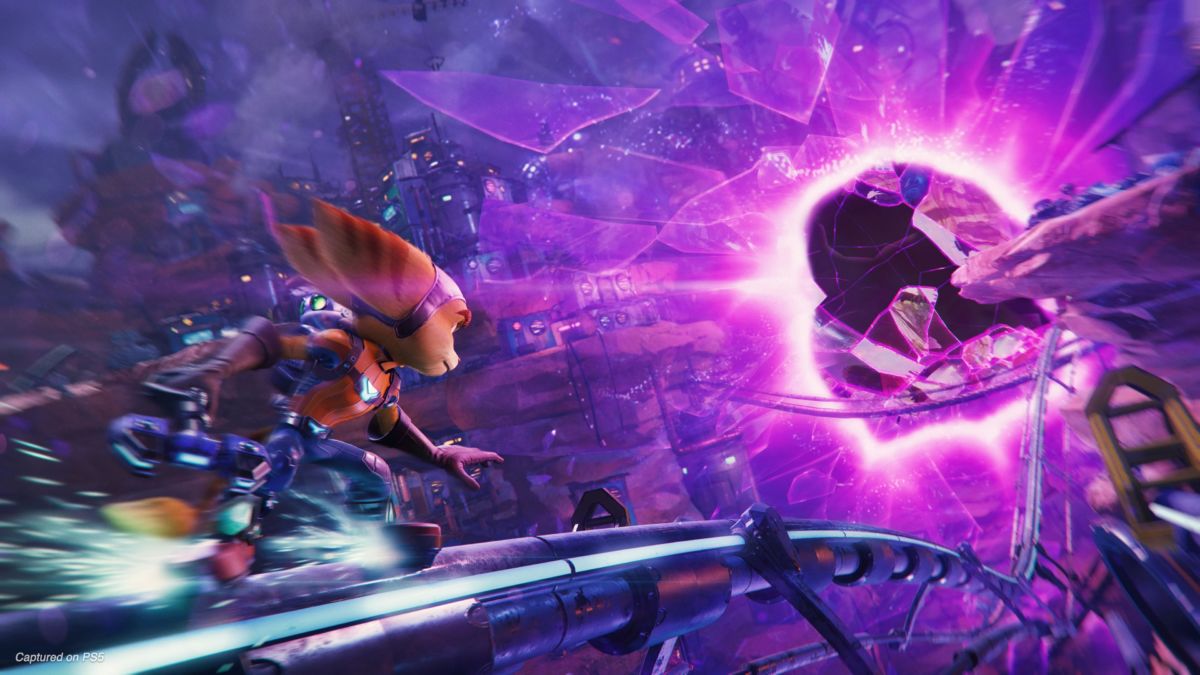 Rift Apart is already looking like a visually stunning experience. The stark difference between worlds will ensure the game doesn't get stale. It will be exciting to see how Insomniac Games utilizes the power of the PS5 to bring the latest Ratchet & Clank game to life. Until then, enjoy these screenshots from the exciting announcement trailer.
Ratchet & Clank: Rift Apart teaser and trailers
Some of the coverage you find on Cultured Vultures contains affiliate links, which provide us with small commissions based on purchases made from visiting our site. We cover gaming news, movie reviews, wrestling and much more.