It's fair to say that, since the franchise's original inception on Xbox 360, the Gears of War series has been one of the crown jewels in Xbox's release line-up. The first game in particular felt like it kicked off a wave of third-person shooters with waist-high cover all over the level, but the series has largely maintained a consistent level of quality throughout the decade and a half of releases and games.
The Gears series has even extended to tie-in novels, and actor/wrestler Dave Bautista has been vocal about his desire to play Marcus Fenix in a live-action movie. However, there's also been some missteps in the series' history (like not making a movie with Big Dave), along with some games that have unfortunately aged a bit worse than others. That's why we're ranking the best Gears of War, so you know which games to start playing. Here's every Gears of War game, ranked from worst to best.
Gears of War Ranked
9. Gears Pop!
Developer: The Coalition, Mediatonic
Publisher: Xbox Game Studios
Platform(s): PC, Mobile
Given the fact that Gears Pop! is the only Gears of War game to be classed as delisted and defunct, it would make sense that this game is considered the worst of the bunch on that alone. The game itself only helped to cement that idea, as it was a clone of mobile strategy game Clash Royale, only with Funko Pop inspired Gears of War characters doing all the fighting instead.
As an idea, Gears Pop! was certainly smart, as Microsoft tried to encroach on the lucrative mobile gaming market. Unfortunately, Gears Pop! was pretty grindy to unlock new characters and units without sinking your own money into the game, making it a hard game to recommend for players.
Now, its only legacy is as a footnote in an otherwise stellar and enjoyable series.
8. Gears of War
Developer: Epic Games
Publisher: Microsoft Game Studios
Platform(s): PC, Xbox 360 (Xbox One, Xbox Series X | S via backwards compatibility)
Time is cruel and unforgiving to pretty much everything, but as far as the Gears series is concerned, there's no greater victim than the original game. As the launching pad for the entire Gears of War franchise, the legacy of the first game is undeniable, whether we're talking about the amazing advert featuring Mad World, the airtight cover-based shooting, or the fact that every game that came after Gears of War 1 was just as grey and brown.
The main reason why Gears of War is this low on the list is because the series has evolved and grown over the years to include new features, bolster the gameplay and just generally improve upon what it means to be a Gears of War game. By no means is the original game unplayable in the modern day, as it's aged better than some shooters, but the rust is definitely on show.
Also, screw the Kryll. Worst enemies in the entire series.
7. Gears of War 4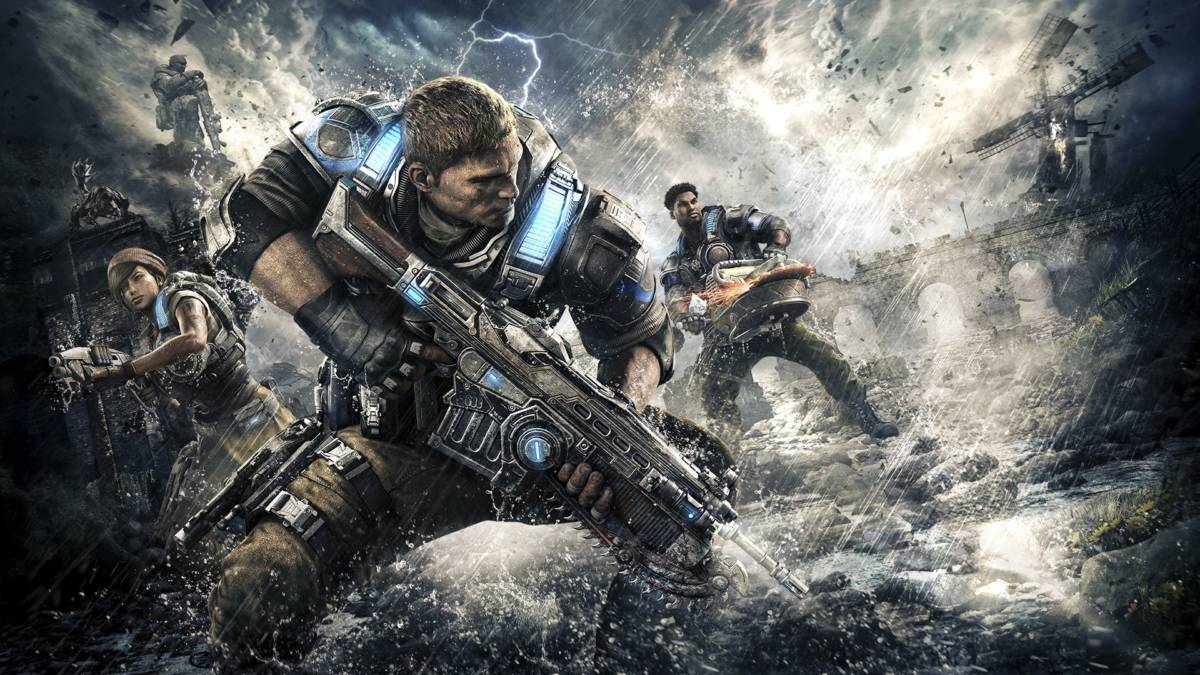 Developer: The Coalition
Publisher: Xbox Game Studios
Platform(s): PC, Xbox One (Xbox Series X | S via backwards compatibility)
As the first Gears of War game after Epic Games handed the reins to the series over to The Coalition, Gears of War 4 had a lot of hype to live up to, and in the eyes of many, it didn't quite deliver. A tepid campaign, some odd design choices when it came to levelling up your characters in Horde mode and more led to a frosty reception to the fourth mainline title.
In hindsight, Gears of War 4 shows its worth more as a basis for the events of Gears 5, allowing you to spend time with the characters who'll be taking the franchise forward. Without that time, Gears 5 wouldn't have been as resonant as it is, but it feels like Gears of War 4 spends too much time away from the rest of the franchise's characters, only really coming into its element in the final stretches.
Also, the reason for the Swarm's existence is a bit daft, honestly. An entirely new enemy instead of just "mutated Locusts with crystals" would have been much preferable.
6. Gears of War: Judgment
Developer: People Can Fly, Epic Games
Publisher: Microsoft Studios
Platform(s): Xbox 360 (Xbox One, Xbox Series X | S via backwards compatibility)
In the early 2010s, slapping People Can Fly's name on a shooter was a brilliant recipe to ensure that the shooter in question was an excellent, if underappreciated experience. Just look at Bulletstorm. Gears of War: Judgment saw Epic hand development duties over to People Can Fly for a prequel focused on Delta Squad's acerbic and witty Damon Baird. The end result is a game that's fun, but doesn't quite feel like Gears.
The main story sees Damon Baird being court-martialed for certain events during the Locust War, but really, the story is ancillary to the actual gameplay, which boasts a more arcadey feel than other Gears games. At certain points, you'll be given challenges to complete for stars, unlocking rewards as you go. It's a different direction, but one that's pretty fun.
There's even a bonus act that fills in a gap during Gears of War 3, which plays more like traditional Gears. Judgment's not the best game in the series, but it's definitely a solid and dependable pick.
5. Gears of War: Ultimate Edition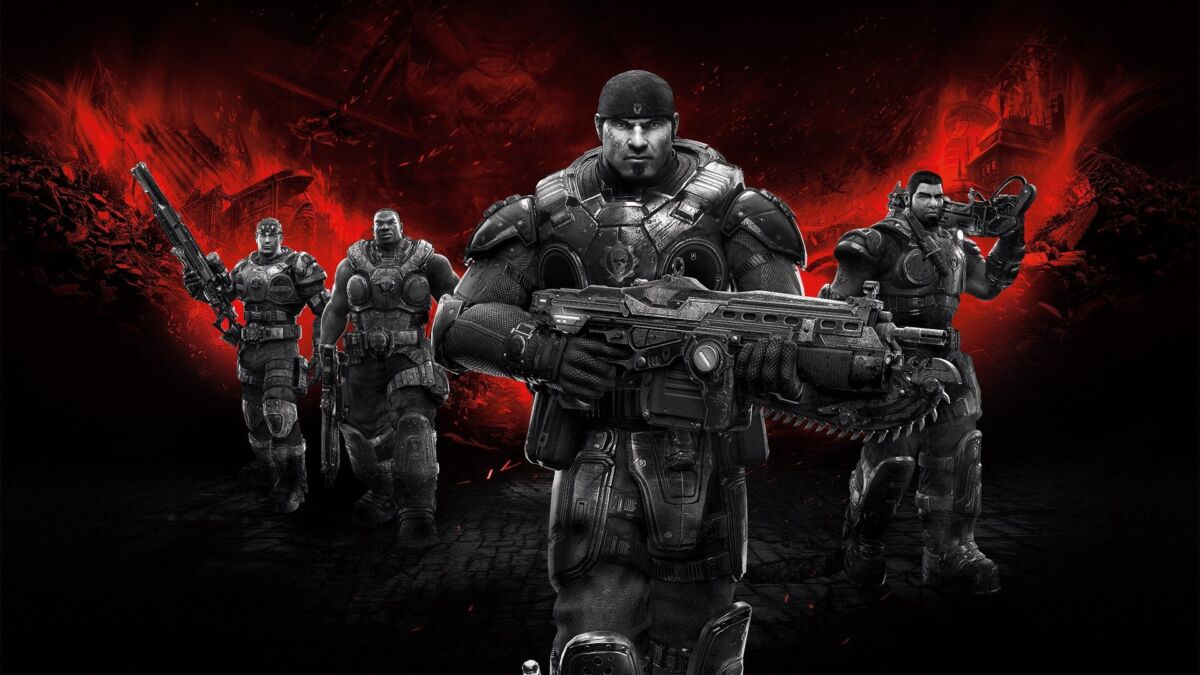 Developer: The Coalition
Publisher: Microsoft Game Studios
Platform(s): PC, Xbox One (Xbox Series X | S via backwards compatibility)
The primary reason why the original Gears of War sits lower on this list is because Gears of War: Ultimate Edition does everything the original game does, but better. The gameplay engine brought forward the improvements that were seen in both Gears 3 and Judgment, while the graphics and completely remade cutscenes absolutely blew the original game out of the water.
Gears of War: Ultimate Edition also gets to sit higher on this list because it includes the previously PC exclusive chapters where Delta Squad takes on a Brumak. All this extra content and stellar upgrades makes Gears of War: Ultimate Edition live up to its subtitle. It's still perhaps not as extensive as other Gears of War games that have come before or since, but it's a damn sight better to play than the original, especially by today's standards.
Fighting the Kryll still absolutely sucks, though.
4. Gears Tactics
Developer: Splash Damage, The Coalition
Publisher: Xbox Game Studios
Platform(s): PC, Xbox One, Xbox Series X | S
Ranking a strategy spin-off so highly on this list is likely to raise a few eyebrows, but Gears Tactics is an incredibly enjoyable strategy game that isn't afraid to crib from the notes of XCOM before it. Despite that, it also introduces enough of its own ideas and concepts into the strategy genre, making Gears Tactics accessible and welcoming to new players and Gears fans who might not typically play turn-based strategy.
Gears Tactics is set during the height of the Locust war, following Kait's grandfather Gabriel as he leads a crack team into the heart of the Locust's scientific division. Players control a squad of characters, each with their own unique abilities, but Tactics leverages the reputation and gameplay of Gears to inform its mechanics. Executions give your squad extra turns, encouraging the player to get stuck in and massacre the locust.
While you might not have much reason to go back once the main story is done, Gears Tactics is still a journey worth taking.
3. Gears 5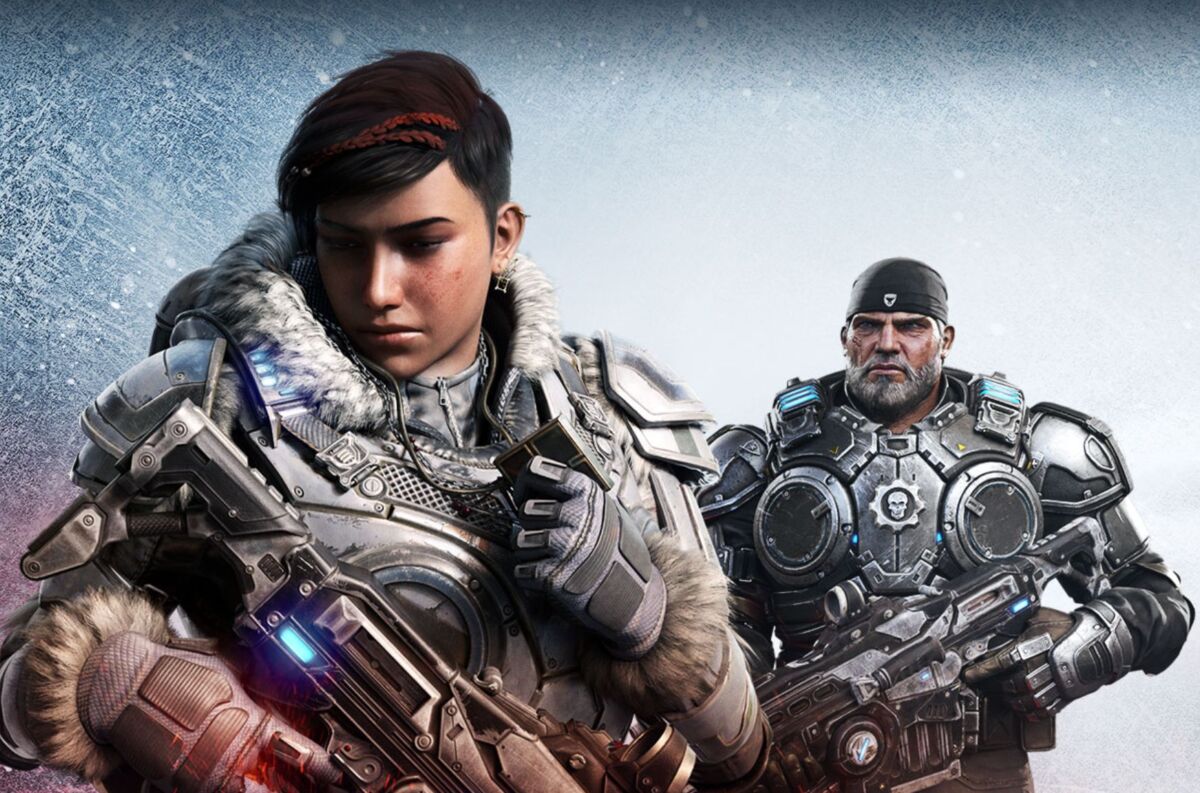 Developer: The Coalition
Publisher: Xbox Game Studios
Platform(s): PC, Xbox One, Xbox Series X | S
The most recent mainline game, Gears 5 is a massive improvement over the previous entry in a number of ways. The amount of modes and content that was available at launch, including a bolstered Horde mode and a new Escape mode made Gears 5 feel more complete than most other games in the series, while the campaign evolved to feature two open-world maps that were filled with secrets and upgrades to find.
The biggest improvement though came with the change in lead character, as Kait Diaz is infinitely more interesting than "daddy issues" JD. Watching Kait trying to grapple with her legacy as the heir apparent to the Locust throne makes for a compelling campaign, and her growing rapport with Del drives the campaign forward.
Plus, Hollywood's bad boy Rahul Kohli puts in an excellent turn as Fahz Chutani. If you like detestable, bitter characters, Fahz is one of the best.
2. Gears of War 2
Developer: Epic Games
Publisher: Microsoft Game Studios
Platform(s): Xbox 360 (Xbox One, Xbox Series X | S via backwards compatibility)
After the release of the first game, Gears of War as a franchise gained a bit of a reputation as a game about big meatheads with big guns and chainsaws causing a ludicrous amount of violence. It's a notoriety that's followed the game ever since, but Gears of War 2 was the first game to prove that the game is capable of much more. Sure, it was more bombastic than the first game, but it was the subtle touches that went further.
The storytelling in particular felt like it received a huge shot in the arm, with Gears of War 2 being responsible for some of the more shocking and emotional moments in the entire franchise. The death of Dom's wife Maria and the torture of Tai stick out as two incredible moments that have stayed with fans for a long time. That rumoured Gears Collection re-release should hopefully make those moments even more impactful.
Gears 2 also introduced Horde mode to the world, and we're all either thankful/sick of it being added to every other game in existence. (Delete as appropriate.)
1. Gears of War 3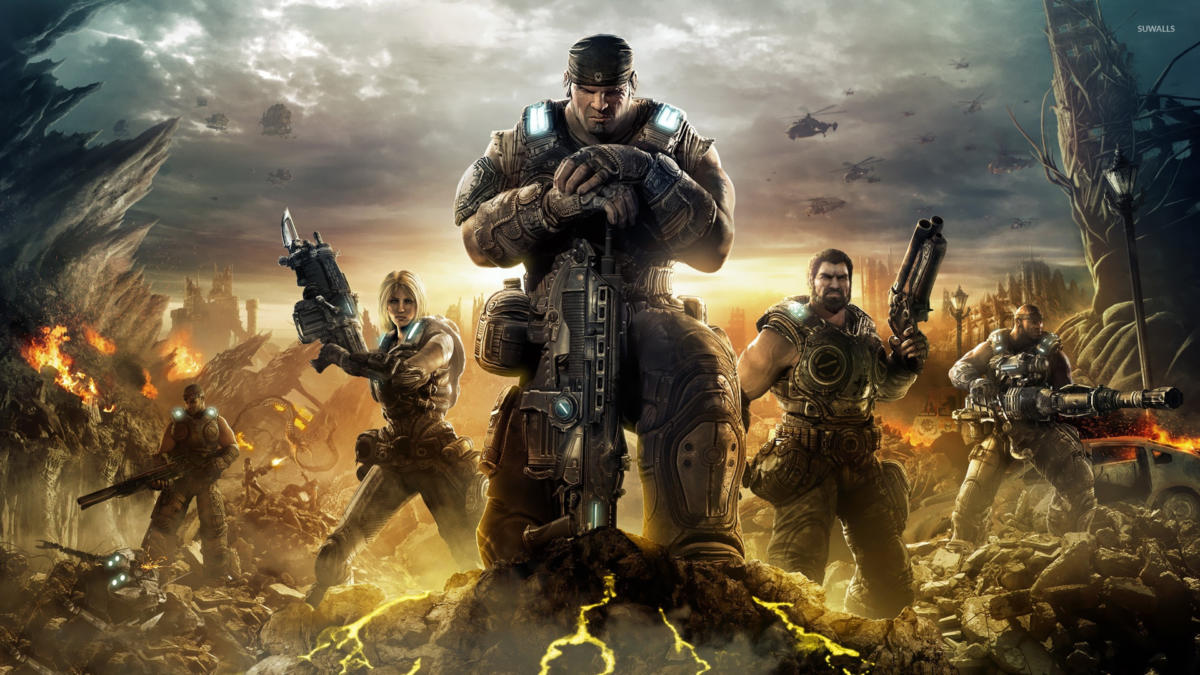 Developer: Epic Games
Publisher: Microsoft Studios
Platform(s): Xbox 360 (Xbox One, Xbox Series X | S via backwards compatibility)
For some, you could argue that Gears of War 3 is the pinnacle of the series just because it managed to introduce a new colour to the series other than grey, brown and red. Sure, that colour happened to be yellow, thanks to the glowing Lambent enemies that the game throws at you, but at least it's something a bit different. Seriously though, Gears of War 3 is the best game in the entire series and would have been an excellent conclusion to the trilogy. That Dom moment is still one of the saddest moments in all of gaming, you can't change our mind.
Gears of War 3 was perhaps the biggest game in the series at the time, introducing four player co-op to the campaign, which only made the campaign more fun once you found a full squad to kick ass with. With an improved horde mode, along with the "Beast Mode" which reversed the Horde concept and let players control the Locust against some defending humans, Gears of War 3 felt like the total package.
It might be here partly on nostalgia, but Gears of War 3 is the undisputed highlight of the entire franchise.
READ MORE: 15 Best Co-Op Games On Xbox Game Pass
Some of the coverage you find on Cultured Vultures contains affiliate links, which provide us with small commissions based on purchases made from visiting our site. We cover gaming news, movie reviews, wrestling and much more.