It's no secret that Xbox Game Pass is one of the more valuable deals in gaming, offering hundreds of games for one affordable subscription price, but perhaps the most noteworthy aspect of Xbox Game Pass is how easily it offers access to plenty of excellent co-op games for you and your friends. With so many games to choose from though, it can be hard to know what the best co-op games on Xbox Game Pass actually are.
We've compiled a list of the best co-op games you can play on Xbox Game Pass, and we've ranked them just because we felt like being spicy today. However, we're sticking to just the base Xbox Game Pass library, which means no PC Game Pass and no Game Pass Ultimate. That means that It Takes Two, despite being excellent, is disqualified as it's only available via EA Play. With that out of the way, here are the best co-op games on Xbox Game Pass.
15. ARK: Survival Evolved
Developer: Studio Wildcard
Publisher: Studio Wildcard
Who hasn't dreamed of taming dinosaurs with their friends before? ARK: Survival Evolved might start out as a hardcore survival game, with dozens of players stranded on a deserted tropical island trying to forage resources in order to survive a hostile environment, but the end goal is always the same: tame as many animals as possible and breed them in every colour imaginable.
ARK's co-op structure is a bit less rigid than other games, as you could work together with other players as part of a tribe to either survive the island's various hazards, or to defeat other players on PvP servers.
Whatever your objectives are, they'll be better accomplished by working together, and with the Ultimate Survivor Edition and all the DLC content available as part of Game Pass, there's plenty of content for you and your friends to sink your teeth into.
14. The Ascent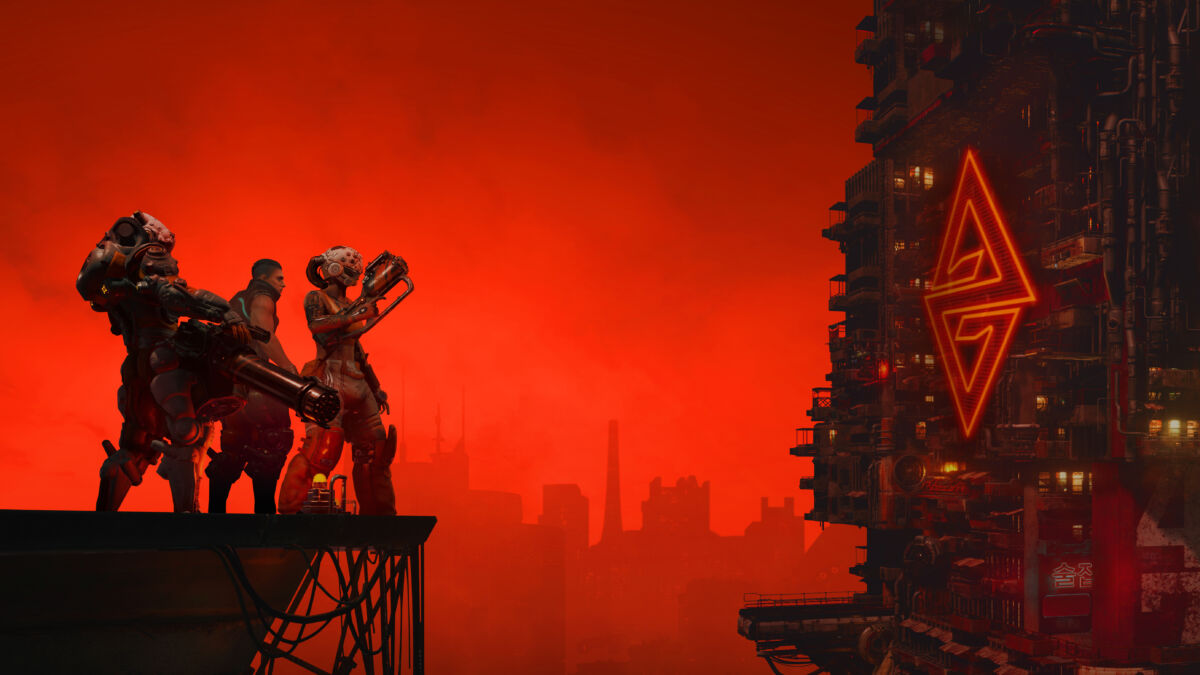 Developer: Neon Giant
Publisher: Curve Digital
Attempting to survive a cyberpunk arcology that's descended into violence and madness is something that's better attempted with friends. Sure, you can navigate the brutal world of The Ascent's Veles on your own, but you'll have much better success if you work together. Just because you're marked for death doesn't mean it's all bad though, as you'll have plenty of opportunities to kill your enemies and take their stuff.
The Ascent is a twin-stick shooter with RPG elements, with players navigating their way through a series of quests in order to determine why the arcology of Veles has fallen into chaos. As you progress, you'll earn better and better loot, teaming up with up to three friends to lay waste to everything that stands in your way.
For a debut game from a development studio of 12 people, The Ascent is worth checking out.
13. Back 4 Blood
Developer: Turtle Rock Studios
Publisher: Warner Bros. Interactive Entertainment
If decades of zombie media have taught us anything, it's that working together with other people can either lead to salvation or ruin. Depending on the people you team up with, Back 4 Blood can often go a similar way, with victory and crushing defeat being determined by the quality of your comrades. Thanks to Game Pass, you'll have no shortage of team mates to help you out, but there's no guarantee that any of them will be good.
Back 4 Blood is the spiritual successor to Turtle Rock's infamous co-op game Left 4 Dead, and while the Xbox 360 classic is also backwards compatible for modern Xbox consoles, there's plenty of reasons why you should adopt the new iteration.
With sharper aiming, customisable card decks that change your abilities throughout the campaign and plenty of levels to play through, Back 4 Blood is one of the most thrilling and best co-op games on Xbox Game Pass.
12. Deep Rock Galactic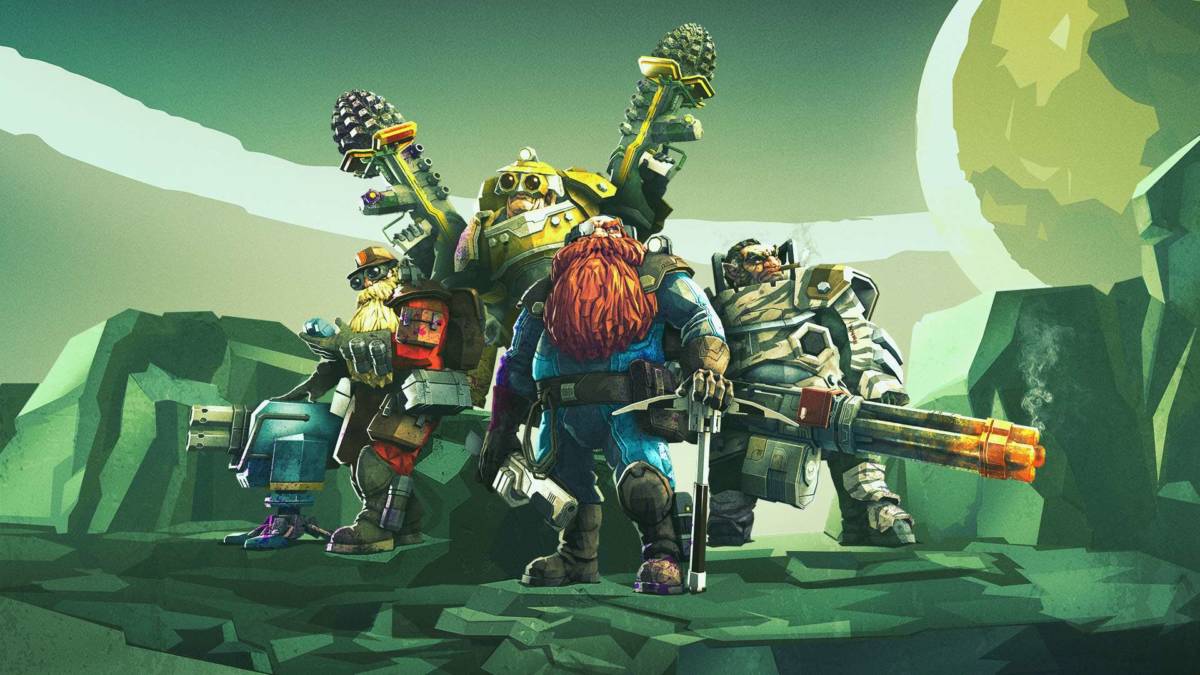 Developer: Ghost Ship Games
Publisher: Coffee Stain Publishing
Personal gain isn't the most original character motivation in the world, but when you're playing as a motley crew of space dwarves strip mining a planet for its precious resources, the premise becomes a little bit more interesting. Deep Rock Galactic might seem like your standard horde shooter, but with the inclusion of some interesting systems and mechanics, it's actually one of the more unique and enjoyable co-op Game Pass games out there.
As a team of up to four players, you're dropping into a randomly generated cave system with the task of completing one of several objectives. Maybe you're trying to steal an alien egg, or perhaps you're looking to mine certain materials, but you'll have to dig your way through the level and deal with the overwhelming hordes of insect aliens looking to turn you into lunch meat.
No pressure or anything.
11. Grounded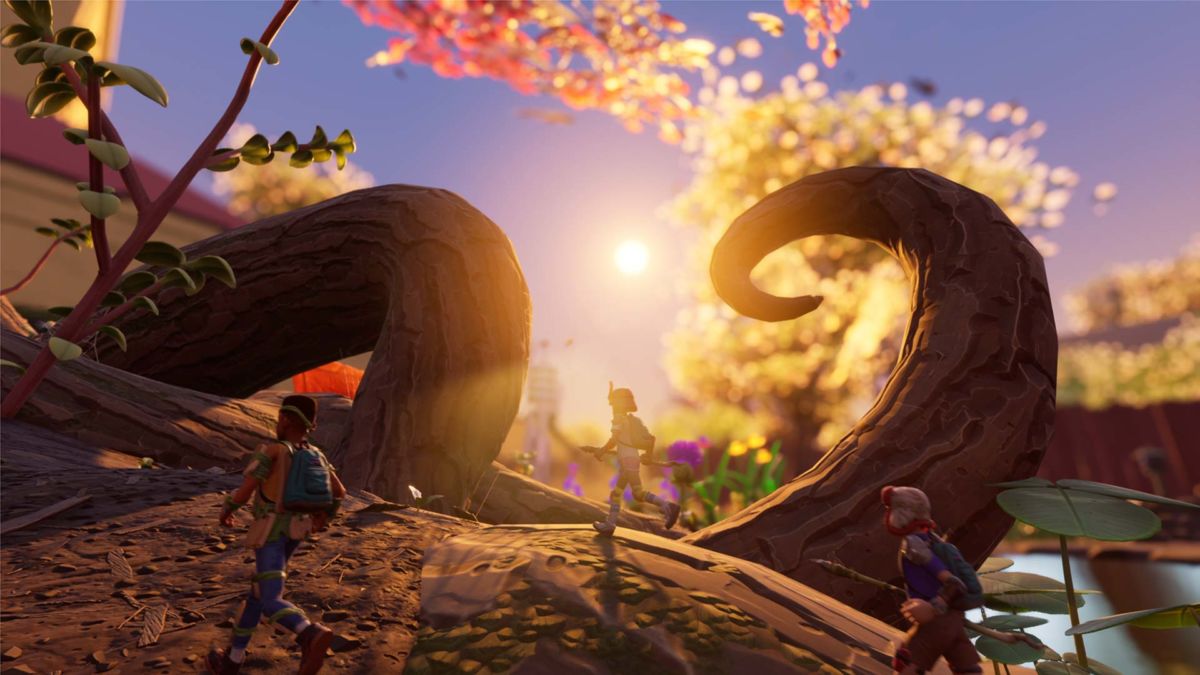 Developer: Obsidian Entertainment
Publisher: Xbox Game Studios
If you ever wanted a survival game version of "Honey, I Shrunk The Kids", Grounded is the game for you.
Instead of throwing you into exotic and unrecognisable locations, Grounded showcases the dangers that are present outside your own home. Granted, they're only dangers because you've been shrunken down to a shorter stature, but that's besides the point. Those spiders are no joke.
Players must work together to build shelters, craft tools and do whatever it takes to survive in a world that's suddenly become a bit too big. As an Xbox Game Preview title, Grounded is still in a state of early access, but the game has been bolstered with regular content updates that have added new wrinkles to the established formula, and with more content on the way, Grounded is certainly shaping up to be one of the best co-op games on Xbox Game Pass.
10. No Man's Sky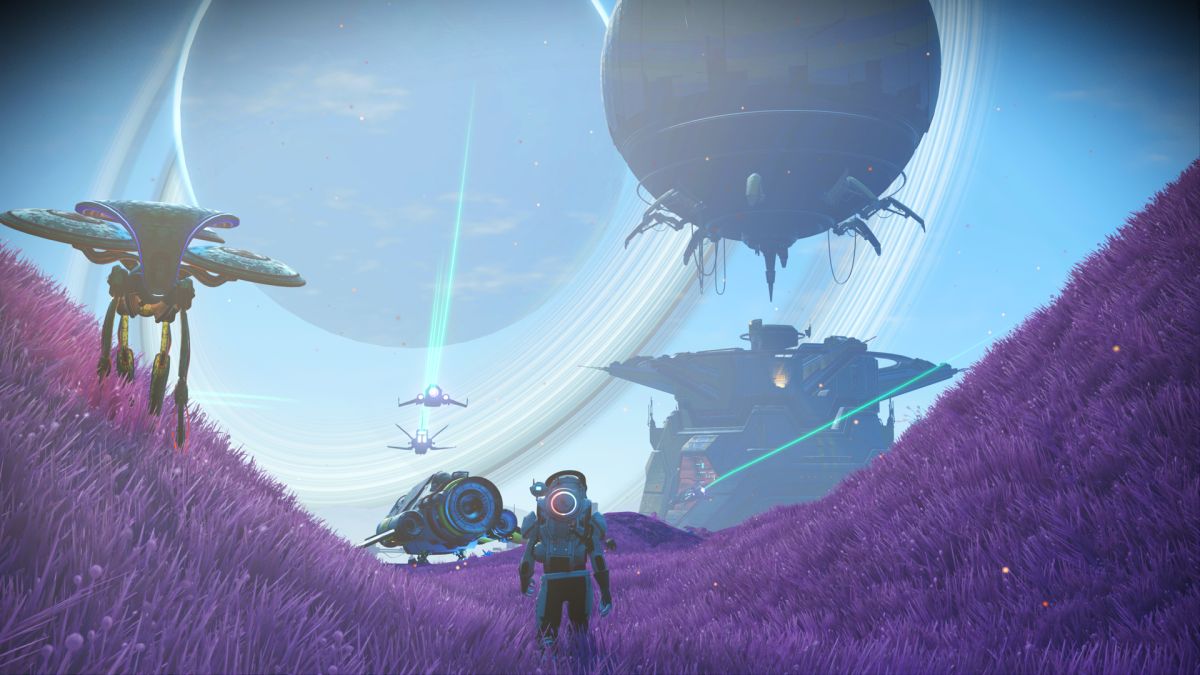 Developer: Hello Games
Publisher: Hello Games
Exploring the universe by yourself sounds like a bit of a lonely experience, so why not add some new players to your No Man's Sky crew? Originally, the game didn't support co-op multiplayer of any kind, making the universe feel isolated as a result, but with the cavalcade of post-launch updates, No Man's Sky players can now work together with their friends in a variety of ways beyond looking at weird alien life together.
Co-op play allows No Man's Sky players to directly join each other's game worlds, meaning you can explore planets and build bases on them as much as you like, but the social hub The Nexus is where the more structured co-op experiences take place. From here, you can engage in plenty of randomly generated co-op missions, from investigating mysterious signals to dealing with alien infestations on derelict ships.
With the sheer scope of No Man's Sky, it's hard to not consider it one of the best co-op games on Xbox Game Pass.
9. Second Extinction
Developer: Systemic Reaction
Publisher: Systemic Reaction
It's fair to say that most co-op games are horde shooters of some kind, but at least Second Extinction has the good decency to not just feature squishy zombies and bucketloads of gore. Instead, Second Extinction's core conflict sees dinosaurs once again claiming the planet, and it's up to us as the last bastion of humanity to make this second coming of dinosaurs into fossils once more.
Second Extinction is a 3-player co-op shooter that pits unique soldiers against mutated dinosaurs with strange abilities. Taking on a pack of vicious raptors sounds like a nightmare in its own right but what if the raptors had the ability to inflict shock damage too?
As players complete levels in a certain area, their successes and failures in the war effort determine the threat level for that area, forcing the dinosaurs to move elsewhere.
8. Streets Of Rage 4
Developer: DotEmu, Lizardcube, Guard Crush
Publisher: DotEmu
Co-op gaming could easily trace its roots back to the early days of coin-op beat 'em ups, so it makes sense that one of the most enjoyable co-op games on Game Pass is Streets of Rage 4. Without a doubt, the combination of DotEmu, Lizardcube and Guard Crush developing the game helped to create an all-time great beat 'em up experience. If you've never understood the beat 'em up genre in the past, Streets of Rage 4 is the game to play.
A fusion of old school and new school mentality, Streets of Rage 4 champions the same simplistic controls and values that the retro games offered, and even features old playable characters and sprites. It's a love letter to the games of old, but bolsters that with intricate and satisfying combo systems that make the game a joy to play.
If you're looking for something simple and fun, Streets of Rage 4 is one of the best co-op games on Xbox Game Pass.
7. State of Decay 2: Juggernaut Edition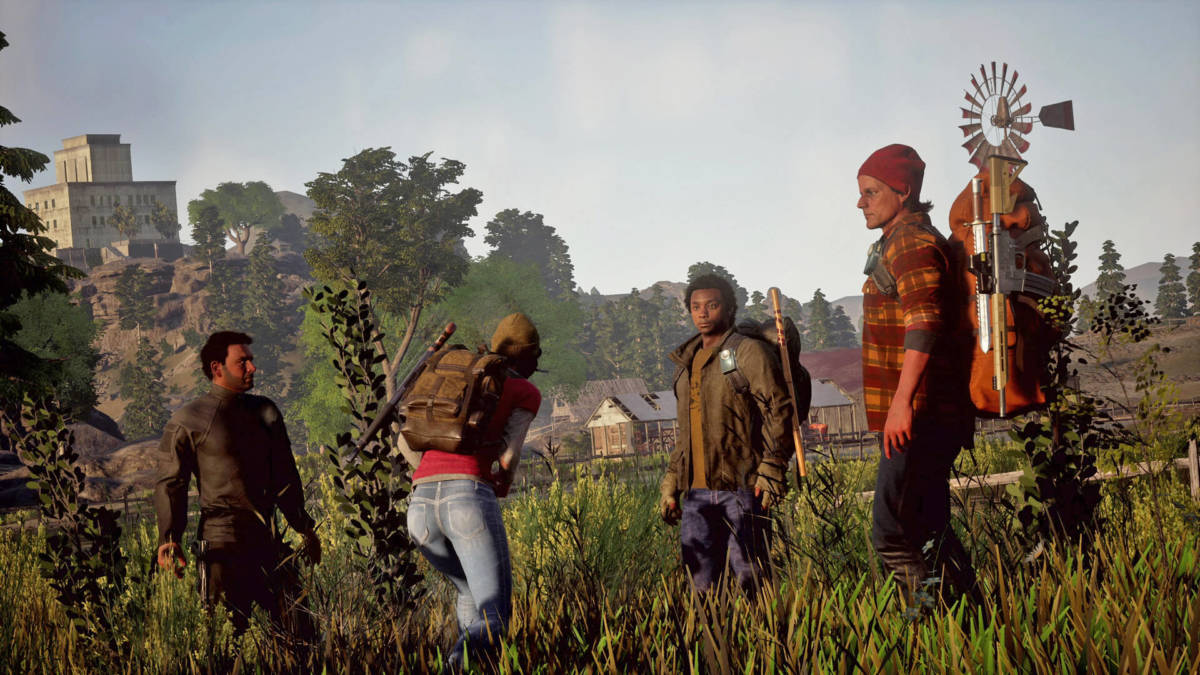 Developer: Undead Labs
Publisher: Xbox Game Studios
Xbox's own zombie survival simulator, State of Decay 2: Juggernaut Edition certainly isn't the most refined game on this list, but if you want to create your own last bastion of humanity in the apocalypse, there are few games with as much character and heart.
Granted, you might be forced to watch your character's heart get ripped out by the endless undead hordes, but that's just life in the post-apocalypse.
As the last survivors, you'll establish settlements and try to withstand the onslaught of zombies each and every day. State of Decay 2's gameplay allows players to control multiple characters within a settlement, but players can take one of these characters and visit another player's community, completing missions and delivering supplies. All players will then receive rewards for their chosen characters and settlements, so it actually pays to cooperate.
6. Stardew Valley
Developer: ConcernedApe
Publisher: ConcernedApe, Chucklefish
Running a farm on your own is hard going, so it only makes sense that you'd want to recruit some loyal farmhands to help you with the day-to-day operations. Fortunately, Stardew Valley allows you to do just that, as up to three players can join you on the farm in both local and online play to help ensure that the farm runs as smoothly as possible. The town isn't ready for the level of productivity that's about to occur.
Multiplayer in Stardew Valley works similarly to how the single-player portion of the game works, with one player designated as the host while everyone else is the hired help. All players can contribute to the success of the farm, and they can even form their own relationships with the townspeople.
You can even enter a relationship with a fellow co-op player, so if you and your real life partner are looking for a cosy co-op experience, look no further.
5. Overcooked 2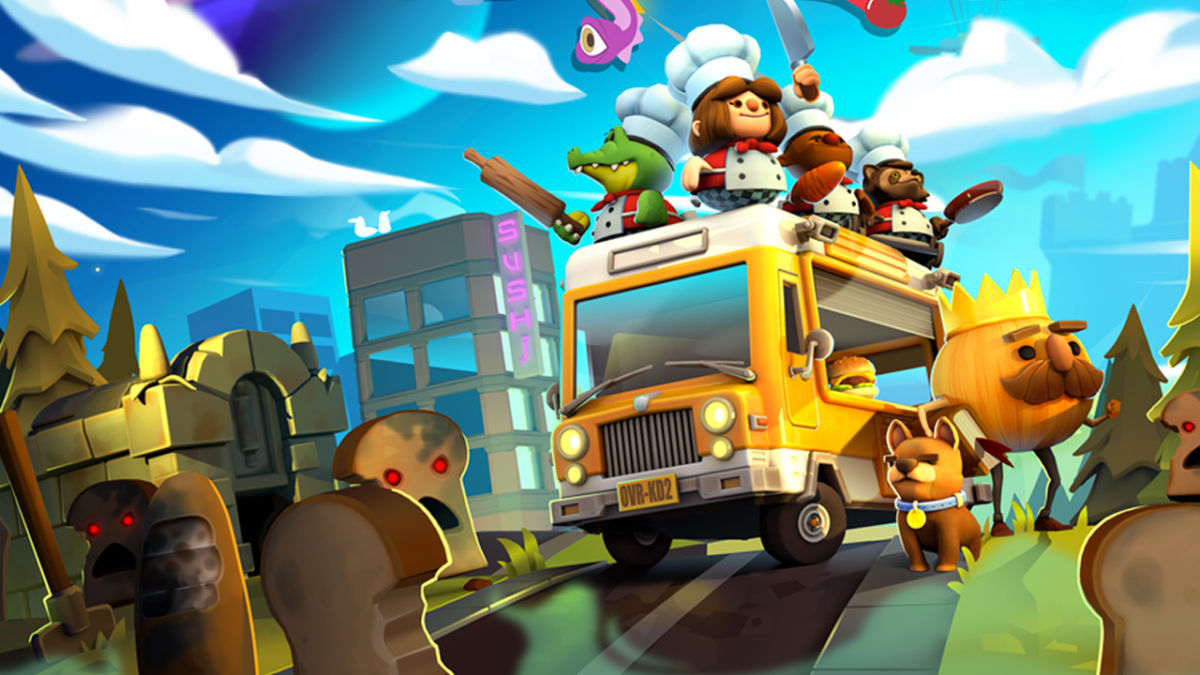 Developer: Ghost Town Games, Team17
Publisher: Team17
As far as co-op games go, they don't get much more intense than Overcooked 2. Most of the other games on this list take on some kind of lofty premise, but Overcooked's whole deal is that you're just playing as chefs trying to get food out the door as quickly as possible. Yeah, there's a whole thing about trying to save the kingdom from some horrible evil, but that falls into the background once you lose yourself in the chaos of Overcooked's kitchens.
The game's adventure mode sees up to four players working together in kitchens that really shouldn't pass any food standard regulations. Players will be throwing together meals in hot air balloons, on rafts sailing down the river and in the middle of busy thoroughfares.
Trying to communicate with your fellow players to ensure the food is ready in time is a stressful experience, but the satisfaction of success makes Overcooked 2 one of the most thrilling co-op games on Xbox Game Pass.
4. Minecraft
Developer: Mojang, Microsoft Studios
Publisher: Microsoft Studios
The poster child for collaborative video games, Minecraft encourages players to work together, whether that's in the pursuit of surviving against hordes of monsters, creating a fully functioning village or just sculpting some kind of vulgar obelisk to giggle at whenever you walk past. Minecraft gives the power to the player to create their own objectives and fun, allowing players to complete their own projects in their own way.
With the console version of Minecraft supporting 8 players at one time on regular worlds, along with support for more in a Realm, Minecraft subscription service that offers additional benefits, Minecraft could be the perfect co-op game on Xbox Game Pass.
However, if you prefer something a bit more action RPG oriented, Minecraft Dungeons offers some co-op fun for those who'd rather not get distracted by building.
3. Halo: The Master Chief Collection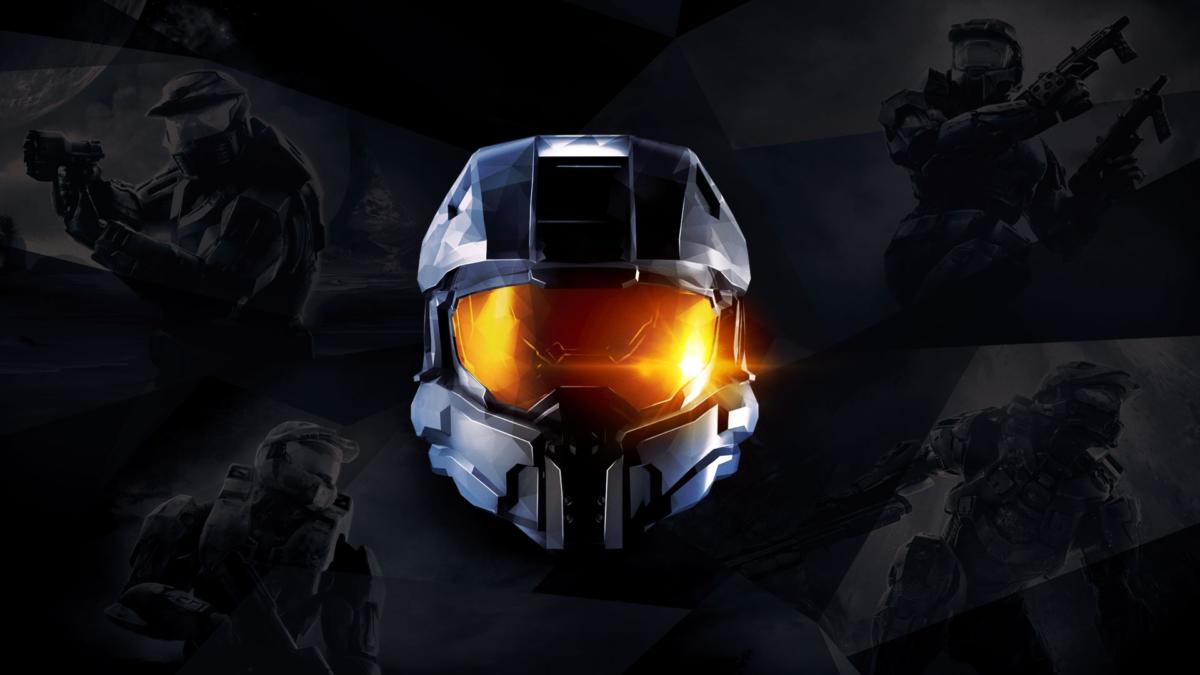 Developer: 343 Industries, Bungie
Publisher: Xbox Game Studios
Why have just one excellent co-op game when you can have six at once?
With Halo Infinite currently lacking any form of cooperative play, it falls to compilation title Halo: The Master Chief Collection to fly the flag for Xbox's big green space marine. Fortunately, the MCC offers more content than most, with six fully fledged campaigns that support co-op play both locally and online. If you want one of the best co-op games on Xbox Game Pass, this is it.
Truthfully, some games in this collection might be showing their age compared to others, Halo: Combat Evolved in particular, while Halo 4 didn't exactly set the world on fire, but the trilogy of Halo 3, Halo 3: ODST and Halo Reach is better than most games ever. The fact that you can experience them all with your friends, along with the other co-op modes like Firefight and Halo 4's Spartan Ops, is the icing on the cake.
2. Gears 5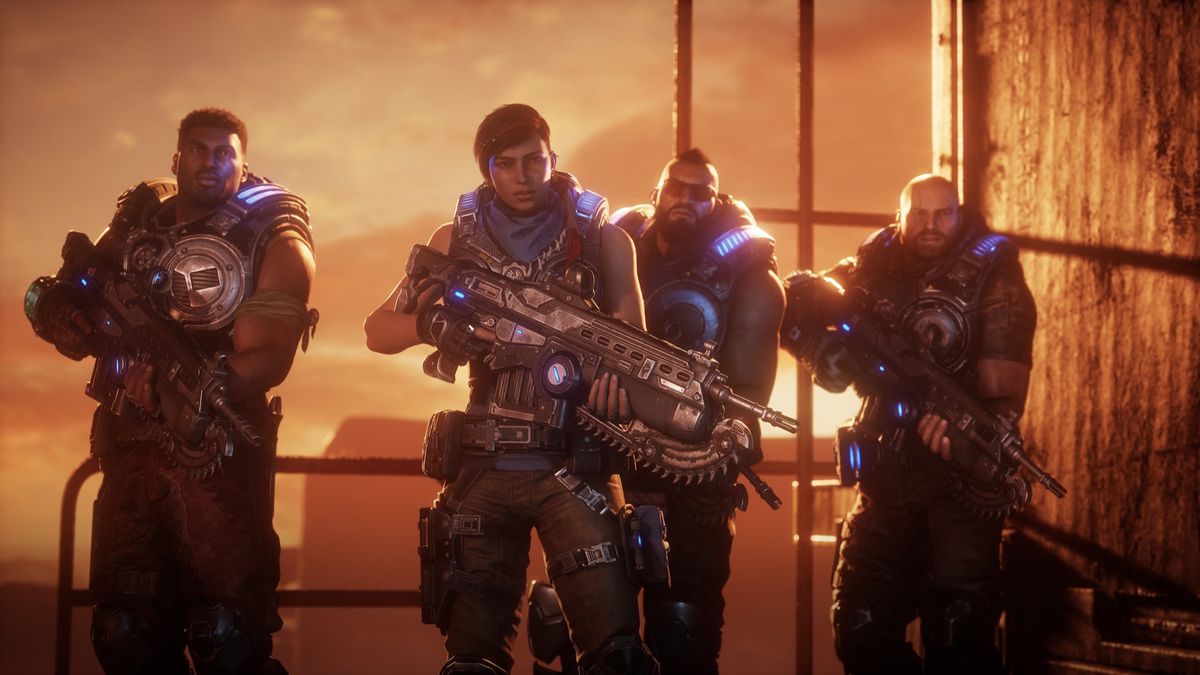 Developer: The Coalition
Publisher: Xbox Game Studios
If there's been any Xbox franchise that has catered itself to co-op, it's been Gears of War.
From the first game, players could experience full campaign co-op across both local and online play, and support for that hasn't diminished since. While the four player co-op of Gears of War 3 is no more, Gears 5 still offers plenty of options for players looking to take on the Swarm hordes with their friends.
As usual, the campaign mode features full co-op, with yourself and two friends working together in perhaps the best Gears campaign yet. One of you might have to play a robot instead of a human, but that's besides the point. On top of that, Horde mode pits you and four friends against 50 waves of the Swarm, while the Escape mode sees you entering a Swarm hive with the hopes of blowing it to hell and leaving as quickly as possible.
1. Sea Of Thieves
Developer: Rare
Publisher: Xbox Game Studios
Pun absolutely intended here, but Sea of Thieves is Xbox's flagship co-op game.
There's no finer example of co-op on Xbox Game Pass than Sea of Thieves, though you do need to be careful of rival pirate crews sailing the seven seas, looking to steal your plunder. While there's no way to avoid the more competitive aspects of Sea of Thieves' gameplay, there's still an amazing co-op game here to enjoy.
Players work together as part of a four person pirate crew, travelling around the world looking for treasure, dealing with a host of supernatural threats along the way, or even completing longer form story content in the form of Tall Tales. Those skeletons guarding the treasure chests aren't going to be happy about your looting ways, but with three friends watching out for you, you'll be well on your way to becoming a real pirate legend.
READ NEXT: The Best Xbox Series X & S Open World Games
Some of the coverage you find on Cultured Vultures contains affiliate links, which provide us with small commissions based on purchases made from visiting our site. We cover gaming news, movie reviews, wrestling and much more.