Having only lasted one season, Daybreak was unfortunately cancelled by Netflix in December 2019, not long after its October premiere. Aron Eli Coleite, one of the creators of the show, tweeted out thanking fans for their support, saying "no one else is as heartbroken as we are that we can't share more of this ride with you". With sites like Variety picking up on the cancellation, Daybreak became another show to end before it really got going.
For those wondering what the show Daybreak is about, let me summarise it for you. 17-year-old Josh is your average teen – a C student, nothing too special about him. But in the apocalypse, it's the best thing that's ever happened to him. With angry jocks, a 10-year-old pyromaniac, a high-school bully turned samurai and a mysterious, motorcycle-riding monster roaming, finding Josh's girlfriend Sam isn't going to be easy. Mad Max meets Ferris Bueller's Day Off, with some light-hearted goofiness thrown in.
The story primarily focuses on Josh's attempts at finding his girlfriend Sam in post-apocalyptic Glendale, California, having spent 6 months trying to track her down. He's kept himself to himself, which in turn sets up Josh to find out who's still alive in all manners of ways – the golf team thinking he's multiple other Josh's, the aforementioned pyromaniac being Angelica, someone who Josh babysat a few times, and Wesley, the samurai and ex-bully of Josh's.
With Josh being so isolated and living in his own bubble, he doesn't really know the full extent of how people survived. It's what makes his character so endearing, he pulls you in, makes the apocalypse seem like a fun night at the fairground until over time, with his continuing exposure to the harsh truths of the apocalypse, you realise the true struggles he and other characters face.
The run-ins with the wild jocks and their leader, Turbo, the mystery of who's behind Baron Triumph, the annoying but loveable Eli who owns the mall Josh eventually ends up taking over, the other tribes in the area – the list goes on. His eyes are slowly — and forcefully — opened up to the idea that things aren't as simple anymore. With the light-hearted approach the show takes, it moves the story along at a fast pace, keeping you on your toes, questioning whether a character is expressing something honestly, or whether there's more to be said.
It's a fun show that's not afraid to poke fun at the typical high-school conventions of the world it's set in. But that doesn't mean nothing serious of note happens. During the first season, we saw characters delve deep into their own psyche, focusing on issues such as identity, how teens negotiate friendships in modern life, trying to fit in and how difficult that really is, how much people rely on one another and the concept of coming together. Also, we saw two gay leads settle their differences and highlighted the issue of how trustworthy people can be. There was also a large-scale, well shot climactic battle between Josh's new tribe, the Daybreakers, and the jocks, as well as an inventive twist on the 'will the guy get the girl?' trope.
The character of Sam was presented as being a romantic interest that only needed saving from being under the jocks – and subsequently Triumph's – control. Through Josh's rose-tinted eyes, Sam was nothing more than his girlfriend who he'd lost. A genre stereotype at most. But with said twist at the end, it flips convention on its head, showcasing to Josh that he didn't really know Sam – a theme continuing from episode 8's 'Post Mates' – and that Sam can cope by herself, that she has the desire to lead and no longer needs to be seen as Josh's love interest.
Not your average moody, gritty dystopian show, right?
It's what sets the show apart from every other on Netflix – something that broke typical boundaries, that was fun but conveyed serious messages about how teens grow up as well as being a damn good, entertaining watch.
But alas, in the world of Netflix, it apparently just wasn't enough.
And it's a shame because it left an unfinished story with an ending that packed a subversive punch to the 'happily ever after' concept and highlighted many issues that teens face. There's just so much more to be explored within the world that it's hard to let the show wither into the background and be unable to tie things up with a second (and perhaps a third) season.
I've even had ideas myself about how a potential second season could work, toying with some pretty interesting plans for characters and the overall narrative. Perhaps Principal Burr isn't dead. The jock, #54, the one who sets off the missile so Burr can get Angelica? He's alive. Perhaps the two make an unwitting alliance, one hosting the other, intent on seeking revenge against Josh, Sam and the Daybreakers. What happens on people's 18th birthdays post-explosion? How did Turbo lose his voice? What really made Sam the way she's presented at the end of season 1, could it be down to how she survived early on? Is she being honest about certain things? How did Ms. Crumble survive the rocket explosion? Is there a new Ghoulie on the block – a romantic interest, perhaps? A new character that joins the Daybreakers?
With multiple narrative possibilities to explore, there's more to why Daybreak should be renewed. The exceptional cinematography and lighting being just two of them: when Josh cradles the dead Eli, the far-away framing and the almost religious lighting make the scene really emotional, bringing home how dangerous the apocalypse is.
The quality of the production. The incredible set design, with the Hoylesome factory and the mall being two seriously good looking sets. The hair, make-up, effects, SFX and costuming – some of the designs they came up with for the kids look so damn good, with Wesley and Angelica being ones to keep an eye on.
There's so much more for this show to give in terms of the cinematic approach to the episodes, the drama and action of the teens' lives, what the future holds, that a second season is needed.
But this creates a dilemma.
If the show were to come back, there'd have to be some changes with regards to its promotion because, unfortunately, it's one of the main issues that killed Daybreak's potential reach.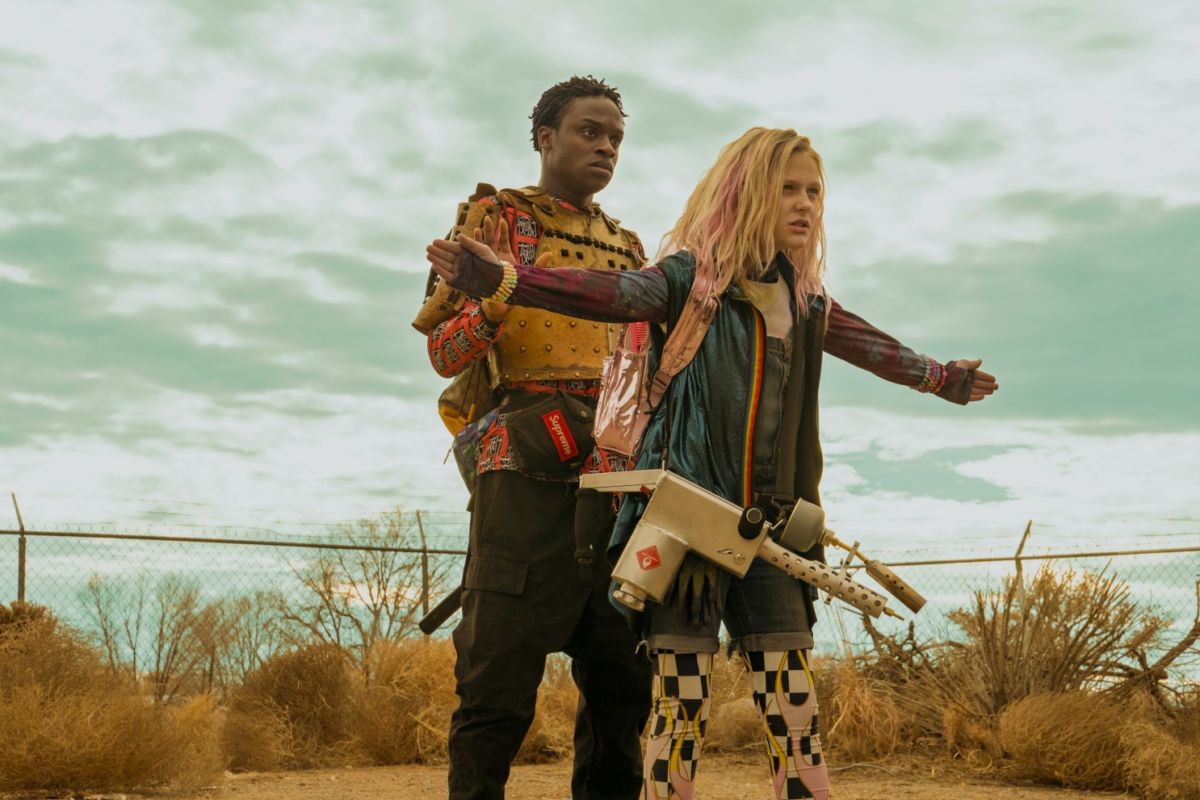 It's an issue with how Netflix operates. It's hard to promote every single show or film to the level of, say, Stranger Things. It'd be impossible, both financially and practically. But every show deserves a similar level of promotion, something I feel Daybreak didn't really get. I remember near the time of release that I saw it on Netflix's list of upcoming releases but I feel like that was it. I didn't see many articles written, not much on Twitter – it's almost like the show was released and left to its own devices.
I know it's a meme on their tie-in podcast, The Only Podcast Left for hating Jimmy Fallon, but why weren't they on Jimmy Fallon? Or any other talk shows? I know there's some panel videos and appearances on a few YouTube channels, but with the cast attached, it needed more mainstream attention on it. If the public doesn't know, who's going to watch?
The show even received some decent reviews, with Rotten Tomatoes scoring it at 70% on the Tomatometer with a 66% audience score, and on IMDB, with most episodes scoring over 7/10, the show was overall rated as a 6.7/10. For a show that perhaps wasn't widely known, these are some seriously good scores.
https://www.youtube.com/watch?v=2P9U41e75tE
With other shows on Netflix featuring some of the wider themes, Daybreak's distinct in the fact that there isn't really a comparable show out there that does fun apocalyptic madness in the way that it masterfully succeeds at. If you want moody, grounded dystopian drama, watch The Society. But if you want a light-hearted, character-driven, dramatic, apocalyptic show, Daybreak is the one for you.
Daybreak was cancelled far too early for its own good, with a narrative and characters that could sustain another two series, alongside some amazing cinematography that I'll continue to applaud. It needs re-pitching in a way to Netflix, something edgier that maintains the comedic goofiness, with a little more action while continuing to develop how these teens adapt to this new world.
There's also a handy petition you can sign, which is currently at nearly 20k supporters (at the time of writing) and needing 25k for a chance at renewal, there's no better time for a fan to help bring the show back.
With discussions on Reddit and people tweeting #savedaybreak, dear Netflix: as a fan and a writer, Daybreak deserves to be back on our screens.
Some of the coverage you find on Cultured Vultures contains affiliate links, which provide us with small commissions based on purchases made from visiting our site. We cover gaming news, movie reviews, wrestling and much more.