Farming can be relaxing, almost zen-like as you tend to crops, till soil and watch it all grow. Monster Harvest, however, quite literally breathes life into the crops you plant as you transform your crops into various other life forms. It gets even more exciting when you train them for battle.
Monster Harvest is a simple single-player farming sim with a unique twist. By using various different colored slimes, you'll be able to augment the crops you plant. All of this is thanks to your inherited farmlands and the help you get from your uncle, an eccentric scientist from the nearby town. While tasks may seem mundane, the rewards and fruit they bear are full of surprises. There are a couple things that stand in your way from fully jumping in, however.
Before starting a proper farm, you'll need to use your tools to clear out your land of various stones, trees and logs. You'll then need to go into town to buy your seeds, which are only able to be grown throughout the same 21-day season you buy them in and meet the populace. It's important to take note of everyone, as you'll be able to befriend everyone there. After that, it's back to the farm to cultivate your land.
Once you've designed your farm, you'll need to plant and water your seeds. Each season has 4 different types of crops you can plant, with 3 being on a 6-day blooming schedule and the other on a 10-day one. These crops can be turned into Planimals, plant creatures that can either fight or be used as livestock. Crops affected by red slime will become combat Planimals while using blue slime will turn them into livestock creatures, which require a barn to house. Green slime will make crops grow instantly, giving you an edge in a pinch.
You'll need money to get the most out of your farm. Everything from your barn to your tools will require an investment to upgrade, which isn't much to ask when your crops start paying off. You'll even be able to forage around for items to sell, all of which adds to passive rewards you can check on a board in the middle of town. These small rewards feel good to acquire and stack with the ones you can buy, all adding up to a fun progression that you simply fall into, which makes it frustrating that you can't do everything in a day.
The beautiful pixel art world of Monster Harvest is fun and full of life. Everything from the people to your Planimals are colorful and animated, with fun portraits and menus to keep you in the game world. Fun details such as residents getting angry at you after speaking with them over and over help you get lost in the world you're in, which can be easy if you get busy. While it's easy to make a plan, you'll always need to watch your energy, since you'll need it for pretty much everything.
Whether it be swinging a tool or sliming a crop, about 90% of your actions will drain your energy meter. Once it's depleted, you'll be prompted to go to sleep to replenish your energy and unless you're saving often, you can't go back to days you've slept through. While your crops and other items can restore your energy, it makes the game feel a bit dated since running out of energy essentially means you can't use everything at your disposal.
Thankfully, dungeon crawling can be done with little energy in Monster Harvest, as your Planimals do the heavy lifting. They will fight against wild ones like Pokémon, but unfortunately cannot be caught. As this activity is only available at night, napping until then only replenishes about a third of your meter after a day of work. However, most of the early dungeon exploration is centered around combat using your Planimals and grabbing the items they drop after beating them. Enemy Planimals normally drop seeds for whatever species they are, along with other items that normally replenish energy. There is also rare ore and treasure chests you can find, making the danger you'll face feel worth it. Dungeon exploration stands out as one of the more engaging and rewarding aspects of gameplay.
This isn't to say gardening is something you can't easily get lost in, as Monster Harvest offers a surprisingly robust farming system, complete with options for irrigation and pests to deter using scarecrows. Add in livestock with the materials they can produce, along with crafting to create devices to refine those items and pickle your fruits, and you have a rather immersive and relaxing farming sim. This side of the game pays off big time when you are raking in tons of cash and making lovely jars of jam for everyone in town.
It isn't all rainbows and sunshine in the world of Monster Harvest, however, and the game suffers from quite a few technical difficulties. Smaller problems such as sword swings not registering and crops being too close together to water don't hinder gameplay too much compared to huge problems, such as not being able to load into games saved during the in-game wet season. While these may be able to be fixed with patches, the Planimal combat itself is also a bit lacking.
Combat makes a good first impression, but quickly becomes formulaic. Battles are turn-based and even though you're able to bring more than one Planimal, you're unable to switch them during a fight. You're also unable to use any sort of combat items, only helping your monsters by swinging your sword at the enemy in the overworld to guarantee a first strike. It's also easy to find one or two monsters who can dish out tons of damage or block enough to get the kill. It's fun to plant and pull out of them ground, but fighting with your Planimals leaves much to be desired.
Even the 'mega' versions of the Planimals end up being lackluster when compared to other rewards for Super Slimes, such as the mounts you get from the plants with blue Super Slime. Super Slime is built up as a game-changer for farming and while it certainly is for blue and green slime, the red slime that makes Planimals is deflating since they produce these underwhelming 'mega' forms of Planimals. Mega Planimals normally end up being simple recolors of the basic forms but with a bigger health pool, which is the case for each one you can obtain during the wet season.
There's a lot to love in Monster Harvest. It has tons of depth in the farming systems and design while offering fun dungeons for you and your Planimals to explore. It's very fun to get immersed in designing your farm and finding out which plants create your favorite Planimals.
Unfortunately, Monster Harvest suffers from more than a few technical problems and shallow, turn-based combat. The energy system also serves to cheapen the feel of the game, making it feel like a mobile release at times. These hold Monster Harvest back from being anything more than a slightly different spin on the Stardew Valley formula, with an ultimately unsatisfying gimmick. It's a shame, because it's easy to sink tons of hours into this game only to hit a wall that makes you not want to pick it up again.
A Steam key was provided by PR for the purposes of this review.
Some of the coverage you find on Cultured Vultures contains affiliate links, which provide us with small commissions based on purchases made from visiting our site. We cover gaming news, movie reviews, wrestling and much more.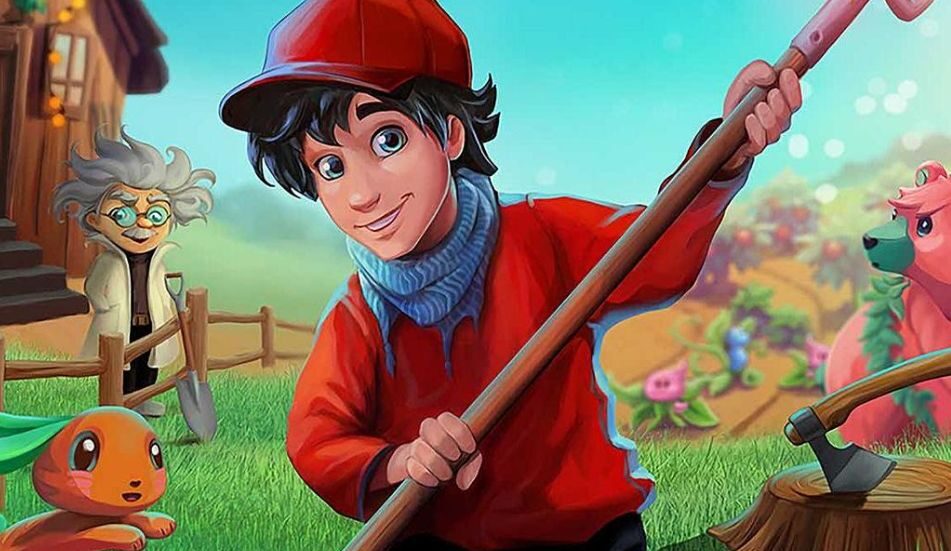 Verdict
Monster Harvest is a simple but engaging farming sim with an interesting twist that makes a good first impression, but ultimately suffers from bugs and the weight of its own ambition.