Mechajammer starts off like most typical CRPGs with a rundown of the world at large, and then you're greeted with a character creation screen. And that's where the typical experience ends. This is not the CRPG you grew up with. This is Mechajammer, and it's certainly something.
The story takes place in the far future after mankind has begun colonizing the stars. One planet in particular is the backwater world of Calitana, mostly forgotten and left to its own devices, overrun by mutants and rampant pollution from the Syndicate's unchecked industry.
You are a soldier in the spacefaring armies with your ragtag crew escaping after a failed raid on an enemy compound. After crash-landing in a swamp on Calitana, your memories are shaky at best and you seek refuge in a nearby building with your crew members, Medic, the disembodied head of a mechanically enhanced clone of a powerful psionic human, and Barry, the plucky crewmember whose hotheadedness gets him into more trouble than he's worth. While not told outright by anyone or anything, talking to Medic is also where you can learn the game's combat systems. The tutorial is an absolute must to really learn the ins and outs of the rather obtuse combat systems in this game, otherwise you're going to get lost pretty easily.
Creating your character seems like a typical RPG creator with allocating roles in your background that determine your specialities in and out of combat, such as healing ability, social checks, and ranged or melee combat weapons. These roles include your personal history before the events of the story, like being a nurse, a military scout or artillery soldier, or even a choice for being unemployed.
There's a catch to making these choices, however. Instead of simply adding special abilities and extra points to stats, each occupation chosen makes you choose a negative side-effect of these previous roles you held in life. If you were a soldier, you could have PTSD that gives you a random chance to be frightened by combat and retreat if you fail to check against your bravery during fights. If you were unemployed early on in life, you could be incredibly naive and pay higher prices at shops.
These negative traits make building your character a rather arduous experience, but builds for a dedicated role are doable. Want to do lots of combat and not die in a gunfight to two well-placed shots? Choose professions like military scout or Syndicate Security, which give you extra dice rolls in weapons or unarmed combat. Want to diplomacy your way through the story as much as possible? Try more socially adept jobs like nurse, or a data entry clerk. Jobs based on non-combat skills reward experimentation with how you do things in the wild between fights, like hacking computers, using the Charm roll on NPCs to recruit them or bribe them for rumors and special quests, or other useful actions.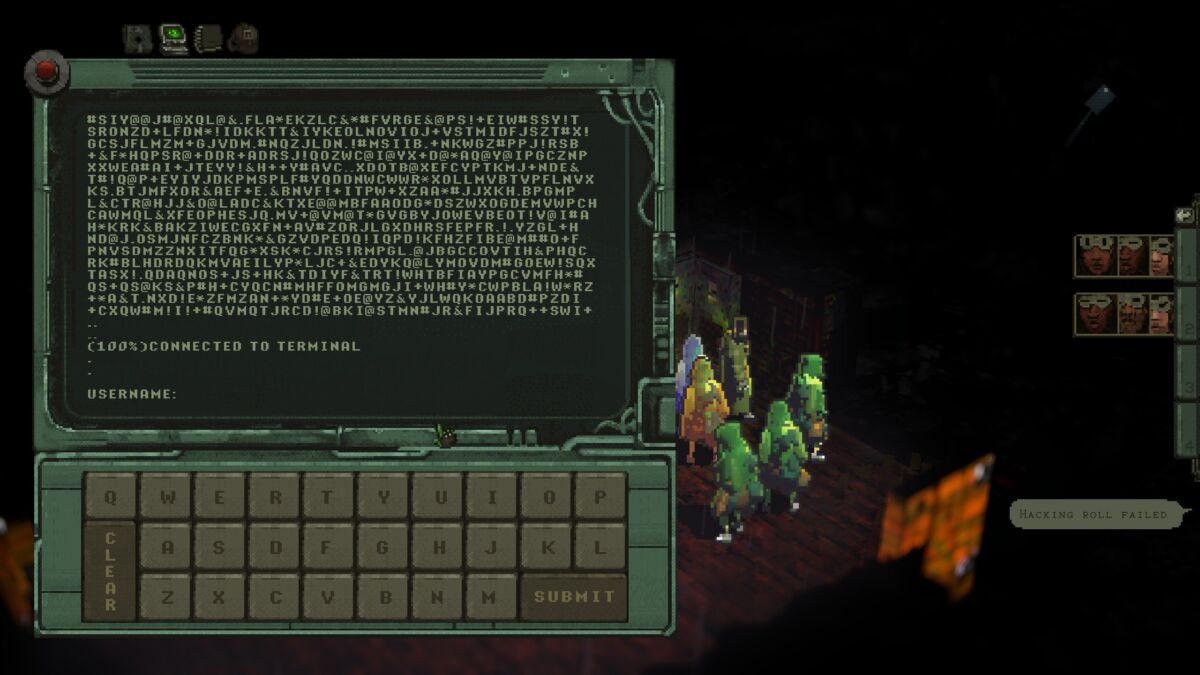 In a unique twist to RPGs, you aren't just going on quests to find party members. Instead, if any regular NPC on the street is able to be interacted with, players will see an option to Charm. Charming an NPC will roll your character's Social stat to recruit that NPC as a controlled member of a squad. Players can have up to 4 controlled squads of NPCs with several characters. In my case, I've had over 10 people per squad that can be individually commanded to move and attack per turn of combat. Functioning like a simplified RTS, squads can be controlled manually through simple commands like move and attack, but they can also be given tactical behaviors where their actions are automated upon entering combat, allowing you to concentrate on controlling the main character.
The controls and battle system is where Mechajammer starts getting weird. Rather than a traditional battle system where opponents and players share turns, Mechajammer employs a unique, simultaneous turn-based battle system. When combat is initiated, the game freezes time and the UI changes to show actions above the equipped weapon your character is using. Right-clicking on a target will execute the action selected on your weapon and any squads not commanded individually to do something to attack that target. Combat isn't contained within a vacuum, you can stand a chance to completely miss what you're aiming at from range and the stray shot can strike nearby targets, friend or foe. Every aspect of combat can be manipulated by your character's chosen pips or dice rolls on their character sheet that checks against a typical chance to hit, score a critical hit, or a successful roll to perform a non-combat action during combat. Leaving fate to the dice rolls can be very cumbersome and sometimes incredibly tedious, leading to you abusing quicksaves to prevent yourself from losing minutes or more of time between tricky fights.
While all of this sounds unique to the genre, an especially painful facet to Mechajammer is the double-edged sword of how obtuse it is. The tutorial level walks you through combat basics and then you're just dropped into the world with barely a hint of what to do next, you left to your own devices to explore the world however you see fit. You barely have a quest log in the form of the Terminal screen, which shows you only notes given to you from NPCs or terminals you interacted with in the world. There's a notebook you can manually type instructions and hints into, but juggling around to the notepad can be cumbersome (especially in conversation) and something important is said that a Terminal note may not fully tell you. Objectives given to you are incredibly non-specific and there isn't much instruction or indication of what's interactive or what's not, so you're stuck pointing at random bits of pixels on the screen that barely resemble a telephone or a device on the wall in the hopes that you can push it, punch it, or shoot it and something might happen.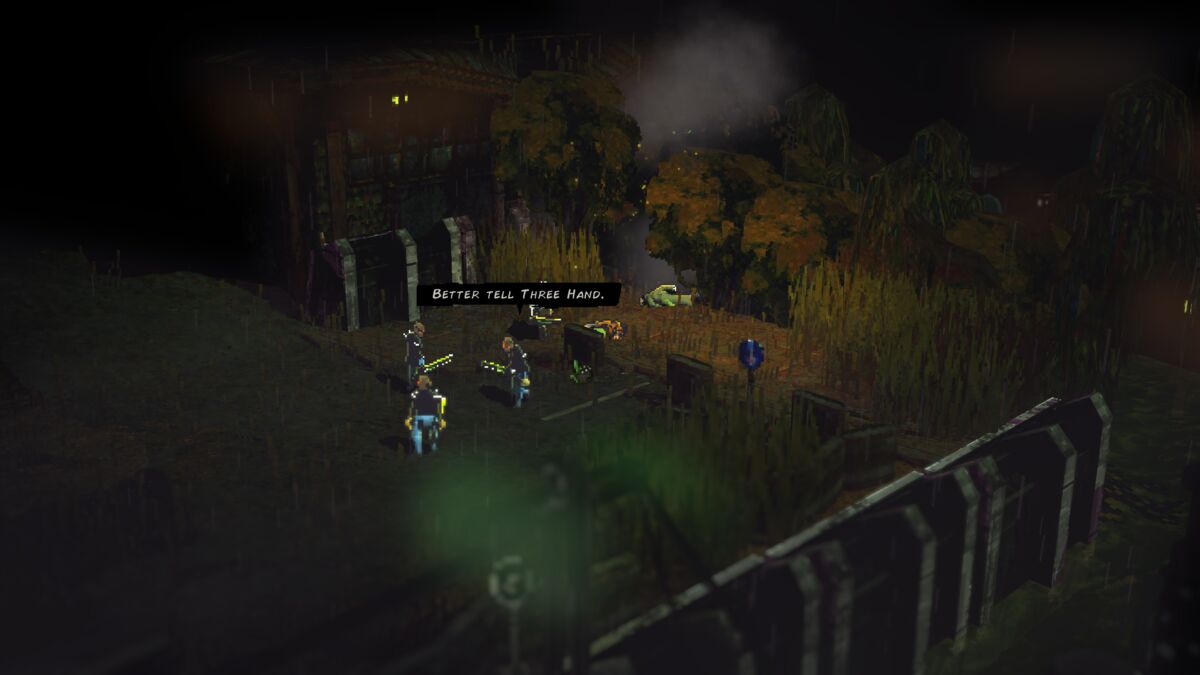 The ambiguous nature of this should be something by the developers to encourage experimentation, but more often than not I just found myself meandering around the city streets. If I wasn't getting randomly threatened by the mutants, I was being shot at if I stepped into the wrong neighborhood. I know I like getting lost in a video game's world, but this is downright painful to experience.
Getting lost and dying on a random street corner because I stepped into the wrong part of town was just the beginning of my headaches. Bugs galore plagued my hours with Mechajammer. From loading into games where I just finished combat to seeing NPCs mysteriously respawned for no reason, to objects and NPCs flat-out missing from entire sectors of the game, it just kept pouring on the frustration.
Combat also seemed to exhibit some strange behaviors, from damage seemingly coming from nowhere to my accuracy swinging wildly from barely being able to hit the broadside of a barn to being able to pop the head of a goon across a room threading a bullet past multiple NPCs while being simultaneously assaulted up close. Even if my character specialized in ranged combat, it was very sporadic in how good I was at it despite having proper skills. And this made intense fights a rather harrowing experience, with me abusing the quicksave button multiple times, losing over 30 minutes worth of progress. Only if I was in melee range was the combat actually reliable, if incredibly risky due to how fragile a character can be in a fistfight.
Even if Mechajammer presents an ambitious idea where you're left to your own devices with only an objective of surviving and making it to a certain place within so many days of the start of your adventure, very rarely is this ambition actually realized. I can't help but applaud the ideas Whalenought brought to the table with being able to recruit more than the typical RPG party of 4 or 5 people and control the fight like the child of XCOM and Starcraft, but all the good is very quickly snuffed out by a refusal to just follow a few simple design choices with usability in mind that could easily put the game back on its feet.
This stubbornness weighs down Mechajammer too much to actually appreciate what it tries to do differently, and instead just makes it feel like something that was half-baked. Whalenought has been very responsive on forums, collecting feedback from similar frustrations to my own, but until a more complete version of Mechajammer exists, I think it's best to stay away from the mean streets of Calitana.
A code for Mechajammer was provided by PR for the purposes of this review.
Some of the coverage you find on Cultured Vultures contains affiliate links, which provide us with small commissions based on purchases made from visiting our site. We cover gaming news, movie reviews, wrestling and much more.

Verdict
Whalenought's retro-inspired RPG attempts to do a lot with very little, resulting in a frustrating experience that hopes to be in the same pantheon as Fallout, but instead falls flat.