It can be tough to establish an atmosphere in a video game. While certain games like Outlast rely on removing offensive prowess from your character to immerse you in its world, others such as Doom keep the tension with heart-pounding action at breakneck speed against horrific enemies. Kingdom of the Dead by Dirigo Games takes an old-school approach to conveying its action-horror atmosphere by pitting you in heavily-shadowed monochrome levels while you blast enemies away using a small repertoire of reliable weapons.
You are Agent Chamberlain of the secret government organization GATEKEEPER. Your assignment is to investigate the mysterious otherworldly happenings that are plaguing the world, which are said to be caused by demonic gateways to the Kingdom of the Dead. Using leads given from your organization, you'll embark on missions around the world to ward off the forces of death and close each portal by using your living sword. Even if your sentient blade is the main instrument of sealing portals, it's far from the most prominent weapon at your disposal.
You'll start each stage with your trusty pistol and talking sword while unlocking other FPS favorites, such as a shotgun, long rifle, gatling gun and even a bazooka. You'll also be able to collect health upgrades to add to your health total, making exploration feel rewarding. Enemies also wield weapons against you, including pistols and shotguns, who drop ammo for the gun type they use upon death. While these drops and others that come from destructible crates make ammo plentiful, there is a good degree of challenge present in Kingdom of the Dead too.
Enemies come at you in waves and never let up. They will chase you relentlessly, no matter how far you run, so it's always better to fight them off than run away. The humanoid enemies approach on all fours, only raising up to swing their weapon or take aim to shoot at you, giving them an undeniably macabre quality. Mixing them in with the other beasts and demons that you fight on your quest only adds to the uneasiness, which is supported wonderfully by the monochrome color palette.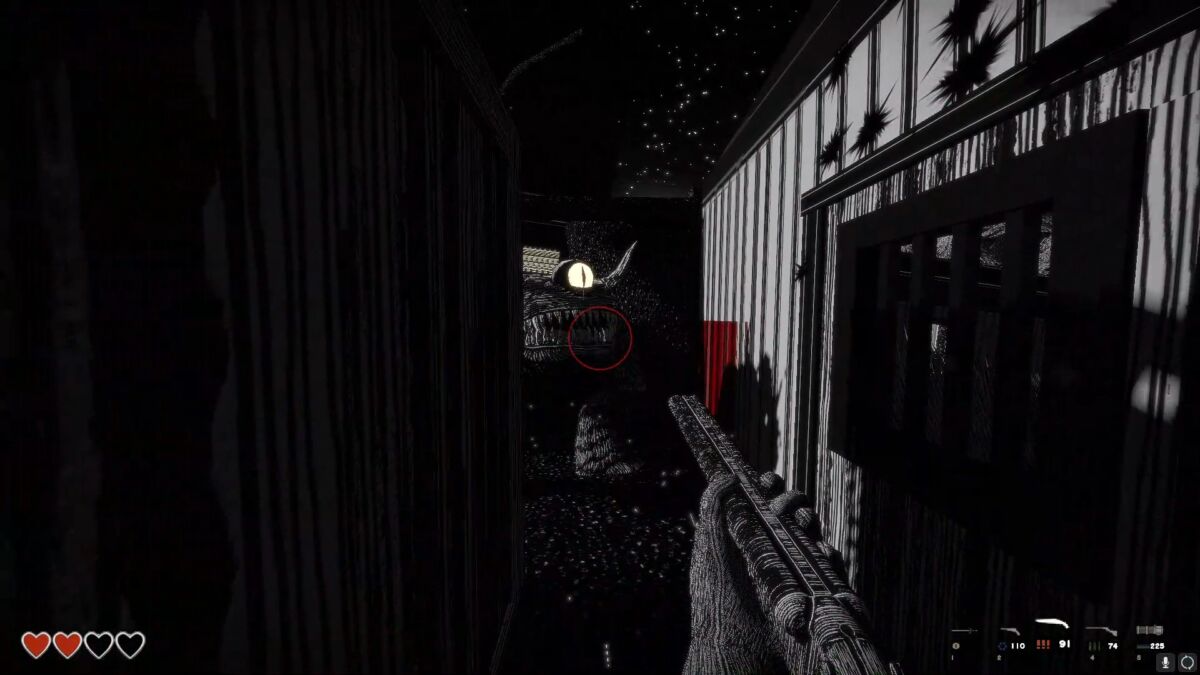 Gunfights are fast, furious and tension-filled in Kingdom of the Dead. Sprinting roughly doubles your run speed, which you'll need in order to not get surrounded by enemies. This leads to an old-school circle strafe run-and-gun gameplay style that makes the visuals pop as your muzzle flashes reveal the faces swaming you in the dark, solidifying the action-horror feel. This gameplay loop is compelling and it's a satisfying feeling to fight in a debris-filled battleground or survive tense battles in tight corridors, with tons of colorful ammo crates and red splatters of blood across the black-and-white backgrounds.
The soundtrack and sound effects also draw you into Kingdom of the Dead's dark world. The soundtrack has a delightfully old-school feel, with dark chiptune grooves to set the mood. Each gun sounds powerful, with the dynamite and explosive barrels stealing the show. Enemies are sent flying while bosses are heavily damaged by any sort of explosive, with some of them lighting on fire as a result. Combined with the flashes that grant momentary vision in the darkness, it creates a sense of dread as you fight against the shadow-drenched enemy hordes. The only drawback to the soundtrack is that many of the tracks are recycled from stage to stage, which can make a few of the tunes feel hollow.
While the gameplay is fun with visuals and a soundtrack that creates an excellent mood, Kingdom of the Dead isn't without its problems, the main one being the jarring sense of progression the game offers. Your health upgrades and guns you find don't translate from level to level, which means you start fresh every time. You also lose ammo upon death and while the checkpoints aren't poorly placed, they are rarely generous. This gives the whole game an archaic feeling as you grab the same suite of weapons from level to level, along with the same three hearts each time.
General gameplay also has its drawbacks. The super fast run speed is nice, but it can vault you off of inclines if you're not careful. Enemies are also able to get stuck in walls and shoot at you from within them, which can be annoying if it isn't obvious where they are. The difficulty settings for each level also feels a bit half-baked. Though higher difficulties add more zombies and objectives, they all boil down to giving each level two additional fetch quests. The first difficulty level up will always have you go out of your way for a collectible and the hardest level will always demand you find and secure all of the civilians in a level. While finding the secondary objectives is always fun, securing the civilian captives can be frustrating later on when they tend to get killed offscreen.
Boss fights also feel a bit lacking. While each boss has a great design and taunts you menacingly while you traverse their stages, they're all dispatched very easily by hitting their vulnerable points with explosives or the minigun. Most of these bosses can be beaten on the first try, making them feel like buff enemies rather than big, bad bosses. This is a shame since none of them ever feel like they deliver on their excellent designs.
Kingdom of the Dead is a game that knows exactly what it is, embracing its dark and violent world whole-heartedly with glee while putting you smack dab in the middle of it all. When it works, it's an action-packed thrill ride full of heart-stopping moments of being stopped dead in your tracks by a pair of menacing eyes in the dark as you attempt a retreat. At its worst, it's a confusing mess of dark corridors with a few glitched enemies that may or may not land that final killing blow in a moment of weakness. In spite of its slippery gameplay, short length and lack of polish, Kingdom of the Dead proves to be a fun and engaging experience that feels worth your time.
A PC key was provided by PR for the purpose of this review.
Some of the coverage you find on Cultured Vultures contains affiliate links, which provide us with small commissions based on purchases made from visiting our site. We cover gaming news, movie reviews, wrestling and much more.

Verdict
Kingdom of the Dead is a fast-paced horror FPS with a brilliant aesthetic and soundtrack. Though it lacks polish, this love letter to old school horror games proves to be a fun experience with some fun moments of hopeless terror.