DC fans looking to enjoy playing as their favourite comic book characters are going to be eating good over the year or so, with Gotham Knights and Suicide Squad: Kill The Justice League looking to highlight different aspects of DC's wide variety of characters. However, due to the fact they share source material, along with previous DC games that share a connection with Suicide Squad, some are assuming that Gotham Knights and Suicide Squad are set in the same universe. But are they?
So let's get the question out of the way first: is Gotham Knights connected to Arkham and Suicide Squad? According to Gotham Knights' developers WB Games Montreal, Gotham Knights isn't connected to Arkham and Kill the Justice League. Not long after the game's reveal in June 2020, the developers stated the following: "Gotham Knights is an original story set in DC's Batman Universe and not connected to the Arkham series." That should make it an open and shut case, right? Well, not exactly.
You see, the Arkham series, which Suicide Squad is connected to, has deceived the fans a couple of times in the past, most notably with the plot of Arkham Knight.
During the game's pre-release news cycle, Arkham Knight's developers Rocksteady hyped up one of the game's villains, the titular Arkham Knight, as "a completely new character," working with DC Comics to create them. Of course, once the game launched, fans would discover this new character was actually just Jason Todd, the former Batman sidekick who eventually becomes lethal vigilante Red Hood.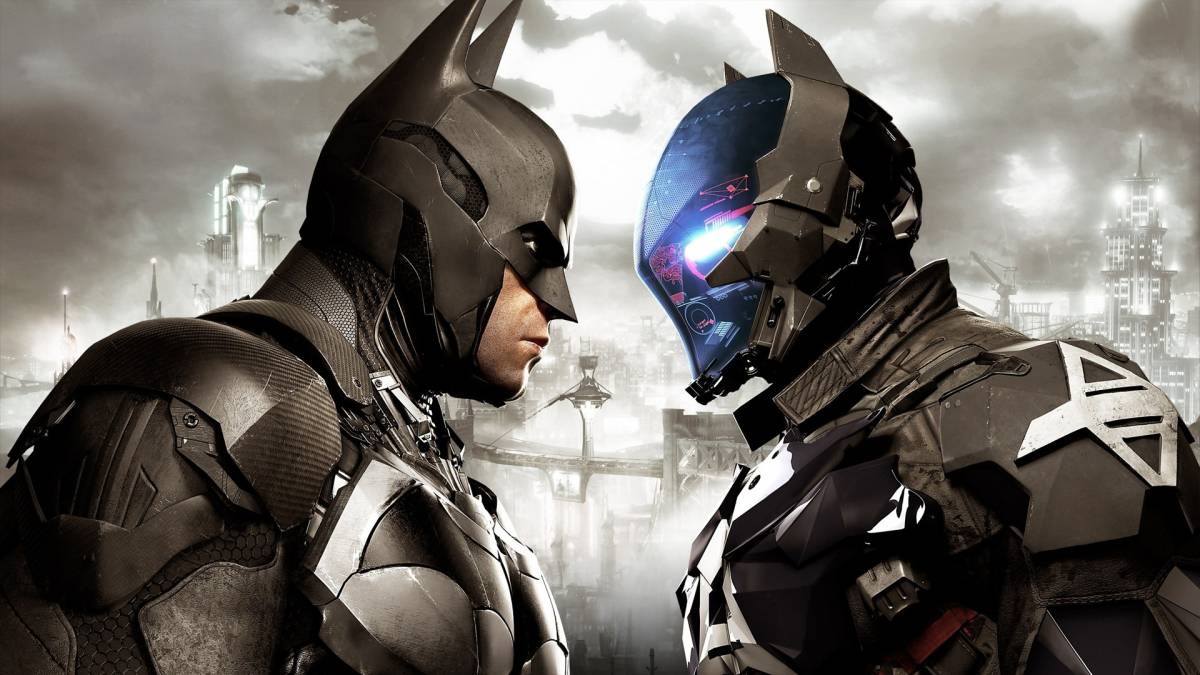 Arkham Knight (the game) and its relationship with The Joker was also misrepresented before launch, though understandably so. After dying in Arkham City, many didn't expect The Joker to return as a featured character in Arkham Knight, but he appeared as a constant hallucination for Batman from the game's second act onwards. Many expected the game to be focused on the battle between Batman and Arkham Knight/Scarecrow, but Batman's internal conflict with the Joker infection, threatening to overwrite his personality and turn him into Joker 2.0, drove the narrative forward.
Fast-forward 7 years and Suicide Squad: Kill The Justice League is being developed by Rocksteady once again, and it sees Harley Quinn, King Shark, Deadshot and Captain Boomerang dropped into Metropolis and forced to contend with a Justice League turned evil by Brainiac. Outmanned, outgunned and struggling to survive, the Suicide Squad will have to work together and use everything at their disposal in order to win the day.
Meanwhile, Gotham Knights is being developed by WB Games Montreal, who have previously worked on Arkham Origins, the prequel to the Arkham series, along with different DLC episodes of Arkham Knight. The game sees the Caped Crusader dead, and the Batman Family have to reckon with a chaotic Gotham looking to make the most of the hero's demise. With new crime families entering into the picture, it's up to Nightwing, Robin, Batgirl and a reformed Red Hood to work together and bring the criminal element back in order once again.
It's already been established that Suicide Squad: Kill The Justice League is a continuation of the Batman: Arkham games, and it'll be first game to not feature Batman as the lead protagonist and playable character. That established connection is fine, but it's Arkham Knight's conclusion and its overlap with the premise of Gotham Knights that has caused some to speculate that Gotham Knights and Suicide Squad are related after all.
With the past "deceptions" regarding Batman-related games, it's easy to see why some aren't quite ready to take WB Games Montreal at their word when they say that Gotham Knights has no relation to Arkham or Suicide Squad. This is especially true when you consider that there's a host of overlaps between Arkham, Suicide Squad and Gotham Knights regarding their storylines.
The ending to the Arkham series saw Batman's secret identity of Bruce Wayne being revealed to the world, only for Batman to seemingly die in an explosion at Wayne Manor. The after credits scene hints towards either Batman or a new version of him continuing the Dark Knight's work (albeit with a more fear toxin/demonic edge), though whether this is a plot thread to be resolved in future games is unclear right now. However, the fact remains that Bruce Wayne and Batman are seemingly thought to be dead at the end of Arkham Knight.
According to all the promotion for Suicide Squad so far, this is still true. While there have been glimpses of Arkham and Batman references within the trailers, along with Harley Quinn utilising some Bat-tech in order to traverse the world, the actual status of Batman, along with his relation to the rest of the Justice League in this world, is unclear. For all intents and purposes, it seems like he's dead.
The Arkham series featured various voice logs from Batman talking about how he would take out the different members of the Justice League, in reference to the Tower of Babel story arc. There's a possibility that is followed up with in Suicide Squad: Kill The Justice League, either with Batman coming back from a presumed death to neutralise the Justice League non-lethally (allowing for more franchise potential), or those plans being given to the Suicide Squad to help in their quest to save the world from Brainiac before Amanda Waller blows their brains to kingdom come.
This leads us to Gotham Knights, with Batman presumed to be dead and a vacuum to be filled. It's natural to assume that Gotham Knights simply picks up from where Arkham finishes, especially considering that all four characters are present within the Arkham series. Nightwing and Robin are there, while Jason Todd takes on the mantle of Red Hood after the events of Arkham Knight.
The one potential sticking point in the continuation theory is Batgirl. She was active as Batgirl before the events of Arkham Asylum, and you can play as her in an Arkham Knight DLC episode, but for the most part, she took on the role of Oracle after an incident with Joker left her in a wheelchair a la The Killing Joke. Gotham Knights' Batgirl sees her recovering from her wheelchair stint, but it's not clear from her official bio on the Gotham Knights' website whether or not she's returning to the Batgirl role or just returning to active duty as Batgirl. The distinction would help establish whether Gotham Knights ties into Arkham Knight's ending, and as such, if it has a connection to Suicide Squad: Kill The Justice League.
The developers of both games, Rocksteady and WB Games Montreal, have been linked in the past as they've both worked on the Arkham franchise, so it wouldn't be unreasonable to assume they're tackling the same universe once again, albeit from different angles. There's room for Gotham Knights' and Suicide Squad: Kill The Justice League's worlds to exist in the same universe, though it would raise the question of what the Bat Family is doing while Metropolis is getting bodied by Brainiac.
Until further details have been revealed regarding the plots of both games, we'll have to take WB Games Montreal at their word that these games aren't connected. Expecting otherwise has the potential to lead to disappointment. However, the narrative parallels and similarities would make for an interesting dual release if Warner Bros chooses to follow up on it. Hopefully, Gotham Knights and Suicide Squad: Kill The Justiec League do share some connections.
READ MORE: Ranking Batman's Movie Gothams Based on Liveability
Some of the coverage you find on Cultured Vultures contains affiliate links, which provide us with small commissions based on purchases made from visiting our site. We cover gaming news, movie reviews, wrestling and much more.