Since being teased at the start of the season, many Fortnite players have been eagerly awaiting the chance to get to grips with Wolverine in-game. As well as a skin that can be unlocked via Wolverine challenges, the man himself was added via the v14.20 patch as a new boss character.
Here's everything you need to know about Wolverine in Fortnite, including where he can be found and how you can eliminate him for his abilities.
Fortnite Wolverine Location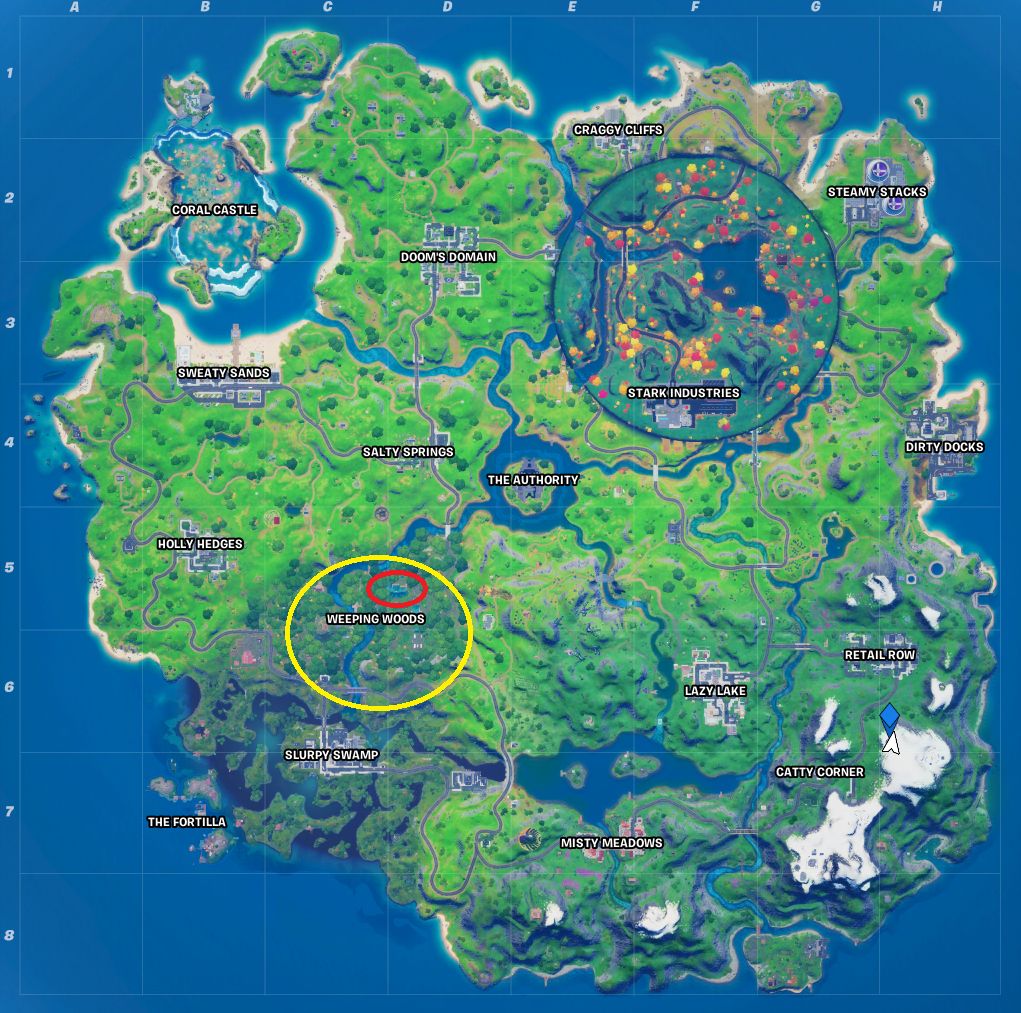 Wolverine can be found in Weeping Woods, the location he has been leaving his claw marks behind since the start of Season 4. It's circled in yellow in the map above.
He tends to roam around Weeping Woods, but he is regularly seen behind the largest house in the north of the POI, which we've circled in red.
Bear in mind that unlike other boss characters this season, Wolverine will follow you for a very long distance. This means that he may either have followed another player out of Weeping, or he could have been already eliminated by the time you land.
Fortnite Wolverine HP
Wolverine has 500 HP, similarly to the other bosses currently on the Fortnite map. He does not have a lot of distance, so you should be able to down him just by shooting him from afar with an AR.
However, Wolverine also has regenerative abilities, meaning that he will stand back up shortly after you knock him down with full HP.
This means that you must be very quick if you want to eliminate Wolverine in Fortnite, otherwise he will just keep coming back at you.
Fortnite Wolverine Abilities
Wolverine's abilities allow him to run faster and also heal HP. When you have Wolverine's Claws in your inventory and equipped, you will regenerate health (but not in the storm) as well as get a speed boost while running.
As well as that, you will be able to use Wolverine's Claws offensively to slash opponents, double jumping to slam down on opponents and attacking mid-air to do a spinning attack. You can also dodge while having Wolverine's Claws equipped.
Wolverine is certainly one of the strongest boss characters in the game and while his attacks aren't as broken as Iron Man's, he's going to be a tonne of fun to play as all the same.
MORE FORTNITE: Blade Is Coming To Fortnite
Some of the coverage you find on Cultured Vultures contains affiliate links, which provide us with small commissions based on purchases made from visiting our site. We cover gaming news, movie reviews, wrestling and much more.