Since his introduction in Chapter 1 — Season 8, Fortnite's humanoid banana has yet to catch a break. Peely is a powerful potassium fighter who will do anything for his friends, and for the Island he's spent so many years on.
Being on the receiving end of jokes has made the adorably unnerving fruit a bit of a running gag, with every newly released cinematic having a high chance of including him — mostly dying, of course.
Here are the most memorable ways Peely's insides became a milkshake in Fortnite.
The Bunker Blend (Chapter 1 – Season 9)
Peely's first cinematic appearance had him running from an erupting volcano alongside Jonesy, in the Chapter 1 — Season 9 opening trailer. Both found a doomsday bunker just about to close, and they set out to live the rest of their lives together.
However, with both of them hungry and an empty fridge, Peely sacrificed himself to become a banana smoothie for his friend. Even though this does not technically count as a death, as Peely is still sentient and happy, there are worse fates than death — becoming a smoothie being one of them.
The Carbonite Classic (Chapter 2 — Season 5)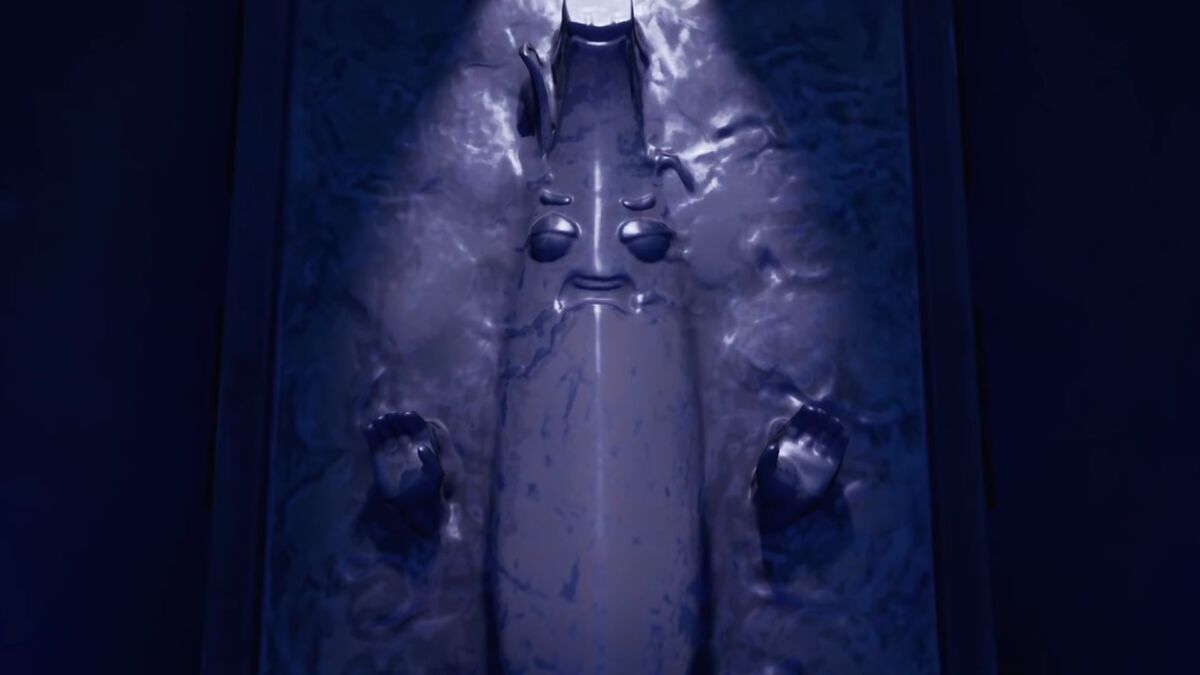 Fortnite's long-time partnership with Star Wars has brought many things, good and bad — a balance as equal as the galaxy's force. However, one of the many positives to come out of this collaboration was The Mandalorian's arrival in Chapter 2 — Season 5, in both the Battle Pass and his own Mando's Bounty game mode.
The trailer to that mode showed the Mandalorian hunting Peely down the Island's desert, and the banana getting the carbonite treatment. His legs-to-banana ratio made him unable to outrun the shiny chaser.
Peely's last moments were visible beyond the trailer itself, as the location used was also accessible in-game as a chrome monument to Peely's unfortunately constant lack of luck. Carbonite is usually only used for bounty transport, but this time Peely is left as a display.
A Stirred Shoryuken (Chapter 2 — Season 6)
In the Chapter 2 — Season 6 story cinematic, Zero Crisis, characters from all kinds of universes are in Fortnite's Loop of fighting. Matchups like Sarah Connor fighting alongside Ellen Ripley are just some of the childhood dreams that come true in this insane cinematic.
But as Jonesy runs through this chaos, he sees an old friend, Peely, waving to him. They became friends after surviving a volcano eruption together, with the banana becoming a smoothie to support Jonesy's hunger. In return, he turned his blended brother into an android.
That past is only remembered in a blink, with Street Fighter's Ryu throwing a swift shoryuken towards Peely, exploding him to bits in a big ball of energy. Banana no more — at least until he respawned.
A Boulder Bash (Chapter 3 — Season 3)
Another franchise featuring Harrison Ford also murdered Peely in Fortnite, with Chapter 3 — Season 3 marking the arrival of Indiana Jones on the Island.
This time, a gorgeous cinematic trailer showed Indy in his full glory, swapping an idol out for a bag of sand. But the temple was smarter, activating traps to defend itself against thieves.
With the ground and roof rumbling, a familiar boulder drops into the tight hallway, with a squished banana right on it. A split second appearance of a banana split.
In the end, Peely is still a big staple to Fortnite's legacy, having saved the Island countless times: by being a super spy, bringing a truck of health to a giant mecha, and having an overall positive influence on his friends. The extensive debate of whether his existence was necessary is one that will never end, but hopefully the abuse against him will.
Fortnite is free-to-play on PC via the Epic Games Store, PlayStation 5, PlayStation 4, Xbox Series X | S, Xbox One, Nintendo Switch, and Android.
MORE FORTNITE: Is Fortnite's Cube Queen Dead?
Some of the coverage you find on Cultured Vultures contains affiliate links, which provide us with small commissions based on purchases made from visiting our site. We cover gaming news, movie reviews, wrestling and much more.