Football Manager 2022 may not be the biggest update to the Football Manager experience ever, but it still has quite a few tweaks on the formula that may even take experienced players by surprise. If you've been plugging a 4-2-3-1 gegenpress in each year and have noticed that things aren't quite your way this time, some Football Manager 2022 tips might be in order.
To be clear, almost all of the changes are off the pitch and in how you interpret stuff that happens on the pitch with the Data Hub. Apart from a significant nerf to gegenpressing and a new player role, as well as some new animations, actually playing matches of Football Manager is pretty much the same, yet there's something about it that won't let you go on autopilot quite as much.
If you're struggling with this year's game or just need a few quick hints on what you might be overlooking, here are some Football Manager 2022 tips that will help you put the ball in the goal in more ways than one.
Stop Pressing (So Much)
Without a doubt the biggest mistake that many will make with FM 2022 is to keep gegenpressing like they always did. To combat just how effective it has been, Sports Interactive has made it so that players will get absolutely exhausted if you're pressing all game with injuries racking up in no time at all.
You can still use gegenpressing in FM 22, but you need to either press less overall or use match plans so that your team only presses at certain moments in the match. Otherwise, you might not get far through a season before your squad has just fallen apart.
Use Corner Routines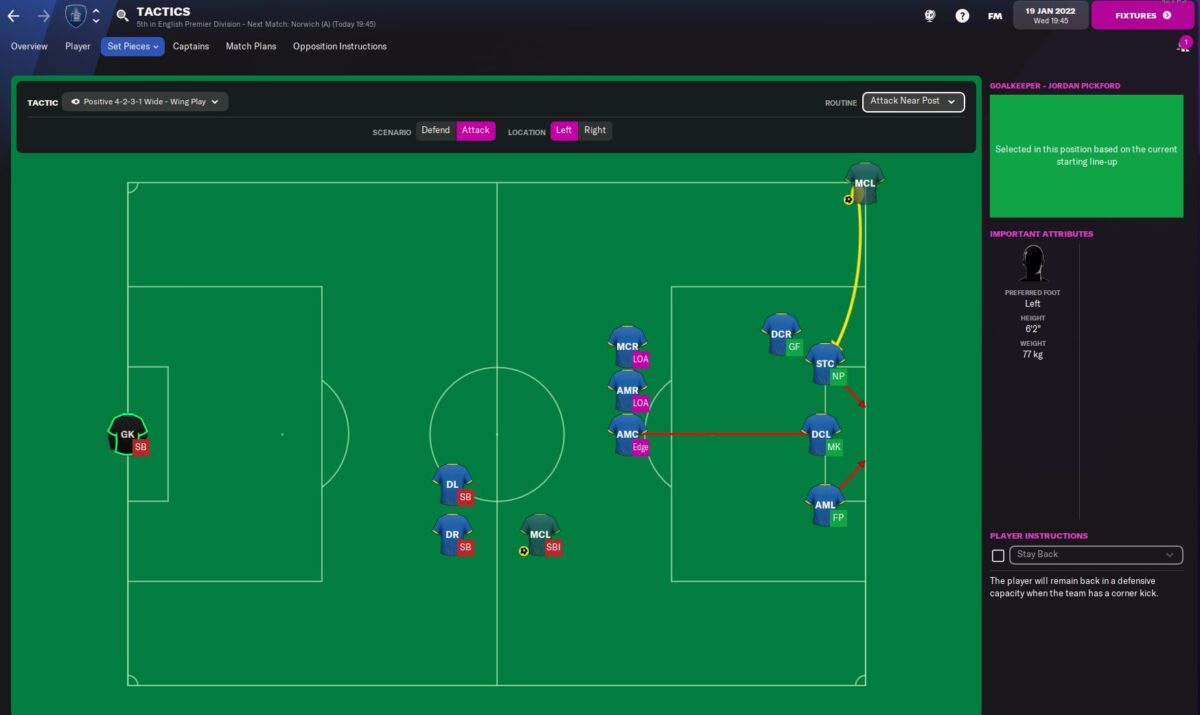 Corner routines are fundamentals that a lot of Football Manager players overlook, which is crazy as they are super strong in 2022. Short corners are very good this year, but there's one that's seemingly just a tad overpowered.
Put your best header of the ball attacking the near post and watch how the goals tot up at an almost alarming rate. Sports Interactive will surely nerf the effectiveness of corners soon, but for now, use your players' bonces to best effect.
Scout South America
Well, really, this is more of a tip to say to increase your scouting range as early as possible, but there's a whole bunch of wonderkids in Football Manager 2022 who hail from South America this year, just like every year.
Whether it's Arezo or someone else, South America is the best place to scout for young players in Football Manager as there's so many bargains to be had. It's not as useful as it once was for Premier League teams because of Brexit restrictions, but you can still put together a team for the future on the cheap.
Play With Urgency
While pressing has been nerfed in FM 22, you can still play a high intensity game and basically wear down your opposition by cranking the tempo right up as high as it can go.
Making your team play at an extremely high tempo negates some of the lost impetus from gegenpressing and also makes use of the pace within your team. Your players need to be fairly fit, but clubs at most levels should be able to utilise a high tempo game this year.
Go to Tactics > In Possession and then change your tempo to dictate how fast you play in FM 2022.
Try Out a 5 At The Back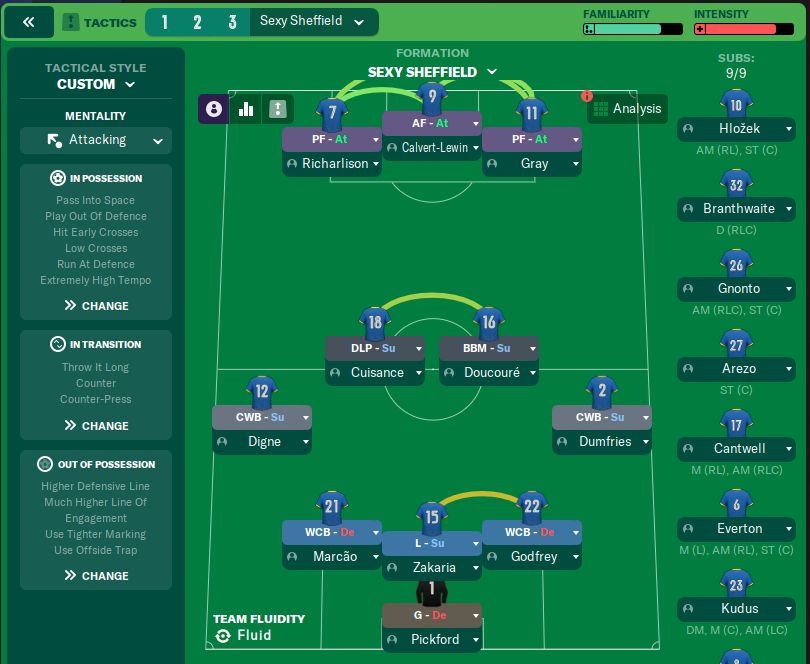 5 at the back (5ATB) is all the rage in football these days, and Football Manager 2022 wants you to have some fun with the system with wide centre-backs (WCBs) as part of your back 5. WCBs basically operate as CBs and FBs, carrying the ball up the field while allowing wing-backs to bomb forward.
The system seems especially strong this year, with us able to rack up countless goals and break some records when using a specific tactic. If you're tired of 4-2-3-1, try out any variation of the 5ATB and see if that changes your fortunes.
Use Match Plans
One of the most overlooked features of Football Manager each year are match plans, which allow you to enact various tactics that automatically trigger based on events in a match. Not only does it automate some of the things you might find yourself doing over and over again, but it is also very effective at being reactive to what's going on on the pitch
With match plans, you can do things like trigger heavy pressing when conceding a goal to try and get right back into the match, or to drop your line deeper when in the final ten minutes of a match, and so much more. Seriously, don't overlook them.
To set up match plans, go to Tactics and then select Match Plans at the top of the page.
Don't Accept Ridiculous Contracts
If you're at anywhere but a mega rich club, you really need to start looking at the ins and outs of player contracts before you either sign them or renew them. The amount of money they want all adds up and can cripple a club that isn't winning everything.
From appearance fees to bonuses to agent fees to a million other things, it's utterly crazy how much even an average player wants to gouge you in Football Manager. Bear in mind that while this might not get taken out of your transfer budget, it will come from your club's balance, which will then influence how much of a transfer budget they can give you in the next window.
Remove and exclude as much as you can from every negotiation. You might have to pay a higher weekly wage, but at least it's all properly budgeted instead of slowly bleeding your club dry.
Abuse Installments
So, this might pretty much directly contradict the previous tip, but at least you know exactly what's going to be coming out of your balance and when, so it doesn't have quite as bad an effect on your club's finances.
Lots of clubs are struggling for money in Football Manager like they are in real life, so there's plenty of "creative" thinking when it comes to budgeting transfers. Installments are one such way of hitting a club's asking price for a player without paying it all upfront, even if they may actually end up asking for more money in the long run.
Still, if there's one player you absolutely must have in your squad, installments are a good way of forcing a deal over a line. Just make sure your club has the money in the bank to begin with, or that you will be getting in enough money to actually pay them.
Ask Agents About Players
One of the best ways to save yourself time when it comes to transfers is to ask a player's agent about their availability, as FM 22 really wants to put focus on just how much pull the modern football agent has.
An agent can tell you how much money a club will likely want, the player's wage range, whether or not the player would even be interested in joining you, and so much more.
As tempting as it is to tell them to all go to heck, make sure to also stay on the good sides of agents in Football Manager as they're basically the equivalents of bosses in RPG dungeons with how much power they have.
Train Multiple Tactics
Once you have one tactic down, it can sometimes become quite easy to rest on your laurels and expect it to always work with you basically being able to play FM as some kind of clicker game. That's not the case.
Instead, make sure you have multiple tactics on the go at once that are better for different situations. For instance, what worked against one team at home may not work against them in the away fixture. Consider making one cautious tactic to complement your main tactic.
To train both equally, make sure you are changing your Primary Trained Tactic somewhat regularly in Training, next to responsibilities. This will build familiarity and help your team to adjust between them at will without headaches.
Football Manager 2022 is available for PC and Xbox.
READ NEXT: Best Football Manager 2022 Tactics and Formations
Some of the coverage you find on Cultured Vultures contains affiliate links, which provide us with small commissions based on purchases made from visiting our site. We cover gaming news, movie reviews, wrestling and much more.