You're doing well at your job in Football Manager 2021, exceeding expectations and getting results on the pitch with smart moves off it in the transfer market. Your Club Vision shows that the board are very happy with your work, the squad loves you. But then you take a look at the finances and want to immediately scream in panic.
Due to the worldwide situation right now, a lot of clubs in Football Manager 2021 start a save off deep in the red in terms of finances. While this is something that will stablise as the seasons go by, what if you're at a club teetering on the edge who you're struggling to improve due to the dire financial straits? Here are a few ways that you can help a negative financial balance in Football Manager 2021.
Avoid Installments and Clauses When Buying Players
It's easy to take a look at the tiny transfer budget you start off with in FM 21 and immediately want to get around it with installments and clauses to make big transfers. If you care about the longevity of your club, don't do that.
This is because that money comes directly out of your club's balance, not the transfer budget. That budget has been calculated based on what the club can afford, so if you're taking more money out of the overall balance, that's not going to help. In fact, if you're adding installments and all kinds of clauses, this will directly impact how much transfer money the board can give you in the following season.
Swerve Additional Player Contract Fees
On a similar note, it might be tempting to give players all kinds of clauses and additional fees in their contracts, just to get the deal over the line. Appearance and non-substitute fees are an absolute scam and you should avoid them wherever you can.
Try to remove additional clauses from your negotiations wherever possible. While this may make the weekly wage more expensive, it will likely save you quite a money in the long run. Always go for a "flat" wage package where possible, though you can sweeten the deal by giving them clauses that you don't think they will ever possibly achieve. Like, a bonus for winning the Premier Division while playing as Leicester, for instance.
Wait a minute.
Don't Spend Your Transfer Budget
Squeezing every penny out of your transfer budget might be tempting when you have to improve the squad to journey up the league(s), but it's actually not advised at the start of a save in Football Manager 2021. Why? Because some clubs deep in debt will take out additional loans to even be able to give you transfer money.
This means that transfer budgets will come directly out of your balance, sinking the club deeper into debt. For this reason, try to go for loans with few fees and optional future fees for at least the first season. You will be better off in the long run.
Trim Your Squad Fat
It's good to have a big squad to last the course of a season, but you really don't need more than two players for each position. You should be looking at having a squad size of 23 or 24 at the most, just to keep players happy and also stop spending for no reason.
Take Everton, for example. When starting a save as them, they have too many players that don't play on high wages. Sell them by offering them to clubs, even taking a loss if needs be, or loan them out so that their wages are at least partly paid for. If a player is in the last six months of their contract and not attracting suitors, offer them a mutual termination and save yourself a bit of money.
Check Your Committed Spending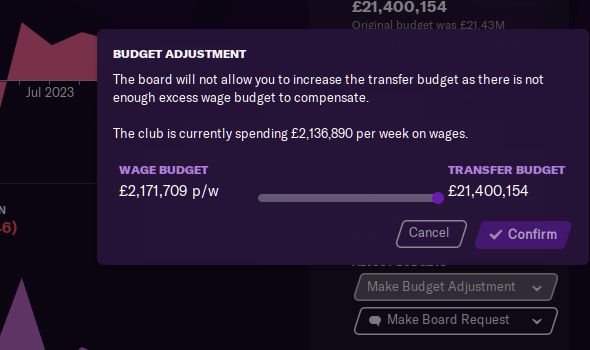 One of the biggest mistakes FM players make is to not check their committed spending when it comes to wage budgets, which is basically the best way to sink your team into deep, deadly debt. This basically entails how much money you will pay players over the course of their contracts depending on clause activations and the like, as well as future incomings.
If this has drastically gone wrong for you, you will be able to see so in Finances and then Budgets on the right — spending will be red if your books aren't balanced. Luckily for you, you just have to hit Make Budget Adjustment and then lower your transfer budget enough until the text turns white.
Win Things
A bit obvious, but yes, winning cups and leagues will directly impact your financial balance. It goes without saying that the more you win, the healthier your overall balance will look with huge money given for just taking part in the Champions Cup.
Of course, it's hard to be truly competitive without spending money on the best players, so we recommend that you take a look at cheap wonderkids, free transfers and loans rather than marquee signings.
You Can't
The simple fact of modern football is that a lot of clubs run while huge in debt. Manchester United, one of the most commercially successful clubs in world football, have debts of almost half a billion, a figure worsened by the worldwide situation of 2020.
If you're looking at your overall balance and constant loss in Football Manager 2021 and always find yourself panicking, here's a quick, weirdly lax tip: don't. Ultimately, it's not your job to run the club. Some clubs operate in huge debt and still find ways to turn a profit, so unless the administrators start getting involved or you've directly been responsible for overspending, don't sweat it too much.
If you want Football Manager 2021 to be more realistic, be sure to read up on how you can add real kits, badges, and faces to the game with just a few simple clicks.
Football Manager 2021 is available now.
READ NEXT: Football Manager 2021: How To Score From Corners
Some of the coverage you find on Cultured Vultures contains affiliate links, which provide us with small commissions based on purchases made from visiting our site. We cover gaming news, movie reviews, wrestling and much more.