Football Manager 2021 is a game that you can play any way you want as almost anyone you want. Fancy hitting continue over and over while playing as PSG and walking to titles? You're welcome to. For everyone else, budgets might be a concern, especially when it comes to raising money for transfers.
Scrimping and saving to make transfers has always been a feature of the franchise for anyone outside of the elite, but with Football Manager 2021 reflecting the real life financial situation facing many clubs, it's harder than it's ever been. While most clubs' money problems will ease after a few seasons, you will still need to raise your transfer budget and earn all the money you can to remain competitive.
However, unless you're using and abusing the in-game editor, there is no quick fix to turn your club into a financial powerhouse and make all the transfers instead. By following the tips you find below, you will be able to raise your transfer budgets each year in Football Manager 2021 until you can hang with the elite clubs. Here's a hint: clauses.
Win Things
This is so obvious that it's probably going to annoy you it being here, but yes, winning things will give you more money in Football Manager 2021. Successful sides, those who are regularly competing in Europe and challenging for titles, will always have more transfer money to spend.
If you're stuck in the doldrums of a league or just aren't progressing as a club, your finances will likely stagnate. Play it smart in the transfer market with loans and approach to sign deals and start to really try to be competitive to see your finances flourish.
Sell Third Choice/Expiring Contract Players
Squad depth is very important in Football Manager 2021, so the natural inclination is to have cover at every possible position, maybe even with three players. This is kind of financially reckless and will directly impact how much money your board can give you for transfers each season. Move these players on, use the dev centre if needed for cover.
In addition, you shouldn't let a player run their contract down and leave for nothing. Offer them to clubs in the January window before they leave and get some money back as well as wages off your books. Speaking of which, if a player wants more than double their current contract after a bit of success, it might be worth just replacing them instead.
It's a cutthroat simulated management world out there.
Use That Slider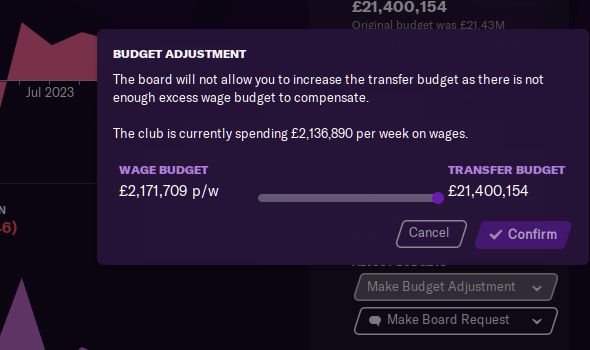 If a player has left on a free transfer or you've managed to sign someone on a low wage but relatively high transfer fee, you should make full use of the "Make Budget Adjustment" feature to balance the books properly.
Go to Finances > Make Budget Adjustment, then slide it to the left and right until you manage to eke out a bit more transfer money. This likely won't be a great deal of extra money in the kitty, but it all counts. Also good for making sure you aren't over-committed on wage spending.
Add One Million Clauses
If a club really wants a player of yours, you can kind of take them to the cleaners over time by adding quite a lot of clauses to the deal. This includes stuff like sell-ons, appearances, goals, and many, many more. Never take just a flat fee.
The reason for this is that it basically becomes a source of income for your club, particularly if you're selling as a lower league team. Having more money coming in will make the board likelier to up transfer budgets each season, so don't be afraid to slap on one or five clauses for outgoing negotiations.
Utilise Clause Buyouts

Speaking of clauses, if you need an instant fix for some money, it's worth checking which buyout clauses you can sell for players that you have already, erm, sold. While you earn less over time, it's a very quick and painless way of adding to your transfer budget in Football Manager 2021.
Go to Transfers > Clauses > In and then see which of these deals have currency symbols next to them. When it comes to selling a clause, look at what kind of clause it is. If it's an appearance clause for a player who doesn't look like he's been getting a lot of money since he left, sell that one immediately. For profit percentage clauses, consider holding on to them to see if the player reaches a higher value over time.
Stop Agreeing To All The Clauses
Sometimes if you really, really want to get a deal over the line but don't have the budget right now to afford it, there's a temptation to add a tonne of clauses that you will pay over time. As a recommendation for future transfer funds: don't do this unless the player is essential to you.
This is because if you keep spreading the cost of a transfer over time, not only will the transfer cost more in the long run, but it will also impact how much your board can give you when they are committed to this kind of spending. If you have to spread transfer costs, try to go for short-term instalments and clauses you don't think are realistic. Like Everton winning the Champions Cup, for instance.
Ask For More
This tip will hinge entirely on what your club's current balance looks like. If it's in the red and you're bleeding money each month, they are extremely unlikely to give you more money. But you can at least try.
To ask for more transfer money from the board, go to Finances > Make More Board Request > Finance and then find the option there. Bear in mind that this will only apply to the next season's transfer budget. From experience, any extra funds they give typically aren't a lot, but it all helps you on your quest to sign Haaland.
Football Manager 2021 is available now for PC.
READ NEXT: Football Manager 2021: Best Free Agents You Should Sign
Some of the coverage you find on Cultured Vultures contains affiliate links, which provide us with small commissions based on purchases made from visiting our site. We cover gaming news, movie reviews, wrestling and much more.