When EA Sports revealed that FIFA 17 would feature a narrative about a plucky rookie's attempts to go pro at his boyhood club, there were a few laughs. Featuring minimalistic dialogue trees and a barebones progression system, it always felt more like a prototype rather than the finished article when trying to take Alex Hunter to the top. 2K Sports, it seemed, could rest easy.
While there are still a few issues with The Journey: Hunter Returns in FIFA 18, it's an altogether more engrossing and denser experience that won't have you wandering off to watch the Goal trilogy on DVD instead.
We open up with Alex and his Inbetweeners mate Danny Williams kicking a ball around in Brazil with some local kids. It's instantly reminiscent of FIFA Street and a neat little flourish that already promised that the stagnant gameplay loop from last time would be getting a refresh. With the kids well and truly demolished like the losers they are, it was time for the real work to begin.
After a pre-season tournament which featured Cristiano Ronaldo and the worst voiceover attempt since Peter Dinklage wittered on about moon wizards in Destiny, it's back to the Premier League. FIFA 18's imperfect AI still means that controlling the whole team is better than Hunter on his own, but it's a good excuse to practice the new edition of FIFA all the same.
If last year's vision of The Journey suffered from anything, it was repetition. Slog through training, slog through Championship matches, slog through the shithead tweets from Gareth Walker – it was all just quite bit of a slog. This time out, it's broken up a lot better with small cutscenes that actually develop characters and a lightweight but effective customisation system. While there's always the urge to just skip some matches and let the AI Hunter bang in a couple, the "distractions" this year mean it's much easier to get through long sessions of slightly unrealistic drama.
In FIFA 17, I always wanted to change Alex's hair and FIFA 18 allowed me to do that almost immediately. The selection is pretty sparse, somehow unlocking worse haircuts the more you progress, but the fact that the option is there to give Hunter the Lucio look is welcome nonetheless. Tattoos, the hallmark of the overpaid modern footballer, range from the woeful to the acceptable, but there's still a fair bit of variety. I opted for the classic "Mum" tattoo on the neck followed by a ship on Alex's arm while disinfecting my eyes every time a tribal tattoo cropped up.
Improving Alex also feels fairer this time out with more emphasis placed on performance-based rewards – no more battering in four goals in the Championship for incremental improvements. I went from a 75 rated Hunter to one in the eighties by the time The Journey was over, and the difference was noticeable. He'd gone from a slightly rough and unpolished diamond to a pacey, goal-getting wunderkind in just a few hours.
While the gameplay loop of The Journey has undoubtedly been improved, its narrative decisions remain as questionable as ever to the point of frustration.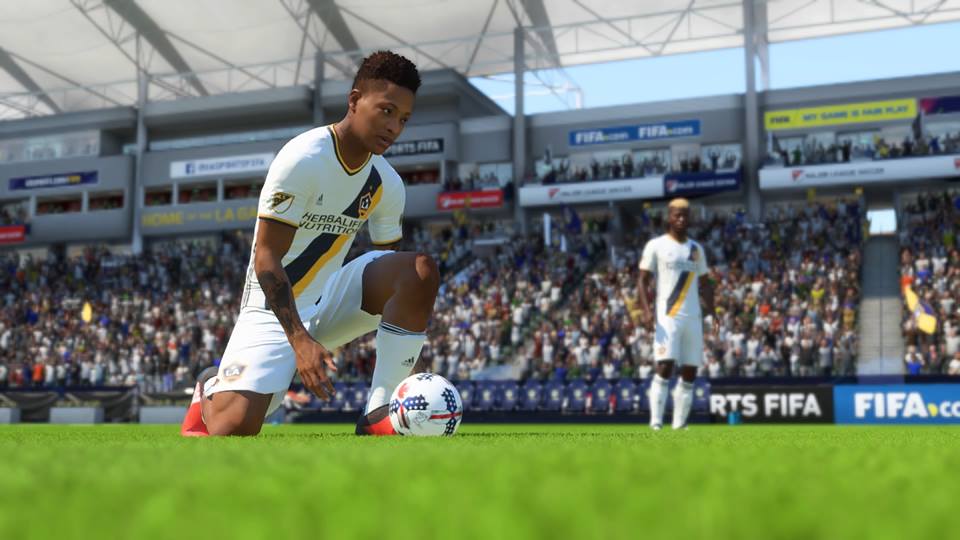 You see, I love Everton – I must have done something very wrong in a past life to be shackled to a team that will only ever let me down. And judging by my run on FIFA 17, Alex Hunter loves Everton too. So when Real Madrid came calling, it was a little galling to see him instantly switch allegiances. I wanted to take Hunter to the top with Everton, but I could live with Real; Hunter and Ronaldo forming a deadly partnership and having terribly awkward banter. What happened next, however, was something that the Goal screenwriters would have instantly chucked in the bin as a Bad Idea™.
The interest from Real was fake and it was all down to your bumbling agent. Everton, understandably, aren't happy and want you to languish in the youth team or move to a team that isn't in direct competition with them or in Europe. Rather than show the story of Hunter re-enacting the legend of Oumar Niasse, he instead packed his bags and made his way to the MLS.
The cynic in me (basically: me) wants to think that Hunter's adventure into the MLS was to vary up the gameplay, to show a league that some might not really be aware of, but in reality, it's almost definitely for commercial reasons. Alex Hunter going to the MLS in a virtual footballing world is like David Beckham going to LA Galaxy for real – it's all about the marketing.
After sleepwalking my way through matches with a strike partner who's supposed to be a big deal but is more like the American David Nugent, FIFA 18 changed it up again. Although brief, the option to play as Alex's half-sister in an international friendly was welcome; a nudge to try out the women's side of FIFA. The Journey needs little refreshes like these to make the monotony less monotonous, which was proven again after Hunter moved on.
With Hunter now in La Liga with Atletico Madrid and a burgeoning strike partnership with Antoine Griezmann to cultivate, the mode switched things up with an injury to Alex. Rather than just skipping time forward or making the player suffer through physical rehab, the perspective shifts to Danny Williams, who is struggling to be the replacement to Alex that Everton so desperately wants him to be. The option is ultimately up to the player: take over as Danny Williams for a bit or skip to Alex's recovery and let Williams fail? Considering there's the chance to make Gareth Walker look like the little dickshit he is once again, the choice was a simple one.
Upon returning to action, Hunter looks to create a formidable partnership with Griezmann, which opens up new mechanics. Training typically involves competitions against Griezmann from that point forward and your relationship on the pitch evolves so that the pair become telepathic – fluid assists and goals become ten a penny. Success follows, family loveliness happens, and then a phone call sets up what we'll see in FIFA 19.
While still full of issues, FIFA 18's The Journey seems emblematic of EA Sports' journey to take down 2K Sports at their own game. They're certainly getting there and are seemingly taking feedback on board, so with a tighter narrative, deeper customisation mechanics, and the option to tell Gareth Walker that he's a dickshit in a tweet, FIFA 19 could very well be the year when their journey reaches its destination.
Some of the coverage you find on Cultured Vultures contains affiliate links, which provide us with small commissions based on purchases made from visiting our site. We cover gaming news, movie reviews, wrestling and much more.