Cyber Shadow is one of the toughest games to release in quite some time, and it's not just because of the enemy variety and merciless platforming. The bosses are no joke as each and everyone of them will require that you put all of the skills you have learned to the test. On top of that, there are challenges called "feats" tied to beating some of these bosses. To save you some time and potential heartache, follow this Cyber Shadow boss guide to help beat the big bads and complete their feats.
CYBER SHADOW BOSSES: Smasher | Apparitor | Laserbrain | Scrambler | Biohunter Phase 1 | Biohunter Phase 2 | Mekadragon | Vessel Defense System | Subject Alpha V1 | Subject Alpha V2 | Tunnel Cleaner | Combinatron | Spiderail | Apparitor 2 | Progenitor Phase 1 | Progenitor Phase 2
Smasher
Stick to one side of this boss and destroy the turret on your side as it appears. When Smasher is tucked up, focus on dodging the fire blasts until he comes down again for you to slice him up. Watch for Smasher's initial fiery ground pound when he decides to unfold.
Apparitor
The easiest way to deal with this boss is to sneak behind him and deal blows from there. The fight can be over in a few seconds, however the feat is to defeat Apparitor without stabbing him in the back. If you are trying to only confront him from the front, you should aim to hit him after he falls from his shuriken blast or after he charges into the wall and is dazed for a few moments. His attacks are easy to jump around and he moves fairly slowly.
Laserbrain
Laserbrain will shoot energy balls in your general direction, but you can avoid them by keeping to the right side of the stage and using the left side to gather trash to use as platforms to reach him. The turbine looking turrets can be largely ignored as they shoot in slow rotations, though you can destroy them if you aren't worried about time. Deal blows to Laserbrain when he isn't firing energy balls at you and the fight is pretty much won.
The feat for this boss requires that you beat him without your sword which means you need to focus all of your attacks into your shurikens. You can gain more SP from destroying the trash bundles that drop and since you need to be more careful when going for this feat you should destroy the turbine turrets (which you can use your sword for).
Scrambler
Scrambler has 3 distinct attacks: which are a downward smash that creates a brief firewall, a small hop, and energy shots that can be fired at different angles. The best time to hit him is right after he jumps. If he turns around and goes for a smash, immediately jump up and you will just barely clear the fire. Hitting Scrambler between energy blasts is also easy as the shots are slow enough in interval for a few quick slashes, but watch at what angle his arm is being raised to as that will determine how you should be dodging.
The feat for this boss requires that you aren't hit once during the entire fight, so knowing the attack patterns is crucial here. Once his large exoskeleton is destroyed, his final form just hops around and shoots energy blasts. Stick to the middle of where the apex of his jump is and you shouldn't have any issues.
Biohunter Phase 1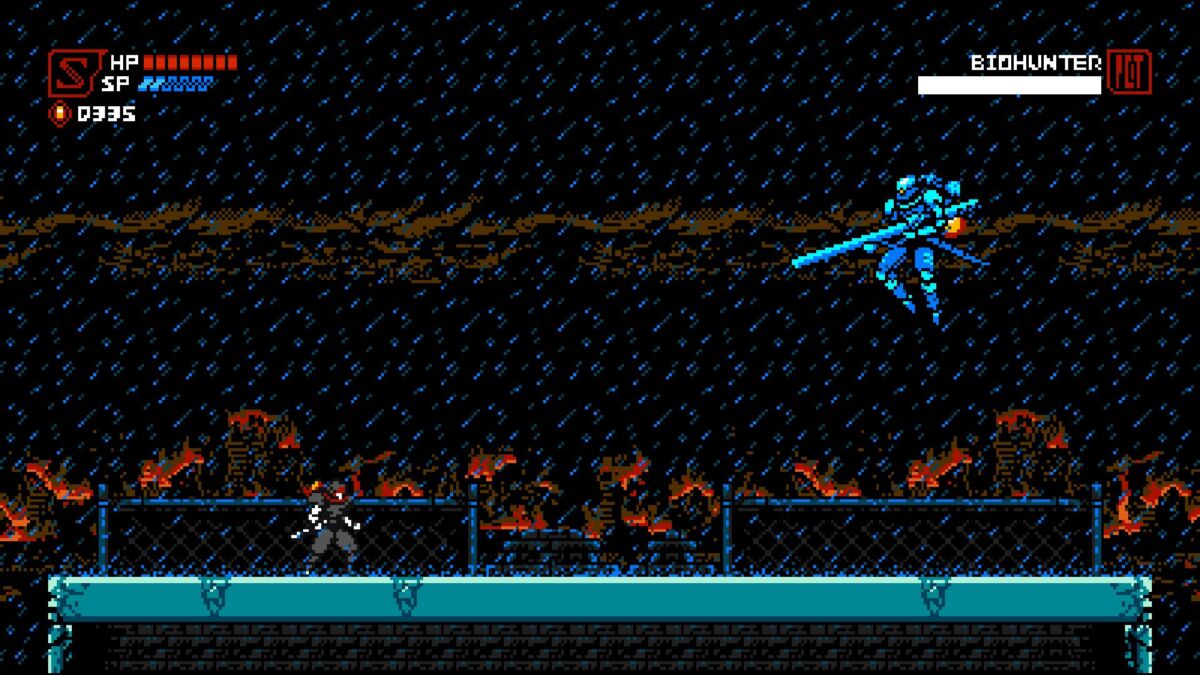 Biohunter flies for most of the battle, so making the most of when he lands is important. His attacks while in the air aren't very accurate so staying to the front of where he will land is safe. When he lands, he will try to hit you with his gun, but all you need to do is jump up to avoid the swing. The feat for Biohunter requires that you beat both his phases with only your sword.
Biohunter Phase 2
Biohunter has taken the stage inside the building and drawn his sword, but you want to make sure to make the most of his landing. He will be frozen long enough for you to get several good slashes in before he begins flying again. The rest of your sword hits should come after his second sword swing or anytime he gets his sword stuck in the ground. If you are not going for the feat, feel free to make this fight go faster by using your shurikens.
Mekadragon
Mekadragon is the first notable difficulty wall. Make sure you are always creating platforms to give yourself some wiggle room, as Mekadragon has two non-movement attacks which are an electrical charge that shocks his body and the water. He also uses energy blasts that erupt from his mouth.
The best way to attack is with the newly acquired Rising Fire when Mekadragon is performing the electrical charge, but if you are under his chin then you should be able to hit him with Rising Fire while he is shooting the energy blasts. Dodge the rest of the time and focus on those platforms. His movement attacks are the most dangerous as he flies around the stage with little predictability.
The feat for this boss is to defeat Mekadragon without falling in the water once. For additional help with those platforms, consider investing in the Charge Blaster at the checkpoint before this fight.
Vessel Defense System
Invest in the E-Field at the checkpoint right before this boss as it will help significantly with the rain of fire being shot at you.
Attack the red lights as they appear and get ready for the transition of the eye to face your way. Generally, the center of the stage is the safest when the 6 red circles are disabled, but watch your landing as most attacks will gravitate towards the bottom of the stage. The eye is only vulnerable when it is aimed towards you so be ready to close the distance between you and the eye after the last red circle has been disabled.
For the feat, you need to destroy all the red turrets without touching the ground so cling to the wall, throw shurikens and fire E-Field blasts towards the red circles. Jump off the wall and angle back onto it if you need to dodge incoming fire, though the best time to get this feat is at the start of the fight. If you fail, it's recommended that you let yourself die and restart the fight.
Subject Alpha V1
Parrying is your best friend in this fight and if you only parry you will complete the feat associated with this boss battle.
Subject Alpha loves to jump around the stage, so stick to the center of the stage and do your best to predict where he is going to land. If you see him charging for a downward smash, run to the far end of the stage but close the gap again as soon as the purple geyser disappears.
Subject Alpha is vulnerable when he stops to shoot his blaster at you. The best thing to do is to parry these shots back at Alpha and if you are not concerned about the feat feel free to throw shurikens when he is on the ground. Alternatively, you can try using Rising Fire when he is jumping around the map, but this method could be more wasteful for your SP levels.
Subject Alpha V2
Whenever Subject Alpha has his eye open, get a slash in and be ready to parry any of the energy balls that are thrown at you. If you stick to one side of the stage, you have a lot of time to react to the different attacks and enemies that come your way. Cling to the walls and parry attacks for the safest method of attack. Watch the ground, though, as spikes intermittently spawn and crawl across the stage.
The feat for this battle requires that you start it with 0 SP so just shoot off all your shurikens before starting the battle if you want to go for this challenge.
Tunnel Cleaner
One of the easier late game bosses, Tunnel Cleaner can be beaten by parrying his giant charge attack and sending the floating robots crashing into his glowing bulb. You can also fire shurikens and stab him with your sword for additional damage when he isn't firing blasts at you, but as his attacks spawn right there, that's not recommended.
Dash is overpowered so use it to avoid most of the incoming projectiles that can't be parried and dash behind the robot that shoots flames so that you can angle their corpses towards Tunnel Cleaner for a large amount of damage.
The feat requires that you beat Tunnel Cleaner in under 60 seconds but if you parry his attacks and make the most out of the available robots, you should be able to knock his health down quickly enough. You can also purchase the Nin-Gun at the checkpoint before this for additional help.
Combinatron
Combinatron will send his missiles raining down in the middle of the stage. His fists will occasionally send large energy balls (as shown) in your direction or he will try punching you, but his fist attacks generally stay to the sides of the stage. You will want to kill him as quickly as possible to save you the time of having to destroy his fists, so slash at him, dash through him, and use Rising Fire to drop his health quickly. These attacks can be spammed in quick succession so don't give up.
If your SP is not high enough to make the most of this strategy, you should destroy the fists first as quickly as you can as they will regenerate Combinatron's health if you take too long. Stay to the outer sides of the stage and once the fists are destroyed, move in to get hits on his head and avoid the aerial shots being fired.
The feat requires that you lightning strike Combinatron ten times without landing. The feat is easy to get on its own since you don't need to beat Combinatron for it to be completed — just keep hitting him until it unlocks. If you do not have enough SP upgrades, you will not be able to do this feat (unless you have an SP dispenser), so try to come to this fight prepared if you are going for 100 percent completion.
Spiderail
Spiderail's flamethrower announces itself a full second before it even begins firing and can be dodged by hugging the far sides of the platform. His eyes will shoot rings that can be absorbed by the salvager, parried or dodged. Depending on the firing rate, you might need to do some quick parries if you don't have the salvager on you at the time. He also drops little mechanical bugs that are easily destroyed or ignored altogether as they run off the side of the stage.
The feat for this boss requires you to destroy all the small eyes before defeating Spiderail. To do this efficiently, you should make it a point to try to keep every small eye closed whenever possible. The big eye closes and can't be dealt damage for a few seconds so what else can you do? In general, attacking the small eyes can only help you as destroying them means that you have less incoming fire being directed towards you. Rising Fire and sword strikes are going to be the most useful attacks for you in this fight.
Apparitor 2
Much like the first time, you can dispatch this boss in no time, except now you can dash through his attacks. Apparitor's attacks are slow and they are easily dodged. Anytime after Apparitor fires his particle beams, dash through him to get behind him and spam your katana as much as you can.
It's an easy fight but you will want to perfect it as there are no breaks from now until you beat the game and you want all the health you can save for the other two phases of the fight.
Progenitor Phase 1
It's recommended to let Progenitor attack you for a few rounds to get a sense of how the fireballs move. The fire will never stop so getting into a rhythm of dodging will help you as you begin to deal out attacks. Once you have a general understanding of their patterns, hit the shield but be ready for the bounce back while being mindful that nothing is behind you. Once the cockpit is open, sword slashes and Rising Fire will be the best bets for quickly doing damage.
If a fire blaster is preventing you from getting close to the boss, remember to use the dash to close the gap or get through the wall of fire. The dash can also be a great way to continue to do damage while there are several blasters firing into the sky. Feel free to use your SP here as it won't be as useful in the final phase of this fight.
Progenitor Phase 2
The final form of Progenitor will require that you destroy the bulbous orbs that are protruding from his gelatinous body. Once all the colored orbs are floating around the body, you are ready for the fight. Progenitor's attacks in this phase include fire that rains down from above, rotating swords that aim for you but are easily dodged, and a ground attack that mainly stays to the outskirts of the stage. The orb effects are as follows:
Blue – provides shadow with a shield great for protection against the rain of fire
Green – Provides platforms to reach progenitor easier and avoid ground attacks.
Pink – Allows shadow to fire a long distance energy wave that can reach Progenitor from the ground and make the battle go much faster.
You will want to make the most of the elemental powers as they become available to you, but luckily the attacks from this point on are fairly easy to manage. Take your time and make every hit count. Use the pink elemental power to hit Progenitor when he is too high up and there are no platforms to boost you up. Alternatively, if you are lucky enough to have a salvager at this point in the fight, most of the fire raining down will be absorbed so you will have a ton of SP available. Fire Rising is always a safe bet as the other bosses have shown.
Cyber Shadow is available now for PC, PS5, PS4, Xbox Series X | S, Xbox One, and Switch.
READ NEXT: 18 Most Exciting New Indie Games of 2021 & Beyond
Some of the coverage you find on Cultured Vultures contains affiliate links, which provide us with small commissions based on purchases made from visiting our site. We cover gaming news, movie reviews, wrestling and much more.