As SummerSlam 2021 ended, fans were left shellshocked at the return of Brock Lesnar, Viking ponytail and beard included. Reports were quickly released discussing whether it was in response to CM Punk debuting for All Elite Wrestling, but regardless, this was a big moment for WWE. Lesnar is reportedly available for at least eight matches, possibly as many as twelve in total, and one guaranteed match is seemingly against current WWE Universal Champion, Roman Reigns.
With the match against Reigns likely being planned for next year's WrestleMania, here are a possible ten superstars that Lesnar could face during his time on the SmackDown brand. You may notice that all but one of these picks are opponents that Lesnar hasn't faced previously, so no Samoa Joe, AJ Styles, Randy Orton or Drew McIntyre.
1. Keith Lee
Regardless of whether you were a fan of the first half of the 2020 Men's Royal Rumble or not, sitting through Brock Lesnar dominating half of the roster, there was at least one cool moment, and that was when NXT's Keith Lee came out.
Known for being a surprisingly agile big man, Lee elicited an impressed response from Lesnar, and in that moment, a fantasy match was born. The moment itself was quickly ended by Lesnar eliminating Lee (as well as Braun Strowman), but the fire was lit.
Lee currently finds himself on RAW, having recently returned after a five month lay-off due to COVID-19 and heart inflammations. With Lee supposedly about to be packaged as a monster heel, it seems an opportune time to see these two behemoths face off.
2. Cesaro
Brock Lesnar has made a career out of being freakishly strong, able to suplex opponents like The Big Show and Braun Strowman with relative ease. It's very rare for Lesnar to face anybody who can match him physically, but if one man can, it's Cesaro.
An eternal crowd favourite seemingly undervalued by the bookers, Cesaro has easily manhandled giants like The Great Khali, Brodus Clay, and even The Big Show.
The possibility of Lesnar and Cesaro throwing each other around with reckless abandon is the sort of insanity that fans love. It could even be a good first feud for Lesnar's return to demonstrate any change in style.
More than that, Cesaro has proven himself capable of mixing with main eventers such as Seth Rollins and Roman Reigns, and a match against Lesnar is more than he deserves.
3. Bobby Lashley
Since his return to WWE, Lashley has not been shy about his desire for a dream match with Lesnar. In his original run in 2005, Lashley was at times derided as a possible replacement for Brock Lesnar, but has become a compelling performer in his own right. Both men have experience in mixed martial arts, Lesnar in the UFC, and Lashley in Bellator, so the legitimacy of the match is without question.
Despite Lashley currently holding the WWE Championship on the RAW brand and Lesnar being on SmackDown, this could be perfectly placed for a huge event.
Every year, Survivor Series has been used for brand warfare, often featuring the WWE and Universal Champion battling one another. While in previous years the bout has featured Lesnar against AJ Styles or Daniel Bryan, this could be the first time he meets a physical equal. Of course, that depends on whether Lesnar can beat Reigns for the Universal Championship.
4. Kevin Owens
It has been five years since Owens won the Universal Championship, and since then, he has proven himself a guaranteed highlight regardless of which brand he's featured on. Once the most despicable of all heels, he has now proven himself an exquisite babyface. Plagued by his past actions, Owens has fought to redeem himself over the last few years, but there's one blemish he's never conquered.
At Fastlane 2017, Owens lost to Goldberg in 22 seconds, and for some, he's never recovered. In the meantime, Lesnar went on to defeat Goldberg for the Universal Championship and reaped the rewards. While Owens is unlikely to ever get revenge against Goldberg, it's not out of the realms of impossibility for him to focus on Lesnar.
Representing the part-timers that Owens resents, a match with Lesnar could be vicious and personal. As long as it is longer than the 133 seconds granted at a house show in 2017, that is.
5. Matt Riddle
Matt Riddle is nothing if not outspoken, sometimes to his detriment. With previous experience of calling out part timers like Lesnar or Goldberg, it was no surprise to hear Riddle "shoot" on Lesnar's return. The difference now, however, is Riddle's position on the card.
Whereas at WrestleMania last year, Lesnar was dropping the title to Drew McIntyre and Riddle was still in NXT, Riddle is now a main roster talent. A former U.S Champion and current RAW Tag Team Champion with his partner Randy Orton, the 'King of Bros' is riding a high, and has become a rare highlight on an unpopular weekly Raw show.
To make the next step, a match with fellow former UFC fighter Lesnar could legitimise Riddle as a main event talent.
6. Edge
In 2002, Brock Lesnar was WWE Champion, and over a two month period, regularly defended the title against a then-midcard Edge on multiple house shows. In the near twenty year period since then, Edge has become a seven time World Heavyweight Champion, a four time WWE Champion, a twelve time Tag Team Champion, a two time Royal Rumble winner, and a WWE Hall of Famer.
Since Edge's return from injury, his matches with Orton, Reigns and Seth Rollins have told tremendous stories and he's proven himself to be just as good as ever. Some of Lesnar's best matches in recent years have been with smaller wrestlers, specifically Styles and Bryan, both excellent storytellers.
While not an obvious dream opponent, Edge could offer that similar opportunity for Lesnar, depending on how safe Lesnar is with Edge's surgically repaired neck.
7. Sheamus
Sheamus has been quietly putting together one of his best wrestling years, including a series of bruising encounters with frenemy Drew McIntyre. A former World Champion with a history of hard hitting battles against opponents such as Big Show, Daniel Bryan, and Cesaro, 'The Great White' has entered a renaissance since his transfer to RAW in October 2020.
With Lesnar having had good chemistry with McIntyre during their WrestleMania program, this could be an opportunity to recreate a similar battle. Not only that, but it means instead of wasting a rare Lesnar match on yet another rematch, we get a new match that fans could clamour in excitement for.
8. WALTER
There are times when watching WALTER on NXT that I'm reminded of Brock Lesnar in the early years of his career. A big, hulking figure who suplexed you with aplomb, struck hard, displayed tremendous agility and had certified classic matches almost on a PPV by PPV basis.
The comparisons between Brock's mat-based clinics with Kurt Angle or Chris Benoit and WALTER's battles with the likes of Pete Dunne, Tyler Bate or Ilja Dragunov aren't as contrasting as fans may think.
The idea of the 'Ring General' facing the 'Beast Incarnate' is the sort of match-up that gives literal chills. Whether exchanging German Suplexes, chops or clotheslines, both men have a reputation for stiff matches, and for surviving massive amounts of punishment. Seeing these two behemoths face off could main event any PPV in the world.
9. Big E
Whereas the other suggestions are mostly based on the idea of Lesnar battling crowd favourites, Big E is a story driven idea based on friendship and loyalty.
At WrestleMania 35, Big E's close friend and stablemate Kofi Kingston defied the odds to defeat Daniel Bryan and in the process became the first African-born WWE champion in history. Unfortunately, on SmackDown's 20th anniversary show, Lesnar squashed Kofi in eight seconds to win the championship, an act that left a bad taste in the mouths of many fans.
Since then, Kofi has never received a rematch against Brock, and in fact was recently decimated by Bobby Lashley in a similar match. Rumours are that Big E may cash-in his Money In The Bank contract on Lashley in an act of revenge for Kofi, but what if it wasn't just revenge on Lashley? Big E is seemingly primed for a main event role, and a victory against a willing Lesnar simultaneously legitimises Big E and gains a measure of revenge for The New Day.
10. Ilja Dragunov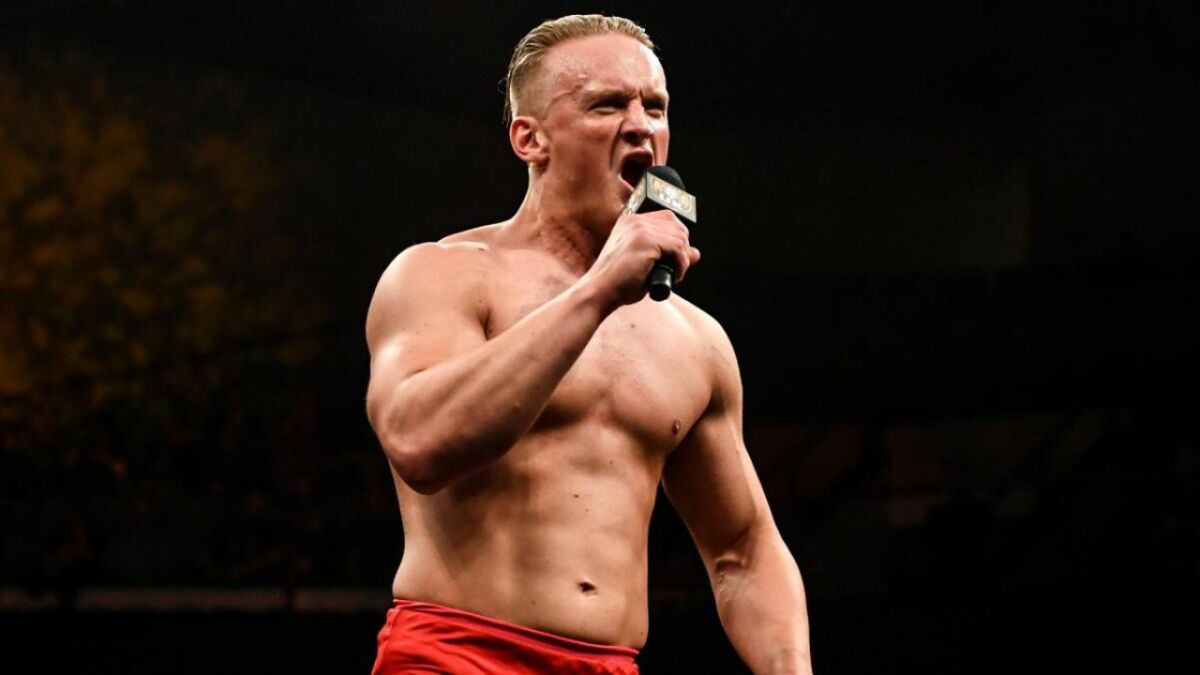 This is for a very simple reason and one I imagine most people can appreciate: having seen two absolute classic matches where WALTER and Ilja Dragunov have beaten each other to a pulp, I now want to see Lesnar's turn. There are probably few wrestlers as good at taking punishment from hard hitters as Ilja is, and Brock loves to dish out punishment.
But more than that, Ilja has a tenacious nature to his character akin to Bryan or Styles at their best. As mentioned previously, these are wrestlers that Lesnar has put some of his best matches on with. In fact, Ilja is the perfect blend of a hard hitter such as Cesaro, Lashley or WALTER, and a babyface fire a la Styles, Bryan, or Sami Zayn from his NXT days.
Of all the matches suggested, this may be the least likely, but it could be the most awesome of them all if it comes to fruition.
Some of the coverage you find on Cultured Vultures contains affiliate links, which provide us with small commissions based on purchases made from visiting our site. We cover gaming news, movie reviews, wrestling and much more.