Quite possibly the biggest talking point in all of pro wrestling right now is the potential AEW debuts of both CM Punk and Bryan Danielson. We've talked extensively on how their appearance at a future AEW show could genuinely shake the industry to its core, and could very well be the turning of the tides between the mainstream and alterative wrestling products.
CM Punk has forever been talked about as a wrestler that could jump ship to All Elite Wrestling, and rumours have floated about him doing such a thing since AEW's inception. Now could finally be the time that 'The Second City Saint' goes All Elite.
But who should CM Punk be lined up to face first? Let's run down 10 dream matches for CM Punk upon his AEW debut.
1. Jon Moxley
Now, there may be a whole lot of bias here, as these two men are two of my absolute favourite wrestlers of all time. And yes, I'm aware they had a couple of TV matches during Punk's feud with The Shield in late 2013 in the WWE. But you would be lying to yourself if you tried to claim you wouldn't be excited to see this match.
These two men will go down as two of the greatest talkers in the history of this industry, and I don't care if that sounds extreme, the promo battles building to this match would sell out an arena. They have the history already, dating all the way back to Punk referring to Moxley as the weak link of The Shield eight years ago. It's "The Death Rider's" turn to prove him wrong.
I know Punk said on Renee Paquette's podcast months ago that he was not trying to return and work matches that he's already had, and listed Mox by name, but this is an entirely different animal than Dean Ambrose.  Give them one program leading to a brutal hardcore match, and let them show the world what they're capable of.
2. Malakai Black
Oh man, I don't know if this is a match that everybody else is talking about, but it's a major one for me. The allure here isn't just about the historic return of CM Punk. It's also about Malakai Black finally getting the cuffs off and really showcasing his talents in a marquee match up.
Two of the best strikers in recent pro wrestling, getting to unleash their MMA styles on each other in what would no doubt be a stiff battle. Not to mention what they could do with a build up. Black's phenomenal character work matched with Punk's historic mic work could create a story so intriguing for "The Best in the World", that I'm not sure we've seen from him since Raven in ROH.
These guys could sell out an arena just with a story, and make the tickets worthwhile with a hard hitting classic.
3. Cody Rhodes
This is a self-written story that I shouldn't have to explain why it would be so damn good, but I'll do it anyway: because it would truly be the perfect return match for CM Punk. Punk has gone down in history as one of the most outspoken anti-authority figures of all time, and currently in pro wrestling, Cody Rhodes, as the EVP of AEW, is the biggest authority figure that still wrestles. There is of course Kenny Omega as well, but nobody flexes their EVP muscle as much as "The American Nightmare".
And of course you must remember the rumours from a couple of years ago where Rhodes sent an offer to Punk via text message and the legend laughed it off. Rhodes disputed that claim, saying Punk twisted the story. If Punk has one more Pipebomb left in him, then this is a main event of any PPV.
4. Bryan Danielson
This just seems like an obvious choice here. And again, this may be biased, as Danielson is also one of my five favorites of all time. But Punk said it himself in his "tell all" podcast after leaving the WWE, he looks at his rivalry with "The American Dragon" as the modern day Bret Hart vs Shawn Michaels. And I absolutely love that comparison.
We saw it in ROH way back in the day, we saw it at Over the Limit 2012, and we saw it at Money in the Bank 2012. It was an all time classic, every single time. And they even had the involvement of Punk's real life wife, AJ Lee, in their 2012 feud. That's a whole different level of personal. And now as the two biggest signings that AEW has truly ever made, one more match at a Double or Nothing is a must see.
5. Colt Cabana
Oh boy, oh boy. Even seeing this match on paper brings a tense feeling into the room. Any hardcore wrestling fan already knows the story here, but it's a story that I think deserves to be settled between the ropes. When CM Punk quit the WWE seven years ago, he first told his story by airing his grievances on two straight episodes of Colt Cabana's podcast, "The Art of Wrestling".
Punk revealed a whole lot of insider information about his time in the WWE, which led to a lawsuit against both men. The finances for said lawsuit began a real life beef between the two best friends, another lawsuit between the two friends, and a severed friendship ever since.
Quite possibly the greatest ROH rivalry of all time, a former friendship that was so close that Punk even referenced it in his Pipebomb promo, but now a real life blood feud that could create absolute magic television.
6. Darby Allin
I'll be honest, this was a match that never even really occurred in my head until it was first teased on AEW Dynamite itself. Darby Allin said that AEW is the only promotion out there where the best can prove how good they are, even if you are "The Best in the World". The call out was blatantly clear, and it seems apparent who Punk's first foe may be when he becomes All Elite.
Like I said for Jon Moxley, imagine these two men in a hardcore setting. If anybody was going to entice Punk back into a hardcore scenario, it has to be this man right here. If Punk was willing to put over this young man, Allin would be set for the rest of his career. He is of course a former TNT Champion, but being the first man to defeat CM Punk in seven years would be an accolade he could take to his grave.
7. The Young Bucks
Now this is a match that I have not seen speculated anywhere online, but this would have to go down as a sure fire match of the year candidate. The Young Bucks are undoubtedly the best tag team that pro wrestling has to offer today, and if you rewind back to WWE in 2013, we got to see "The American Dragon" and "The Best in the World"' as a tag team when they went to war with The Wyatt Family.
Many fans of the Bucks who pay close attention to their Twitter account have seen the AEW World Tag Team Champions take shots at the two veterans in their bio on two occasions. The Young Bucks have had a stronghold on AEW for almost a year, if any team is going to take them down for the people, it's a reunited Best & the Beard.
8. MJF
Imagining a world where CM Punk and MJF can stand across the same ring as each other and talk each other down with a promo battle, and realizing that this is actually capable of happening any day now, makes me genuinely giddy as a wrestling fan. I don't think any men could get more personal with each other than these two holding a microphone.
If anybody was going to run down Punk's unfortunate run in the UFC, "The Salt of the Earth" would undoubtedly be the first man to do that. And can you imagine the tension? This is a dream match for any fan, and I mentioned it for Allin, but MJF going over Punk would be quite possibly the greatest heel move in AEW's short history. I need this story by the end of 2021.
9. Adam Cole
We unfortunately live in a world where CM Punk vs Shawn Michaels will most likely never happen. That is an ultimate dream match for me as a fan. But the closest thing we're ever going to get to that in 2021, is a dream match with "The Panama City Playboy". I never would've ever thought this was even a possibility six months ago, but now with the news of Punk's apparent signing with AEW, and the breaking news of Adam Cole most likely walking away from the WWE, there is only one true destination for the longest reigning NXT Champion of all time.
The idea of Cole re-joining The Elite and Punk facing down the entire faction in an epic feud. All culminating in what could be one the greatest bell to bell wrestling matches of all time. I have to see this.
1. Kenny Omega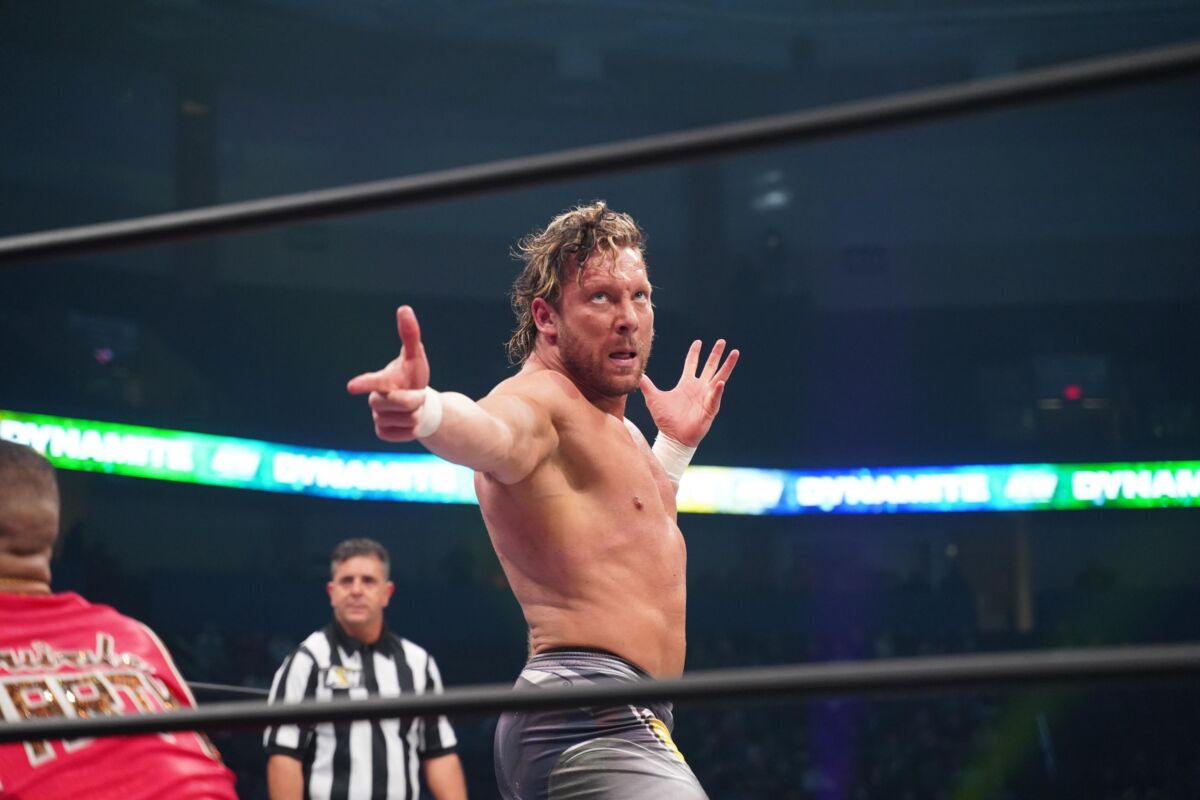 Let's not be over dramatic, but this could possibly be the absolute biggest dream match that is still possible on the face of the entire pro wrestling universe today. For the fourth year in a row, The Elite head to Chicago for their All Out PPV, originally All In, and every single time they arrive, people speculate the debut of CM Punk. And every single time Punk is mentioned with AEW, a dream match with Omega is brought up not soon after.
It seems almost directly after Punk's shocking exit from pro wrestling in 2014, Omega decided to rise to the occasion and take the wrestling world by storm. Every other month this man has churned out a classic, and seemingly taken the throne as "Best in the World". CM Punk ought to have a bone to pick with that. This match is the perfect main event of All Out 2021 in Chicago.
But all the more, it's a perfect main event for their biggest stage, Double or Nothing. This goes with the story of Punk taking down The Elite that I mentioned with Cole, but it's even bigger. A pro wrestling fantasy has finally become a reality. This match is coming, and it is going to change the wrestling landscape forever.
READ NEXT: 5 Potential Wrestlers To Sign With AEW
Some of the coverage you find on Cultured Vultures contains affiliate links, which provide us with small commissions based on purchases made from visiting our site. We cover gaming news, movie reviews, wrestling and much more.