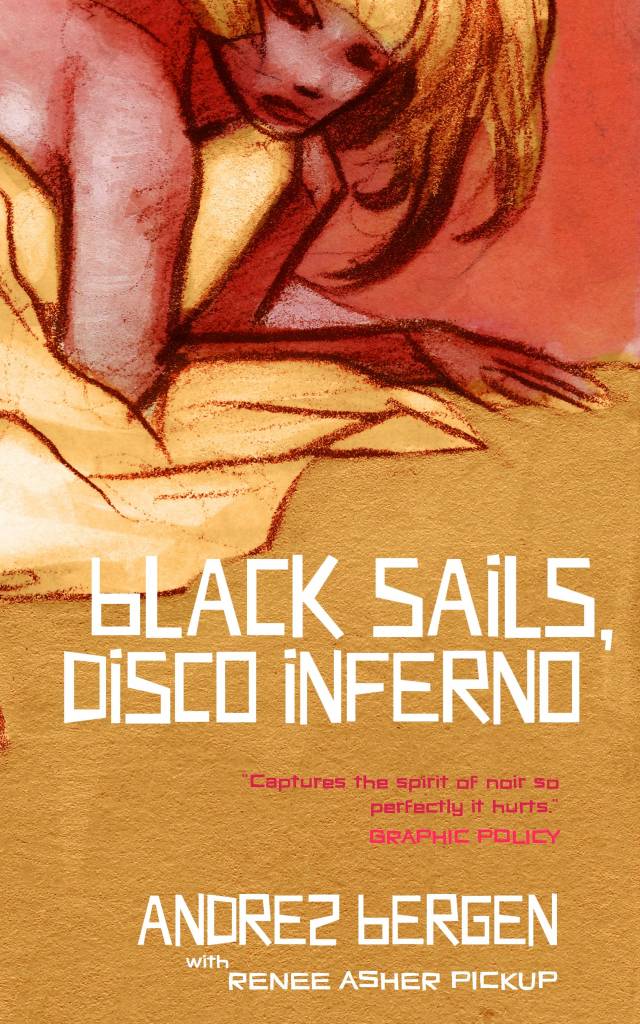 Black Sails, Disco Inferno is a gritty, 70's pulp noir mystery dripping with murder and mayhem. Almost literally. The pages are oozing with blood lust, a ramshackle fight for power, and laissez-fair allegiance to family. It's hard not to draw the parallels between this mythical tale and the rusting moral compass guiding current policy, economy, and society. Fortunately, Mr. Burgen softens the blow with fully formed characters and wit.
Andrez Bergen, author of Black Sails, weaves a role-bending thread through the mythical fabric of Tristan and Isolde. To form, we experience all the classic emotions – love, loyalty, and life – except filtered through the dystopian lens of betrayal, hate, and murder. I'm aware of how dramatic that sounds, but hear me out.
Trista, niece, heiress and "advisor" to the Cornwall matriarch Queenie, is thrust into a diabolic plot to eliminate her aunt's adversaries and concentrate power at the top of the family food chain. She kills an important foe, but takes a knife to the gut in the process and unknowingly stumbles into the arms of her enemy. Isidor Holt Jr., or Issy, the playboy son of 'Anguish' and heir to the Holt disco fortune, indifferent to his role and slammed on love potion falls instantly for Trista and recruits his own mother to save her life. Issy's mother pays for Trista's life with her own while her husband is caught sleeping, literally, with the enemy. There's a marriage, more death, and a surgical procedure that renders hope -less.
It's a complete trainwreck. An awesomely magical trainwreck.
Andrez Bergen deftly captures the anxiety and uncertainty of the experience with language that pulls the reader into the messy reality of his character's emotions.
"If her heart had jumped into her mouth, that mouth tactfully said nothing. Trista nodded instead, a refrigerator sensation creeping through, making her pine for a dose of antifreeze. She needed to rediscover some sense of decorum."
He leverages a genre rich in subtlety while teetering close to the edge of mockery.
"You make it sound like something from a rubbishly pulp novel."
At moments he seems to slip in a thick layer of descriptive wax, but always recovers nicely with some quip on vintage pop.
For those unfamiliar with the pulp noir, the language and tone is an adjustment, but Mr. Bergen eases the reader into the situation and executes his craft well . The story is engaging and easy to follow and the cast possesses a level of self-awareness that is refreshing. And, it's funny. Dark funny, but funny none-the-less. Black Sails, Disco Inferno is a gem.
Some of the coverage you find on Cultured Vultures contains affiliate links, which provide us with small commissions based on purchases made from visiting our site. We cover gaming news, movie reviews, wrestling and much more.