First-Person Shooter (FPS) games have been around since gaming first came into the mainstream. Beauties such as Doom and Wolfenstein have been around for decades and I can't help but think about how far the genre has come in recent years. Most FPS games cater to almost any gamer on the planet (unless you don't like that kind of thing), whether it's playing with friends or dealing with insane amounts of enemies that clog up your screen.
The Xbox One has many first person games to offer you, but which ones really stand out from the rest? Although some come into existence only to fall by the wayside, others really do manage to kick it up a notch and become legends in their own rights. So here are ten of the best Xbox One FPS games you should play, listed in no particular order.
11. DOOM
Developer: id Software
Publisher: Bethesda
Buy on Amazon
We start off our list with the game that set the benchmark for the FPS genre for this generation of consoles. DOOM provides you with hours of mindless, over the top, gore filled gameplay that always keeps you coming back for more. The developers have stuck to what DOOM was good at, designing a game with a dark atmosphere and more enemies than you can count. But Doom isn't just about violence; it's about learning how the game works and adapting to its sometimes appalling difficulty spike. If you can master the controls and handle the seriously insane amount of enemies being thrown at you in one go, then Doom can be both rewarding and extremely satisfying.
10. Call of Duty: WWII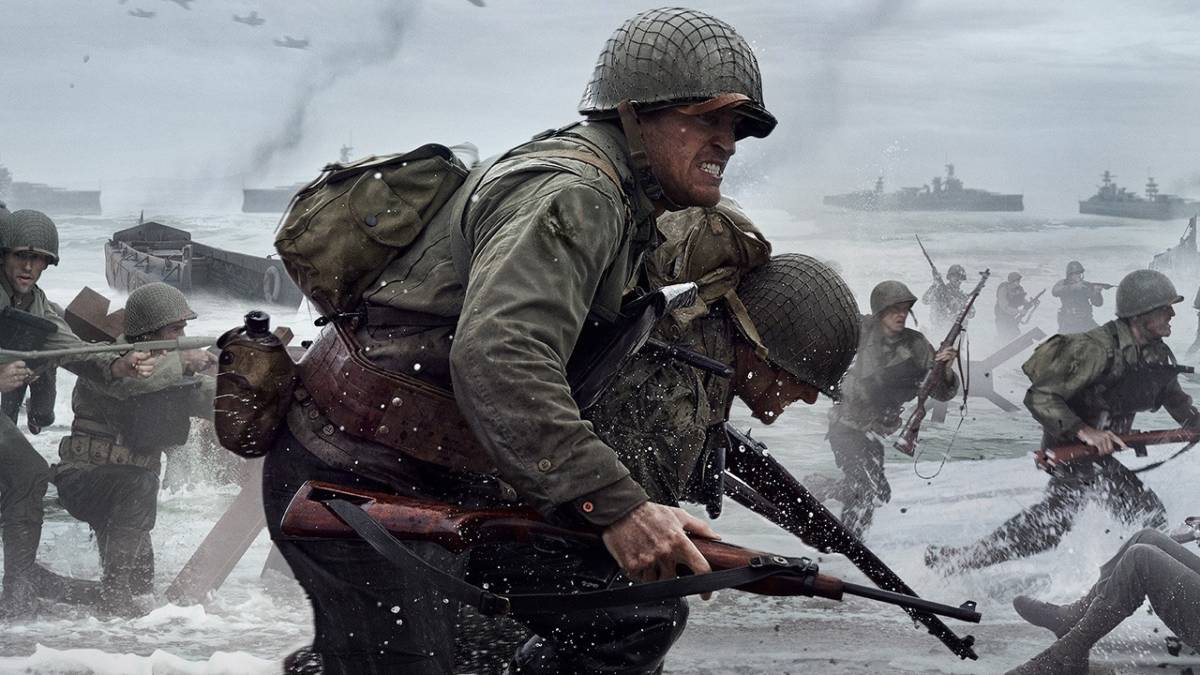 Developer: Sledgehammer Games
Publisher: Activision
Buy on Amazon
In recent years, COD fell by the wayside by trying to be something it wasn't. Throwing us into the modern day and the future, it moved away from its humble roots and fell on its hi-tech ass in the process. Call of Duty: WWII changed all of that. For the first time in years, we were given an unflinching experience of World War 2 that stayed true to the horrors of war. The characters were well developed and relatable, making you feel for them as you pushed through various missions. It took a step back and returned to its roots, and it showed. Never has war looked so pretty, with each mission providing a totally different atmosphere or game style that worked well as a finished product. Sledgehammer also changed the mechanics of the game, forcing the player to rely on health packs and help downed teammates, bringing a fresh and often rewarding experience to a stale franchise. Even if you have fallen out of love with the much abused franchise, COD: WWII is surely worth a few hours of your time.
9. Bulletstorm: Full Clip Edition
Developer: People Can Fly
Publisher: Gearbox Publishing
Buy on Amazon
Brought to you by the same studio that gave us the Painkiller franchise, Bulletstorm is an FPS like no other. Set on a hostile alien world, you play as the captain of a crashed spaceship that is besieged from all sides by aliens and things that are generally unfriendly. Utilising the Unreal graphics engine, Bulletstorm won't win any prizes for its pretty awful storyline, but what it will do is give you hours of entertainment. The game includes a pretty awesome electrified whip that drags enemies towards you as well as a hugely overdone melee system that sends enemies flying backwards. As long as you don't expect a huge amount from this game, I genuinely believe it is worth dipping into. To put it simply, it is as fun as an FPS should be.
8. SUPERHOT
Developer: SUPERHOT Team
Publisher: SUPERHOT Team

The games on this list are mostly AAA titles, but SUPERHOT is an indie game like no other. Taking its inspiration from John Woo and Matrix films, you are able to stop time and manipulate firefights to how you want them to play out. To do this, all you do is stop time, run around, fire bullets and throw swords at your enemies before speeding time up again to watch the fantastic results. Superhot is typical of any indie game as it takes a certain degree of trial and error to really master the basic controls and mechanics of the game, and it is extremely difficult, but time and patience does pay off. Although it is not a game I would personally play all day, it is a fantastic palate cleanser that you can play between big titles.
7. Bioshock: The Collection
Developer: Irrational Games
Publisher: 2K Games
Buy on Amazon
Although this is a remastered title, the Bioshock series still manages to awe and inspire even now with HD graphics really bringing the ruined city of Rapture to life. The first is easily the best instalment in the series (in my opinion), however the others still manage to bring us something we have never quite seen before. Rapture is truly a desolate place and the idea of using plasmids instead of magic is still a fantastic concept that has stood the test of time. The game feels dark and depressing whilst collectable audio diaries document just what happened to the city that should have been a masterpiece. The follow-up book, Rapture, is also a fantastic read and complements the series well, really giving you the meat for the bones that the game started. Bioshock offers something that will appeal to everyone: gritty combat, a superb plot twist and a fantastic story all tied into what is easily one of the best FPS games of the last generation of consoles.
6. Battlefield 1
Developer: DICE
Publisher: EA
Buy on Amazon
Battlefield 1 came around at a time when the FPS genre really needed something that would give the genre a leg up as a whole. Set during World War I, it offers us six points of view that are told from different people. Battlefield 1 also offers one of the most adrenaline fuelled opening levels we have seen from a war game, which did a fantastic job of setting the tone for the rest of the game. Although the single-player campaign is somewhat short and the online system is horribly broken due to its piss-poor matchmaking, that does not take away the charm that this game offers. The graphics are truly amazing; with each battlefield and independent story really coming to life (the tank missions are crazy), What Battlefield 1 did is drag gaming back to old school war games, and it did that well.
5. Wolfenstein II: The New Colossus
Developer: MachineGames
Publisher: Bethesda
Buy on Amazon
Wolfenstein II is another game very similar to Doom that helped bring the genre into the spotlight and the new entries do the series justice. Set in an alternative universe where the Nazis have won the war and taken over America, you play as BJ Blazkowicz and you try and liberate America from Nazi tyranny. The New Colossus brings an engaging, and often heartbreaking tale that exposes a vulnerable side to the ultimate badass. Throw in possibly one of the most hated villains in the history of modern gaming and what you have is a recipe for success. Sure, the combat is utterly bonkers and I feel the difficulty spike tends to be a bit harsh, but Wolfenstein is a game that its predecessor would be proud of.
4. Resident Evil 7: Biohazard
Developer: Capcom
Publisher: Capcom
Buy on Amazon
When Resident Evil 7 was released last year, fans went nuts for it. The producers had promised to drag the game back to its original roots and they did that with style. Providing us with a family of utter psychopaths, you must navigate through their hellish plantation house and survive what they throw at you, all while you try and discover the fate of your wife. Sure, the combat can be a bit clunky, but that does not take away the charm this game brings. The storyline is a memorable one and its jump scares feel relevant and placed in such a way to provide the maximum effect. Although the DLC left a lot to be desired and it doesn't really merit a second playthrough (in my opinion), Resident Evil 7 is still worthy of a slot in anyone's collection.
3. Overwatch
Developer: Blizzard
Publisher: Blizzard Entertainment
Buy on Amazon
Overwatch is billed as the most addictive and easily accessible online FPS on consoles today and it is easy to see why. With a whole host of playable characters that have been designed to suit the gaming styles of all players and a loot box system that is focused on cosmetic items and not pay to win, Blizzard have really set the benchmark for future hero shooters. Each character has a unique look and feel about them which makes every match different and unique. Even though the game has been out for a few years now, those who want to try it for the first time still can as the matchmaking system is the fairest engine I have ever seen on an online game. It is also worth mentioning that Overwatch has helped competitive gaming really come to the forefront, leading the charge alongside League of Legends.
2. Halo 5: Guardians
Developer: 343 Industries
Publisher: Microsoft Studios
Buy on Amazon
You cannot have a list of FPS shooters without including the mascot for Microsoft and the Xbox — Halo! Originally released for the Xbox in 2001, Halo has been a firm fan favourite for nearly twenty years and the franchise still sells even to this day. Although Halo 5 is not the best entry in the series, it is still a solid FPS game that brings an engaging narrative to the Halo universe, taking the player on a journey across the stars of the Halo galaxy and expand on the recipe Bungie first developed to make it a success. Some entries in the series have failed to meet the bar, with the Master Chief Collection really getting slammed due to appalling servers and players failing to connect to multiplayer matches.
1. Titanfall 2
Developer: Respawn Entertainment
Publisher: EA
Buy on Amazon
One of the most underrated games of 2016, Titanfall 2 is the follow-up to a pretty average online only multiplayer game. Featuring an interesting and engaging single-player campaign that expands on how the Titan and pilot partnership works, it also allows you to take the game online for some seriously addictive online battles. As with any game, the single-player campaign is woefully short due to its huge online focus, but the online is structured in such a way that there are human players and AI bots, meaning that everyone can score points, no matter their skill level. It is hard to see why this game gets overlooked by so many as they have improved the game to no end since the first one, making this a hard done by FPS shooter.
Want more Xbox One words? Check out what we have to offer below:
– 15 Best Xbox One Exclusive Games
– 10 More Xbox One Games That'll Net You An Easy 1000G
– 10 Best Xbox One Horror Games You Should Play Right Now
Some of the coverage you find on Cultured Vultures contains affiliate links, which provide us with small commissions based on purchases made from visiting our site. We cover gaming news, movie reviews, wrestling and much more.