Although the Switch doesn't have some of the most well-known racing games in its catalog, there's still plenty of great titles for players looking for a frantic, fast-paced experience, from the realistic simulator to the wonderfully nonsensical.
Whether you want to race to the top of the leaderboards solo, online, or with friends for some fun competition, here are the best Switch racing games that leave all the others in the dust.
The Best Switch Racing Games
10. V-Rally 4
Developer: Kylotonn, KT Racing
Publisher: BIGBEN Interactive, Nacon
The first three V-Rally games were some of the best racing games of the time, so the release of V-Rally 4 almost two decades later after the third entry was both surprising and quite exciting.
And while V-Rally 4 certainly isn't the smoothest or prettiest racer on the Switch, it makes up for this in its course design, which is truly where the game shines. The longer stages in particular are splendid, taking you through a series of continents and landscapes like tropical jungles, dizzying mountain tops, and peaceful temples.
V-Rally 4 features five disciplines: Rally, Rally Cross, Hillclimb, Buggy, and Extreme-Khana. Each one has its own rules – for instance, Extreme-Khana involves mastering the art of drifting, whereas Rally revolves around stages with extreme weather conditions.
You can control 51 vehicles from 19 manufacturers such as Porsche, Ford, Honda, and Skoda, as well as play with friends via split-screen or in online time trials with other players around the world.
9. Cruis'n Blast
Developer: Raw Thrills
Publisher: Raw Thrills
Cruis'n Blast is just as high-speed, over-the-top, and colorful as previous entries in the series, while boasting almost 30 chaotic tracks and 23 custom rides, from bulky monster trucks to magical unicorns.
There are 6 cups to blast through solo or with up to 4 friends via split-screen. Each cup focuses on a different theme, including blitzing through a thunderstorm, maneuvering around ferocious dinosaurs, or evading helicopter attacks.
Alongside racing your way to victory, there are hidden keys and gold trophies to collect, as well as four difficulty levels to beat – there's a lot to keep you busy during your playthrough. Each vehicle in the game can also be leveled up to unlock upgrades like neon lights, body kits, and special decals.
Cruis'n Blast handles nicely on the Switch, too, so you shouldn't have much trouble with the controls. There's a drift mechanic that grants you a speed boost when performed correctly, allowing you to soar ahead of your opponents and look cool while doing so.
8. Horizon Chase Turbo
Developer: Aquiris Game Studio, AQUIRIS
Publisher: Aquiris Game Studio
If you're a fan of classic 80s/90s arcade racing games and have a soft spot for 16-bit-inspired visuals, Horizon Chase Turbo perfectly combines the two into one hectic, nostalgic package. It's influenced by oldies but goodies such as Top Gear, OutRun, and the Lotus series, recapturing the same thrilling and addictive gameplay.
There's a lot of content packed into Horizon Chase Turbo, including a staggering 109 tracks, 48 cities, 12 cups, 12 upgrades, and 31 cars to unlock. Finishing races in 1st place isn't required to progress through the main mode, so the game is seldom frustrating.
But that's not necessarily a bad thing as it allows for a more slow-paced, relaxed experience for those after something a bit more chill. Besides, if you win each course and grab all the blue tokens scattered through them, you'll be rewarded with a special cup and car.
Horizon Chase Turbo offers several modes: Championship, Endurance, and Playground. Unfortunately, there isn't an online mode, but you can play with up to four friends via local multiplayer if you fancy a bit of friendly competition.
7. GRID Autosport
Developer: Feral Interactive, Codemasters, Codemaster Racing
Publisher: Feral Interactive, Codemasters
GRID Autosport is the ninth entry in the TOCA series, but it brings back many of the same features from earlier titles due to the poor reception towards GRID 2. The game is a cut above its predecessor and is perhaps the best in the entire franchise, offering a familiar but fresh experience for old and new players.
There are a good chunk of modes to get stuck into, including Career, Online, Custom Cup, and Split-screen. You can race through 15-real world permanent courses, 2 fictional permanent courses, 7 street courses, and 4 point-to-point tracks, as well as drive more than 100 cars.
In the single-player career mode, you get the opportunity to build your racing profession from amateur to pro. It's broken into seasons, with each one having different objectives you'll need to complete to progress. Sometimes the objective isn't to win the race, but beating all of your opponents will give you more rewards.
There are 5 disciplines to master: Touring, Endurance, Tuner, Open-Wheel, and Street. All offer a different gameplay style. For instance, Tuner requires you to maintain control in Drift and Time Attack events, whereas Street has you twisting and turning through tight city circuits.
6. Redout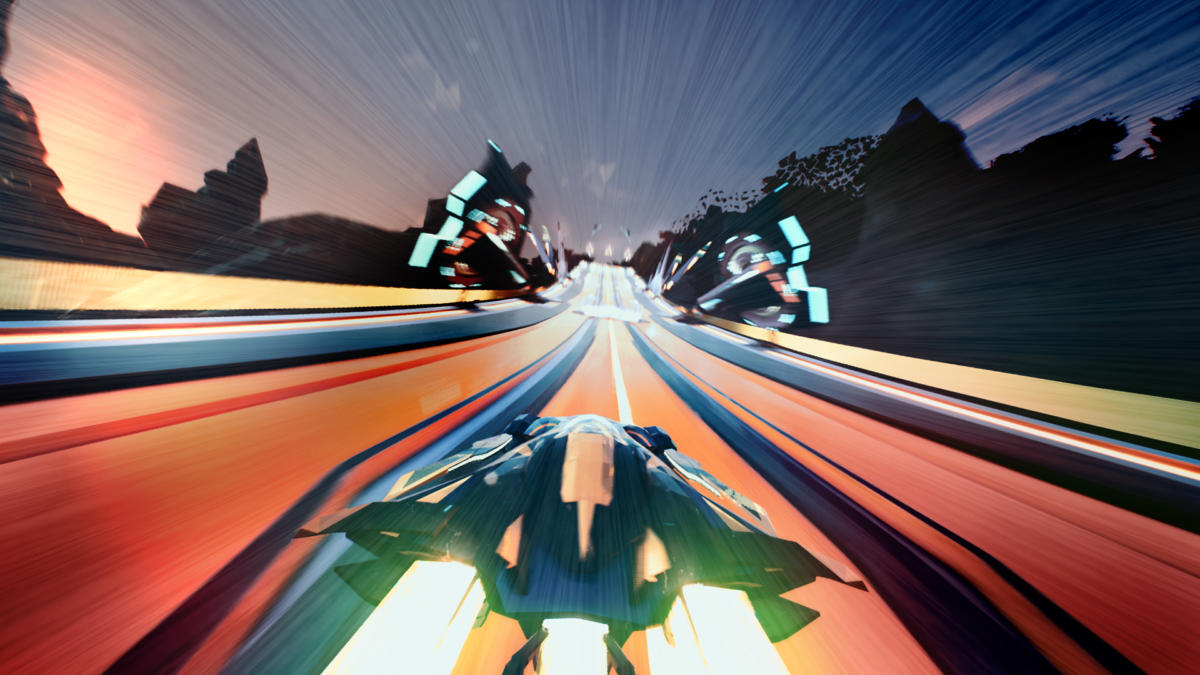 Developer: 34BigThings
Publisher: 34BigThings, Nicalis, 505 Games
Heavily inspired by racing greats like F-Zero, Rollcage, and Wipeout, Redout is a fantastic futuristic arcade racer that rivals the aforementioned titles. The game is set in the year 2560 and involves participating in the Solar Redout Racing League by piloting a ship.
There are 7 racing teams and each team has 4 ships with different characteristics for acceleration, grip, top speed, structural integrity, energy pool, and energy recharge speed. All of the ships can be upgraded and decked out in various power-ups, allowing you to build the perfect setup.
The career mode will see you speed through 5 racing complexes, each broken up into 5 tracks over multiple low-poly environments, from sandy coastlines to frozen mountain ranges. Each course has different obstacles and features, including teleports, loops, underwater areas, and sections with low or no gravity.
You can also play online to compete against 12 other players across the globe if you fancy a bigger challenge.
5. Need for Speed: Hot Pursuit Remastered
Developer: Criterion Games
Publisher: Electronic Arts
If you missed out on Need for Speed: Hot Pursuit when it was first released in 2010, the remastered version will show you exactly why this game is so beloved, with the bonus of having enhanced visuals and gameplay.
Set in the fictional Seacrest County, the game features a spacious open world, wacky vehicles, a stellar soundtrack, and plenty of action-packed car chases.
You can play as either a racer or police officer (there are even career modes for both roles), with racers being faster and cops being more powerful. Each side also has access to unique power-ups, weapons, and some exclusive vehicles.
All of the rides in Need for Pursuit: Hot Pursuit Remastered are real-world licensed vehicles, so if you've ever dreamed of zooming around in an Aston Martin while hurling out EMP blasts and dodging helicopter attacks, now's your chance.
In addition to a petty hefty single-player mode, the game also has cross-platform multiplayer that can support up to 8 players, allowing you to race against friends and randoms.
4. Hot Wheels Unleashed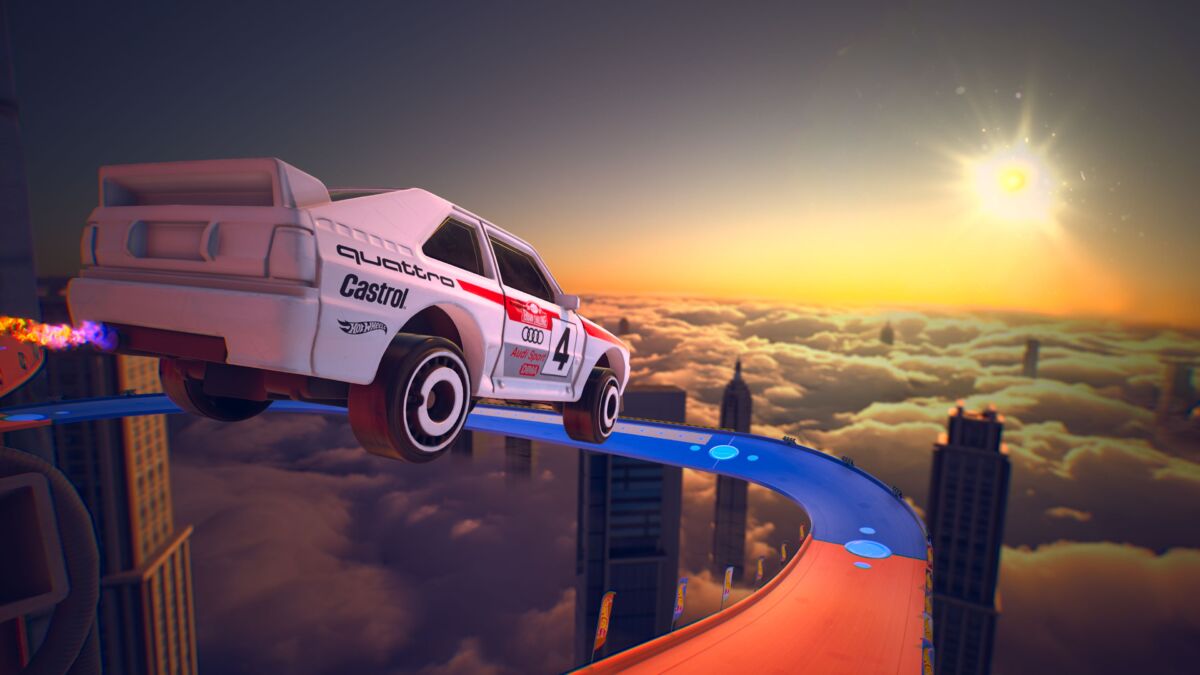 Developer: Milestone
Publisher: Milestone
Based on the titular kids toys, Hot Wheels Unleashed is one of the best Switch Racing games in recent years, featuring vibrant visuals, creative track design, addictively smooth gameplay, and extensive customization options.
You play as popular vehicles from the Hot Wheels franchise and race against opponents in delightful miniature tracks that take place in everyday locations like a kitchen, bedroom, and garage.
There are over 60 vehicles, all of which can be customized in a massive range of ways using the Livery Editor, including decals and paint jobs. You can even share your car designs with other players.
Hot Wheels Unleashed contains the modes you'd expect with any racing game, such as career, time trials, and online multiplayer. You can compete in races in 2-player split-screen or with up to 12 opponents in online challenges to see who's the top driver.
By far the most interesting mode of Hot Wheels Unleashed is its track builder, which enables you to design your own courses that you can then keep for yourself or show off to the community.
3. Burnout Paradise Remastered
Developer: Criterion Software, Stellar Entertainment
Publisher: Electronic Arts
Despite its rather outdated graphics, Burnout Paradise Remastered does a pretty good job at enhancing the visuals to a more next-gen level. The gameplay and performance have also seen an overhaul, making the thrills of the original even more spectacular.
The game takes place in the fictional setting of Paradise City and features an open world where up to 8 players can participate in various high-speed races rife with destruction. There are over 130 vehicles, 10 tracks, and a huge selection of modes and challenges.
You can smash and crash through environments like traffic-filled downtown roads and dangerous mountain paths solo or online, both with friends and other players from around the world.
The remastered version also gives you access to all the DLC available in the original game, so there's plenty of reason to return to Burnout Paradise for old and new players.
2. Team Sonic Racing
Developer: Sumo Digital
Publisher: SEGA
Team Sonic Racing has quite a unique spin than most other arcade racers as it focuses on cooperative gameplay, not unlike the Splatoon series. You play in a team of 3 as one of 15 characters from the Sonic the Hedgehog series, such as Sonic, Knuckles, Tails, Shadow, and Amy.
The game has several modes, including online multiplayer, local co-op, time trials, custom races, and a story-driven campaign, so you won't be short of things to do.
Instead of prioritizing speed to complete races, you'll need to concentrate on efficiency and working with your team. Your Team Ultimate, which grants you and your team a speed bonus and the ability to drive across any terrain for a short period, can only be charged by actively engaging with other players in your group.
Completing actions like sending and receiving items and performing a Skimboost to give one of your teammates a temporary speed bonus will not only help out you and your team but will also allow you to charge up your Team Ultimate meter to get the advantage over your opponents.
1. Mario Kart 8 Deluxe
Developer: Nintendo
Publisher: Nintendo
You'd be hard-pressed to find anyone who doesn't agree that Mario Kart 8 is the best Switch racing game – the proof is in the numbers. It's a fantastic addition to Nintendo's flagship series, bringing in all the DLC from the Wii-U version, as well as an improved framerate, a revamped battle mode, reduced loading times, and more.
Mario Kart 8 Deluxe features 48 visually stunning tracks over 12 cups, including fresh designs, fan favorites, and two versions of Rainbow Road for the ultimate rage-inducing experience.
You can play as 36 characters from Nintendo games, such as Mario, Luigi, and Peach from the Mario series, Link from The Legend of Zelda, and Isabelle and Villager from Animal Crossing. Fourteen of the characters are unlocked by winning races in the Grand Prix mode, which gives you an incentive to replay the campaign.
Alongside a Grand Prix mode, you can compete in time trials and battles with up to 8 friends or random players online. The Battle Mode consists of various game types like Balloon Battle, Shine Thief, and Bo-omb Blast for some race-free rivalry.
They essentially require you to be the last player standing, whether that's popping all your opponents' balloons, stealing all the coins in a stage, or collecting as many Shines as possible.
READ NEXT: The Best Free PS5 Games You Should Download