With the release of the 4.50 update for the PS4, gamers may not have to deal with the life-destroying choice of picking between favourite games. Instead of having to delete The Witcher 3 to make room for Horizon Zero Dawn, the update allowedyou to have both.
The vanilla PS4 comes with a meager 500GB of hard drive space, which had always been an issue for me personally. There's always been the option to replace the internal hard drive, but not all of us can be trusted to complete technical tasks without causing explosions.
Luckily, 4.50 allowed PS4 owners to add an external hard drive, which means that there was no need to call the bomb squad in advance. Eager to have more than four AAA titles downloaded at once, many gamers leapt at the chance to pick up a hard drive to use with their PS4, which had already been a thing on Xbox One for quite a while.
Looking for the best PS4 external hard drives? Here are a few options. It's worth noting that most of what you see below will also work with your PC and Xbox One.
1. Seagate Expansion 2TB Portable External Hard Drive
Seagate are usually quite good for hard drives, and this sleek and simple hard drive is another example of that. It's not the snazziest on the market, but with USB 3.0 and some very efficient transfer speeds, it's a good entry point. We'd recommend the 2TB version for regular gamers and the 4TB for those who just absolutely cannot part with their games.
Buy on Amazon – 4 stars
2. Samsung Portable SSD T5 PS4 External hard Drive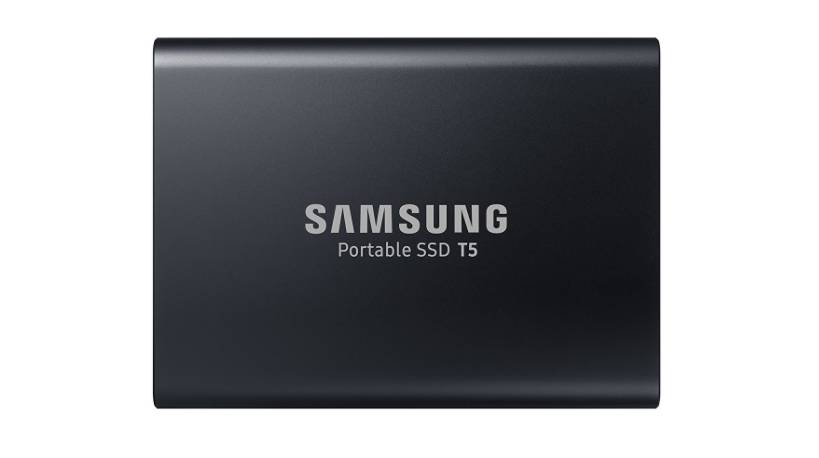 Let's get something clear straight away: this is expensive as hell, even for just a terabyte of space. However, if you want the fastest and most reliable PS4 external hard drive, this SSD option from Samsung will suit you down to the ground. That being said, there's no real reason why you couldn't afford to lose some speed to save some money. They're available in different colours, but make sure you get one that suits your PS4.
Buy on Amazon – 4.5 stars
3. Toshiba Canvio Basics 3TB External Hard Drive
Toshiba have carved a reputation for producing non-flashy and affordable products, and this hard drive isn't much different. It looks as basic as the name would suggest, but with a price point this low and a decent enough HDD speed, it's the cheapest and most attractive option. It's also tiny, so you can quite easily carry it around in your pocket, if you're strange. A 3TB model is yours for just $90; not a bad price at all.
Buy on Amazon – 4.5 stars
4. Seagate 2 TB Game Drive for PS4
Made specifically with the PS4 in mind, Seagate have produced a neat and inexpensive hard drive that's best checked out at its 2TB option. It's quiet even when dealing with bulky processes and certainly on the small side; it will fit on top of your PS4 nice and smoothly. They say that its space will allow you to download 50+ games, but it's really a lot more than that if you spice it up with some indies.
Buy on Amazon – 4 stars
5. Transcend 2TB 2.5″ USB 3.0 Military-Grade Portable Hard Drive
Basically, if you have children, this is the PS4 external hard drive you need. Transcend's offering is made to withstand trauma, such as your child thinking it's a basketball. It's certainly a little on the ugly side and its speeds may not be up there with the best on this list, but it's certainly a good option for anyone who fears for their material possessions.
Buy on Amazon – 4 stars
6. Western Digital 4TB My Passport
Western Digital almost always deliver simplicity and performance in equal measure, and the 4TB version of their My Passport provides exactly what you see. It's not the fastest HDD we've featured here, but it looks nice and is at a very fair price for so much memory. Just think about how many versions of Knack you could theoretically have on your PS4 with that much space to work with.
Buy on Amazon – 4.5 stars
How To Use An External Hard Drive With Your PS4
So, if you have your own external hard drive ready to work with your PS4, here's how you set it up. It's really simple, but it's just as easy to get muddled. We're not going to write a dissertation, so here's a quick guide for those not in the know.
1. Plug the hard drive into one of the PS4's USB ports. If you're running out of space, I recommend this vertical stand
. It adds three extra ports, a fan, and two controller docks. It's cheap, though rather plasticky. Not too bad for the price otherwise.
2. Wait for a notification. The PS4 will inform you that the new update allows you to add an external hard drive. Please note that the PS4 will not work with a hard drive that isn't USB 3.0 compatible or under 250GB.
3. It should then pop up with another message which tells you it isn't compatible. Not to worry, if you follow through on the previous message, it will take you through the formatting procedure.
4. The length of time it takes to format is dependent on the size of your hard drive. Mine took about five minutes in total.
5. Once it's finished, all of your new applications will be automatically downloaded to the external hard drive. If you want to change that, you can easily change it in storage settings.
And that's all there is to it. Happy downloading.
MORE PS4:
– 8 Best and Cheapest PS4 Accessories You Should Check Out
– 15 Best PS4 FPS Games You Should Play
– 29 Best PS4 Exclusive Games You Should Play Right Now
Some of the coverage you find on Cultured Vultures contains affiliate links, which provide us with small commissions based on purchases made from visiting our site. We cover gaming news, movie reviews, wrestling and much more.