Jurassic Park has become one of the most popular and successful film series of modern times. Ever since fans got their first glimpse of the dinosaurs in the 1993 movie, they have cried out for more, so it's little wonder that there have been so many different Jurassic Park games over the years. The franchise is almost designed for the world of video games, allowing players to battle against deadly dinosaurs on remote Caribbean islands.
But despite the fact that these games all feature terrifying and wondrous giant reptiles, not every Jurassic Park game has been a winner. Sure, there have been plenty of great games across a wide range of genres. However, there's also quite a selection of poor releases that many gamers do their best to avoid at all costs. Thankfully, this list should give you a good indication of what are the very best Jurassic Park games everyone should play.
The Best Jurassic Park Games
9. Jurassic World Evolution 2
Developer: Frontier Developments
Publisher: Frontier Developments
Platform(s): PC, PlayStation 4, PlayStation 5, Xbox One, Xbox Series X/S
Jurassic World Evolution 2 would certainly be higher on this list if it wasn't a relatively recent sequel. That's not to diminish the qualities of the new game, but just that the sequel had higher expectations and less ability to stand out compared to its predecessor. Coming just three years after the first title, Jurassic World Evolution 2 made improvements across the board to create what is arguably one of the best theme park simulators available.
Perhaps the most impressive enhancements are the diverse settings and far larger maps. This allows players to build more spectacular parks and experience new challenges from working in desert or forest biomes. Critics also noted the better-looking dinosaurs, which look more realistic than ever before.
8. Jurassic Park: The Game
Developer: Telltale Games
Publisher: Telltale Games
Platform(s): Mobile, PC, PlayStation 3, Xbox 360
Jurassic Park: The Game was arguably the first story-focused game set in the world of Jurassic Park. Developed by the same team responsible for The Walking Dead graphic adventure games, it put players on the fictional island of Isla Nublar during and after the events of the first movie.
Cleverly intertwining a previously unseen plot with the narrative that fans are more familiar with, Jurassic Park: The Game provides another interesting angle to the overall story. This more than made up for the lack of challenging puzzles and rather bland gameplay that some players had issues with. Most Jurassic Park games have focused on action rather than story, so it was a nice change of pace to be able to more fully explore the park and the characters instead of just fighting dinosaurs.
7. The Lost World: Jurassic Park
Developer: Appaloosa Interactive
Publisher: Sega
Platform(s): Sega Mega Drive
The release of The Lost World: Jurassic Park also coincided with several tie-in games. While the one for PlayStation was something of a letdown, the Sega Mega Drive edition was a far more successful venture. The game pushed the console to the very limits of what was possible, with advanced visuals and compelling gameplay.
Played from a bird's-eye perspective, players assume the part of a character sent to capture dinosaurs on Isla Sorna. Much of the action is focused on defeating the creatures or rival hunters who are attempting to claim prizes of their own.
With a selection of weapons and vehicles, such as a hovercraft and SUV, there's plenty in The Lost World: Jurassic Park to keep players motivated and entertained.
6. Jurassic Park Arcade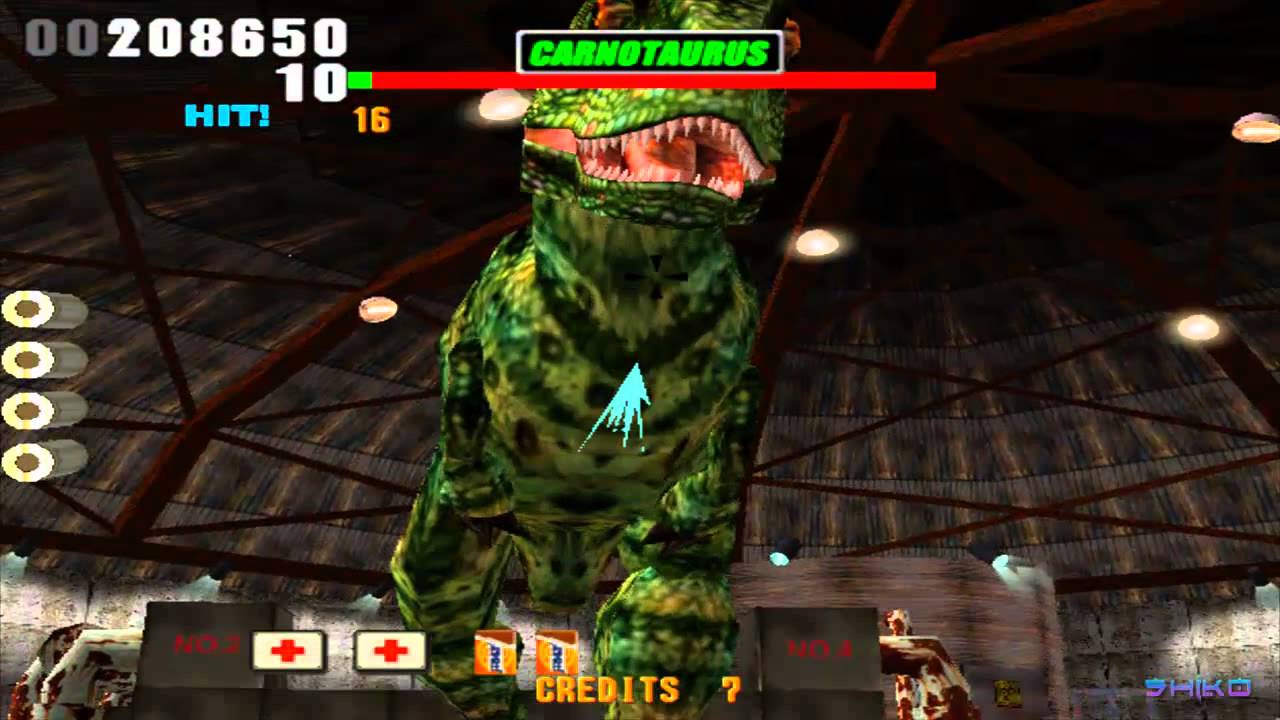 Developer: Raw Thrills
Publisher: Raw Thrills
Platform(s): Arcade
Based on the first three movies in the Jurassic Park series, Jurassic Park Arcade is a game that uses a light gun so that users can aim a gun directly at the screen. It features an explorer vehicle, which players enter as they battle against attacking dinosaurs by shooting them with a variety of weapons. The ultimate goal is to capture a unique dinosaur from each of the nine levels as an erupting volcano threatens to destroy Isla Nublar while defending the park staff.
The game comes in two different flavours. One is a regular cabinet, while the deluxe version has motion seats that move in time with the action shown on screen. There are also three action-packed boss battles with a Spinosaurus, Triceratops, and Tyrannosaurus. All of this makes Jurassic Park Arcade one of the better Jurassic Park releases, despite it being exclusive to arcades.
5. Warpath: Jurassic Park
Developer: Black Ops Entertainment
Publisher: Electronic Arts
Platform(s): PlayStation
Warpath: Jurassic Park might not be the best fighting game on the market, but it still has a certain appeal to it. After all, who wouldn't want to see a T-Rex battling against a Spinosaurus or a Triceratops? Warpath gave everyone the chance to settle age-old questions about which dinosaur would win in a fight, choosing between 14 different species in total.
Every dinosaur had its own unique fighting styles and skills, making each of them feel unique to play with. The game included familiar locations from across Jurassic Park and The Lost World, while also allowing the dinos to regain health by eating passing by animals or humans who had just happened to stumble into the battle. Warpath was by no means an excellent fighter but it was fun to play and was one of the more unique uses of the Jurassic Park franchise.
4. LEGO Jurassic World
Developer: TT Fusion
Publisher: Warner Bros. Interactive Entertainment
Platform(s): Nintendo Switch, PC, PlayStation 3, PlayStation 4, Xbox 360, Xbox One, Wii U
It makes sense that Lego Jurassic World would be one of the better Jurassic Park games. Developer TT Fusion has plenty of experience creating great LEGO-themed games based on a wide array of franchises, including Star Wars and Batman. Designed for children, this game can be enjoyed by everyone and features the signature co-op and relaxing gameplay that the series is known for.
In LEGO Jurassic Park, players can take control of a vast selection of characters as well as an impressive collection of dinosaurs from the films. The game also includes locations from all five currently released Jurassic Park films, meaning there are plenty of familiar areas to explore. All in all, it was a game perfect for LEGO and Jurassic Park fans.
3. Jurassic World Evolution
Developer: Frontier Developments
Publisher: Frontier Developments
Platform(s): Nintendo Switch, PC, PlayStation 4, Xbox One
It's little wonder that one of the best Jurassic Park games of recent times takes inspiration from Jurassic Park: Operation Genesis. Evolution is essentially a modern remake of that game, building on it with an array of new dinosaurs, gameplay mechanics, and characters from the recent movies. In many ways, it's a more sophisticated construction and management simulation compared to its predecessor, demanding more focus from players.
While it was far from perfect, there's plenty to love about Jurassic World Evolution. The dinosaurs themselves look absolutely beautiful, with impressive and smooth animations, and the stellar cast from the movie lend their voice talents. The ultimate goal is to create the best dinosaur theme park possible and players can even create hybrid creatures such as the Indominus Rex.
2. Jurassic Park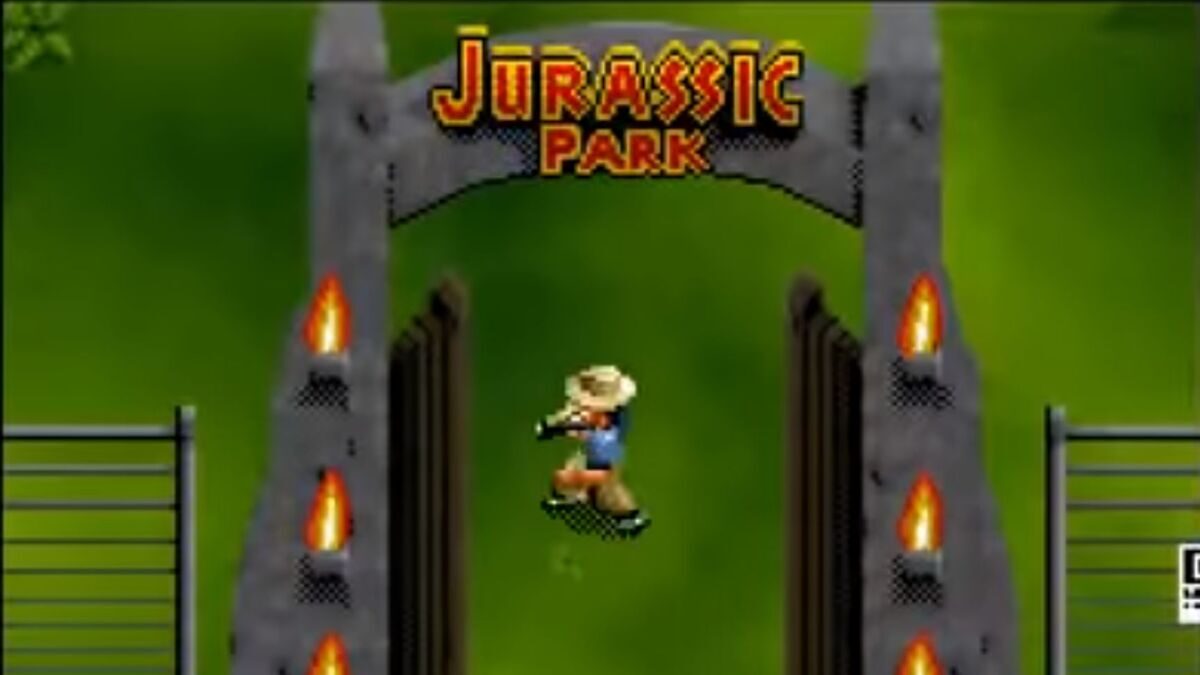 Developer: Ocean of America
Publisher: Ocean Software
Platform(s): SNES
Jurassic Park for the SNES was one of the official tie-in games for the first movie, releasing in the same year. Largely following the story of the film, players took on the role of Alan Grant as he attempts to rescue the missing children and reactivate power in the park, all while avoiding the escaped dinosaurs roaming the area.
A top-down shooter with some first-person parts, it was something of a standout for movie adaptations at the time, eschewing the more standard platforming gameplay most developers opted for. Praised for its large world and impressive 3D graphics, it was easily one of the best licensed games of the time and set a new standard for new releases.
1. Jurassic Park: Operation Genesis
Developer: Blue Tongue Entertainment
Publisher: Universal Interactive/Konami
Platform(s): PC, PlayStation 2, Xbox
Jurassic Park: Operation Genesis was the first game based on the movie that allowed players to create their very own theme park.
Combining the gameplay of games like Zoo Tycoon and Roller Coaster Tycoon with dinosaurs was a match made in heaven and made many wonder why it had never been done before. Players are responsible for creating attractions, researching new dinosaurs, and keeping the visitors safe by ensuring the giant reptiles stay inside their enclosures.
Operation Genesis had the ability to both be relaxing and frantic, with dinosaurs able to cause chaos at a moment's notice, requiring rangers to track them down and get them back into hastily fixed fenced areas. The game is even still popular today, with modders creating new packs to enhance the base experience. Some recent examples have even added dinosaurs, items, and characters from the Jurassic World movies.
READ MORE: The Best Games of 2021
Some of the coverage you find on Cultured Vultures contains affiliate links, which provide us with small commissions based on purchases made from visiting our site. We cover gaming news, movie reviews, wrestling and much more.