If you grew up in a time when Jurassic Park was at the height of its popularity, and simulation games such as Theme Park World, Rollercoaster Tycoon and Sim City were making waves in the charts, the original Jurassic World Evolution was a must buy. With the popularity of dinosaurs never seeming to waiver, and with the third entry in the Jurassic World film trilogy on its way next year, what better time to bring out a sequel in the form of Jurassic World Evolution 2.
JWE2 is set after the last Jurassic World film so, spoiler alert, dinosaurs are roaming free around America. You must work in unison with the DFW (Department of Fish and Wildlife) in order to get these dinosaurs under control and into a safer environment, namely a park that you'll need to build from the ground up. Being able to drive round and capture dinosaurs in the wild offers a new and interesting challenge, providing you with more exploration, albeit only slightly more as this wild area the dinosaurs roam is quite limited.
The short campaign mode, surprisingly consisting of only five levels, takes you through most of the basics of the game, as you learn how to build your facility and manage everyone and everything within it. It's a good jumping off point, especially if you haven't played the original JWE. These levels should take you no more than a couple of hours at most, which seems a shame for the main campaign of a game, even if there are other modes to keep you occupied.
The game is largely similar to its predecessor, also benefiting and suffering from some of the same things. Creating your first rare dinosaur from the DNA of excavated fossils still offers the same thrill as it did in the original, and JWE2 adds both flying and swimming dinosaurs, and the tasks that come along with looking after them as well. This feels like the one of the main differences between the two games, and it's nice to have an expanded dinosaur roster. The details about each dinosaur and its needs have also been expanded, and you're able to cater to these needs better by creating more specific environments in your enclosures.
There's still lots of different dinosaur DNA and genomes to mess about with, which can help you create your own unique crossbreeds. Making your dinosaurs stronger, with smaller appetites, longer lifespans and a whole host of other benefits is a really satisfying way of playing God in this game. JWE2 may seem daunting at first, but everything is well explained in each different mode. Although there's a lot of different research, exploration areas and, particularly, menus to sift through, you should eventually pin down what you're looking for.
Once you're done with the campaign, you have three other modes to play about with. Sandbox is as it sounds and literally gives you the freedom to create whatever you want with no constraints. You can make this experience easier or harder by changing the presets before you start, adding to its appeal for both creative and hard-core players alike. There's no judgement here: whether you want to make things as easy as possible or insanely difficult, the choice is yours.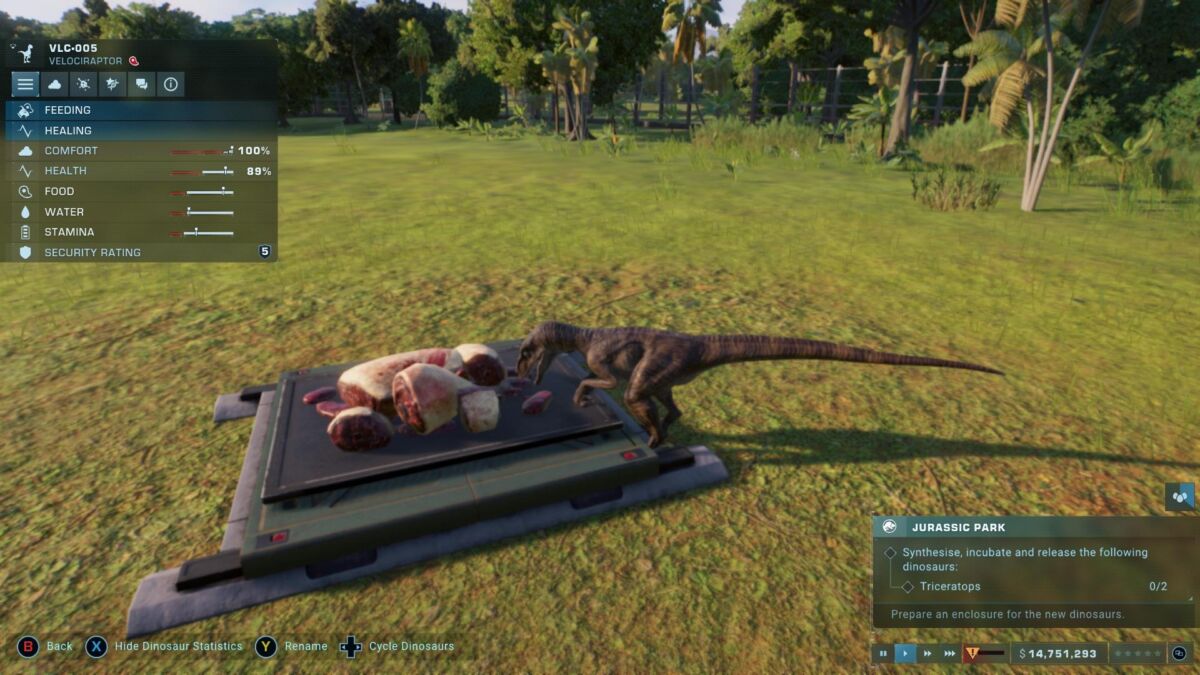 If you're less of a casual player, then the Challenge mode might be your next stop. These can be played at easy, medium, hard or jurassic level, which changes your cash, costs and a number of other conditions. Once selected, you have a set time in order to create a 5 star park. Stars are rewarded by increasing the earnings in your park, which involves getting rare dinosaurs to bring more guests to your park. It sounds easy enough, but these are a good challenge, and get significantly more difficult as you step up a level. You'll be forced to make difficult decisions, like being able to afford to pay your staff or heal your dinosaurs when they get sick, and any bad decision can end up in losing rating.
A new mode introduced for JWE2 is Chaos Theory, which allows you to jump into one of the five Jurassic Park films and, basically, try and make sure things don't turn to chaos. So, whether that's creating the original Jurassic Park with John Hammond and Dr. Wu, seeing if you can make Jurassic World a success, or helping to save the species with InGen at Isla Sorna, all of the films make an appearance in this mode, and there's some fantastic slow-moving stills in each introduction. Chaos Theory is great if you're a fan of the film series, as you get to put yourself in familiar scenarios with names and faces that you recognise (and some voice actors too).
In all of these modes, you're essentially doing the same thing, just in different circumstances. They all offer you a slightly different way of playing, but the bare bones of it all being largely similar does give the game a somewhat repetitive quality. The opportunity to take control of actions yourself, like scanning and medicating dinosaurs, or simply giving the command to your staff, is a nice choice to have. You can play completely disconnected, simply clicking buttons, or be physically driving around your park fixing the problems, aimlessly switching between the two play styles at any time.
Like with any simulation game though, there's a nice satisfaction in being able to simply sit back once your park is "complete" and watch everything work smoothly and in perfect harmony, as your dinosaurs explore their enclosures and interact with one another. Jurassic World Evolution 2 is also a gorgeous game to look at, with great care seemingly put into how it looks, and the dinosaurs especially feel even more real than last time. Their colours are beautifully prominent, and lots of attention to detail has been paid to their appearance. This is great for taking advantage of in the game's photo mode, made all the more easier by how smooth the game runs.
Unfortunately, JWE2 is ravaged with glitches, as JWE was. You'll witness dinosaurs falling through the map and getting stuck in enclosures, which led to death a couple of times in my experience as the dinosaurs couldn't eat or drink so eventually died. This is frustrating to say the least, especially when it negatively affects your playthrough and is not just a simple visual glitch. Another frustrating aspect is the invisible walls you have to find your way around when driving in the utility vehicles, and trees that can sometimes be driven completely through and other times block your path. This inconsistency can and will cause annoyance while playing, and it's a shame that this wasn't improved from the first game where it was also an obvious problem. On the plus side, JWE2 looks and feels slicker than JWE, in both the menus and the park areas, which makes it easier on the eyes and more pleasant to watch while playing.
Using the same basic formula as JWE almost guaranteed that JWE2 would be a hit, but unfortunately the things that were broken in the first game still exist. Despite some issues, the introduction of flying and swimming dinosaurs are a big plus, and do bring a new host of species and other mechanics along with them. It's hard not to have fun with Jurassic World Evolution 2, and it never gets boring watching a dinosaur being flown through the air across your park with its neck and legs dangling. If you have any interest in the Jurassic Park series, dinosaurs in general or simulator games, Jurassic World Evolution 2 ticks all the boxes, as long as you can look past the glitches that crop up.
A Deluxe Edition key was provided by PR for the purposes of this review.
Some of the coverage you find on Cultured Vultures contains affiliate links, which provide us with small commissions based on purchases made from visiting our site. We cover gaming news, movie reviews, wrestling and much more.

Verdict
Despite having many of the same issues as its predecessor, Jurassic World Evolution 2 is still an enjoyable dino simulator that's easy to jump into.