The 2010s are entering their final months. Bring on the roaring 20s, I say. We'll be doing the Charleston up and down Fifth Avenue while the resurgence of Art Deco dominates contemporary architecture. As with the end of any decade, we have to sum up what came over the last ten years.
Horror is a genre that sadly gets overlooked as a lesser art form, we've seen some stunning scary movies produced this decade. Within those features are actors who brought things to another level. Performers with a rich pedigree who knew they could further the craft by lending their hands to some truly spooky scripts. It's high time we showed our appreciation to these maestros.
10. Jessica Rothe – Happy Death Day
Don't let the hybrid genre fool you, there is a lot of greatness in this delightfully meta 2017 slasher flick. Carrying the movie on her shoulders is Jessica Rothe, who delivers a breakout performance as repeat murder victim Tree Gelbman.
Starting the movie off as an unlikable, rude, selfish bully, Rothe adds layers to Tree with each grisly death. As the film pushes on and Tree gets closer to working out who is behind the killings in her nightmarish Groundhog Day scenario, she creates closer bonds with the people around her.
Unlike Groundhog Day, Rothe lacks the advantage of being Bill Murray, who audiences will get behind no matter how much of a rascal he's being. No, the task here is much more demanding: to take a thoroughly unlikable character and win over viewers with pure charm.
Rothe's comedic timing, endless stress at being constantly murdered and charisma hold together a rather ludicrous movie. The result is a memorable romp through every horror trope imaginable that's buoyed by a real star turn.
9. Kate Siegel – Hush
Mike Flanagan's Hush is a gripping addition to the home invasion subgenre. To aid in crafting the isolation of a movie set in a remote cabin, Kate Siegel co-wrote this chilling thriller as well as starred in the lead part. Not only are Siegel and Flanagan married, they also rehearsed in their own house. They then shot in a location that cloesly resembled their home, allowing for an easier shoot. Her portrayal of the deaf crime author Maddie reeks of desperation in just about every scene.
When you're being stalked by a serial killer with no apparent motivation and you can't even hear where they're coming from, you're going to be feeling all sorts of helpless.
Siegel spends most of the runtime going through an ascending level of pain and struggle. As the wounds start to pile up and the villain inches closer to taking her out, the sympathy of the viewer is necessary for the film's conceit to work. Maddie doesn't speak, so it's all about the physicality.
Siegel communicates the physical and mental exhaustion of being hunted like an animal expertly. The catharsis of her successes and frustration of her failures take the viewer on a draining journey of turmoil.
8. Toby Jones – Berberian Sound Studio
One of the most criminally overlooked horror films of the decade, Peter Strickland's ode to the Italian giallo movement sticks with you. Toby Jones has to carry practically the entire thing, with most of the additional cast appearing sparingly. His erratic, manic performance as a sound engineer working on a disturbing picture devolves into a detachment from reality.
Jones plays Gilderoy with an unassuming quality. Despite being repulsed by the content of the film he's working on, he's just doing a job as he sees it. That is until the lines between fantasy and reality are blurred. Gilderoy's increasing indifference to the nature of the unseen film chills to the bone.
Only an actor like Toby Jones can suck you in with his affable charm, before he blindsides you with depraved obsession. We've never seen someone cut up vegetables with such malice before or since.
7. Anya Taylor-Joy – The Witch
Robert Eggers' The Lighthouse is currently receiving rave reviews. That won't surprise anyone who saw The Witch. This twisted New England folk tale has a small cast and a streamlined setting. While everyone brings their A-game, Anya Taylor-Joy's turn as Thomasin is the type of performance that launches an entire career. The one-two combo of this movie and Split showcased the range and potential of one of Hollywood's most exciting young stars.
Delivering her lines in Early Modern English, ATJ wraps her tongue around a dense script to communicate that something is seriously wrong with her family's situation. Her character spends the bulk of the runtime being accused of witchcraft, and her shift from being disturbed by these accusations to embracing them is some real virtuoso work. To explore such mature themes and emotional weight while still being a teenager is worthy of merit.
6. Daniel Kaluuya – Get Out
To yield Oscar nominations in horror is a rarity, so it turned some heads when Get Out came out swinging with four nominations at the 2018 ceremony, including Daniel Kaluuya for Best Actor. Daniel had to call upon a real emotional depth with the character of Chris.
As the film's twists and turns are revealed, the deep-seated trauma that Chris lives with adds layers to the performance. Couple that with the uncomfortable realities of modern-day racism that Jordan Peele's masterpiece of horror explores, and you need a leading man who can capture complex dimensions in a guy who seems normal on the surface.
A standout scene is the first hypnosis session. Chris is forced to confront the guilt of doing nothing to prevent a family tragedy, two tears streaming down his face. Kaluuya's haunting facial expression and cracking voice transform him from another horror movie protagonist into a rich fountain of pathos.
5. Bill Skarsgård – It
The biggest challenge of the new It movies was to overcome the spectre of Tim Curry's original Pennywise. Many a child was rattled at an early age by Stephen King's interdimensional clown monster as it appeared in the 1990 miniseries. Bill Skarsgård wasn't about to let that hold him back.
From his first appearance in the sewer to prey on little Georgie Denbrough, his Pennywise has a distinct array of ticks and twitches. Straight away, we know something's not quite right with this painted up child eater.
New Pennywise has become nothing short of a pop culture icon and full credit goes to the man behind the makeup. Every move he makes is like that of a manic marionette that's ready to combust. He gets significantly less shine in Chapter 2 as the many forms It takes are explored, but Chapter 1 is where Skarsgård revels in the role fully. It is every bit as theatrical and campy as Curry, while having the menace and aggression of old school Freddy Krueger.
4. Toni Colette – Hereditary
The horror community rallied behind Toni Colette after Hereditary was released. Calls for her to be nominated for the Academy Award for Best Actress echoed all throughout the Internet. While this ultimately didn't materialise, it doesn't diminish her work at all.
As the family central to Hereditary's hellish story continue to be exposed to untold cruelty and disturbances, Colette's Annie Graham evokes the work of Shelley Duvall in The Shining as a mother constantly at the end of her tether. As she switches so effortlessly between haunting grief and terrifying anger, you can see the makings of something quite special.
Of all the performances on this list, this is the one that may withstand the test of time the most. I can already imagine the retrospectives on the biggest Oscar snubs in the 21st century placing her firmly at the top. Such praise is deserved, as Colette might have just hit her zenith with Ari Aster's depraved tale of our inner evil. Whether she's flipping out at a dinner table or disassociating from the world to maintain her sanity, everything Annie does is fascinating.
3. Essie Davis – The Babadook
In what is largely a film of two characters, The Babadook's personification of grief in the form of a top hat-toting, German Expressionist fiend is complemented by the weight Essie Davis brings to the film. As a despondent mother grieving the loss of her husband and harbouring resentment for her son, protagonist Amelia is both at war with her own mind and one of horror's greatest contemporary boogeymen.
Throughout the film, Amelia's sanity continues to slip. Davis' acting becomes increasingly frenetic, fraught with violent outbursts and an intimidating physical presence.
At the crescendo of the third act, her final act of defiance against Mr. Babadook hits like a haymaker, with line delivery that members of the Royal Shakespeare Company would kill to have. Many were up in arms at Toni Colette not getting any Oscar love, and I think the same argument could be made for Essie Davis.
2. Garance Marillier – Raw
Raw is a disgusting, perverse, fascinating film that cannot be summed up to those who haven't seen it. It's not for the faint of heart, to say the least. The fact of the matter is that Garance Marillier had to craft a performance from the ground up, as there is no other movie quite like Raw. As protagonist Justine's horrifying craving for human flesh slowly envelops her, the visceral grotesqueness of Raw takes centre stage.
To carry a movie that is frankly offensive in multiple ways is hard enough for the most seasoned of actors. For a teenager to do it is miraculous. Much like Anya Taylor-Joy in The Witch, Marillier finds sense in a senseless world.
As Justine prances in frantic glee in her pursuit of flesh, she somehow manages to be both likable and despicable at the same time. She reacts to situations in ways you never expect. Every action is a surprise and no matter how much you want to avert your gaze, you can't. Raw is many things, restrained isn't one of them. To be the most memorable part of a film so provocative and grisly isn't just down to good characterisation, it's because of next level acting.
1. Lupita Nyong'o – Us
Jordan Peele's back on the list, but it can't be helped that his first two movies had jaw-dropping lead performances. Lupita Nyong'o's dual role in Us is the kind of thing every actor wants: the opportunity to show all the skills they have in one go.
In Adelaide, Nyong'o captures the desperation of a mother who will do anything to protect her family and defeat the ghosts of her past. In Red, the evil leader of the Tethered, her raspy voice and inhuman physicality steals the show. Lupita's screen time in the latter role is more limited than you'd think, it's just so memorable that her presence looms over the entire world the movie creates.
Spoiler alert
The ending of the film elevates the performance from great to legendary. The final twist that reveals Red is the original Adelaide and "Adelaide" is a Tethered frames her acting in a whole new light. Subtle clues, such as snapping out of time with the beat of music and having trouble properly verbalising, all add up to the revelation.
It's one thing to act against an evil version of yourself, it's another to do so with the knowledge that the roles are actually the other way around from what the audience is shown. If there is one performance from 2019 that absolutely needs major awards consideration, it's this one.
Honourable Mentions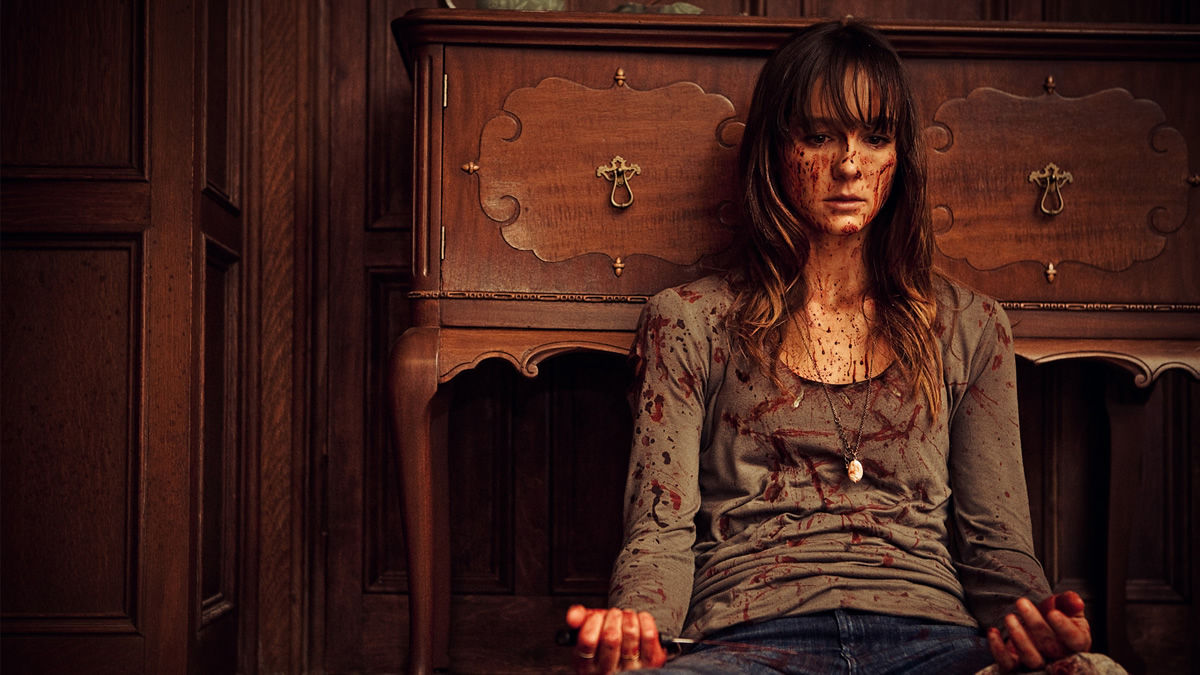 James McAvoy – Split
Dan Stevens – The Guest
Natalie Portman – Black Swan
Florence Pugh – Midsommar
Claire Foy – Unsane
Scarlett Johansson – Under the Skin
Nicolas Cage – Mandy
Sharni Vinson – You're Next
MORE HORROR:
– 15 Best Horror Movies On Shudder You Should Watch
– 50 Best Horror Games Of All Time
– 15 Best Christmas Horror Movies You Should Watch
Some of the coverage you find on Cultured Vultures contains affiliate links, which provide us with small commissions based on purchases made from visiting our site. We cover gaming news, movie reviews, wrestling and much more.