10. Mother!
Director: Darren Aronofsky
Here's the thing. Everything you heard about Mother! is true. It's weird, it's violent, and, to the right crowd, it's a good horror movie. Darren Aronofsky continues to use symbolism and incredible imagery to help tell his stories, and Mother! has plenty of both.
Right from the beginning, it's a mind-bending movie that is subtle in making you uncomfortable. When the biblical allegories kick in, things only get weirder and uneasy. Jennifer Lawrence and Javier Bardem make a great casting couple and both help sell this incredibly far-out piece of cinema alongside Ed Harris and Michelle Pfeiffer.
9. The Houses October Built
Director: Bobby Roe
If you're constantly on the prowl for the most extreme haunted house movie, The Houses October Built is definitely for you. It will leave you wondering who, exactly, is behind these demented haunts – and may even crack your enthusiasm for them.
Admittedly, the movie likely won't interest anyone that doesn't enjoy the haunted attraction scene. Those constantly looking for their next great scare will appreciate the inside look at the haunted house industry. And what happens when an obsession for the perfect, terrifying experience takes a very, very wrong turn.
8. Elvira: Mistress of the Dark
Director: James Signorelli
It's cleavage and laughs galore in Elvira: Mistress of the Dark's (Cassandra Peterson) feature film debut. In this raunchy romp, horror's sexiest icon quits her night job and seeks fame and fortune in Las Vegas. Her misadventures take her to a small town in Massachusetts, where her boisterous personality and busty assets don't sit well with the townsfolk.
Much like Elvira's presence as a horror hostess, Elvira: Mistress of the Dark is full of camp and trashy humor. When it released, Elvira's movie debut wasn't too well received and she earned a nomination for Worst Actress at the 1988 Golden Rasperry and 1989 Razzie Awards. Since then, it's cultivated a cult following that may explain the Best Film and Best Actress nominations earned at the 1990 Fantasporto and Saturn Awards.
7. Little Monsters
Director: Abe Forsythe
Lupita Nyong'o showed her range in Us. Little Monsters lets her have a little more fun in a zombie outbreak. The zombies serve as a vehicle to tell a more important story, that of Nyong'o's Miss Audrey Caroline and Alexander England's David Anderson.
Little Monsters is actually a love story at its core, but when Miss Caroline and David become the only protectors for children on an ill-fated field trip, things get a little bloody. Some of the movie may be a little corny, but that's to be expected of a movie that ends with a sing-along of Taylor Swift's Shake It Off.
6. We Are What We Are
Director: Jim Mickle
There is something strange about the Parker family, and We Are What We Are seeks to explore what that may be. To do so, you'll have to join the patriarch, Frank (Bill Sage), and his daughters, Rose (Julia Garner) and Iris (Ambyr Childers), as they deal with the death of their wife and mother, Emma (Kassi DePaiva).
Rose and Iris must uphold the rituals of the Parker family, even if that means following in the footsteps of their family's nefarious traditions. We Are What We Are allows viewers to explore the Parker family's relationships before thrusting them into the deranged realities behind Frank and his kin.
You won't be cowering behind your couch with this one, but you aren't going to regret popping on We Are What We Are.
5. Marrowbone
Director: Sergio G. Sanchez
You just know something sinister is up with the Marrowbone Residence. Just look at the name! The question, though, is what.
That's the fun of Marrowbone, which delights in slowly unraveling the story behind the four Marrowbone children. There are many twists and turns along the way, leading viewers to contemplate the many directions the film could go. It's final path may not be entirely new, but it's entertaining, surprising, and helps explain the ghostly happenings within the walls of the Marrowbone home.
Charlie Heaton (Stranger Things), George MacKay (1917), and Anya Taylor-Joy (Split, Glass) round out an enjoyable cast of this haunting tale.
4. Rare Exports: A Christmas Tale
Director: Jalmari Helander
We've seen so many version of Santa, but none were a crazy naked old man found in the Korvatunturi in Finland's Lapland.
In a way, Rare Exports is an origin story for the phenomenon of Santa Claus that we see emerge each year. Well, once you get past the craziness that unfolds then an expedition locates what they believe to be the real Santa Claus – and a white-bearded jolly elf he is not.
Rare Exports is the kind of movie you want to surprise people with next holiday season. Tell them you have a new Santa Claus movie for them and watch as their eyes go wide with confusion.
3. Pyewacket
Director: Adam MacDonald
Teenage angst is the worst. When they're not screaming at you for existing in their space, their summoning ancient witches to kill you. Pyewacket reminds us that we can't trust the teenagers in our lives.
Based on the lore of the familiar spirit, Pyewacket, the movie introduces a lesser-known mythology from England. Using the lore of the old witch, Pyewacket warns us to make our choices carefully, especially when those choices involve the lives of our loved ones.
When Leah (Nicole Munoz) summons the Pyewacket to kill her mother, she has a change of heart shortly after. Unfortunately, the old hag has different plans and terrorizes the young girl with fiendish visions and unpleasant visits.
2. A Quiet Place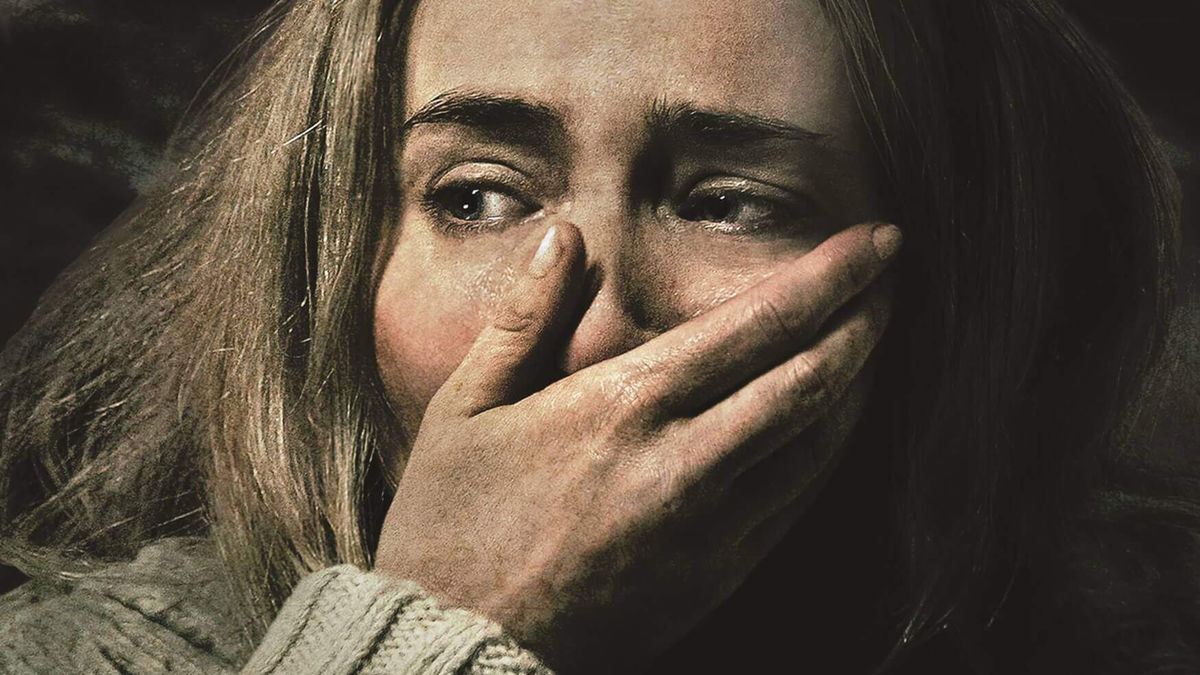 Director: John Krasinski
In a post-apocalyptic world, a father (Krasinski) and his family must live in silence to avoid succumbing to the very real horrors stalking the planet. The extraterrestrial threat slinks around in the background for much of the film, creating a tense and atmospheric thriller. When the creatures do show up, though, they're the stuff of nightmares.
Krasinski's directorial debut is a surprisingly grim movie made from a script of only 67 pages. That's nearly half the length of normal scripts thanks to the movie's lack of dialogue.
A Quiet Place is a polarizing film with some chiding it for plot holes, a ridiculous plot, and a lack of talking. While there are some holes to poke at when you really pick apart A Quiet Place's narrative, they didn't stop it from becoming one of the best and most successful horror movies of 2018.
1. Annihilation
Director: Alex Garland
Remember when everyone spent 2018 touting the success of Alex Garland's Annihilation? No, right? That's because it was one of the year's most underplayed horror movies, earning only $43 million on an estimated budget of $55 million. Unfortunately, it also has one of the best horror scenes to come out of that year – one that shouldn't have been missed by any horror fan.
Annihilation is a wholly entertaining and interesting movie, with Natalie Portman, Jennifer Jason Leigh, Gina Rodriguez, and Tessa Thompson delivering great performances. Teetering on the edge of science fiction and psychological horror, fans of either genre will find something for them.
As a bonus, read Jeff VanderMeer's novel of the same name that inspired the movie.
Enjoyed reading about the best horror films that Hulu has to offer? If so, we have a whole heap of other horror content for you to read, as well as a video that your eyes deserve:
– 15 Best Asian Horror Movies You Should Watch
– 15 Best Free Horror Games You Should Download
– 15 Best Horror Movies on Netflix You Should Watch
Some of the coverage you find on Cultured Vultures contains affiliate links, which provide us with small commissions based on purchases made from visiting our site. We cover gaming news, movie reviews, wrestling and much more.